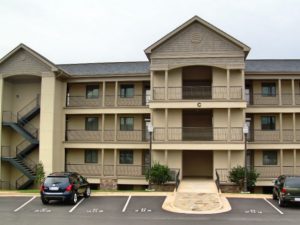 Looking for a waterfront condo at Lake Martin can be confusing to buyers, but it doesn't have to be.
As a full time real estate agent here, I'm glad to help you look. Please contact me at the number at the top of the page or this form.
John's tips – how to search for a Lake Martin condo:
1) Does a boat slip come with it?
One of the things with condos that is unique to Lake Martin is whether or not a dock slip is included with the purchase.
Some of the condo complexes around the lake have a slip that is attached to the deed. Some have no slips. Confusingly, at least one complex has units with and without. The key- ask and then confirm.
But is a dock slip important to you? Or maybe you plan to store your boat in a Marina. Or maybe you don't plan on owning a boat at all.
Whatever your preference, be aware that condos with slips are usually more expensive and also more sellable.
2) Do you want to be inside a neighborhood?
Some condo complexes like Harbor Pointe (Stillwaters) and the Ledges at the Ridge (the Ridge) are locates inside gated neighborhoods. Others, like Crowne Pointe, are not.
3) Do you want to be able to rent it out?
There are all three flavors of condos at Lake Martin: a) no renting b) long term renting only c) anything goes.
Again- if that's important to you, verify it. Don't assume.
4) Know what you want.
Do you want a condo? Or a townhome? Or a villa? What's the difference ? Here at Lake Martin you will often see these terms used interchangeably. Every complex is different and you should always check the HOA and legal documents so you know the deal.
In general, condos are set up so you only own just past the interior sheetrock and the association owns everything else. In most townhomes, you own the structure and the dirt underneath but have common wall(s) with other units.
But, again, everything is subject to the association and legal documents so please do your homework.
I'd be glad to help you research, buy, or sell your waterfront condo or townhome at Lake Martin.