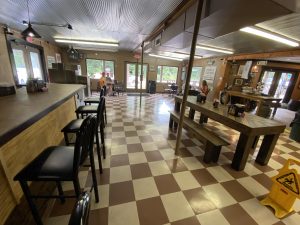 The Lake Martin area gained a new restaurant when the Red Hill Kitchen opened recently in downtown Red Hill, Alabama. The Red Hill Kitchen's phone number is (334)918-0044.
Located at 3284 Red Hill Road, Tallassee, AL 36078, it is on the south side of the lake. While not on the water, by car, it is poised between Kowaliga Restaurant and Chuck's Pizza.
The best way to connect with Lake Martin restaurants like Red Hill is to download my free app – Lake Martin Voice. Click here or just search "lake martin voice" in your app store. I have locations, menus, hours of operation, everything plugged in and easy to use.
It has been open for a couple of weeks and, despite it being close to my office and lake house, I had not visited. I popped in for lunch during the week and was very impressed!
Half of the building is shared with the Red Hill Gallery, a funky, local art gallery. I think this team approach to sharing space is smart. In the past, this building has seen a couple of restaurants and a couple of shops come and go. None of them had the staying power to tote the load for the whole building. But I think pairing a restaurant with an art gallery is a really smart way to make it work.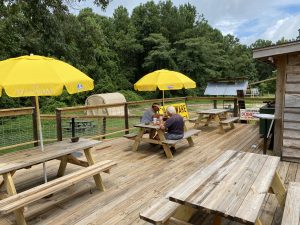 The restaurant side is really roomy. They did a great job decorating it and its spaciousness helps in times of social distancing. They even have a little back deck patio situation that looks ripe for a band party.
But the food is the main thing- so let's get to that. They have a pretty wide variety of choices. This first stop I decided to go with the fried catfish sandwich. It was great! It was a really large fillet served between two slices of Texas Toast. I opted for the side of fried okra and was really pleased with my meal. My next trips will definitely involve some cheeseburgers and BBQ.
Breakfast- Red Hill is serving breakfast! I think this is brilliant. I have always wondered why Lake Martin doesn't have a go-to breakfast spot like you see at the beach. Why not? I would argue that the lake is way more breakfasty than the beach anyway, since we don't have to deal with snowbirds that insist on ordering bagels.
I do hope that the word gets out about Red Hill Kitchen. It is really a great spot. As of this writing, they are closed Monday and Tuesday but open Wednesday – Saturday, and on Sunday for brunch. But – if you want to be up to date, the best way is to download my free app – Lake Martin Voice! Click here or just search "lake martin voice" in your app store.