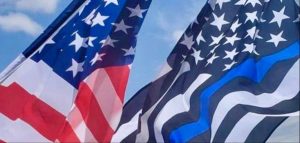 Join the Lake Martin Boaters group along with Backwater Marine Towing and Salvage and the Lake Martin Resource Association as they host the first annual Back the Blue / First Responders Parade on Lake Martin on Saturday, September 12!
The preliminary route will start near Chuck's Marina to Real Island. Look for the red Backwater Marine tow boats who will be escorts. Join anywhere along the route! Please fly your flags!
For dates and locations of where to purchase American flags, police and first responder flags please check the Lake Martin Boaters Facebook page. Any time and route updates will also be posted on their page.
Please note this is NOT a political event; it is a show of support for our police and first responders.
The easiest way to stay in the know about Lake Martin parades and what's up at Lake Martin is to download my free app called Lake Martin Voice. Just click here or search "Lake Martin Voice" in your app store.