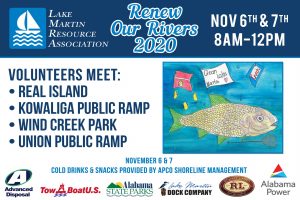 Renew our Rivers 2020 at Lake Martin is Friday, November 6th and Saturday, November 7th.
Begun by Alabama Power in 2000, Renew our Rivers – a community river cleanup – is one of the nation's largest river cleanups!
Lake Martin Resource Association (LMRA), Alabama Power Company, Russell Lands, Advanced Disposal, Wind Creek State Park, TowBoat US Lake Martin and Lake Martin Dock Company are coordinating the annual cleanup of Lake Martin (Tallapoosa River). According to the LMRA website, "Over the years this annual cleanup has removed more than 160 tons of trash from the shoreline and roadways surrounding Lake Martin. Additionally more than 600 automotive tires have been removed and recycled."
"This year's effort will once again be focused on littered shoreline as well as roadsides leading to public boat ramps. Additional efforts will be made to get neighborhoods throughout the Lake Martin community involved."
How, where, when? Volunteers can pick up supplies at dumpster locations (Real Island Marina, Kowaliga Public Ramp, Wind Creek State Park Marina and Union Public Boat Ramp) beginning at 8AM on Friday, November 6th and 8AM on Saturday, November 7th.
Trash can be deposited in the dumpsters on Friday and Saturday from 8AM to 12PM. Volunteers will be at the dumpster sites to help unload boats or vehicles during the hours of cleanup.
Contact John Thompson at [email protected] for more information or see LMRA.
It's easy to participate! Help us keep Lake Martin beautiful!