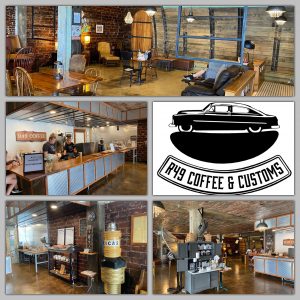 Restoration 49 Coffee in downtown Tallassee is legit good. They combine really good food and good service with a place that is truly local. It's a big hit in a small town!
The cool, unique architecture along with the outstanding drinks of Restoration 49 makes it a great gathering spot where everyone feels welcome. Look around and you will see a 1949 Ford (one reason for the shop's name – the other being the year the building was constructed), old car tags, cool art displays featuring old car parts, comfy chairs and bicycles. Oh and there is an old VW love bug too!
I talked a little with the friendly staff, and they explained that this hangout is owned by a local Christian couple who see Restoration 49 Coffee as a way to provide the community with a way to connect to each other.  Part of their vision is to offer a welcoming space. In fact they've been hosting Connection and Coffee nights this summer that have been very popular.
And in case you'd like to know  – Restoration 49 uses local coffee roaster Prevail Coffee Roasters out of Montgomery and Blue Ribbon Dairy in Tallassee.
Restoration 49 Coffee and Customs is located near where Hwy 14 crosses over the Tallapoosa River at Thurlow Dam in Tallassee (101 N Ann Street). It is worth a stop on  your way to Lake Martin when you are coming from the southside area. It is near the Tallassee exit so be sure to go by and support a great local spot!