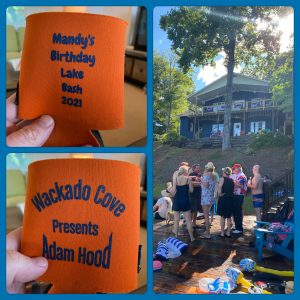 Selling real estate here on Lake Martin I have the privilege of meeting all kinds of different people. We all have a love of the lake in common, and it is fun to connect with folks around that.
It is a huge honor to be able to keep up after the transaction as well. So, I always love to get an invite to a party at Lake Martin, but it is especially nice to be invited to a party by a previous buyer.
Last year a fun family from Auburn allowed me to help them purchase a waterfront home in the Blue Creek area of Lake Martin. This area of the lake is very popular.  By water, it is close to Chuck's and StillWaters and by land, it is close to Emerald Shores.
Anyway, they have done some really cool upgrades to their home during the covid-19 quarantine. This year, they had a party to celebrate the upgrades and also one of their birthdays!!!
I'd love to help you out if you have any questions about the real estate market at Lake Martin. My name is John Coley and I am the broker / owner of Lake Martin Voice Realty.  I am a full time real estate agent here at Lake Martin. I sell homes, lots and condos on all areas of the lake. Feel free to give me a call or text me 334.221.5862.