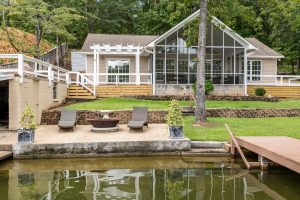 Have you ever dreamed of owning a second home in the peaceful and stunning surroundings of Lake Martin? It's an attractive idea. However, you might wonder what options you have to finance a second home. This post will explore some of the options.
Lake Martin Real Estate Market Watch
The average sales price of waterfront homes Lake Martin was about $1,100,000 during 2022. However, the markets are always changing. If you need to buy or sell a waterfront property near Lake Martin, please click here to contact our team.
4 Ways to Finance a Second Home
Buying With Cash
Cash is the simplest way to buy a second home if you have the savings. You won't have to worry about approval or all the other conditions of getting a loan. It is also the cheapest way to purchase since you won't have to pay any fees or interest. However, most people don't have the savings to buy a second home in cash. Even if you have that much available, you might not want to take so much from your savings all at once.
Traditional Mortgages
A traditional mortgage can be one option for your second home on Lake Martin. However, down payments and other terms are usually stricter for second homes. You might need a larger down payment and have to pay higher interest rates. Most lenders want higher credit scores for loans on second homes. The lender might also be stricter about your debt-to-income ratio.
Home Equity Loans
If you're buying a second home, that means you already own one property. Depending on how much equity you have in the property, you could use it to purchase a second home. Even if it's not enough to buy the home, it could help with the down payment. You could also use a home equity loan to add to the funds you have available for a cash purchase for the home at Lake Martin, even though the loan is associated with your primary residence.
Cash-Out Refinance
Another option is to use a cash-out refinance to tap home equity in your primary residence. With this option, you refinance your mortgage for an amount exceeding what you owe. The new mortgage pays the old one, and you keep the remaining funds. You could then use that money to help with purchasing a second home.
Buying a second home is a significant financial decision. Make sure to assess your finances and consider all your funding options. You might even want to consult a financial planner to help with the decision.
Find Your Lake Martin Home!
Are you interested in buying a home near Lake Martin? Click here to contact Lake Martin Voice Realty. We are experts in the local real estate market. Reach out now to see how we can help.
Thanks for visiting!