Waterfront Homes and Lots For Sale
in the Kowaliga Bay Area, Lake Martin
This list of homes for sale auto populates from the Lake Martin MLS. For you, it means three important things:
1. These are not just my listings, but compiled from every brokerage around Lake Martin, every agent.
2. This list is renewed any time any agent at Lake Martin makes a change in the MLS. So check back often!
3. Just like any waterfront home, lot, or condo on Lake Martin, I can help you with it, regardless of who has it listed. I would love to be your real estate agent. Please contact me through this form, or you can email me (info @ lakemartinvoice . com), or you can call me at (334) 221-5862.
If you see anything you like, click on the star beside it, register, and the MLS will automatically notify me.  Don't worry, no spam.
History of the Kowaliga Bay Area of Lake Martin
The Kowaliga Bay area is not a neighborhood, but a geographic area of waterfront homes and lots for sale on the south side of Lake Martin.  I'm calling it the area from Kowaliga Bridge (Highway 63 Bridge) in the north, to Martin Dam in the south.  If you've ever watched the 4th of July fireworks in your boat, you were sitting in the middle of Kowaliga Bay.
Take a Video Tour of the Kowaliga Bay area by Boat
Map of the Kowaliga Bay Area of Lake Martin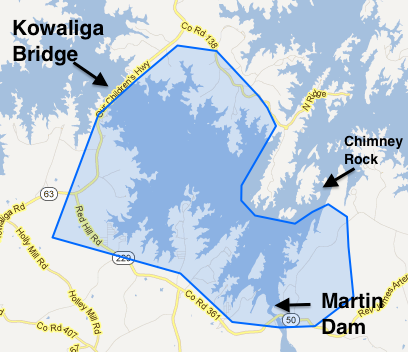 Kowaliga Bay is the biggest of the "big water" on the lake, but it also consists of all the smaller sloughs that branch from it.  If you're heading toward Kowaliga Bridge from Chimney Rock, the land on the north (right) side is owned by Russell Lands.  There are a few deeded homes here, but mainly long term rentals called "Russell Cabins." Homes on this side of Kowaliga Bay have an Alexander City address, but are actually in Elmore County.
The homes on the south side of Kowaliga Bay are a mix.  From Kowaliga Bridge south to Tallassee Slough you'll find more Russell rental cabins, but south of Tallassee Slough all homes are deeded.  All the deeded lot homes here were once owned by Alabama Power (the other major waterfront landholder, along with Russell Lands), but have been deeded to the homeowners over the years.
There are no formal developments in the Kowaliga Bay area, just a slow growth of individual homes over the years.  That means you have quite a mix of properties – mobile homes next door to million dollar homes.  You get to these homes via county and dirt roads, and you will not find subdivisions with many waterfront lots for sale.  Like the Parker Creek  and Little Kowaliga areas, old homes are torn down to make way for new construction.  Homes on this side of Kowaliga Bay have Eclectic addresses, but as you move closer to Martin Dam, some have Tallassee addresses.
There are lots of landmarks associated with Kowaliga Bay.  Starting to the north at Kowaliga Bridge you have Kowaliga Marina, Sinclair's on the Lake, Church in the Pines, Children's Harbor (the lighthouse), the Lake Martin amphitheater (concerts and 4th of July fireworks), Anchor Bay Marina (formerly known as Castaway), and those big power lines that run across the water as you head toward Chimney Rock.