Welcome To
The Hideaway at Lake Martin
The Hideaway at StillWaters Neighborhood Information
The Hideaway at StillWaters is a 34 home neighborhood located within the larger StillWaters community in the Blue Creek area of Lake Martin. This neighborhood is sited on over 12 acres just east of Harbor Pointe Marina, with 9 waterfront homes, plus 25 water-view and water access homes.
Hideaway Homes For Sale
Information deemed reliable but not guaranteed.
---
Hideaway Lots For Sale
Information deemed reliable but not guaranteed.
---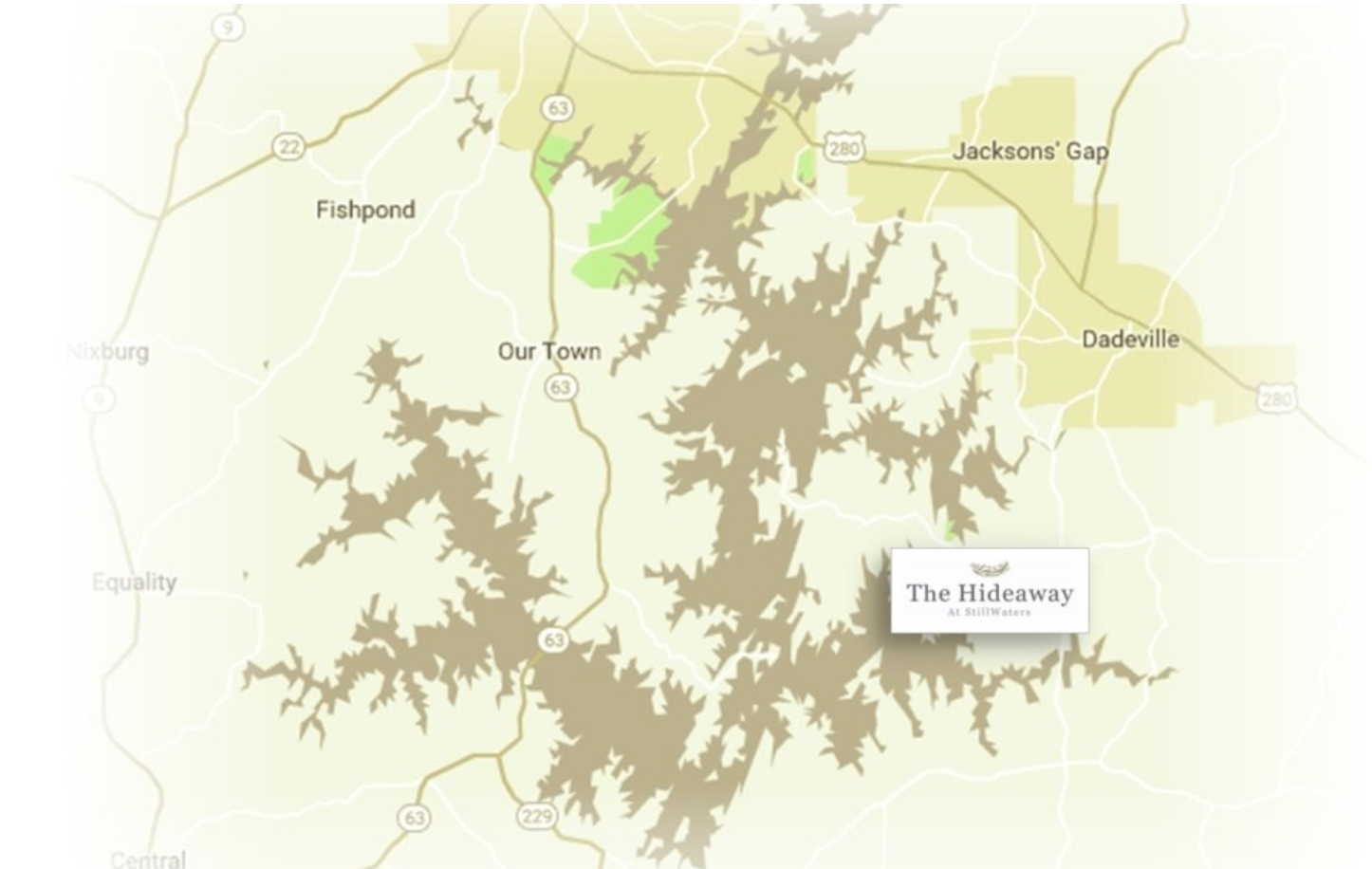 History of The Hideaway at StillWaters Neighborhood on Lake Martin
The developers of The Hideaway at StillWaters sold their first homes in 2020, so this is a newer Lake Martin neighborhood. On the water, it's between Sunset Point Condos and Poplar Point Condos, and close to Harbor Pointe Marina. If you want the convenience of owning a condo, but also want the privacy and space of a home, you may find the Hideaway to be a good fit. The homes are new, with modern amenities, and are designed for lake living.
Each home in the Hideaway includes dedicated use of your own boat slip. The Hideaway also includes a community pool, plus underground water and power. The neighborhood is designed to be a golf cart community, which blends perfectly within the gates of StillWaters. Owners will be able to ride their golf carts from their homes to the marina, to play golf or tennis, or even enjoy a meal at Copper's Grill. Landscaping is maintained by the HOA.
Since it is on the east side of Lake Martin, the Hideaway is conveniently located with excellent access to Lake Martin from Auburn, Birmingham, Montgomery, and Georgia. There are lots of great places to eat on this side of Lake Martin, including Chuckwalla's Pizza by boat, plus Lake Martin Pizza, Niffer's, Oskar's Cafe, and The Burritos Corner by car.
For an additional fee, boat storage and general purpose storage is available up at the top of the hill in the Hideaway, near the entrance. These units are available to anyone, and are purchased separately from homes in the Hideaway.
Fun fact - The Hideaway is one of the newest neighborhoods within StillWaters, and it is located next to Poplar Point Townhomes, the very first waterfront homes built in StillWaters in the late 1970s.
If you'd like help selling or buying at The Hideaway, please contact me here.
Video Update on the Construction at The Hideaway on Lake Martin
Video Tour of the StillWaters Neighborhood on Lake Martin
Posts & Videos about The Hideaway Neighborhood in StillWaters on Lake Martin