Archive for the 'Lake Martin Living' Category
I've heard all about this food boat that is operating out of Lake Martin's Parker Creek Marina.  I haven't seen it yet, so I thought I'd drop by.  I went during the week, so the marina was closed and I didn't learn anything about the food boat.  But it was a pretty day and it gave me a chance to video their new dock.
I don't know exactly what Parker Creek has in store for next summer, but something's going on.  If you have any updates, let me know.
If you're looking to buy waterfront real estate, that means you probably want a boat.  And if you have a boat, you probably need some gas.  When showing Lake Martin waterfront homes, I often get these questions, "Where is the nearest marina?" " How do you get there by land?" and "How do you get there by water?" If you're looking for waterfront homes for sale in the Parker Creek area, then take a look at what Parker Creek Marina has to offer: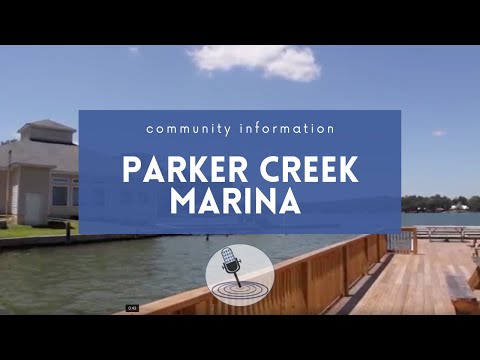 One of the things that I love about Lake Martin is that I am constantly learning about new spots - rope swings, skiing sloughs, hiking trails, fishing haunts.  Despite the fact that I'm a full time real estate agent here, and despite the fact that I grew up in Alex City, rarely does a week go by where I do not learn of a new road or a new slough on Lake Martin.
For example, I read a recent issue of LAKE Magazine, and I learned about Peanut Point ("A Visit to Peanut Point" July 2014).  I know, I know, many of you readers are rolling your eyes right now.  How could I not know about Peanut Point??  But after I read about it, I had to seek it out.  I realized I had driven by there once before, last May, and wondered, "What in the world is going on here?"
We have some good friends who have a lake house on what they call the "Non-Palooza" side of Lake Martin, and they are Peanut Point regulars.  They offered to bring us by, and it was a lot of fun! There's something exciting about driving up by boat and getting boiled peanuts.  Lake Martin + boiled peanuts = Fun.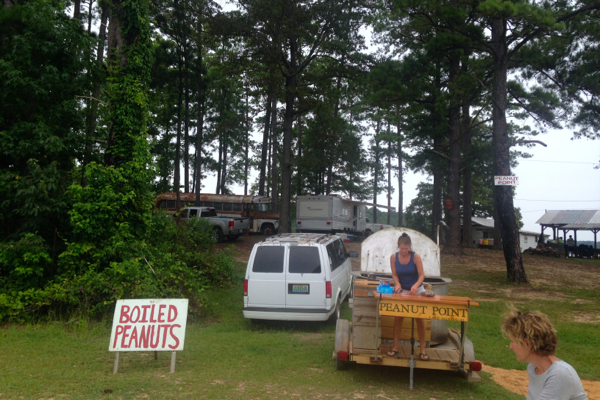 Granted, I am a huge fan of boiled peanuts.  A couple of football seasons ago I boiled a bushel of my own one Saturday for a marathon session of watching SEC football.  I ate so many that the next morning I awoke convinced I had a stomach virus.  My wife gently reminded me that my sodium intake the previous day was gargantuan.  Never-the-less, she let me lay out of church that morning.
To find Peanut Point:  There's a very small cut thru on the west side of Woods Island.  It separates Woods Island from the mainland where the Alex City version of Young's Ferry Road peters out into a dirt track.  If you don't know where that is, go to Bay Pines Marina and ask them.  They will tell you to travel south/southwest, or about seven o'clock on the clock face.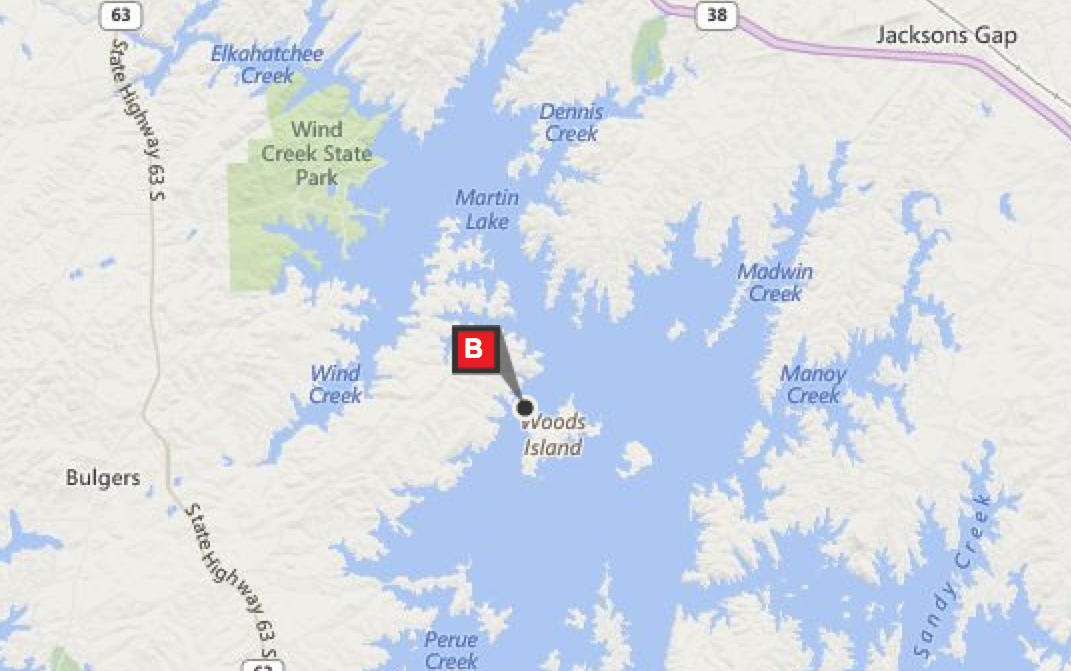 A gentle reminder to my readers that I am a Lake Martin realtor, and I do not sell boiled peanuts.  If you call me to ask if Peanut Point is open, I will tell you "Yes!" 100% of the time.  I'd love to help you research Lake Martin real estate, but I'm leaving the boiled peanuts to the experts.
Lately, when selling Lake Martin waterfront real estate, I'm talking a lot more about the growing number of off-the-water Lake Martin activities – things to do that add to the fun we have year round and simply make life here more convenient.  Our exceptional on-the-water activities are the obvious sell, so it's fun to get to brag on our fall, winter and spring attractions, too.  We are becoming a well-rounded second home market.
Take Russell Crossroads, for example.  There's been so much going on there this summer: Yoga on the Green, Friday night concerts, wine tastings.  But did you know that a lot of what Russell Crossroads offers is not summer specific – the restaurants, the grocery and deli shopping, the stables, the trails.  You can enjoy these all year long.
I realized I had not shot a video from Russell Crossroads in a couple of years, so here's quick, updated tour.  For buyers out there who are wondering what Lake Martin offers in the non-summer months, check it out: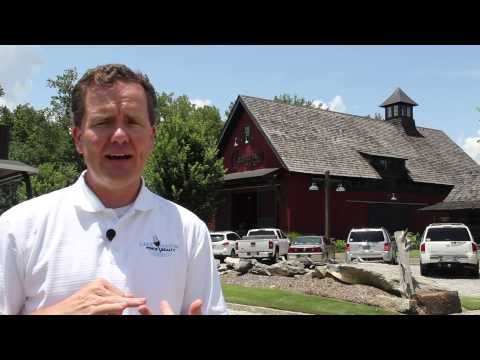 I'm a full time Lake Martin real estate agent, and I can help you with any property in the Lake Martin Area MLS.  Give me a call (334 221 5862) and lets talk about making Lake Martin your year round vacation destination.
Related blog posts and videos:
Grab Your Bike and Meet Me at the Market
Russell Forest Trail Hike Video
How to Get to Catherine's Market by Boat
When at Springhouse, Follow Sam's Advice
Warning: Catherine's Market Has Ice Cream
That would be Sam Fonte, the Restaurant Manager and Certified Sommelier at Lake Martin's Springhouse restaurant.  In early July, my wife and I left our kids at the cabin with their grandparents and had a date night dinner at Springhouse.  The whole evening was outstanding, and Sam was a big part of the experience.
That Springhouse can exist at Lake Martin is pretty incredible.  The food is so good, the staff so competent, and the atmosphere so elegant, it is easy to forget you are in rural, central Alabama.  Even our Atlanta foodie friends are impressed – one couple compared the quality of food and service at Springhouse to upscale Atlanta restaurants that charge a whole lot more.  Hats off to all involved who make this restaurant work so well.
I'm smart enough to realize that liking good food and wine, and knowing about good food and wine are two different things, so when I eat somewhere nice I ask a lot of questions.  My wife usually cringes when I start peppering the staff with queries, but even she gave in once the food and drinks began to arrive at our table.  The highlight of the meal was dessert: Sam recommended a Sherry to pair with the Samoa Ice Cream sandwich and Wow!  I must rethink my Lake Martin + Food associations.  I love a blackened catfish sandwich with hush puppies, but I also like the 1985 Don PX Gran Reserva with vanilla ice cream.
And now we can all have both!
If you haven't tried Springhouse, I highly recommend you go.  They serve dinner Wednesday-Saturday from 5:30pm – 10pm, and brunch on Sunday from 10am – 2pm.  Call a few days ahead for reservations  (256.215.7080) during the summer.  Please do not call me, however, for I am a Lake Martin real estate agent, and I cannot make a reservation for your party of four.  Ask Sam if you have any questions and enjoy fine dining at Lake Martin!
Attention all parents and all people who like ice cream – Catherine's Market has a new temptation for you.  If you're a fan of Russell Crossroads and Catherine's Market, like I am, then please be advised of this devious plot they have unleashed upon us.  They have an ice cream cart sitting outside on the corner, w/in eyesight of the outdoor dining area.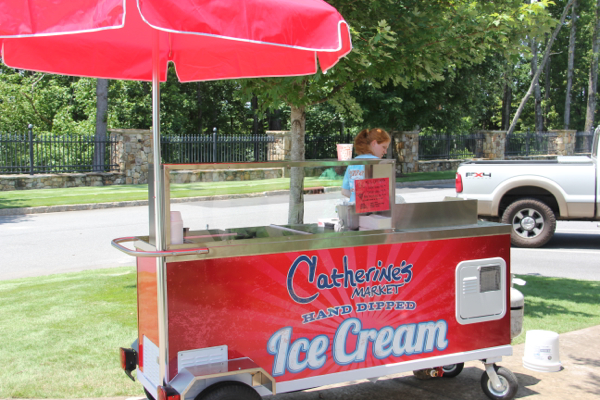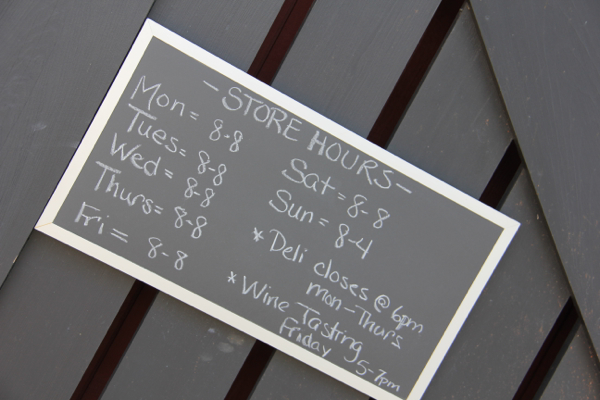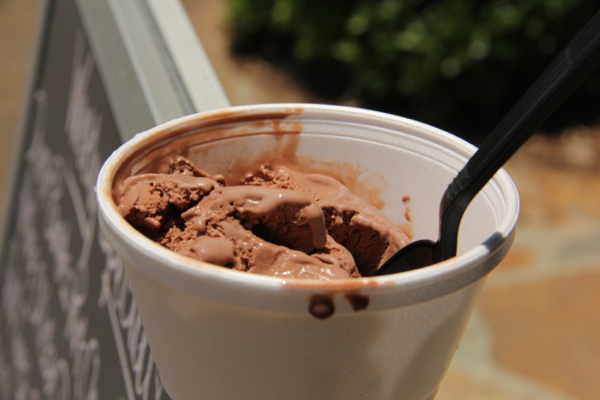 I would like to be able to say that I have the self discipline to avoid buying ice cream, but sadly, I am at the 100% purchase rate.  The first couple of times I told myself it was for market research.  Next I had to tell myself that I was being nice to my kids.  The result is I've bought ice cream every time I've been there lately.
If you want to resist this temptation, try and sneak in and out of the kitchen's back door. They probably won't allow you to do this for health code reasons.  Realistically, you're going to have to put on some blinders, don't look to the left, and quickly enter the front door.
If you fall victim, well then, enjoy!

Lake Martin's 4th of July fireworks at The Amp is the real deal.  In the Alex City Outlook, it's called "the Southeast's largest fireworks show."  Russell Lands puts on the event, and it runs a full thirty minutes, from 9:00 – 9:30 pm.  There are all kinds of ways to see this amazing show, but here is my two cents on my favorite way to watch.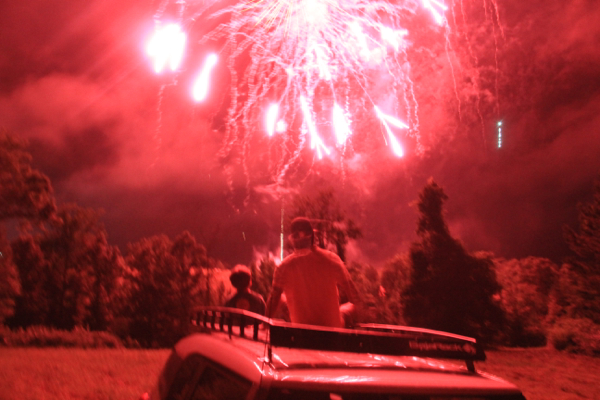 I like to watch them, on land, at the amphitheater.
But there are other options . . .
From the water viewing.  A lot of people like to watch from their boat in Kowaliga Bay.  The boats gathered for the show are themselves a beautiful sight – a city of lights on the water, growing as the skies darken.  Some boats stake out their spot early in the evening.  From the boat, it's a unique, amazing experience.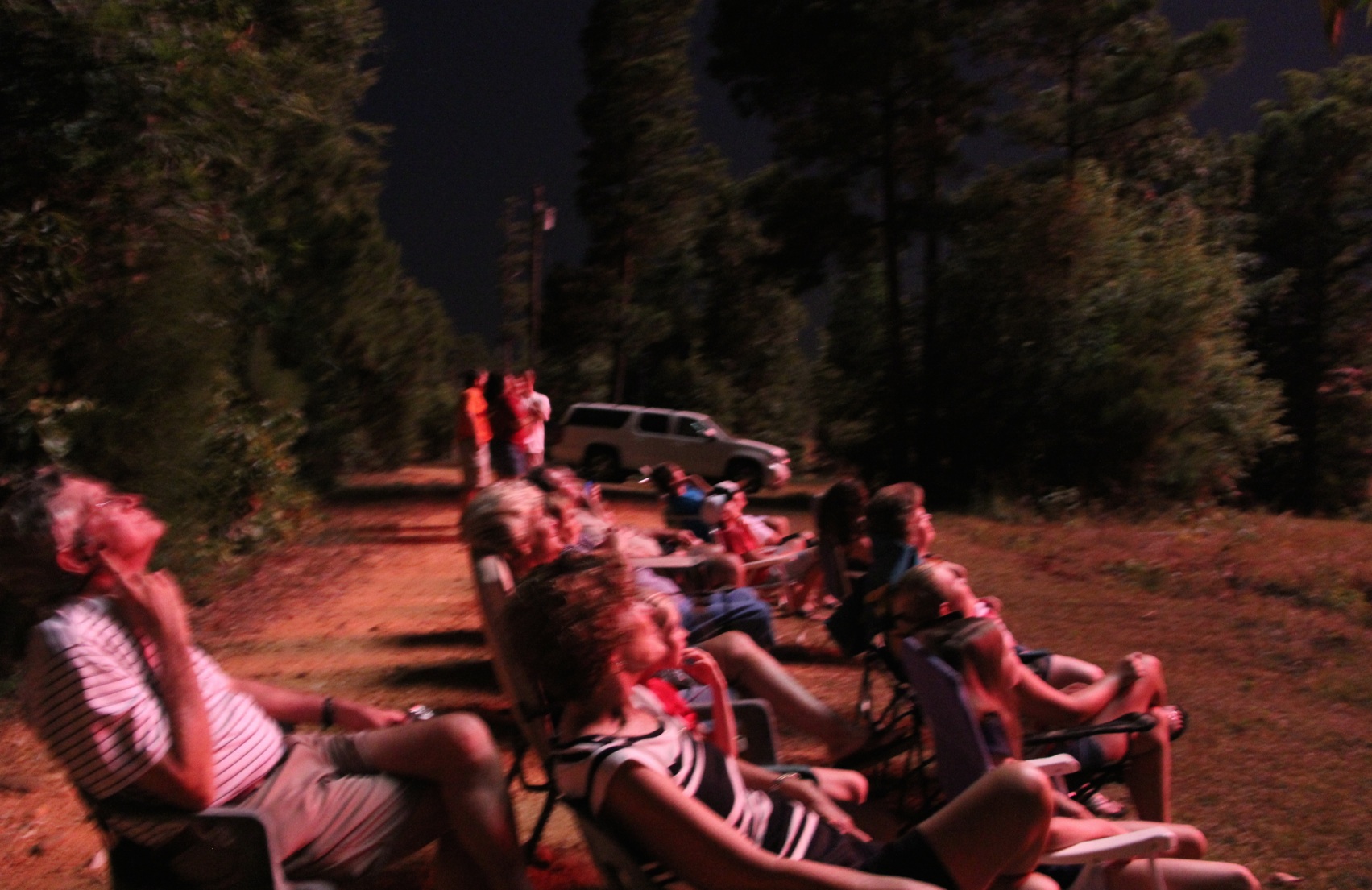 Some considerations when planning the boat/firework viewing are 1) the possibility of rain or thunderstorm, and 2) the boat traffic when the fireworks are over.  As far as storms go, it's July.  It happens.  The weather radar on your phone should help you make this decision.
And traffic-wise, it's dark when the show is over, and there are always those boat drivers who shouldn't be operating any kind of vehicle in their celebratory (yet patriotic) condition.  If you're coming from the east side of the lake, make sure you can navigate all the way home in the dark.  If you've never done it, it's harder than you think.  I would also add some words of caution that are best summarized in this post on the Boat US Site:
Boaters: Don't Let July 4th Be Your Undoing
Another alternative:  If you happen to have a lake home, or have a friend with a home close to the amphitheater and the Kowaliga Bay area, that's a great option. A lot of people can see the show from their house and don't have to worry about the drive home.  Call them now and promise to bring them food.
My vote for the best spot to watch the fireworks at Lake Martin is on land, at The AMP.
You can go as early as 4:30 for the concert that begins at 5:30 and features Nationwide Coverage with guests Sid Phelps and The Bank Walkers (click here for the $15 tickets).  You can go just to watch the fireworks and skip the concert – park for free in the amphitheater parking and watch from there.  (See the Outlook article for more info, or click here for The AMP's website. Please don't call me!)  You'll feel the booming down in your guts – there is so much exploding and blowing up in such close proximity.  And it really does last about 30 minutes.
Remember that you have to drive by car to the amphitheater – there is no water access for boaters.
No matter how you view the fireworks this year, please do it safely and responsibly, and have fun!
Are you spending the Independence Day holiday at Lake Martin?  July 4th is kind of a big deal around here.  In addition to all the regular Lake Martin water activities, here are a few other Lake Martin traditions to be a part of this year: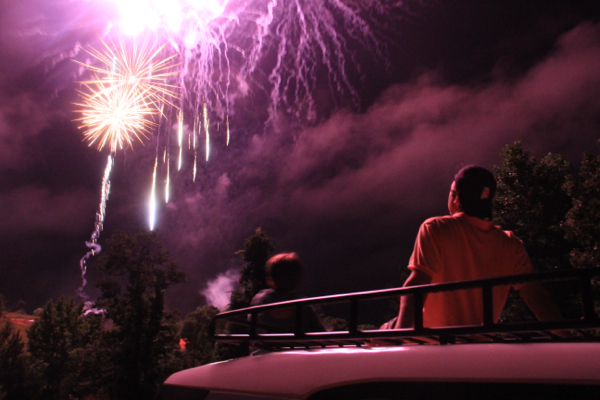 A huge Lake Martin tradition that takes place at The AMP (amphitheater).  Gates open on Friday at 5:30pm, the show starts at 6:30 pm, and the fireworks are at 9:00 pm.  This is a sho-nuff fireworks extravaganza – come prepared to be impressed.  Parking is free and watching the fireworks is free, but the concert is $15.  You can get tickets here.
I made a video of the setup several years ago, and I still think the whole process is really cool: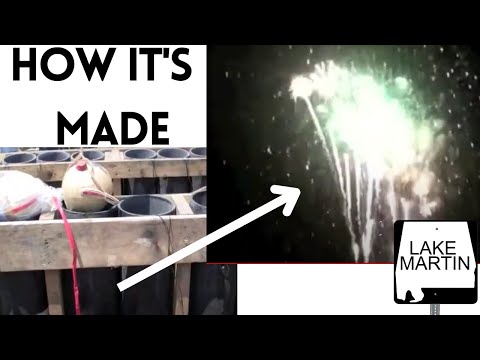 4th of July Boat Parade
10:00 am on the 4th.  It begins at Kowaliga Marina, crosses under Kowaliga Bridge, turns at Children's Harbor, and heads back to the marina.  To watch the parade, hop in your boat and check out the contestants.  They're being judged on all kinds of flag and patriotic-related categories: biggest flag, most flags, tallest flag, most patriotic, etc.  Sometimes they throw candy.  And by all means, enter the parade if that's your thing.  Registration is free at the Russell Lands marinas. Stop in by July 3rd or call (334) 857-2111.
Alas – this is a tradition that has sadly ended.  We used to go to Jim's on July 3rd and hear The King in the parking lot.  If anyone know where the Elvis impersonator is playing, please let me know.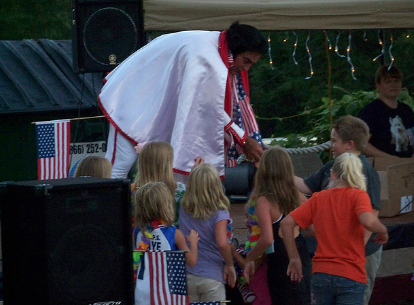 Floating Food
There's a new food boat out of Parker Creek marina.  I don't know much about it, but it's worth checking out.  If you find it and try it out, let us know!  The Nibbler's boat (totally separate boat) has some really good food and they're usually based out of The Ridge marina near the Chimney Rock area.
Crossroads Pancake Breakfast
Thursday, July 3rd.  8-10:30 am at the Arts Cabin at Russell Crossroads.  Last year my dad took us and tried to pay my kids $5 to kiss one of the horses on the mouth while he took a picture.  They declined, but another 10 year old boy at the next table said he'd do it.  And he did. 
Arti Gras
July 5th – Food, crafts and art vendors on the Town Green at Russell Crossroads.  Call (256) 212-1416 for more info.  I guess it's all day.
4th of July Parade at Blue Creek
The parade begins at 11:00am at the north end of Ponder Camp Road and ends at Niffers on Highway 49.  If you'd like to participate, bring your golf carts, bikes, motorcycles, trucks, etc.  Decorating begins at 10:00am at the top of the hill on Olona Drive.  Any questions contact Mickey Forbus at (334) 329-0905.
July 5th. If you're into farmer's market items like fresh produce, local honey, etc., the Farmer's Market in downtown Alexander City is every Saturday morning thru the end of October.  I paid them a visit a couple of summers ago: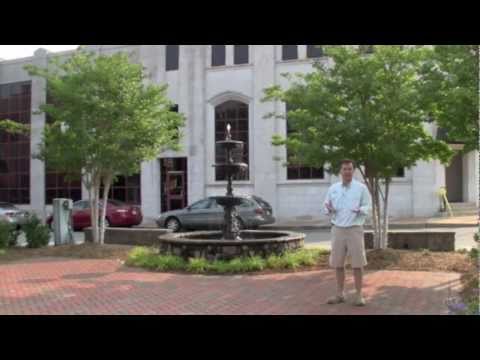 Have a fun and safe 4th everyone!  If you're interested in real estate this week, feel free to give me at call at 334 221 5862.
That's right, the 2014 Alex City Jazz Fest is June 13th and 14th, and as always, it's a free weekend of great live music.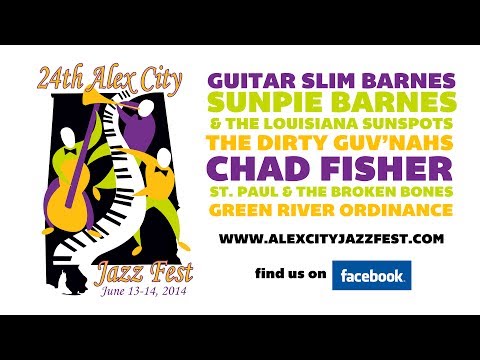 If you haven't been to Jazz Fest before, I know this sounds cliche, but it really is fun for all ages.
Friday night the concert is held outdoors in downtown Alex City.  Bring your lawn chairs and your food and drinks, and enjoy a laid back night of really good music.  Young families enjoy the bands while their kids run around the picnic blanket, groups of friends or coworkers set up amazing food and contest winning table decor, and the hip, young crowd stays late to close it down.
Saturday night is at The Amp overlooking beautiful Lake Martin.  Again, bring your lawn chairs, your coolers, and your blankets, and watch out if my dad tries to dance with you.  A designated driver is a good idea, both nights, and FYI, everyone has to get to The Amp by car.  There is no boat parking at this venue.
And it is FREE, thanks to the many local sponsors who make this happen, year after year.  We're proud to be a sponsor again this year.
Here's the schedule for the weekend.  Enjoy!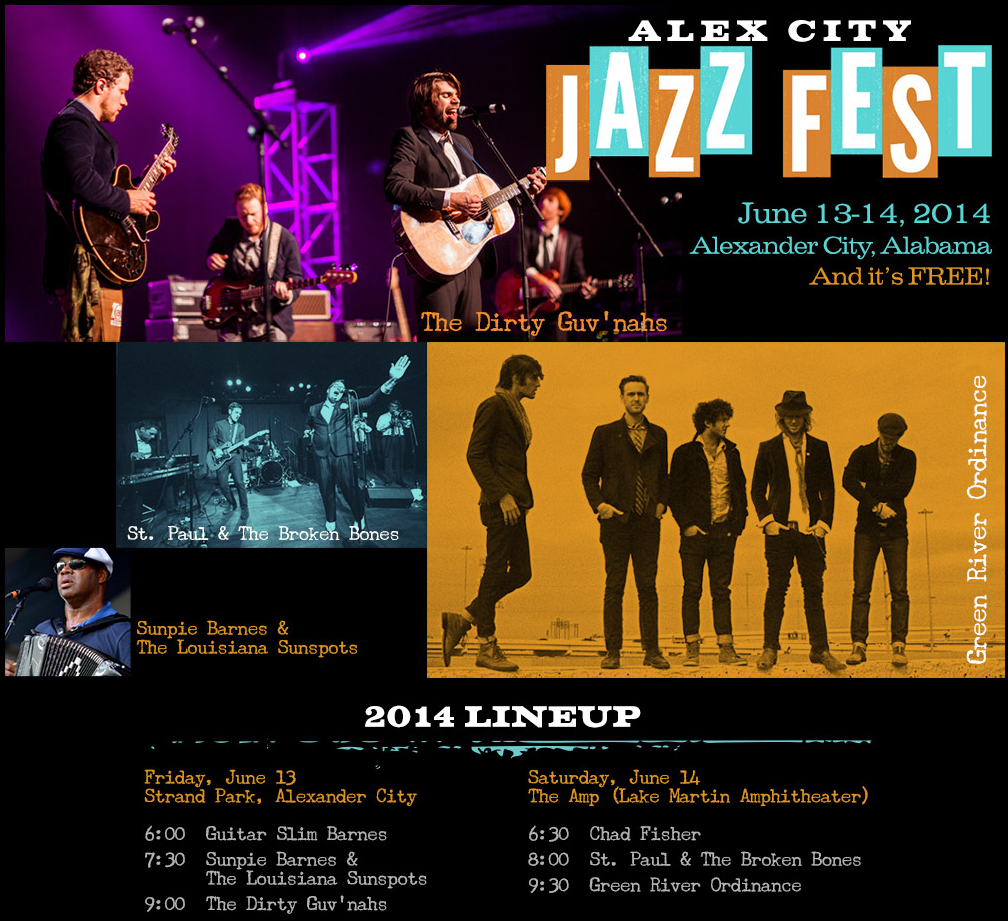 Bike rides and Lake Martin have not always gone together. Hey – we're not Peachtree City, GA, so you can't expect large sidewalks and easy peddling.  But lately, biking has gotten a lot better thanks to the cool new trails in Russell Forest.
I've got a beautiful waterfront Lake Martin listing in Windermere:  44 Fairwinds Circle.  It's a six bedroom home that's full of upgrades and amazing spaces for entertaining.  In addition to its coveted Windermere location, this home also has access to Russell Forest's trail system, and that opens up all kinds of off-the-water opportunities unique to Russell Lands neighborhoods.
With 44 Fairwinds Circle plus these trails on my mind, I employed the services of a non professional bike rider to video the adventure of riding bikes from Windermere to Catherine's Market at Russell Crossroads.  He accepted payment in the form of gelato.  Here it is: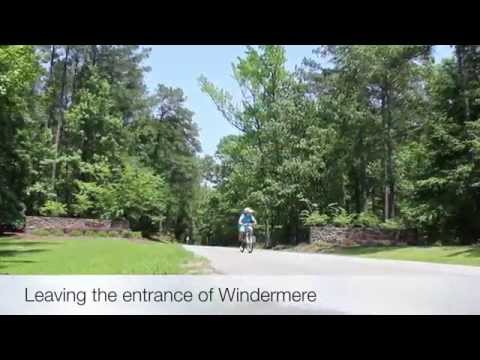 While its not a trail I would recommend for kids riding Big Wheels and tricycles, it is a pretty easy ride.  The only time my biker had to hop off and push his bike was that last hill from the tunnel up to Russell Crossroads.  But then, he had also just competed in a paddle board race an hour before.  At any rate, it's a fun ride.
These trails link together the waterfront neighborhoods of Windermere, Windover, Windermere West and The Ridge to west side of Highway 63′s Willow Point.  The central hub of all of this is Russell Crossroads.  Right now the tunnel road is open to hikers, runners, bikers, golf cart and horse riders. I love the it.
I think these trails are especially transformational for Windermere, Windover, and Windermere West which do not have neighborhood amenities (pool, clubhouse, tennis courts, workout center, etc.).  The fact that you don't have to cross Highway 63 allows new things to happen.  Willow Point people can ride to The Ridge Marina on their golf carts.  People in The Ridge can mountain bike through the tunnel and explore Russell Forest trails.  Homeowners in Windermere and Windover neighborhoods can do all this, plus go to SpringHouse restaurant or Willow Point Country Club.  The ease and sense of community is a big bonus for the already great waterfront homes in these areas.
Here's the video tour of 44 Fairwinds Circle.  This home is exciting because homes in Windermere, in this price range, typically involve a lot of updating.  THIS HOME is move-in ready with that beautiful balance of rustic and modern design.  It made my job of videoing and photographing easy.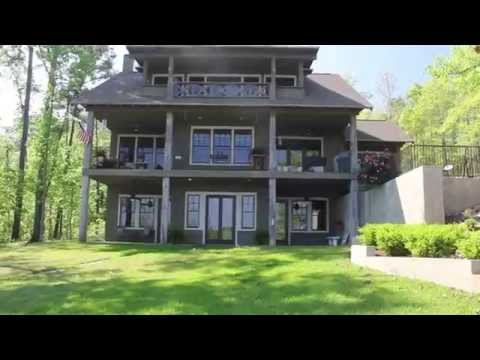 If you're interested in this home, or any waterfront property in the Lake Martin MLS, give me a call at 334  221 5862, email me at john @ lakemartinvoice (dot) com, or click here to contact me. 
HGTV fans everywhere discovered Lake Martin last night!
House Hunters featured Lake Martin on it's Memorial Day 2014 show.  As a Lake Martin realtor, I've talked to people from all over the world about Lake Martin's waterfront real estate – Africa, Turkey, Canada, Argentina, Mexico, and Red Hill, Alabama.   Lake Martin truly has a global reach, and this House Hunters episode is proof of that.

I'm assuming that everyone with a TV knows the premise of House Hunters.  I admit, I've had daydreams of bringing America to Lake Martin via this show.  I'm all about real estate video – I currently have 356 videos about Lake Martin real estate on my LakeMartinVoice Realty YouTube Channel!  But I was not the realtor on this House Hunters episode. Erin Johnson of RealtySouth's Auburn / Lake Martin office really did a fantastic job representing our area, so congratulations, Erin!  (The episode will air again on June 29 at 7:00pm eastern if you didn't catch it last night.)
A quick synopsis:
A couple from Helena, Alabama, scour the lake for a low maintenance home for their family of five.  Hubby Paul wants a "fish camp style" home, (which is what I call a cabin) with a big yard, and Neely wants a "cottage style" home with granite counter tops.  Will they ever agree?
After the show's introduction of characters, it gets interesting.  Their price range is the ever popular $350-400k range, and as the couple makes their way through the three homes on their list, I think, "I have two homes for sale right now that are almost identical to two of the homes this family has selected!" Uncanny.
So for all of you who enjoyed last night's show, and to all of you who are currently house hunting at Lake Martin, I'm going to do a quick  Lake Martin Voice Realty version of House Hunters right here!  To follow the sequence of the Lake Martin episode . . .
First – The cottage style house with all the upgrades.
Paul and Neely walked through a home in The Village.  That home happens to be a door or two away from my listing, 52 Cottage Loop, the good news is it's the lowest priced home in The Village right now, has a great view, and it's a toothbrusher (no updates needed, just bring your toothbrush):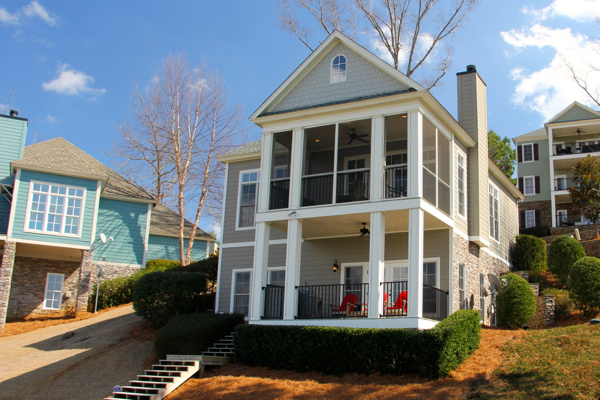 And guess what?  I make my own video tours of all of my listings, so tour away, just like on House Hunters!  Here's the VIDEO TOUR for 52 Cottage Loop.  Isn't this fun?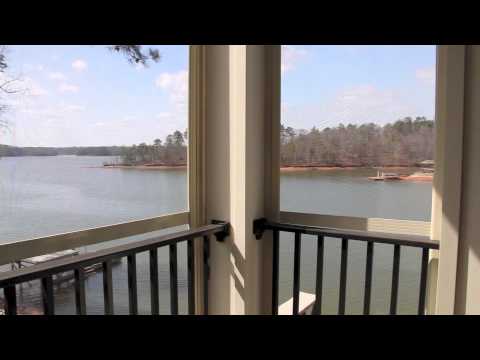 For all of the listing information on this home, please see its page on my blog: 52 Cottage Loop in The Village on Lake Martin.
Next up, the affordable, family friendly, low maintenance home with the big yard.
Paul and Neely saw (and bought) a home with the exact floor plan as a home I have listed, 108 Leisure Lane.  It is virtually the same house on a different lot, and my listing has more shoreline (for a slightly higher price).  For those of you who saw the show last night, the similarities are going to be almost eerie.  Paul and Neely, don't you agree?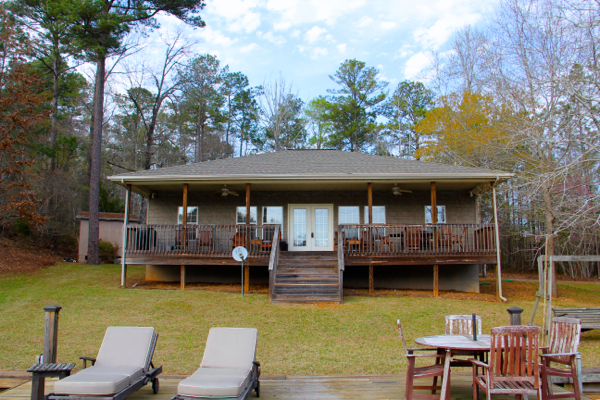 And again, because it is a Lake Martin Voice Realty listing, it already has its own VIDEO TOUR!  I even have my own in-house Suzanne Whang style host to narrate each tour.  No need to wait for the next House Hunters episode: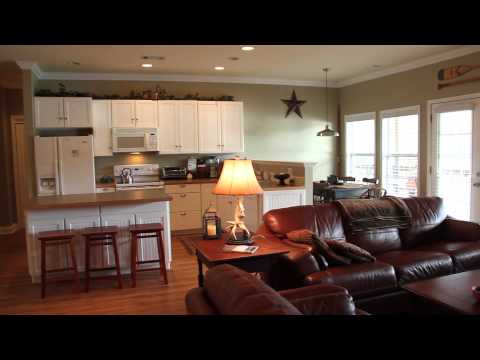 For all the listing info on this home:  108 Leisure Lane on Lake Martin.
And Third:  The architect-designed camp style lake home with amazing finishes and charming detail.
Paul and Neely saw a Bobby McAlpine Group designed Camp Home across from Blue Creek Marina and the Highway 49 Bridge.  This home is not currently listed on the Lake Martin MLS.
Similarly, for my Lake Martin Voice Realty house hunting tour, I chose an architect designed home that is not currently on the MLS.  I have a private video tour of a Bill Ingram water access house in The Ridge.  I don't mean to exclude anyone, but I can't post my video tour here because it's not my listing.  But yes, I do make videos of other agent's homes for my clients and give them a private email link to view the home on YouTube.  So I need to be your real estate agent to give that kind of access.  It is exclusive.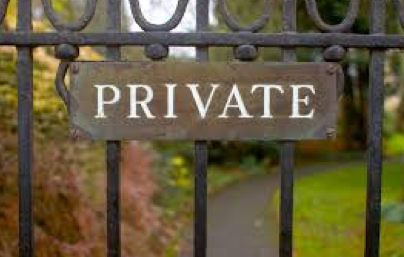 So how did I do?  Did you enjoy the tour?  Which home are YOU going to pick?
I end this post with two calls to action today, instead of my usual one:
1) If you are interested in Lake Martin real estate, buying or selling, give me a call.  I help buyers and sellers at Lake Martin, 100% of the time.  It's my area of expertise.  Give me a call at 334  221 5862, or email me at john (at) lakemartinvoice (dot) com, or click here to contact me.
2)  If you are from HGTV, here's my shameless self promo:  You've seen how picturesque and fun Lake Martin is, and hey – we're only 2 hours from Atlanta. I know you have studios there!  Knoxville is not far, either! I am not afraid to be on camera, and I will not charge extra for my slow southern drawl.  And I have all kinds of interesting clients with great stories to tell.  HGTV – you may also call please me at 334  221 5862, or email me at john (at) lakemartinvoice (dot) com, or click here to contact me.  Let's make this happen!