Archive for the 'Lake Martin Living' Category
Wildlife diversity, for sure!
Every time I head to StillWaters to show a home or condo for sale, my "web staff" knows I'm coming back with new wildlife photos.  To date, I've captured lots of deer, ducks, and herons.  In fact, I have a wildlife photo file on my computer just for StillWaters.
I was in StillWaters twice last week, and both times I saw turkeys on the golf course.  The first time, it was this crowd below:  two jakes (immature males), and one mature long beard.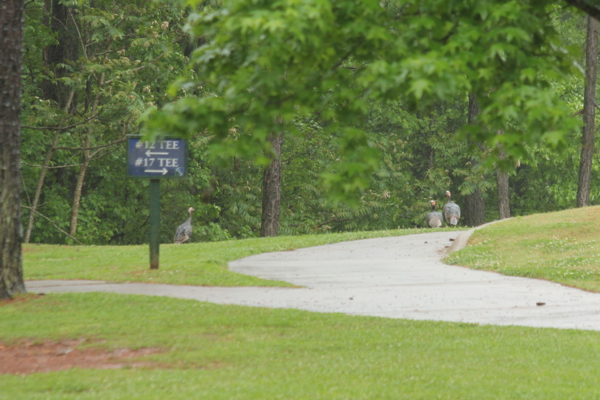 This guy was definitely the boss. He was standing by the road, and let his minions above walk ahead of him to clear the way and make sure there were no dangerous golfers around. For those of you unfamiliar with turkeys, I will let you know, the length of his beard (that straw looking hair poking out of his chest) is pretty impressive. I tried to get a little closer, but this was the best I could do from 100 yards with a 300 mm lens: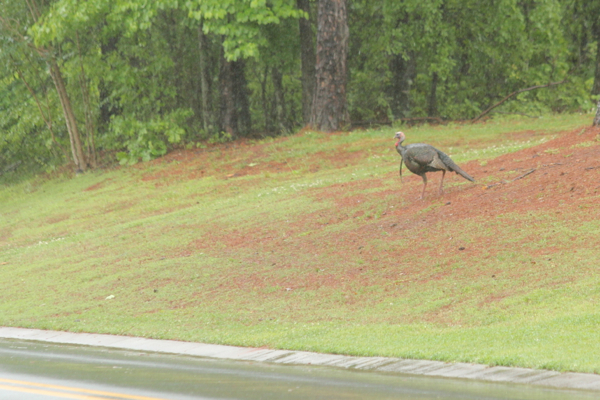 A week later I was leaving a listing appointment in StillWaters. I got to almost the same bend in the road and noticed another turkey was standing with one foot in the road, gobbling his head off. A car passed him, he took three steps back, then stepped back out and double gobbled. As an avid turkey hunter, I was amazed. This was a week into May, and turkey season was over on April 30. It just goes to show you that, even in the wilds of StillWaters, the primal procreative drive of nature does not hew to man's law. I eased my car up to him, and he walked back into the woods. This was the best shot I got of him, below. Maybe he was the same boss I saw a week earlier: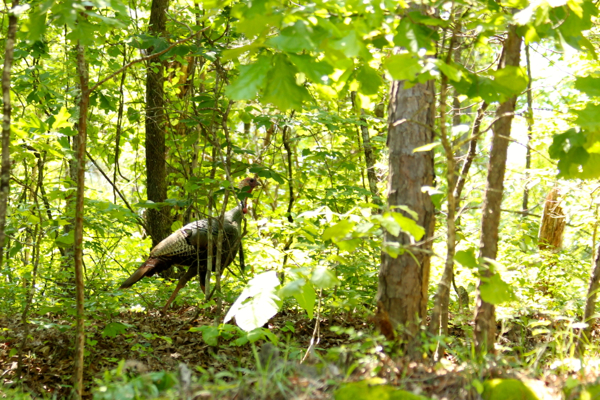 So many people come to Lake Martin because of its natural setting; wildlife sightings are just a normal part of the day.  It's different than some other popular getaways in the South – it's a place to slow down and enjoy people, the water, wildlife, and the peace and quiet.  You can bring your kids and they may actually hang out with you!
That reminds me of a favorite Lake Martin testimonial I shot while at a school function a few years ago that sort of goes along with this theme.  See if you don't agree . . .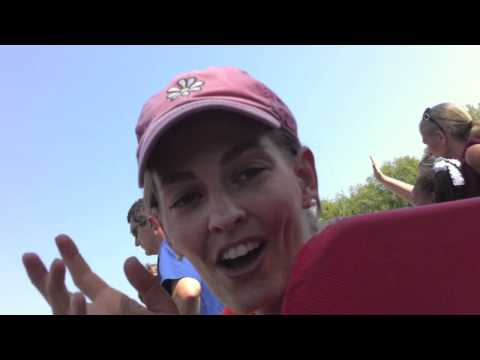 If this is the kind of vacation spot you've been looking for, check us out at Lake Martin!  I'd love for you to use this website to explore the neighborhoods, the people, the events, and the waterfront properties.  Check out my Lake Martin Voice Realty YouTube Channel where I have over 300 Lake Martin videos divided into five playlists (Community Info, Neighborhoods, How to Use the MLS, Home Tours, and Client Testimonials).
And if you'd like to talk Lake Martin real estate, give me a call at (334) 221-5862 or click here to email me.  I'd love to be your realtor!
Attention Lake Martin Paddle Boarders and Paddle Boarding Fans:
Grab your boards and join us for a race this Saturday, May 11th at Children's Harbor.  If you've been part of a paddle board race at the lake before, you know you're in for a good time.  If you've never been to a paddle board race, or you don't own a paddle board, come see what it's all about.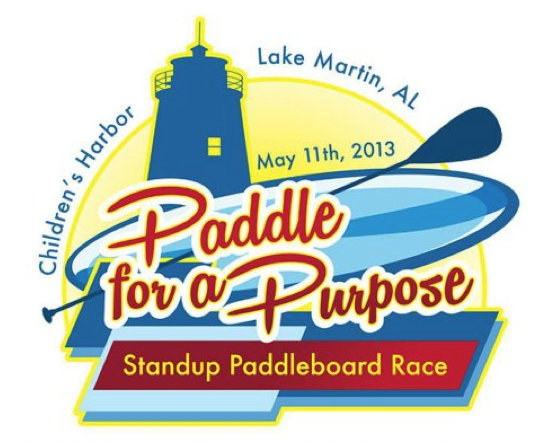 It's a race, for sure, but it's also a laid back, family-friendly event that all ages can enjoy.  My nine year old son hopped on a borrowed board last year at the Castaway Island race, and completed the 1 mile course with no trouble.  I've even seen racers do the course with a kid on the front of their board!  There is a $40 entrance fee, but you get a t-shirt, gift bag, and post race lunch, PLUS the proceeds benefit Children's Harbor, so you know that money is going toward a great cause.
Racing is set to begin Saturday morning around 9:00 am, with a pre-race meeting at 8:30 am.  There is a 1 mile and a 3 mile race, with trophies for the top three finishers in each category, plus door prizes.  Lake Martin Voice Realty is a sponsor, so I'll see you there!
For all the scoop, click on the links below:
Children's Harbor Facebook Page
Paddle for a Purpose Active.com website
Lake Martin Voice Realty agent, John Christenberry, won first place in the Fowl Division of the Lake Martin chapter of the Alabama Wildlife Federation's Wild Game Cookoff.  He and Paul Barry put together a wild turkey flatbread pizza that wowed the judges! I wish I could take some credit for his success, but my only contribution was the sign in the background.  So congratulations, John and Paul!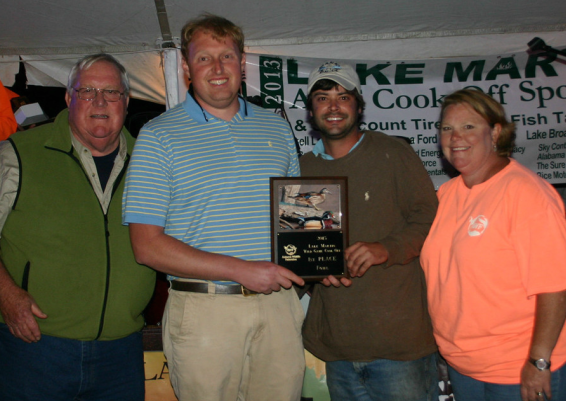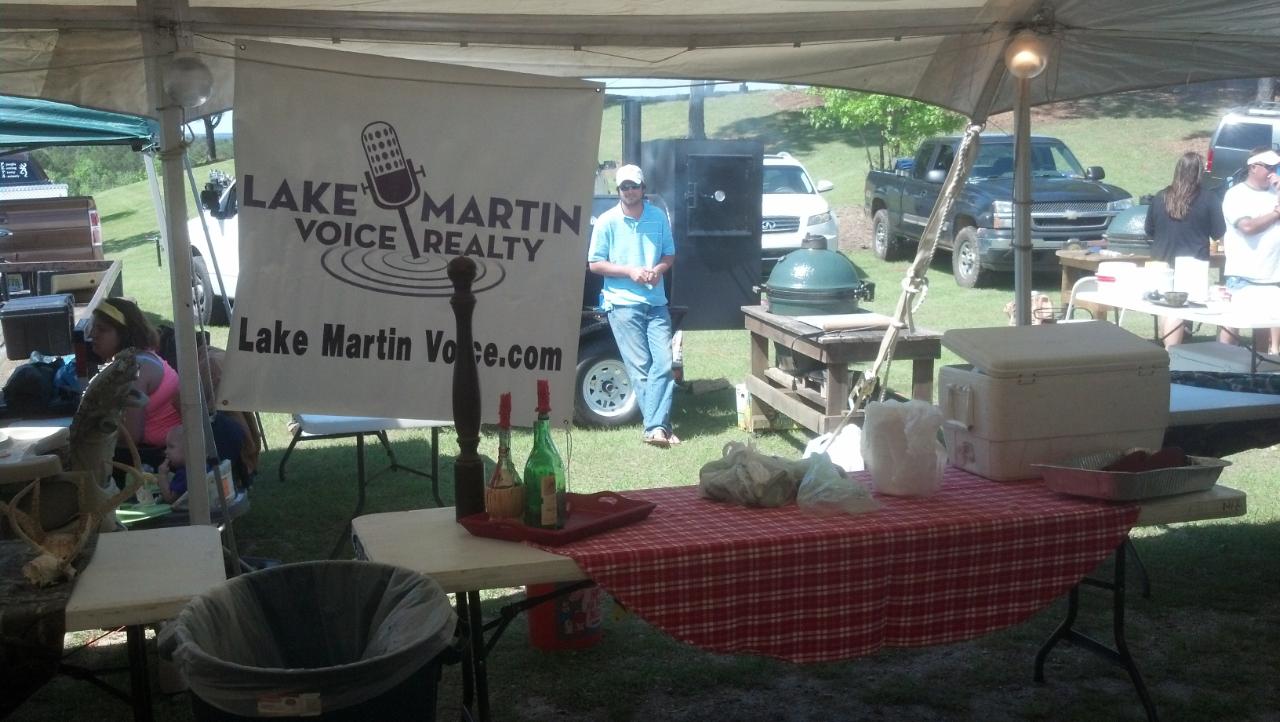 Christenberry is known hither and yon as a great cook.  I won't say that's his best skill, as he is a great Lake Martin agent as well.  One time he a drove a crock pot full of red beans and rice in his boat over to my cabin – it was awesome!
Flush with victory, his fans have talked him into another AWf contest.  If you are attending the Central Alabama chapter of AWF's cook off in Prattville, stop by his tent and sample his wares.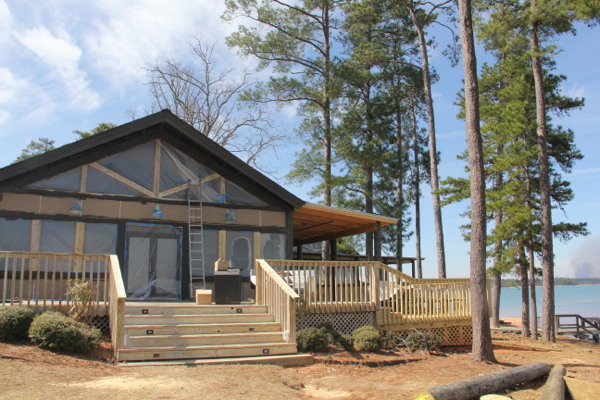 Most of you know that Kowaliga Restaurant is back.   Like I said in a recent  LAKE magazine article, I love this.
Russell Lands did not renew the lease of the restaurant's most recent operators, the group that runs Sinclair's Restaurant in Montgomery.  Russell Lands' Vice President Roger Holliday said that under their management, they "plan to offer a … dining experience reminiscent of the original Kowaliga Restaurant," since it "sits at the heart of Russell Lands on Lake Martin."
Update 4-11-13: Roger let me know that Kowaliga will open on Wednesday, April 24. Their hours of operation will be Wednesday, Thursday, Sunday 11 am to 10 pm. Friday and Saturday 11 am to 11 pm. Here's their website. For reservations at Kowaliga, don't call me, I'm just a real estate agent. Call 256-215-7035 for reservations and info at Kowaliga.
I think this is a brilliant move, and one they couldn't have pulled off 20 years ago. It is further proof, I think, that Russell Lands Corporation is shaping itself as being in the Lake Martin experience business, instead of merely selling lots or boats or lumber or golf. This move shows that they understand how important it is to give people a rich taste of life on the lake, including good dining, good shopping and fun things to do. All of these things create the milieu that drives their biggest engine – waterfront real estate sales. Now is the perfect time to take over Kowaliga. It's great for me, because I never got used to calling it Sinclair's anyway. But it is great for Russell Lands, because they have had three years of experience in the restaurant business with Catherine's Market and SpringHouse.
Like I said, I could be wrong. I am an outside observer; however, I think Russell Lands is extremely confident in the short and long term future of Lake Martin real estate.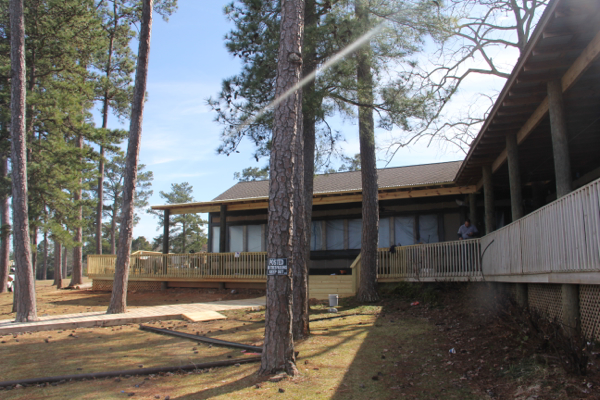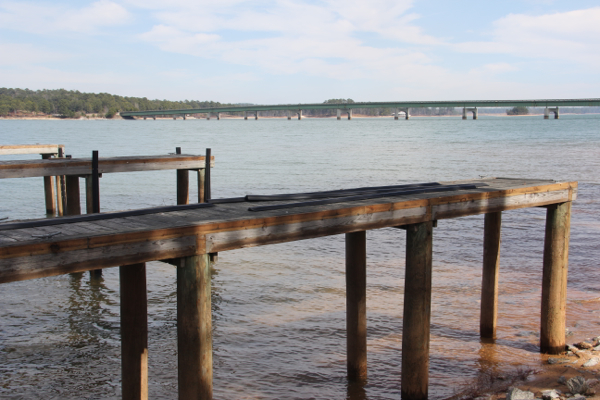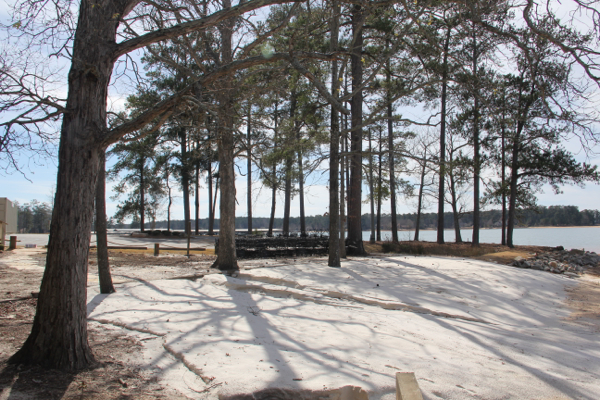 If you're interested in waterfront homes for sale in the Kowaliga area, check out my Kowaliga Bay and Little Kowaliga Neighborhood pages.  Here you'll find histories of these areas, maps, video tours, and most importantly, a live MLS feed of all the homes and lots for sale.  Check it out, and give me a call at (334) 221-5862 and let's talk.  I'd love to be your Lake Martin realtor.
Unlike some crazy civil engineering projects I've seen, this tunnel under Highway 63 has major significance for the Lake Martin area.  Most of you know that there's been road construction near Russell Crossroads for about 3 years now now.  Part of this construction project is a nifty tunnel.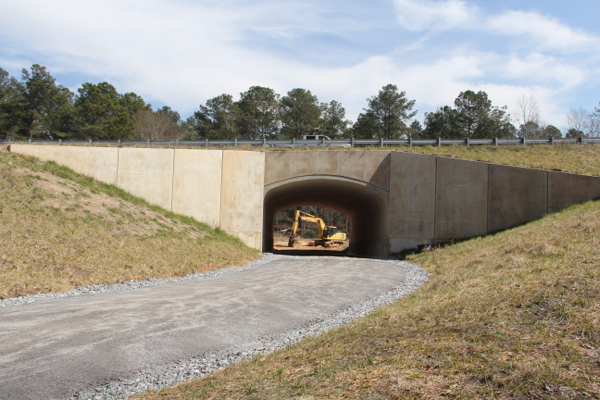 This tunnel is a really big deal for Russell Lands and therefore, Lake Martin real estate.  It's a huge part of Russell Lands' plan to link together their waterfront neighborhoods of Windermere, Windover, Windermere West and The Ridge to west side of Highway 63′s Willow Point.  The central hub of all of this will be Russell Crossroads.
Right now the idea is to open the tunnel road to hikers, runners, bikers, golf cart and horse riders. I love the it.
I think this will be especially transformational for Windermere, Windover, and Windermere West which do not have neighborhood amenities.  After the trails and roadways are complete and christened for use, homeowners in Windermere, Windover, and Windermere West will  figure out that Saturday morning coffee at Catherine's Market is a five minute golf cart ride away. Big things will happen.
I can envision a lot of other things happening along this trail system.  The fact that you don't have to cross Highway 63 opens up a realm of possibilities.  Willow Point people can ride to The Ridge Marina on their golf carts.  People in The Ridge can mountain bike through the tunnel and explore Russell Forest trails.  Homeowners in Windermere and Windover neighborhoods can do all this, plus go to SpringHouse restaurant or Willow Point Country Club.  The ease and sense of community will be a great thing.
This really reminds me of Sandestin in the late 1970s.  If you are old enough, like me, to remember the original Sandestin, it used to only be a residential development on the bay side, and an unconnected beach on the gulf side.  You had to get in your car to cross Highway 98, and the whole thing was disjointed.  Then they put a tunnel under the highway, developed out some commercial space, and suddenly everything in between flourished.
I'm not saying the Russell Lands is about to have a mega development like Sandestin, but I am saying that all of these neighborhoods are going to truly be able to use Russell Crossroads.  I think it will increase property values in all of these developments.  Russell Lands has pumped millions into this project, but homeowners will reap the benefits over the next 5-10 years.
If you'd like to know more about homes in the above mentioned neighborhoods, check out my Neighborhoods page, give me a call at (334) 221-5862, or CLICK HERE to contact me via email. I can help you with any property for sale in the Lake Martin MLS, regardless of who has it listed.  
I was glancing through the February issue of LAKE Magazine – looking for my monthly column -  and I had to grin when I saw this article.  Allison Trumbull got engaged at Children's Harbor.  I helped her parents find a lake home a few years ago, and clearly Lake Martin has become a big a part of their lives.  And now their daughter has added a Lake Martin engagement as a part of their family's "story. " Very cool.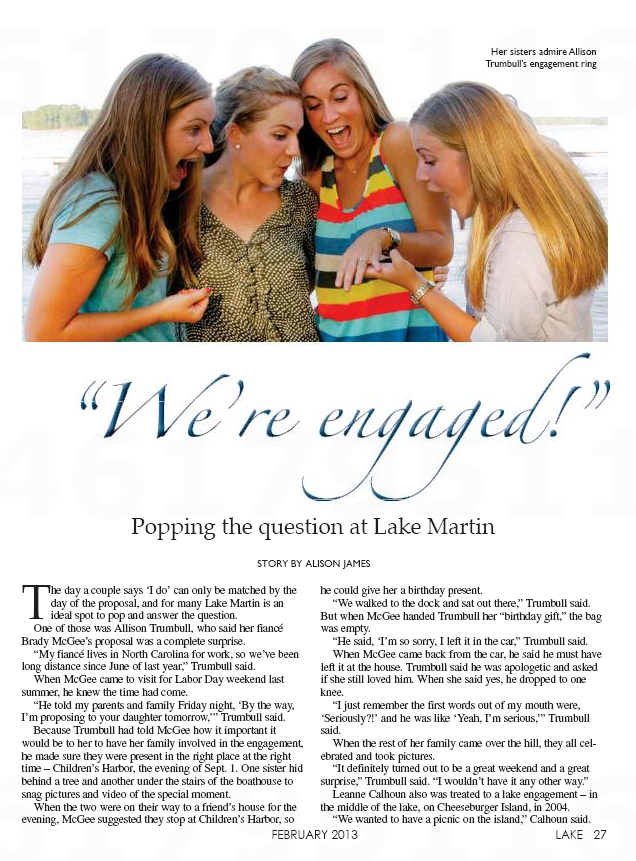 The fact that LAKE Magazine now has a "Wedding Edition" in February is proof that there are more couples getting engaged and married here. Maybe Lake Martin is becoming a destination to rival Cabo?  Glancing through LAKE's Wedding Edition, I can see that the Lake Martin community is responding with more venues, caterers, photographers, etc.  That's a great sign for the Lake Martin area economy.
Have you been to a wedding at Lake Martin?  Do you have any pics or advice to share? Use the comment box below and let us know about your experience.  And if any of your wedding guests decide they, too, need a Lake Martin home, I'm your man.  Give me a call at (334) 221-5862 or CLICK HERE to contact me.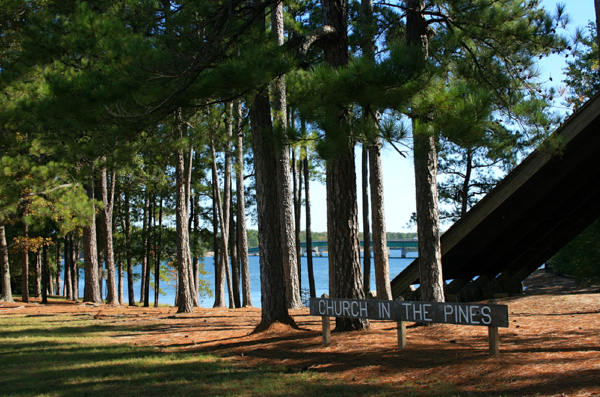 The other day I got a phone call from a lady in Pike Road, AL, asking about the above picture I took of Church in the Pines a few years ago.  Her friend plans to have a wedding there this summer, and wanted to send out a Save-the-Date postcard. They ran across this picture on my Lake Martin Voice Flickr account and wanted to use it on their card.  Of course I said yes!  What an honor.
For people who love Lake Martin, Church in the Pines is a popular place to get married.  It's a beautiful, open air, non-denominational worship facility that sits at the foot of Kowaliga Bridge on the western side of Lake Martin.  There's seating under the roof for up to 850 people, and areas on the lawn for more guests, if needed. It's part of the Children's Harbor's Lake Martin Campus, so FOR CHURCH IN THE PINES INFO AND SCHEDULING, CALL WANDA COKER AT (334) 857-2040, OR EMAIL HER AT [email protected] You can also visit their website by CLICKING HERE.

Here's a video I shot of a Sunday morning worship service a few summers ago.  The building has been renovated since then – they switched out the benches, and poured concrete walkways to help people get in and out more easily.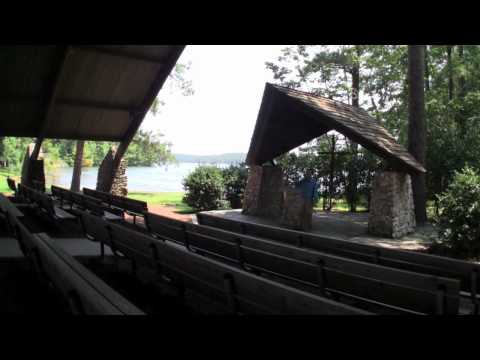 I have heard from several people that Church in the Pines books up quickly, so be sure to call as early as you can.  Children's Harbor also has the Children's Chapel available for weddings.  It's that pretty white church next to the lighthouse (on the opposite side of Kowaliga bridge from Church in the Pines).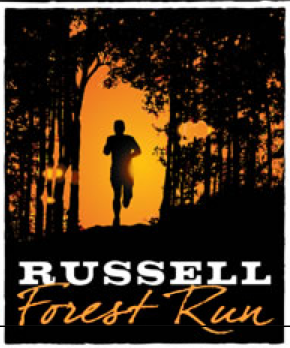 The 4th Annual Russell Forest Trail Run is Saturday, February 23rd.  I've enjoyed running it the past three years, and I plan on being there again this year.  Proceeds from the race benefit the Alexander City Schools Education Foundation (ACSEF), and there's always a super good reception after the  race with food from SpringHouse Restaurant. 
The trails are sand, clay and gravel roads, so it's a good change of pace for those of us who regularly run on asphalt.  The elevation is more than I am used to, but it's doable and fun because of the scenery.  People always ask me how hilly it is, so I've got the elevation and the route documented on RunKeeper.  CLICK HERE if you want to check it out.
You can CLICK HERE to register at Active.com
Race Information:
Saturday, February 23rd
10K at 7:45 am CST ($40)
5K at 8:45 am CST  ($20)
Race packets can be picked up on Friday, Feb. 22 from 4:00 – 6:00 pm and Saturday morning from 6:00 – 7:30 am (until 8:00 for 5K participants) at the Discovery Center at Russell Crossroads.
Here is a screen shot of the race route that I tracked on RunKeeper. RunKeeper tracks the elevation, too, so CLICK HERE to go to the live version and get the scoop: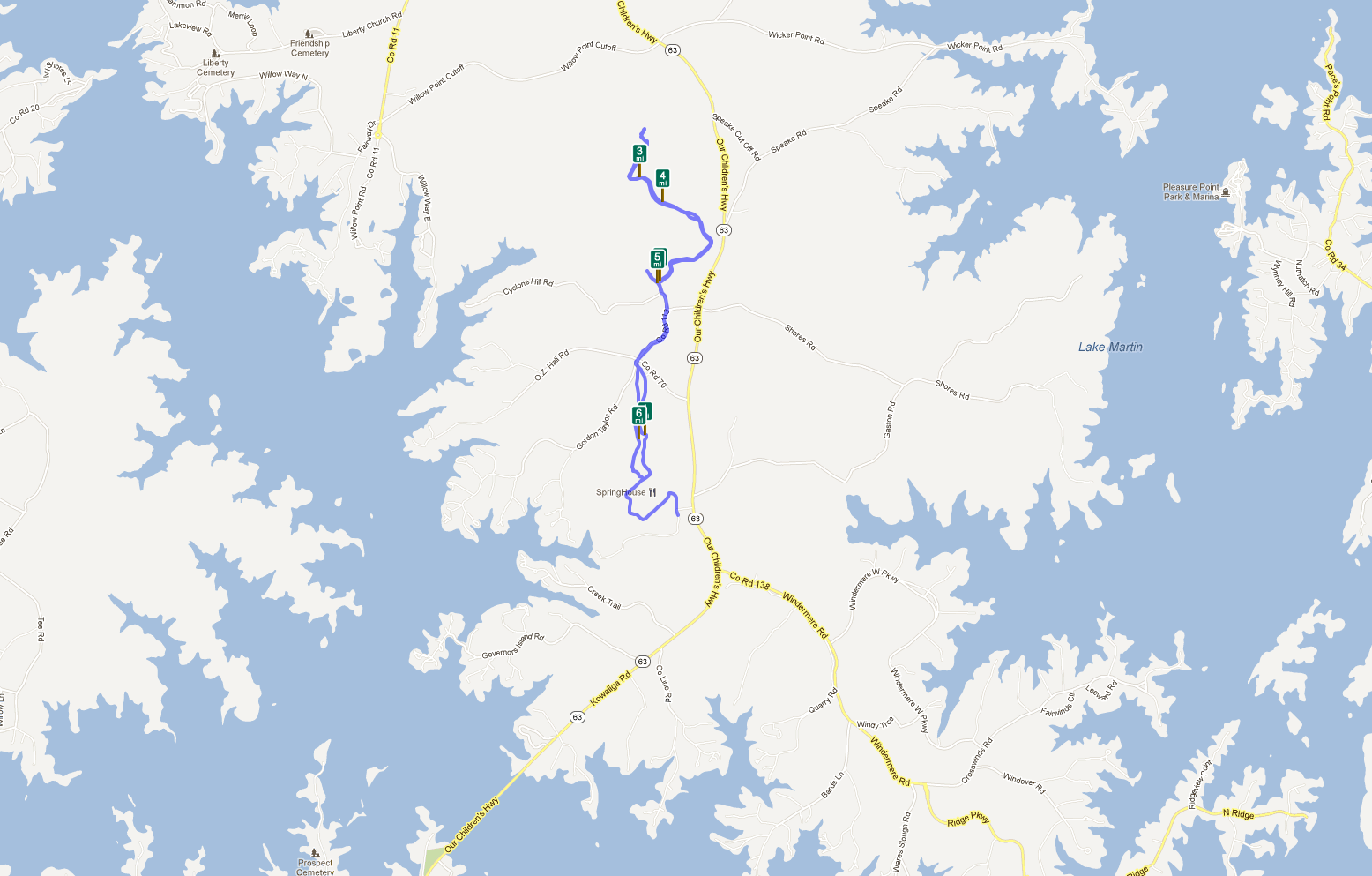 Here are pics from the starting and finish lines of a past race: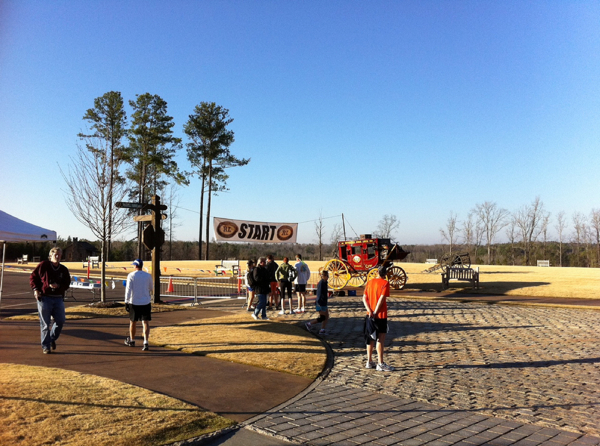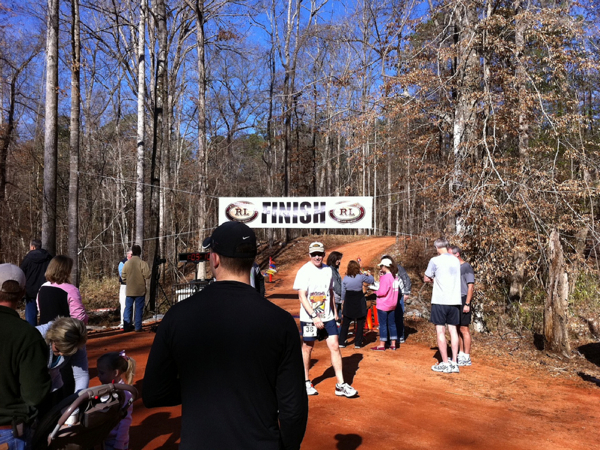 Hope to see you there!
Related Posts:
This is who I want to be when I grow up.  I took this picture a while back. It was a Thursday morning in early April, like 9:00 AM. I was driving through Stillwaters, going to show a house that's down by Harbor Pointe Marina. I thought I had a pretty good gig until I saw him, and realized he was going fishing.  This guy has got his system down and I can appreciate that. I have no idea who he is, but I am a fan.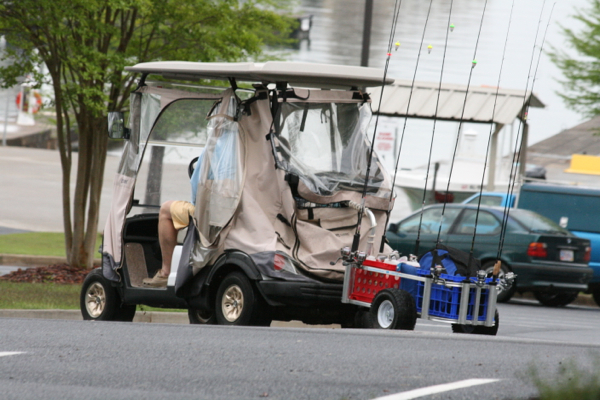 A few years ago, I hit a rare home run in the Father's Day gift department.  My dad loves Lake Martin, but his family has had a cabin since the 1950′s, so there's not a lot of lake gear left to surprise him.  But this one is so simple.  How could it have eluded our family for so long?  It's embarrassing.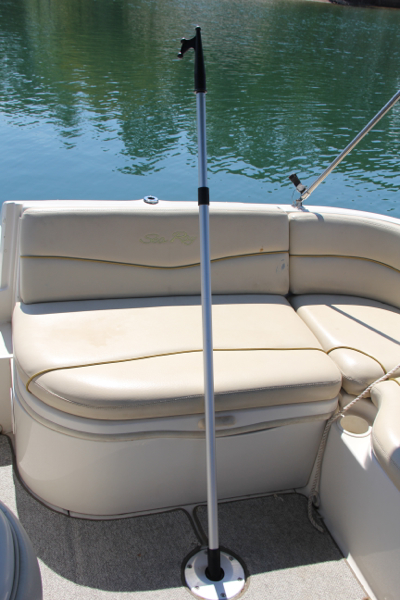 Yep – it's the $15 telescoping boat hook.   We pester our passengers with it.  We also use it to stretch out to someone on the dock to help pull us in, as it is a lot easier than throwing them that rope from the boat that never seems to make it.  We also use it to grab the ski rope when turning around to a downed skier.  To us, the funnest application is being able to grab a bumper, life jacket, or even koozie that is floating in Kowaliga Bay without an owner.  We don't even have to slow down much.  Scoring flotsam is a big deal in my family, so for this use it is a thing of beauty.   If you're heading into the gas docks too quickly, though, and need to fend off your bow, it will probably break.
A few years later, I bought one for myself at Anchor Bay Marina for about $15.  Or maybe $12?  Even if it breaks, it's worth buying one per summer at that price.  You can get them everywhere – Academy Sports, other marinas, online stores.  The one I bought my dad was about $40 and a lot more heavy duty.  I have two kids and figured that my best option would be a more disposable one.
Do you have a favorite boat tool?  I'd love to hear about it.  Leave a comment in the box below.