Archive for the 'Lake Martin Living' Category
The Preserve at Stoney Ridge is a waterfront neighborhood on the east side of Lake Martin in the Blue Creek area.
I recently made a new neighborhood video tour of Stoney Ridge – click on the play arrow and take a look.
The Preserve at Stoney Ridge is a gated community with lots of amenities including a really cool pool that overlooks the lake, a nice tennis court, a pavilion with an outdoor fireplace, and underground utilities.  A landmark for this community is the covered bridge you pass through on the way through the neighborhood.
By water,  Stoney Ridge is close to Lake Martin landmarks like Chimney and Acapulco Rocks and Martin Dam. Also by water, it's near other Lake Martin neighborhoods like The Ridge, Stillwaters, The Village, Emerald Shores, Indian Shores, and Holiday Shores. Wherever I am on Lake Martin, I like to know where the closest marinas are. Stoney Ridge is a quick boat ride to The Ridge Marina, Harbor Pointe Marina (in Stillwaters), and also Chuck's Marina (and its world famous pizza).
There are about 44 waterfront lots with most of them already sold. There are some off water lots that include a deeded boat slip.
Why would a real estate agent spend his time flying around Lake Martin?
My goal is to provide you with the latest information on Lake Martin real estate and one way I do that is to make videos of neighborhoods. I also use the latest technology for listings such as 3D, 360 and aerial video together with high quality still shots.
Are you interested in a private video tour of a listing on Lake Martin? I am happy to do that as well!
Call or text me, John Coley, at 334-221-5862. I would love to help you learn more about Lake Martin and Lake Martin real estate!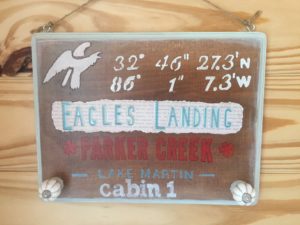 Did you know that the tiny house, big living lifestyle had arrived at Lake Martin? Well it has – at least in the form of rental cabins at Parker Creek!
Herb Winches, founder and developer of Eagles Landing at Lake Martin (and restaurant – The Landing at Parker Creek) saw the need to have a place to "stay in style and play outdoors."
Each of the 3 cabins are fully furnished with all the modern conveniences of home. They each feature a 13 ft. vaulted ceiling and a screened in porch that faces the lake. The master bedroom includes a queen size bed (no climbing to a loft bedroom here).  Stacked bunk beds are in the hallway.
A free boat slip is provided during your stay. And you can enjoy a great beach and large swimming area too! The cabins are 550 sq. ft. and are great for relaxing and enjoying all that Lake Martin has to offer with family or friends.
For more information click here for the Eagles Landing at Lake Martin website or call 205-598-8922.
See for yourself – I think you will agree tiny homes = big fun!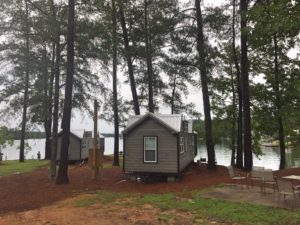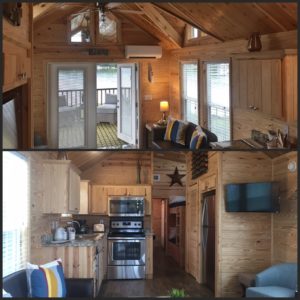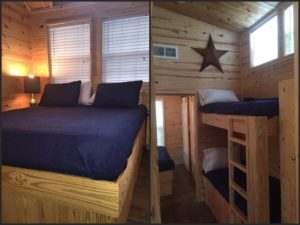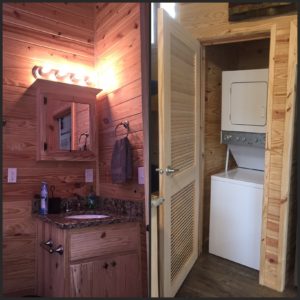 The older I get, the more I respect expertise in various professions. I like to try and DIY sometimes but I have seen some Lake Martin Docks gone bad. Usually it's the case of a person that thinks weekend carpentry skills suffice for the art and science of marine construction. Therefore, when it comes to working on and around docks, I always recommend pros like Lake Martin Dock Company. But, sometimes all you have to do is replace a dock cleat. If that's the case for you, take a look at these cleats I found on Amazon. I really like them because they fold down when not in use. I can tell you from personal experience (X 100)- stubbing your toe on a metal dock cleat has to rank among the more painful experiences of life. I have seen a lot of these fold down dock cleats around Lake Martin and, after installing them myself I can see why. They feel smooth to the touch and look stylish.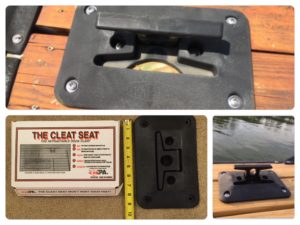 Friendly memo to all potential litigants – don't whine to me if this cleat breaks and your boat floats away, or if they break because you install it incorrectly. In fact don't whine to me at all! I am about the least handy person I know and I can tell you that proper installation is within even my meager skills.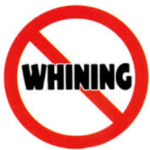 But if you have some time and a socket set, you can install these cleats. I'm using six lag bolts and I've buttressed under my dock so that I'm lagging into additional joists. But don't worry – I'm still keeping my day job as a real estate agent on Lake Martin. LMDC doesn't have to worry!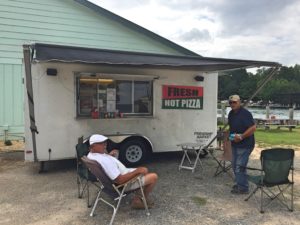 Have you tried Fresh Hot Pizza? Owner, David Reaves, has a food truck located at Anchor Bay Marina and he is offering some delicious, fresh, hot and ready to go pizza and sandwiches and hot dogs and more. Stop by and check it out!
Location? On the beach at 2001 Castaway Island Road Google Maps Link.
Phone Number? Call ahead for pickup 334-224-5434
Parking? Boat or Auto
Find Fresh Hot Pizza on Facebook!
Hours?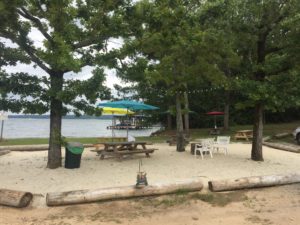 How many nighttime boat rides have you taken on Lake Martin?
I usually take several a year and I love them. The lake always looks totally different when the sun goes down. There's a lot less traffic, but obviously you have to be on guard when operating a boat at night.
I have even fished many a night, especially in the summer. Warm water temperatures means low oxygen, and that means fish go down deeper. When the sun goes down it sometimes gives them a chance to come in to shallower water and look for treats like hatching mayflies. Granted, these are smaller spotted bass and bream that venture up to sip the insects. You probably are not going to catch any of Lake Martin's famed 20+ pound striped bass by delicately casting a size 14 parachute Adams.
There are lots of folks that fish at night during the summer for striped bass, and David Hare's company, Alex City Guide Service, is the best of the best.
I always pay attention to David Hare's fishing reports. David is the owner and head guide at Alex City Guide Service.  Lately his (seemingly) unending pictures of nice stringers of striped bass has finally broken through my willpower. I can't stand it anymore! I called David up and booked a boat for later this month. I have never been night fishing with him so I know my family and I are in for a treat.
If you would like to learn more about striped bass fishing on Lake Martin, please see his report for August below.
I also pay close attention to David's Facebook page.
If you have any questions, please contact David directly at:
Alex City Guide Service
Captain David Hare
256-401-3089
[email protected]
As of 7/11/17 Full Pool(491.00) Clear Surface Temp 88July was a pretty awesome month for night time striper fishing. With only a few nights being tuff we were able to limit out the majority of time plus land some nice trophies including a 36 and a 26 lber. August fishing should continue to be good night time striper fishing. The water temps are going to be 90+ and the fish are going to be deeper this month than most any other month. I personally will be working in 100ft or deeper water looking for suspended fish in the 60-80 ft depths. I will also be expecting the best bite to be later in the night say 

9pm 

or later, with good live bait, lots of patience will be the key to great catches. August is also a good time for deep water trolling at daylight and dusk. I would try in the Ridge Marina area, the dam and Goat Island. For best results try using spoons, jigs and bug swim baits running them 40-60 ft deep.

Bream fishing is really good in August if you can stand the heat. You can limit out most any day at most any time. Try your luck in shaded pockets that are stacked with floating debris. Most any area of Lake Martin holds real nice bream.

Until next time – be safe, keep what you can eat and release the remainder for your next trip!Capt. David Hare

256-401-3089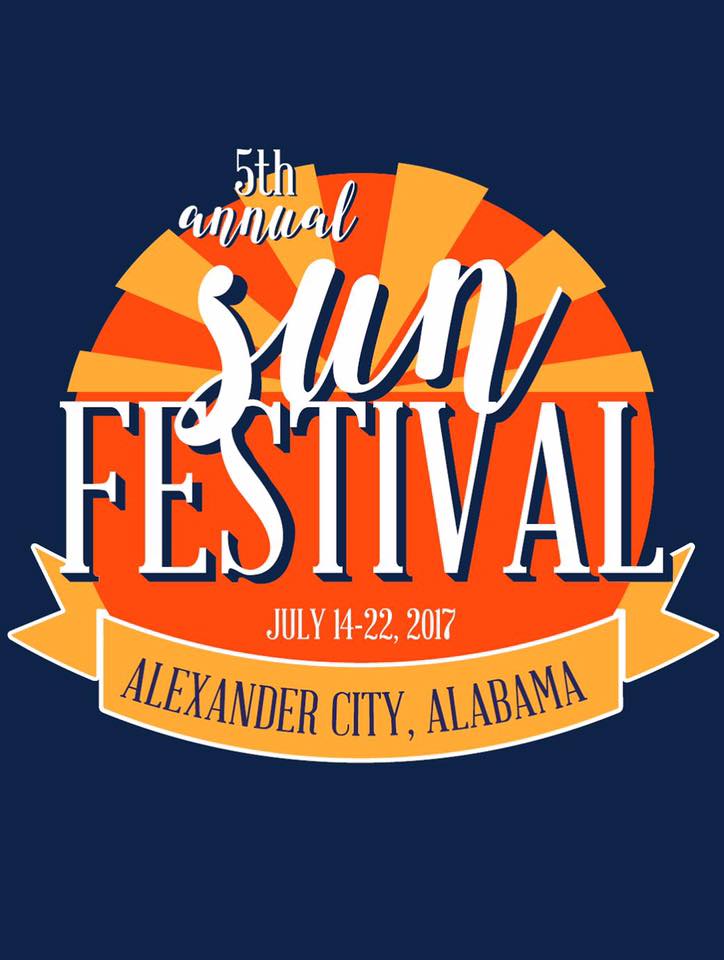 The Alexander City Sun Festival – nine days of fun – July 14- 22, 2017!
I really have to hand it to the Alexander City Chamber of Commerce. I think the Sun Festival is the perfect way to meld the City with Lake Martin. And they always schedule it after July 4th but well before Labor Day. The events are sponsored by local businesses that all bring their own flair. If you are anywhere near the Lake Martin area for this week, you owe it to yourself to catch one of these fun events.
With fun for the entire family be sure to make your plans now because you know you don't want to miss anything! To help with your planning download our free Lake Martin Voice app – all of the events are listed. Be sure to check the Sun Festival's Facebook page and website too for more details. Also the printed day-by-day guide can be picked up at the Chamber office and various businesses around town.
Listed below are a few of my favorite events:
July 15 – Slip-n-Slide 5K and 1 Mile Fun Run – Be sure to pre-register. I saw a pic of the slip-n-slide they will be using. They will end up at Strand Park and that is a great hill for sliding.
July 16 – PaddleBoard Race at Wind Creek State Park – This is sponsored by my friends Nicki and Jackson Dozier at TowBoat U.S. Lake Martin and also by Sharon and the Paddle Lake Martin group. The lake area has a growing paddle community and if you are new, this would be the perfect time to hop in, meet folks, and have fun.
July 17 – Dawg-Gawn Good Parade – Call me a sucker for dogs but I think this is just hilarious. Quintessential small town. You just dress your dog up in a funny costume, show up, and walk the walk. They even have prizes. Don't take it too seriously, this is not Best in Show. It's just for fun.
July 22 – On the Pontoon – two-hour cruises around Lake Martin sponsored by our fellow Lake Martin Voice Realty agent, the ever fun loving Paige Patterson. Paige will need to correct me if I am wrong but I think she has been doing these about three years. She first started them as a way to show real estate to folks new to Lake Martin, and it was such a hit she decided to incorporate a tour during Sun Festival. It's a great way to get to know the Lake. Also, if you absolutely just had to buy a piece of real estate that you saw along the way, Paige probably wouldn't hold you back. Just sayin'.
July 22 – Cornhole Tournament – starting at 4 in Strand Park. Cornhole is a "sport" that requires a minimal amount of effort.
July 22 – Moon Taxi Concert – starting at 6 in Strand Park. End the nine days of Sun Festival fun with a musical celebration! You absolutely need to get tickets ahead of time for this one, but they are only $20. Be sure to check the Chamber website www.alexandercitychamber.com.
Some of the events require registration or tickets. Registration forms can be downloaded at www.alexandercitychamber.com or go by the Chamber office.
Sun Festival is possible due to the Alexander City Chamber of Commerce, the many sponsors and volunteers and the city and county governments. Be sure to thank and support the sponsors and thank the volunteers when you see them!
Happy Sun Festival – enjoy celebrating all that Lake Martin and Alex City has to offer!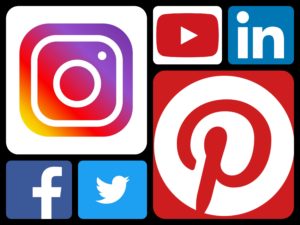 Earlier this year I had my first "Instagram closing" for a waterfront home sale here at Lake Martin.
Let me explain how it went down.
I saw a #sneakpeek of a new listing for a home in the Real Island area on my friend Becky's Instagram feed. I forwarded it to my potential buyer and within 20 minutes they drove by the house. I scheduled a showing and the next day they made an offer, beating out a couple of other buyers, and got under contract. We closed soon after.
I was pretty amazed when I reflected that it pretty much happened over Instagram.
Not that Instagram or any social media is the end all be all.
In my opinion, too many real estate agents think that merely "having a presence" is the point of social media. They think they have to be everywhere. They brag on the number of platforms they're on and say "Follow me on Facebook" or "Like my stuff on Instagram."
I tend to think "Why should I follow you?" Or more accurately, "Why should the public follow me or any agent?" What is in it for them? Everyone these days has a Facebook page or Instagram or whatever. Big deal. It's free.
The big question is "What are you (as a real estate agent) doing with it?
Social media is a tool, just like a phone or a car or a camera.
What separates effective agents from self-promoters is that effective ones think "How can I help my clients with this? What would they like? What is useful to them?"
If you are an agent reading this – think about it – what's a more helpful way to use your phone to help your
buyer – texting them a picture of the view of Lake Martin from a home? or posting a selfie of you (gobbling
up all of the screen space) in front of the same view and posting it on social media? My friend Becky nailed it when she posted the sneak peak. She was being helpful to her followers and showing a great view of the home. It worked.
I admit, I have an ego just like the next guy. Probably more than the next guy. Sometimes it is a struggle to me to not give in to those that advise agents to constantly "promote your personal brand" by splashing your name and Glamour Shot all over the place.
For the record, I do think that brand promotion has its place – in limited quantities for specific purposes. But, I also think that my approach suits me personally.
My approach- to use my marketing muscle to talk about Lake Martin.
I try to talk about my sellers' properties, not myself. My goal is to help buyers learn about Lake Martin, not about me.
I realize that along the way, parts of my life will inevitably spill into the interweb and my marketing. You can't help it when you put so much of yourself into something. However, such spillover should be incidental to the process, not Step 1 of it.
To return to the Instagram example, true- that's how we found it. But, my buyers would not have listened to me on that one had I not earned their trust over years of looking at other homes online and in person. In other words, social media was one of the tools we used. Not the only one.

It's mosquito season in Alabama and with all of the rain we have had in the last month you are probably hearing those pesky, buzzing mosquitos and feeling their presence at Lake Martin.
When at Lake Martin we want to be outside and enjoy ourselves – not keep swatting away mosquitoes. Help can be on the way! Call my friends with Mosquito Authority at (334) 648-0936. They are a local company based out of Montgomery and can help control mosquitoes around your home.
Last fall I wrote a blog post explaining what Mosquito Authority does and how to get in contact with them. If you would like to read it now click here – it should answer most of your questions. Prices have changed a little for 2017. The price is $69 per treatment. Or save some money and choose the one payment option for the remaining season – (currently there are 5 applications left in the official mosquito season.) The season starts in early April and continues thru October – the worst month for mosquitos is typically August.
There is no contract or obligation but if you choose the repeat treatments plan the Mosquito Authority guarantees that if the mosquitoes keep biting they will come back to spray again at no extra charge.
Mosquito Authority is helping keep away mosquitoes at our lake house again this year and they can make a difference in controlling the mosquitos around your yard too!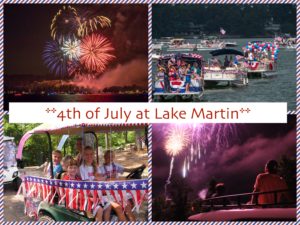 What is there to do at Lake Martin on the 4th of July?
I am glad you asked! Since the 4th is on a Tuesday this year (and hopefully you have Monday off from work) there are loads of events scheduled at the Lake starting Friday, June the 30th. In fact there are too many to list here but don't worry – check out my free Lake Martin Voice app for a full list of events.
As far as July 4th here are some great choices:
The Amp 4th of July Blast – Concert and Fireworks – gates open at 5:00 with music starting at 6:30 from The Bank Walkers and the Sweet Tea Trio. Fireworks will start at 9 featuring the Southeast's largest fireworks show! Tickets are $10 with children 6 and under free.
Russell Marine 4th of July Boat Parade – boats will parade from Kowaliga Marina to Children's Harbor in a "festive and patriotic holiday display." The parade starts at 10. Prizes awarded! Register to enter the parade (call 334-857-2111) or enjoy the parade from the shore!
Blue Creek 4th of July Parade – starts at the North end of Ponder Camp Road at 11 and ends at Niffer's. Watch or enter – fun for all!
Three cheers for the Red, White and Blue!
The Lake Martin Voice app is available for free (click on images below):


This year's Wine & Words event is Friday, June 23 from 6-8 pm at Chuck's Marina. Please come out to support the Friends of the Dadeville Library – sample some wine, browse the selection of books and listen to some live music from John Bull and Ed Pickett.
Also meet author Katie Porterfield who will be on hand to sell and sign her book "Find Your Heart in Lake Martin." This book would make a great gift for anyone, any age that loves Lake Martin. To read more about Katie click here for an article from the Alex City Outlook.
Any donations will benefit the Friends of the Dadeville Library. The Friends are also offering chances to win a brand-new Fender "T-Bucket" acoustic guitar, featuring an on-board amplifier. Tickets for the guitar drawing are a $2 donation each. Tickets are currently being offered at Dadeville Public Library and can also be purchased at Wine & Words.
We are happy to help sponsor Wine & Words this year along with Chuck's Marina Winestoppers and Friends of the Dadeville Library.