Archive for the 'Lake Martin' Category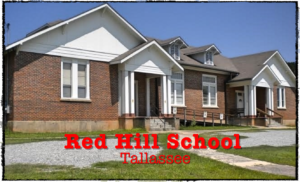 Do you come to Lake Martin on the weekends? If you consider yourself a semi local you may have worshipped on Sunday at Church in the Pines or even shopped on Saturday at the Alex City Farmers Market.
But have you been to the singing that happens every Friday night at the old Red Hill School in Tallassee?
It really is a pretty cool event. It's just the type of thing I had in mind when I created my app. There are so many great things going on here at Lake Martin that deserve some attention.
Recently I was contacted by Paula about the Old Red Hill School Jam – a weekly event every Friday night from 6:30 -8:30. For over 12 years folks have been entertained by a country, folk, gospel or blues music jam for free. Visitors can dance, sing and play, or just listen while they enjoy free coffee and snacks.
For more information call Paula at 334-541-2474.
Google Maps Link to Red Hill School.
To download my free Lake Martin Voice app click here – I know you don't want to miss anything going on at the Lake!
Great news! The Lake Martin Water level
will stay at full pool until mid October!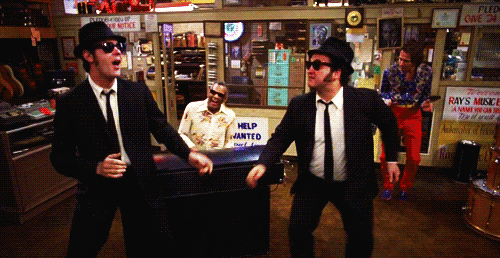 This is what we have all been waiting for! One of the coolest provisions of Alabama Power's new license for Martin Dam is that, given the proper amount of rainfall and some other factors, we will be allowed to keep the Lake full until October 15. Previously, regardless of the weather, the drawdown started just after Labor Day.
This new rule means that Lake Martin has been given about six more weeks of summer!!! It's like a reverse Groundhog Day thing. We are totally psyched around here.
Astute Lake Martin fans will tell you that fall is one of the best times to be at the Lake. They're totally right. Especially in September, the water is still as warm as it is in August, yet the air temps go down from "punishing" to merely "warm." Click here to read my article from last month's Lake Magazine where I discuss the potential ripple effects.
When Alabama Power announced that they have extended its full pool, The Alexander City Outlook published a nice summary here.
Did you miss it?
Unit 10-C Willow Point had a price drop!
This waterfront, luxury condominium in the popular Willow Point neighborhood is now listed at $549,000! This condo is move-in ready, over 2,600 sq. ft. with four bedrooms / four baths on two levels.
The lake side of the condo has two decks for enjoying the view and entertaining plus a screened porch. There is also a gathering area at the water, right in front of the dock. The deeded boat slip is tucked into a cozy slough away from the big waves but close to the big water near Parker Creek and Sand Island.
Click here for videos, photos and more information about this condo – you will be glad you did.
Contact me, John Coley, today to see Unit 10-C Willow Point! Call or text me at the number at the top of this page or email me [email protected].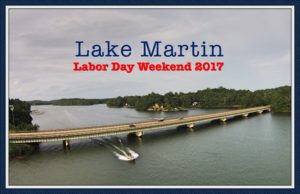 Are you headed to Lake Martin for the long Labor Day weekend? There are plenty of options for things to do as we celebrate the end of the summer season.
Here are a few things to do around Lake Martin for Labor Day 2017. For a full list and more details see my free Lake Martin Voice app – the best way to keep up with Lake Martin events and an easy way to find the restaurants, shops and landmarks.
Friday on the Green at Russell Crossroads – 6:30-8:30 pm, Jilla and Kurt will kick off September with some great music. Enjoy lawn games, sidewalk art. Pet and family friendly.
Old Red Hill Jam at Red Hill School House – local live music, open stage 6:30 – 8:30 pm. Dance, play or just listen!
Saturday – 2nd Annual Cornhole Tournament at The Landing – Noon. Teams of 2 will compete for prize money and the chance to wear the Crown of Corn!
Community Garden Club Pancake Breakfast – Saturday morning from 8-10. Russell Crossroads Artist Cabin.
Labor Day Weekend Blowout – at Bezlo's Bar & Grill, live music Friday from the Shades of Gray band and Saturday – Rob Aldridge & the Proponents Band. Comedy Night on Sunday with E. Craig and the Alcohol Break comedians.
Labor Day Bash – Copper's Grill at Stillwaters. Live music from Matt Smith, Sid Phelps and Blackberry Breeze. Music starts around 6:30 pm.
Sunday night, Labor Day Concert at The Amp featuring "Just Got Started Lovin' You" Nashville recording artist James Otto, the pride of Clarke County, country music singer and writer, Ashton Shepherd, local favorites, The Bank Walkers and Rexton Lee. Gates open at 5. Show starts at 6 pm. Tickets are $10.
Happy Labor Day weekend!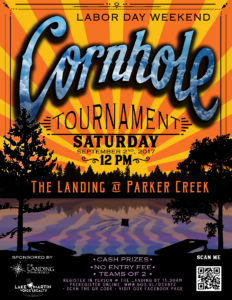 I can't wait for the Cornhole Tournament at The Landing at Parker Creek –
Saturday, September 2 starting at noon. Fun for the entire family!
Cash Prizes per team:
1st Place $300
2nd Place $200
3rd Place $100
No entry fee!
Register at The Landing before 11:30 am the day of the tournament or preregister online – click here.
Google Maps location for The Landing at Parker Creek
Have you ever considered buying a Lake Martin home with friends or family? It is not a decision to take lightly.Whether you pool your resources with your best friend or brother it can make a second home affordable. Another aspect that some people like about co-ownership is that it takes some of the "absence guilt" out of owning a vacation home – meaning – if they're not there, they can take heart that the other family is able to use it.
A few years ago I helped two couples buy together in Lake Martin. Watch the video below and hear what they had to say about the experience. These families are also business partners so they reasoned if they can work together they surely can own a second home together! It was one of the most fun experiences I have ever had helping folks find their spot on Lake Martin. Years later, they are still loving the home.
I would love to help you (and your best friend) find your Lake Martin home. Call or text me, John Coley, at the number at the top of the screen or email by clicking here.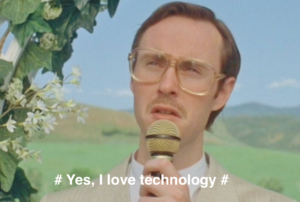 I love technology. Maybe not as much as Kip Dynamite, but I do love it; however, it does have its limitations.
A couple of weeks ago I was helping a potential homebuyer search for a Lake Martin waterfront home. The buyer is really into fishing, and he would like to be able to keep his fishing boat at the dock for as long as possible throughout the year.
Here at Lake Martin, the water fluctuates a total of 7 feet. During the colder months, Alabama Power draws the lake down, starting in the fall, and brings it back up in the spring. Buyers that would like access to their boats no matter the season look for homes with greater than 7 feet at the dock. We agents tend to call this "year 'round water" depth.
While discussing different homes with the buyer, I threw out some suggestions that I thought might be just the fit for him. One in particular was in his target area and price range but he immediately nixed it.
"Nope," he said, "the water is not deep enough at the dock."
"Are you sure?" I asked. "Because I know that area in general and I am pretty sure it has decent water depth."
"I checked my electronic lake chart that's on my fishing boat and the app that comes with it. The app has the water depth for every square inch of the lake and it says the water is only 1 foot deep at the dock and only 2 feet out in front of it. There's no way I can get my boat to it most of the time," he answered.
This sounded crazy to me. I just could not believe the water was that shallow. I had never visited this particular home, but regardless, I knew homes in the area and usually you remember when an entire slough has super shallow water. Because I never visited it, I hated to contradict the electronic chart.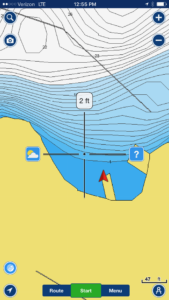 You may be familiar with these types of maps. There are a couple of different companies that sell lake maps, and you buy a "chip" to put in your depth finder on your boat. Or, you can download the app and have it all on your phone.
After a little encouragement, he decided to see the home anyway. After all, as I said, it fulfilled two of his other criteria: location and price.
We both had a big surprise on the day we saw the home. The first thing we did was go directly to the dock. As we walked down the stairs, I could tell there was way more than 1 to 2 feet of depth at the dock. But how much? He had brought his ruler so we could be as exact as possible.
You guessed it – the chart was wrong. The depth at the end of the dock was actually about 8 feet. That's a whopping 6 feet of difference between the app and actual.
Now, 6 feet of difference might not be that substantial when you are trying to hook up with a largemouth or striped bass. But when you are buying or selling real estate on Lake Martin, 6 feet monumental. Especially when that 6 feet takes you from a depth that would be considered very shallow (2 feet) to year round water (8 feet).
I have never been able to create an algorithm that shows how much each foot of water depth helps a lot's value. Maybe such a magic formula exists. But I can tell you that no buyer comes to the lake and says, "I want no water." Not everyone has to have super deep water, but everyone would choose 8 feet of depth over 2, given the same price.
So, as much as we techies love our data and our apps, I urge you to take a lesson from the above. Do not rely on fancy pixels and playthings when calculating such an important thing as water depth. It still pays to be old school in this area.
Bring a ruler and be ready to submerge it. Or make yourself a measuring stick and bring it with you when you are house shopping. Just don't try and sell me one.
I made an infinity of them at scout camp.
Note: I originally published this article in my monthly column in Lake Magazine.  I am proud to write about Lake Martin Real Estate for Lake Magazine and ACRE – the Alabama Center for Real Estate.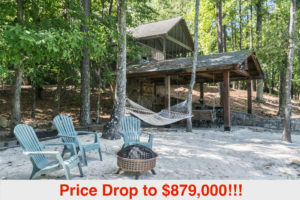 This Lake Martin waterfront home for sale in the Trillium neighborhood has just had a price drop!
570 Wake Robin is a large, upscale home, 4 bedrooms, 3 1/2 baths, with an open floor plan, quality craftsmanship and breathtaking views from the 2 story living room and screened in porch. The private, heavily wooded lot slopes gently to the Lake in a deep water cove. Nice beach area with spectacular outdoor living space to enjoy year round!
New price of $879,000!
Take a full video tour below! (click play arrow) 

The Preserve at Stoney Ridge is a waterfront neighborhood on the east side of Lake Martin in the Blue Creek area.
I recently made a new neighborhood video tour of Stoney Ridge – click on the play arrow and take a look.
The Preserve at Stoney Ridge is a gated community with lots of amenities including a really cool pool that overlooks the lake, a nice tennis court, a pavilion with an outdoor fireplace, and underground utilities.  A landmark for this community is the covered bridge you pass through on the way through the neighborhood.
By water,  Stoney Ridge is close to Lake Martin landmarks like Chimney and Acapulco Rocks and Martin Dam. Also by water, it's near other Lake Martin neighborhoods like The Ridge, Stillwaters, The Village, Emerald Shores, Indian Shores, and Holiday Shores. Wherever I am on Lake Martin, I like to know where the closest marinas are. Stoney Ridge is a quick boat ride to The Ridge Marina, Harbor Pointe Marina (in Stillwaters), and also Chuck's Marina (and its world famous pizza).
There are about 44 waterfront lots with most of them already sold. There are some off water lots that include a deeded boat slip.
Why would a real estate agent spend his time flying around Lake Martin?
My goal is to provide you with the latest information on Lake Martin real estate and one way I do that is to make videos of neighborhoods. I also use the latest technology for listings such as 3D, 360 and aerial video together with high quality still shots.
Are you interested in a private video tour of a listing on Lake Martin? I am happy to do that as well!
Call or text me, John Coley, at 334-221-5862. I would love to help you learn more about Lake Martin and Lake Martin real estate!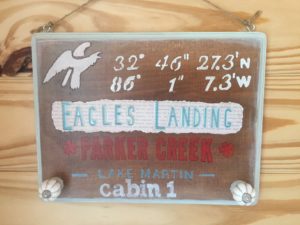 Did you know that the tiny house, big living lifestyle had arrived at Lake Martin? Well it has – at least in the form of rental cabins at Parker Creek!
Herb Winches, founder and developer of Eagles Landing at Lake Martin (and restaurant – The Landing at Parker Creek) saw the need to have a place to "stay in style and play outdoors."
Each of the 3 cabins are fully furnished with all the modern conveniences of home. They each feature a 13 ft. vaulted ceiling and a screened in porch that faces the lake. The master bedroom includes a queen size bed (no climbing to a loft bedroom here).  Stacked bunk beds are in the hallway.
A free boat slip is provided during your stay. And you can enjoy a great beach and large swimming area too! The cabins are 550 sq. ft. and are great for relaxing and enjoying all that Lake Martin has to offer with family or friends.
For more information click here for the Eagles Landing at Lake Martin website or call 205-598-8922.
See for yourself – I think you will agree tiny homes = big fun!