Archive for the 'New Construction' Category
Is a waterfront construction project on Lake Martin any different than one in the city?  I wasn't sure, so I asked Doug Fuhrman, owner of Southern Traditions Construction, and lead man on this Real Island renovation project we've been following.  I was hoping there would be some exciting insider scoop I could offer my readers, but Doug's response was,  "Not really."
Ha!
OK.  So since construction is construction, no matter where you are, let me offer some real estate tips based on my experience selling homes on Lake Martin.  While these things may seem painfully obvious, you'd be surprised by what some folks do to their waterfront homes:
1) Windows and doors:
You are at Lake Martin to enjoy the water, even if you never dip your toes in it.  You need to see it.  And even better if you can see it from lots of places inside a home.  Why stick a tiny window in a great room when you can use a big one?  Seems pretty obvious to me, but you'd be surprised.  No buyer ever says, "I liked the house, but there was just too much view of the lake from the home."
It's hard to tell from the angle of this picture below, but across the front of the great room (back wall of the new covered porch) is a wall of glass.  New sliding doors have replaced a set of smaller windows, and the new bedroom addition on the right has wall to wall windows (minus space on the left for a closet, and the far right for the new master bath).  This is not fancy architecture; it's just putting more of the lake in front of your eyes.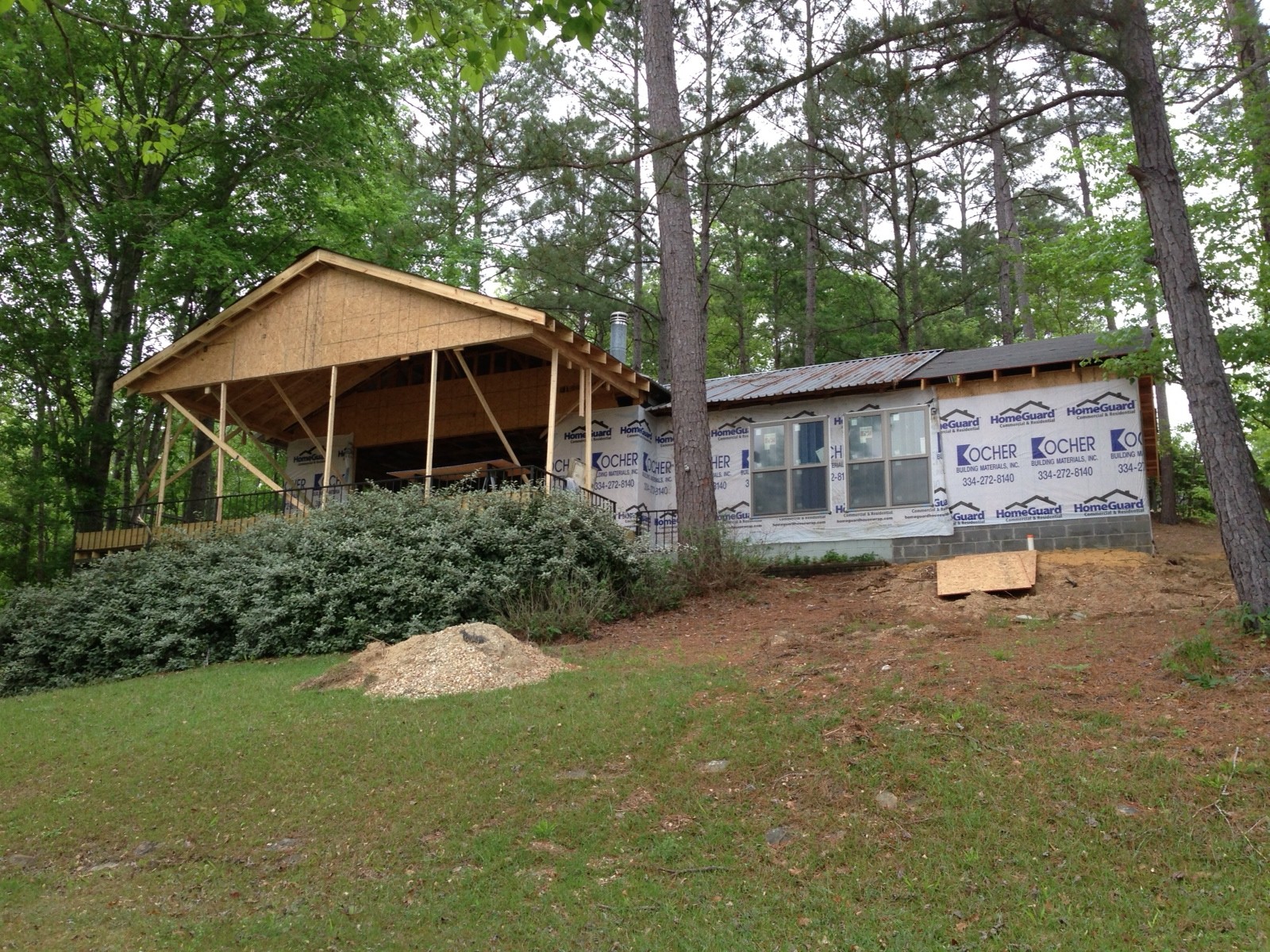 Before: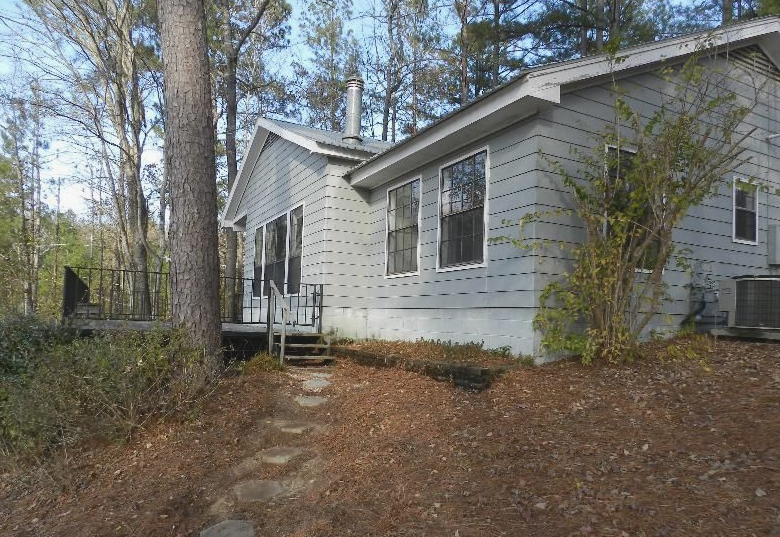 2) Covered outdoor living space
It gets warm here.  It also gets sunny.  And every now and then it rains.  The picture above is a great example of an outdoor space that is OK, but how much more use would it get if it had a roof?  The new owners of this home agree, and are creating a covered space that will be comfortable all day long – rain or shine.  Again, no buyer has ever said, "The inside of the house was great, but I don't want that huge screened porch."
3)  Access to the water
Make it easy to get from the house to the water.  A few years ago I sold a $500k waterfront home that literally had no way to get to the water (other than climbing over a wall and scrambling down a very long hill).  This was one of the first issues the new owners corrected, and imagine how much easier it is to enjoy Lake Martin!  Make it a priority to have the fewest steps possible to get from the inside of the home to the dock, and if the only way to the water does not cut through the master bedroom, even better.
In the process of rethinking this Real Island home, Lee and Amelia decided to add sliding glass doors to the front of the home where there was no lake access before, plus keep the side entry for folks coming in from the street.  Simple and efficient, and with a eye toward the lake.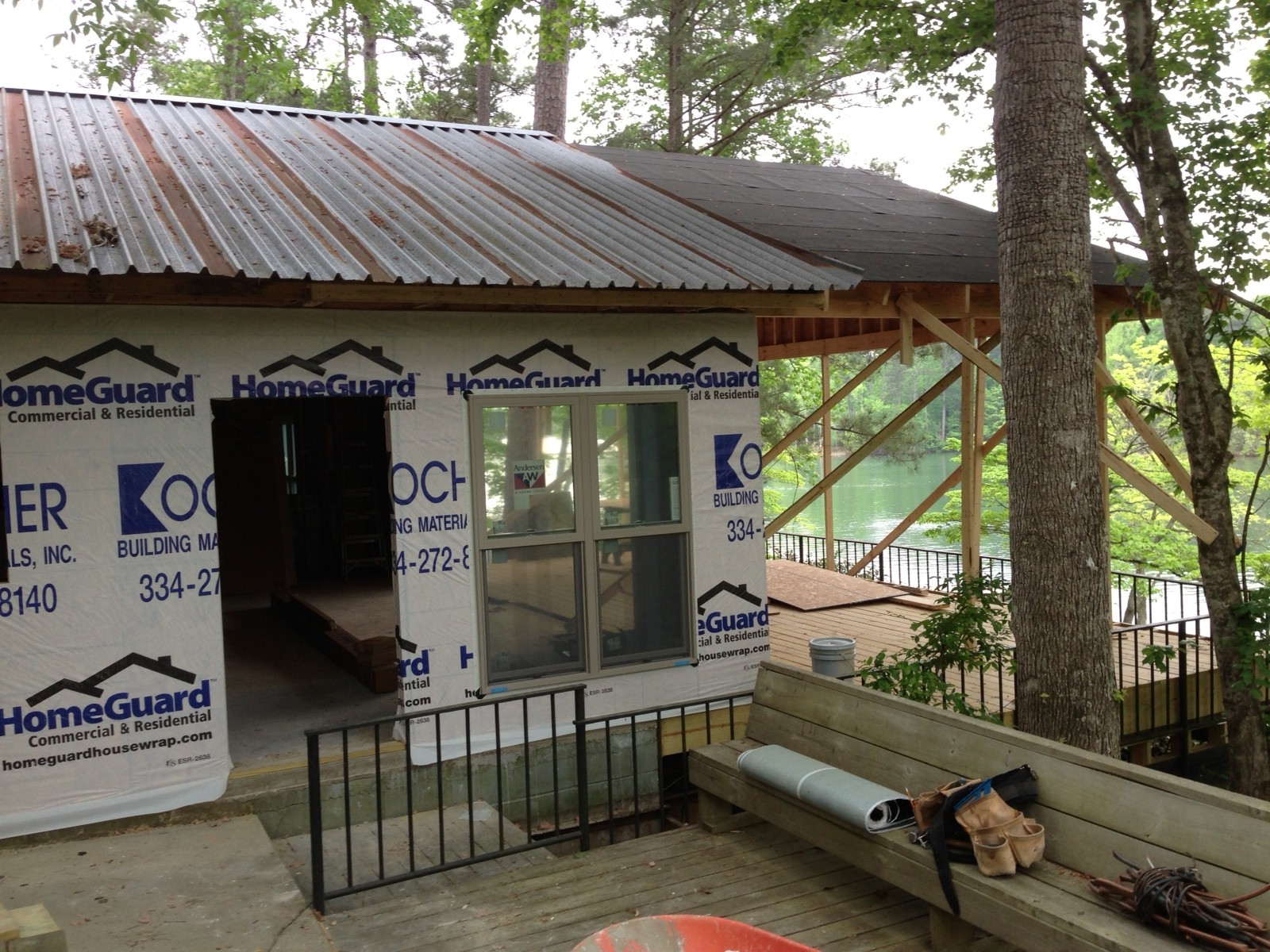 If you're looking for a home in the Real Island / Little Kowaliga area, check out my Little Kowaliga Neighborhood page.  You'll find all kinds of info on this part of Lake Martin, and most importantly, you'll find a live feed from the MLS with all homes that are currently for sale in this area.
If you have ANY questions about Lake Martin real estate, give me a call at (334) 221-5862 or click here to email me.  My job is help people buy and sell homes, and I serve the Lake Martin area 100% of the time.
If you have construction questions, however, I am not your guy.  Give Doug Fuhrman from Southern Traditions Construction a call at (334) 531-3914 or email him at [email protected], and he'll be happy to share his years of construction wisdom with you.
Sometimes a Lake Martin waterfront purchase is all about the lot.  Sometimes it's all about the home.  In this case, for my buyers, it was all about where to put their three teenage boys plus their friends.  Two summers ago, Kent and Andrea found a cabin with a large wooded lot and a great view of Parker Creek near Parker Creek Marina.  The cabin was cute, but they really needed a little more room . . .
If you're looking for a home on the west side of Lake Martin (Kowaliga Bay, Little Kowaliga / Real Island, Parker Creek), you'll find a good number of older cabins that are dated or don't have a modern, open flow.  Some of these cabins have been added onto over the years and are a little wonky.  But if you like the lot and the view, I urge buyers to be open minded about the home – that is the one factor you can change.  Sometimes buyers have a hard time visualizing a remodeled home while standing in the midst of fake paneling and little choppy rooms, hence my recent efforts to share some recent renovations and give buyers inspiration.
I drove by Kent and Andrea's house in my boat last week and took a few pictures.  They graciously said I could share them with you, to give you a taste for what a remodel or facelift can do for an older lake home.  They expanded the home, adding living and sleeping space, but did not stray far from the original footprint.  The result is a fun home with modern conveniences and room for all the guys:
Pre Renovation View from the Water: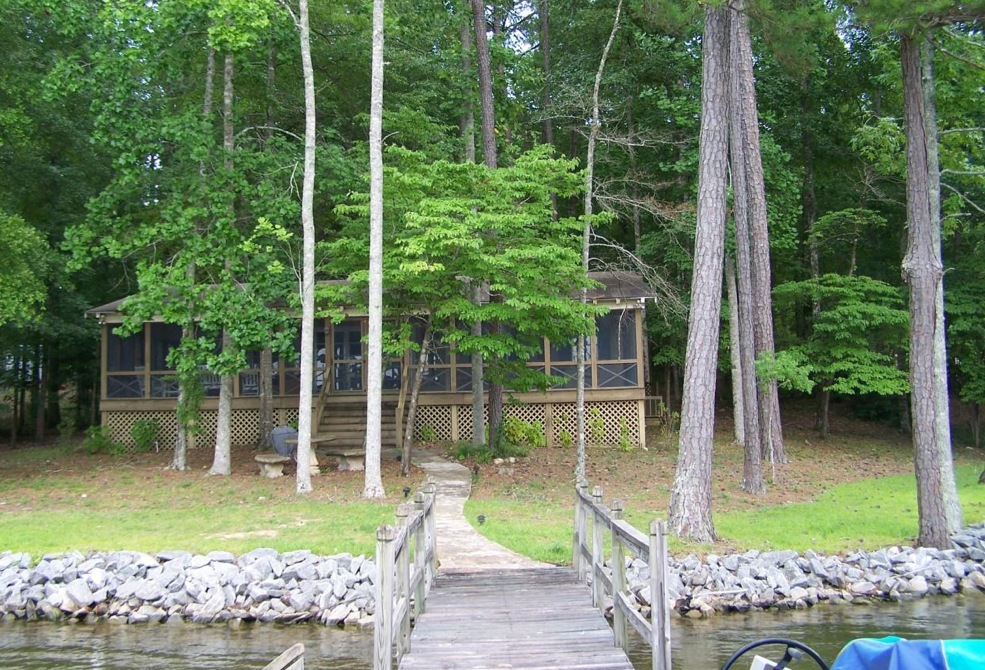 Post Renovation Water View: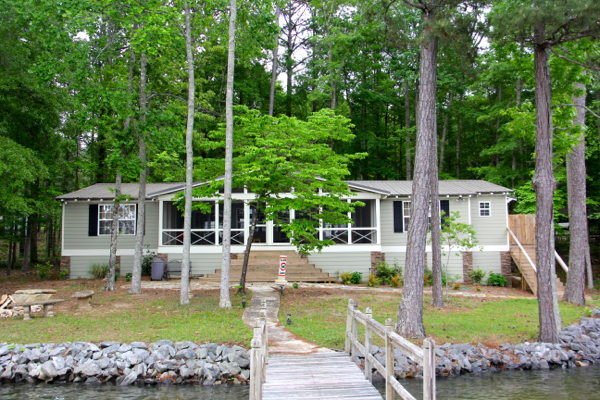 Pre Renovation Street Side of the Home: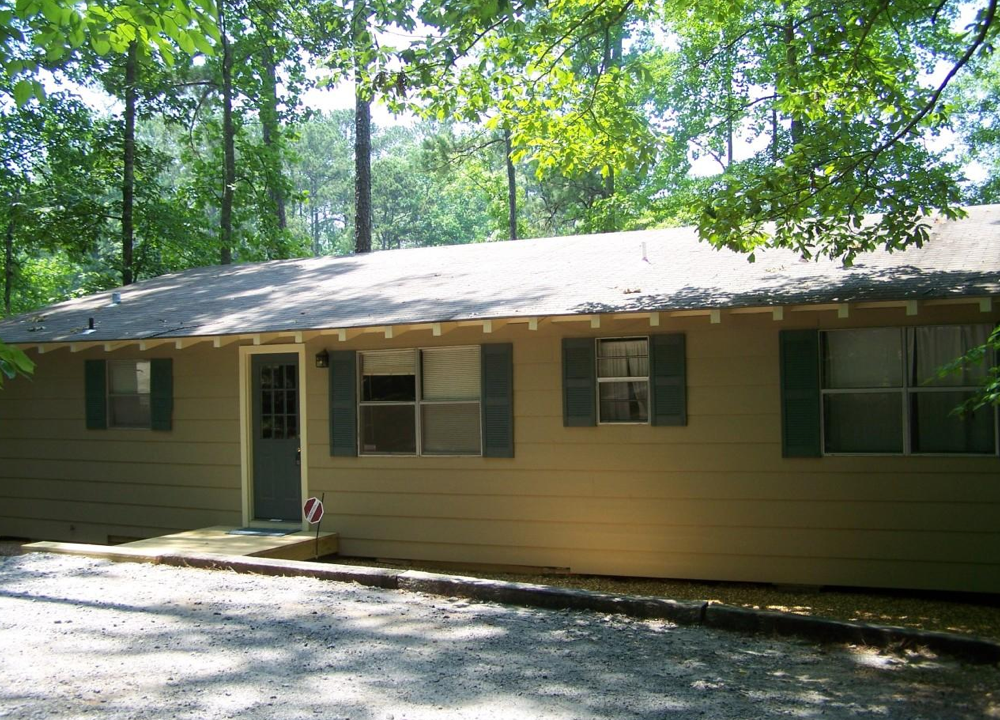 Post Renovation Street Side of the Home: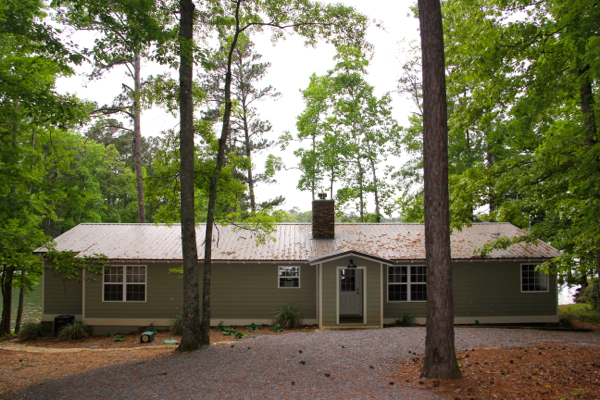 So how do you know how much money to put into a Lake Martin renovation?
Think about the LOT first.  You don't want to overbuild, so consider things like water depth, view, privacy, etc.  On a lot like this, with a view like theirs, Kent and Andrea could not really overbuild.  It's an awesome lot.  In the back of a tight slough without year round water, however, buyers need to be conservative.
If you're looking for a home in the Parker Creek area, check out my Parker Creek Neighborhood Page.  Here you'll find all kinds of info on this part of Lake Martin, and most importantly, you'll find a live MLS listing all the homes that are currently for sale in Parker Creek.  I have Neighborhood Pages for most of the neighborhoods on Lake Martin, and they're a great resource to utilize when house hunting.
If you've been searching the MLS and are feeling frustrated with the homes you see, give me a call.  I can help you pinpoint the homes in your price range with most potential.  That's my job.  My number is (334) 221-5862, or you can click here to email me.  I'd love to be your realtor.
Related Posts:
Lake Martin Dream Renovation in Parker Creek
Real Island Renovation Part Two: Peeling Off the 1980′s
I will bet you didn't know that there is a home on Lake Martin that is a full 13 feet under the water's surface.
I didn't know about it either until my friend and fellow realtor Gordon Pickler at RealtySouth told me about it. I don't know why the sellers are selling it, but Gordon has it under contract and is assisting the buyers. During the course of getting it closed, they found out that our good friends at FEMA have it listed as 13 feet below the flood plain line.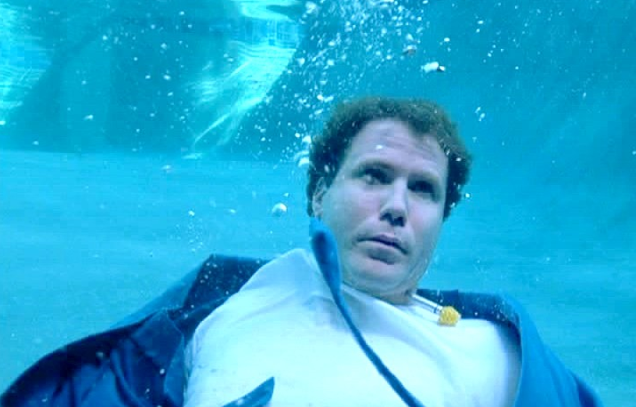 (Just so you know, FEMA is the sole agency that is the judge and jury of whether or not you need flood insurance at Lake Martin.  They are also the only entity that sells flood insurance.  And the obvious question is how can a home sitting up above the elevation of the top of the dam be flooded?)
Anyway . . . FEMA gave Gordon's prospective home buyers a quote of $7,218 per year for flood insurance. That sounded a little steep to the buyers so they called FEMA to appeal. No dice. FEMA was firm. They had received the surveyor's Elevation Report – where he shot the lowest elevation of the home. FEMA insisted they read these reports all day and have used it to come up with the quote of $7,218 per year.
Undeterred, Gordon convinced the engineer that did the report to call FEMA himself and beg their case. It worked. The engineer was able to help FEMA read the report correctly – the home is 13 feet above the flood plain. Not below.
Thanks, FEMA, for another day of serving the taxpayers.  True, they didn't get any flood insurance money out of the deal, but they were able to waste a full day's worth of time for a realtor, an engineer, and a buyer.  Score another for Big Brother.
For more information on this topic, see the posts below:
Buying at Lake Martin?  Bet You Haven't Thought About This!
FEMA Speaks to Lake Martin Realtors About Flood Insurance Changes
There's no turning back – renovations on this waterfront Lake Martin home in Real Island are well underway.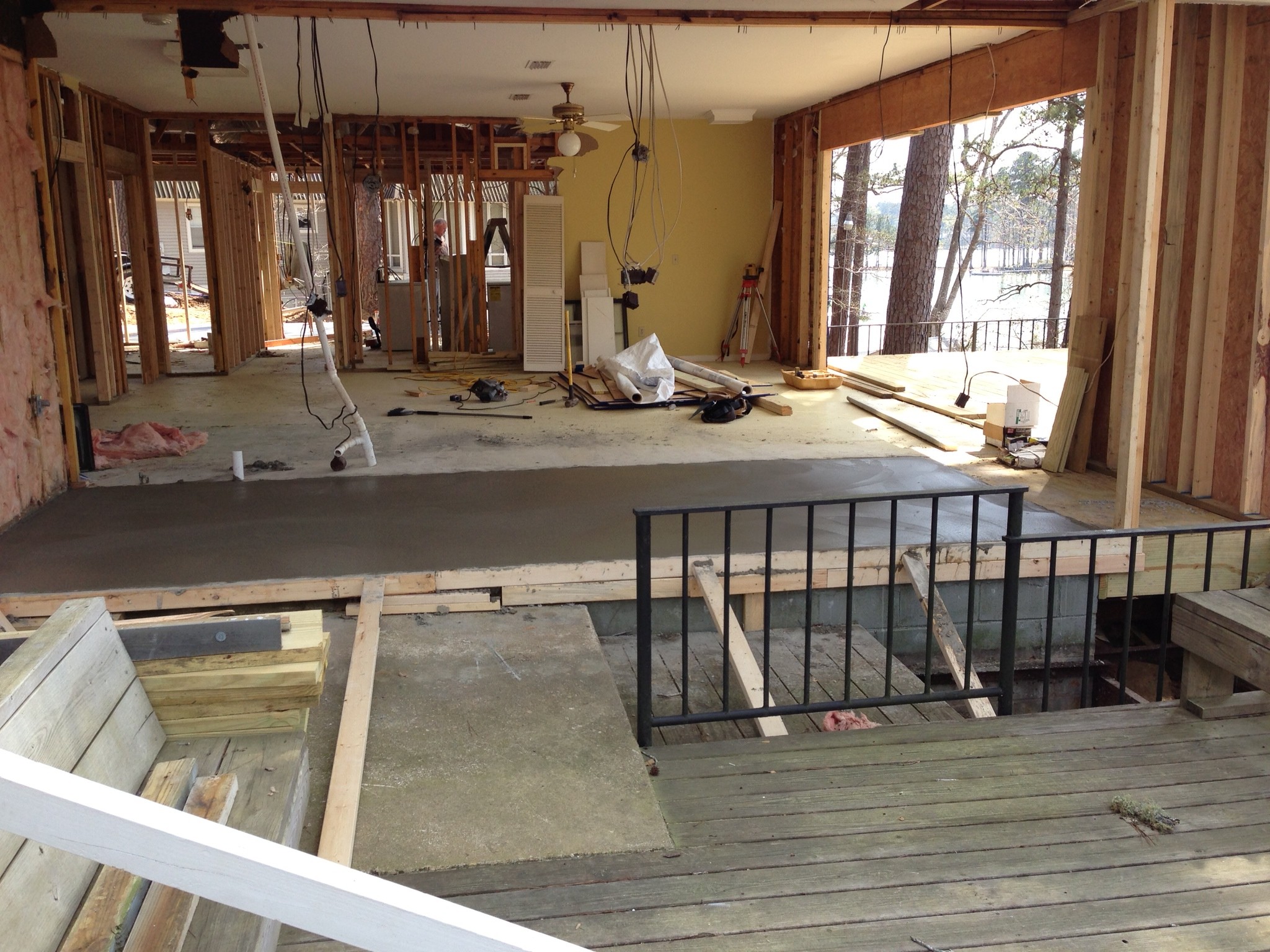 (For the first installment in this series, CLICK HERE for Real Island Renovation Begins)
If you love home projects, these pictures will make you excited.  If you're not the project type, then you're feeling a little anxious.  But Lee and Amelia loved this Real Island lot, and knew right away they would update the home before moving in.
Great view of Lake Martin, by the way!
It is very common to see this kind of radical renovation on the western side of Lake Martin. The Little Kowaliga / Real Island area is one of the older parts of Lake Martin, and thus has slowly populated over time to include tiny cabins that are next to million dollar homes.  Generally speaking, the lots in this area are a little bigger, more wooded, and less sloping, and the feel is more rural. (Of course I can always find the exception to that statement.) AND, there are really no undeveloped lots left.  When you see new construction on a waterfront lot in Little Kowaliga, odds are that person has torn down an old cabin or mobile home.
Contractor Doug Fuhrman of Southern Traditions Construction helped Lee and Amelia rethink the floor plan of the existing cabin, adding only about 400 square feet to the overall footprint, but moving things around to make the home work better.
For example, by bumping out the bedroom side of the home, they were able to expand the third bedroom and bathroom, and add a master bathroom: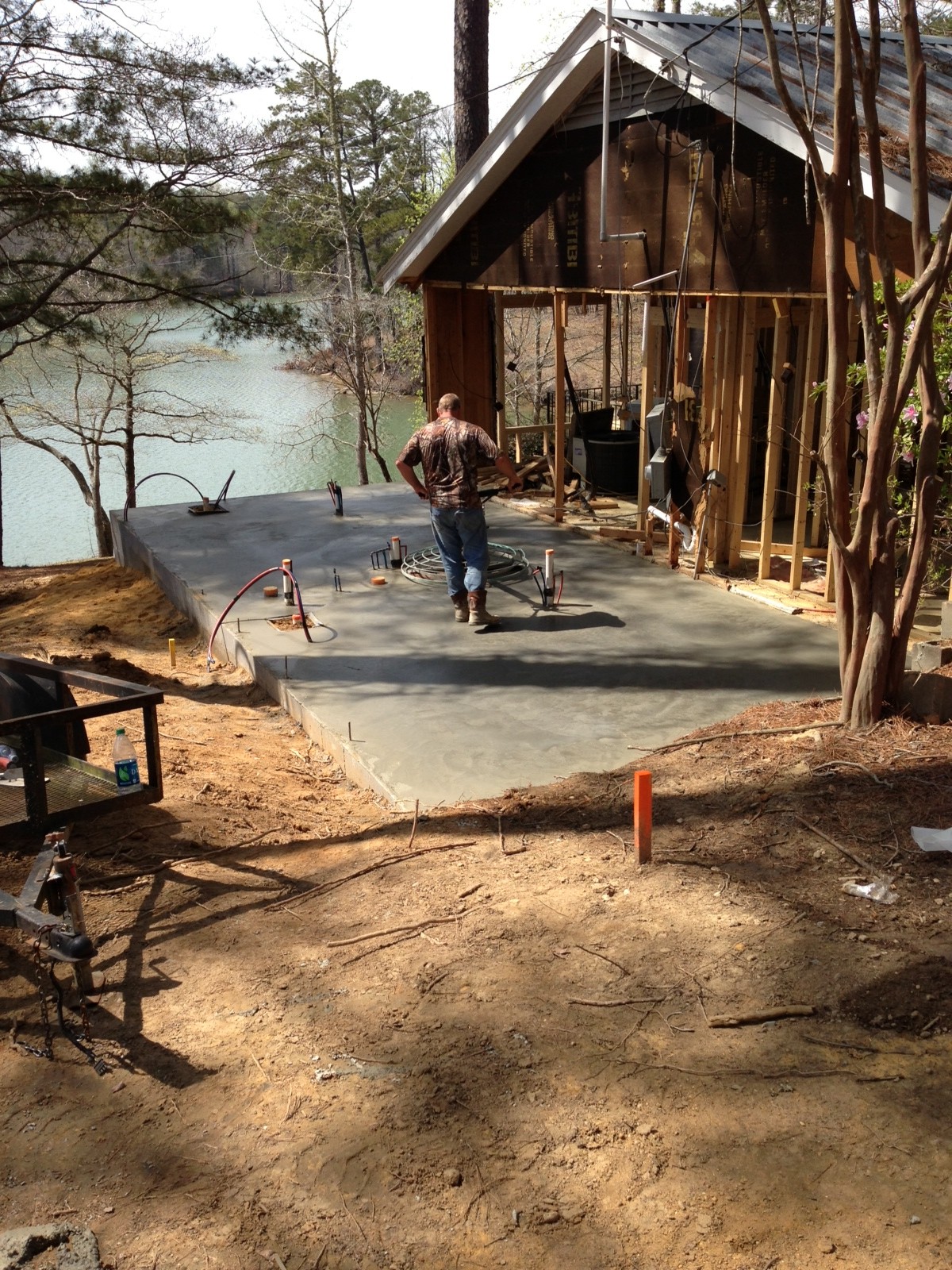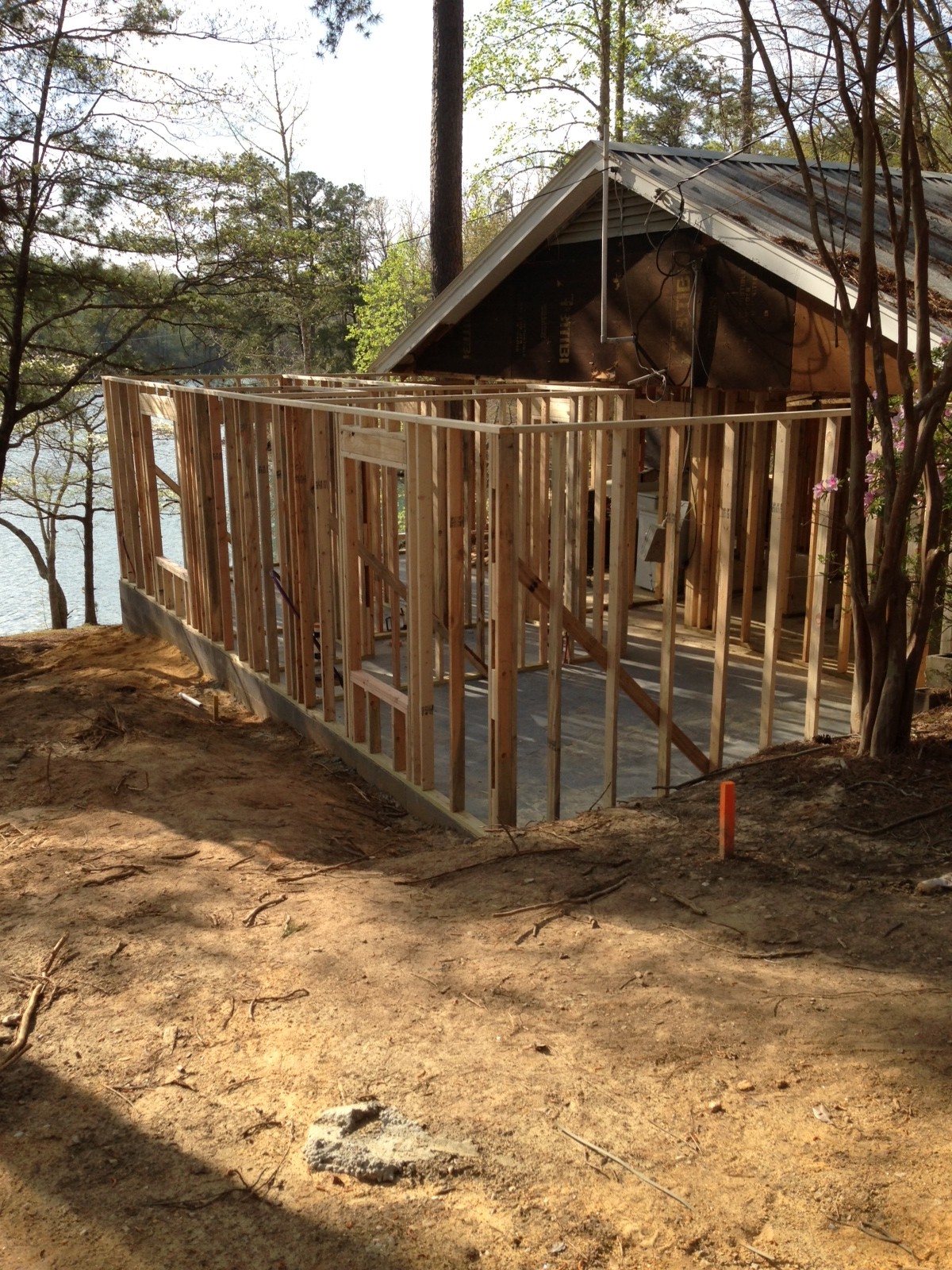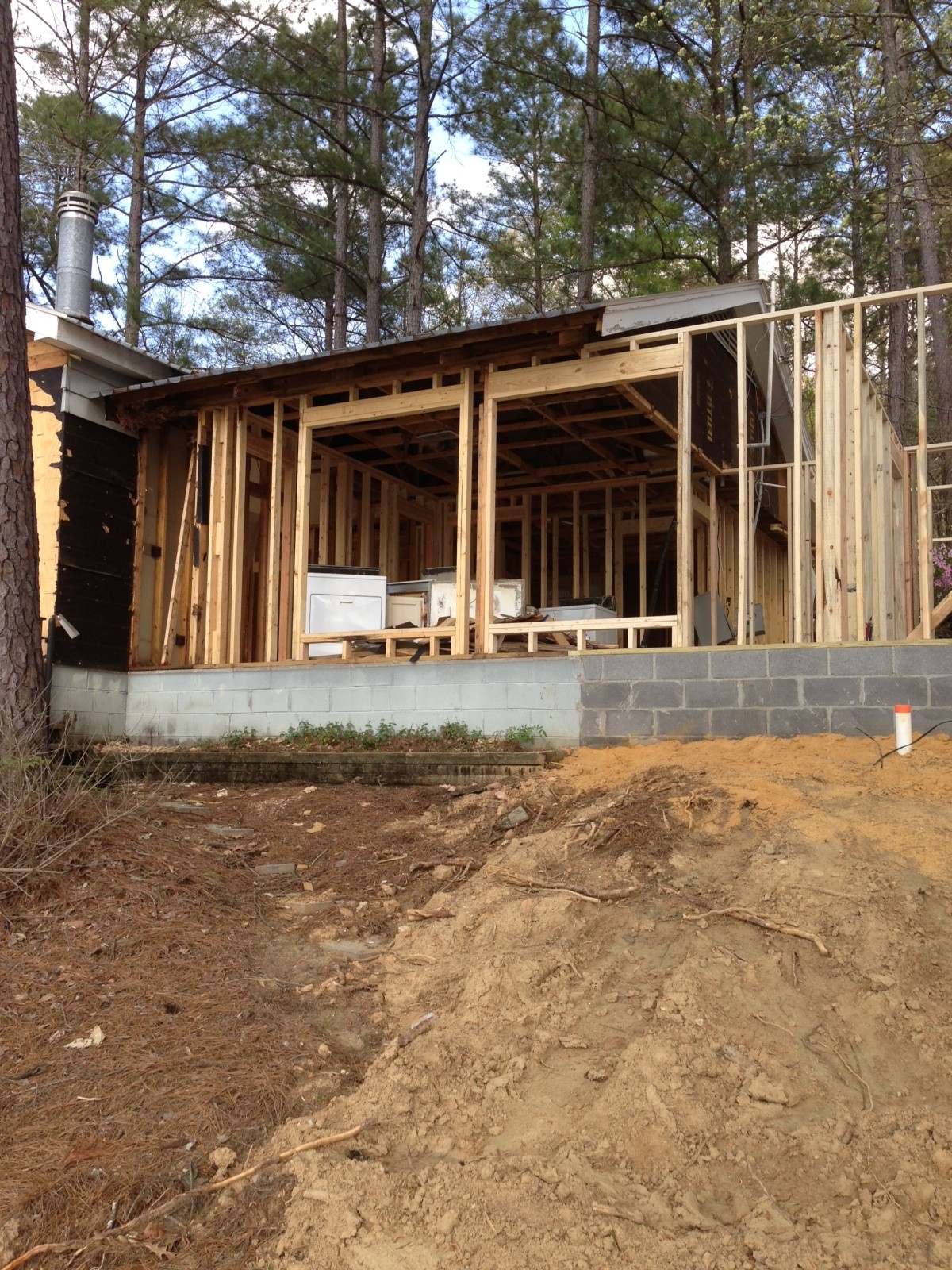 The homeowners knew they wanted to be in this area, and knew their budget, so renovation makes sense.  But for those of you who are not looking for a construction project, there are also new homes to be found on Lake Martin – both in and out of official developments.  For example,  in April 2013 Alabama Property Company released twenty nine new lots in Emerald Shores on the eastern side of the lake, you'll see new construction there.  Russell Lands is always building new homes in their various neighborhoods, and there are even a few flippers around, though not nearly as many as in 2007.
A Lake Martin realtor can cut through the hundreds of MLS listings and quickly identify homes that are move-in ready, or tear down opportunities.  I'd love to help you out with your Lake Martin search, so call me at (334) 221-5862, or CLICK HERE to contact me.
It's hard to beat a Lake Martin sunset.  I've been experimenting with this time lapse app on my iPhone, and the other week I recorded some pretty skies over Emerald Shores.  The video below is the sunset view from Lot 18, a 1.26 acre lot with +/- 321 feet of shoreline that is still available for sale.  For all the listing information on Lot 18, CLICK HERE.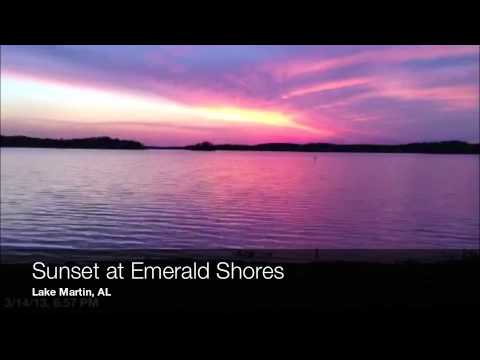 Here's an Emerald Shores SALES UPDATE, too.
As of April 23, seventeen of the twenty-nine lots that were released for sale by Alabama Property Company are under contract.  Two additional lots are in negotiations.  In thirty-eight days, sixty-five percent of the lots offered have gone under contract or are being negotiated (we at Lake Martin Voice Realty joyfully listed these lots on March 16, 2013).   These are strong sales numbers, especially when you look in the Lake Martin MLS and consider that in the entire year of 2012, a total of 38 lots waterfront lots were sold on Lake Martin, by all agents, all brokerages, everywhere.
Like I've said before, if you're interested in one of these lots, NOW is the time to call me.  They're moving quickly, but there are still some beautiful lots available.
Lot 18, featured in the time lapse video above, is a great example. It's flat, wooded, and private.  Alabama Property Co. has already installed a rip rap seawall, and that wall is included in the sales price. It's also a flexible lot;  there is a variety of ways to place and orient a home on this lot.  Check out the pictures below: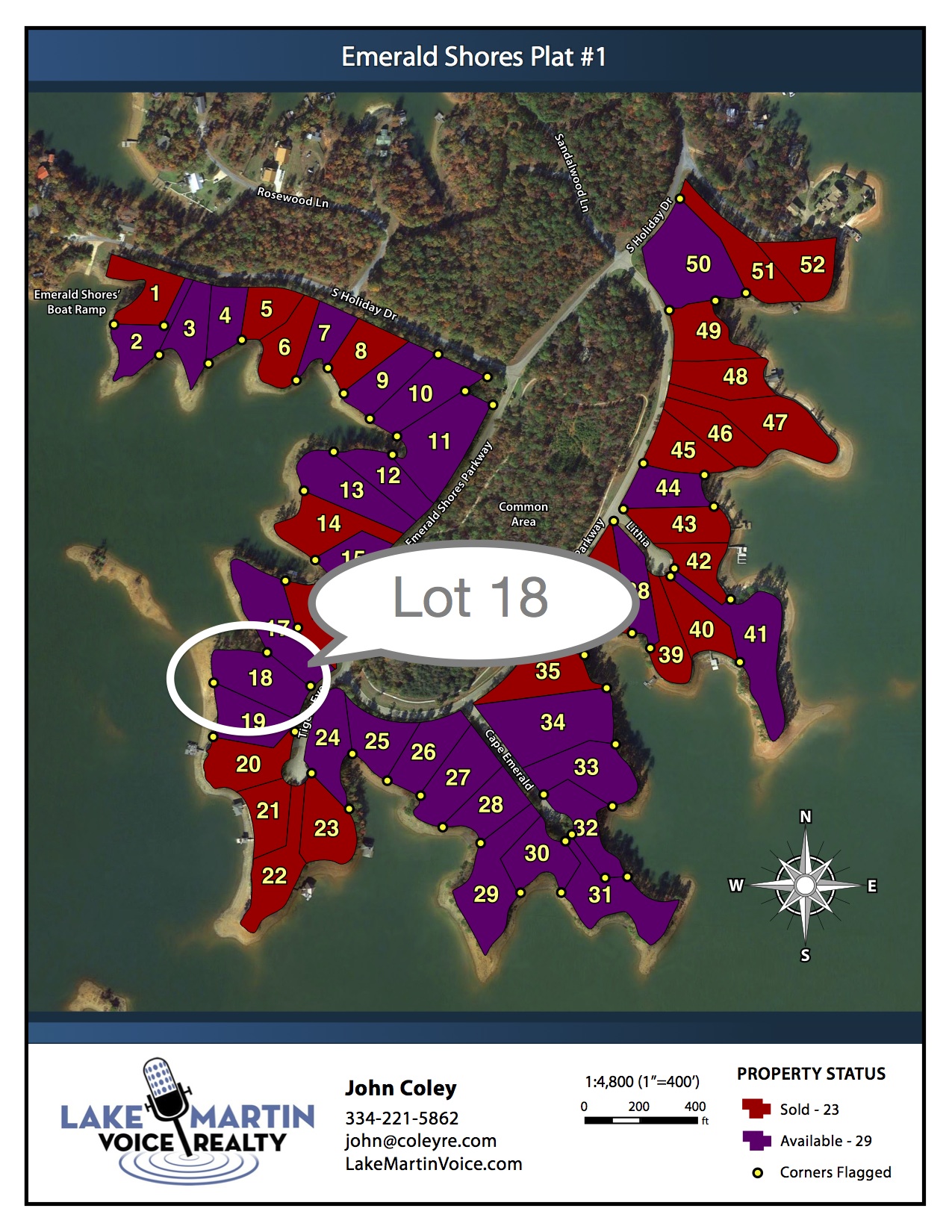 I also really like the lots on either side of Lot 18 – Lot 17 and Lot 19.   Big views.  Pretty sunsets.
For more information, give me a call at (334) 221-5862, or CLICK HERE to email me.  Lake Martin Voice Realty is the listing company, so we can answer all your questions.
This Real Island / Little Kowaliga waterfront home renovation is for all of you HGTV lovers out there . . .
My clients, Lee and Amelia, are new owners of this lake home that sits on an amazing lot in the Real Island area.  The lot is awesome, and they had been house hunting long enough to know that the value of a Lake Martin property is in the dirt, so they jumped on it.  Even though the home was not exactly what they'd had in mind . . .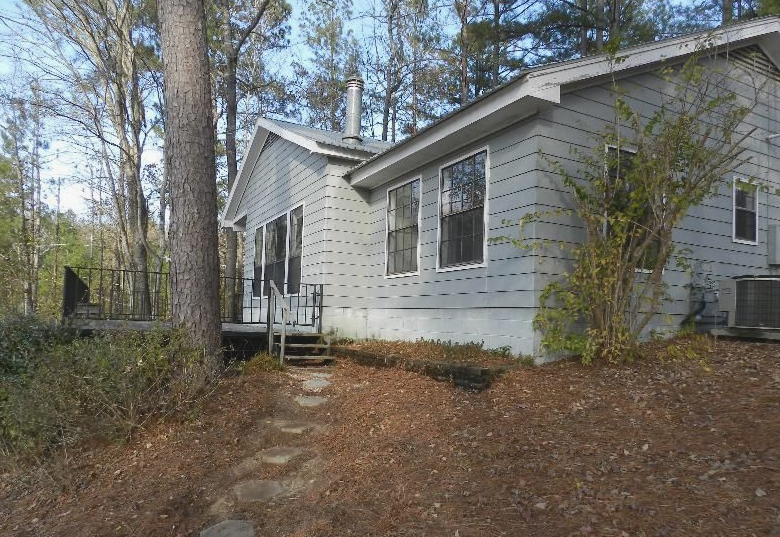 The house was built in 1980 and is pretty rough around the edges – 33 years of use and not much updating.
It's a three bed / two bath home already, but the floor plan is a little wonky, and the space could be used much more efficiently.  As part of the renovation plan, Amelia wants to keep as much of the original footprint, while bumping out a little here and there to make room for her family of five, plus their friends and extended family.
I think this renovation is smart.  At the lake, the home is primarily used for sleeping and eating.  These homeowners are making the most of the space for these activities, and the final product will be clean, spacious, updated, and functional.  But they are also remembering that the value of the home is in the dirt, and they're not going overboard on things that, ultimately, do not add a lot of value to their investment.  This is going to be a fun house.
With the help of Southern Traditons Construction's, Doug Fuhrman ([email protected]), this home is about to be gutted and transformed it into an updated, functional, vacation home. Stay tuned to see what choices are made along the way, and for the big reveal at the end.
If you're interested in the Real Island / Little Kowaliga area of Lake Martin, check out our Little Kowaliga Neighborhood Page.   Here you'll find everything you need to know about this popular part of the lake – a history of the area, video tour, maps, and most importantly, a live feed from the Lake Martin MLS showing homes that are currently for sale in the area.
If you're on the lookout for a good deal on a home at Lake Martin, give me a call at (334) 221-5862, or CLICK HERE to contact me and let's talk waterfront real estate.  I'd love to be your Realtor.
Of the 29 Emerald Shores waterfront lots that were released on March 16 for sale, NINE are already pending, and SIX more are currently under negotiation.
As the listing agency for Emerald Shores,  Lake Martin Voice Realty is excited about the public's interest in these lots, and we want to make sure you have the latest information on this east side development.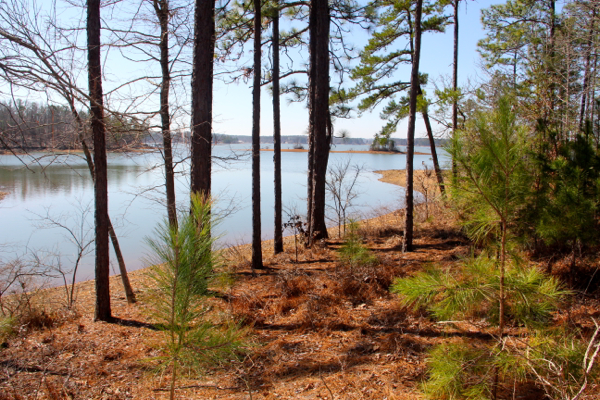 CLICK HERE for listing information on Emerald Shores.
Contracts on these lots have been brought by our company, along with several other Lake Martin real estate companies.  My point in telling you this (I know this sounds like typical Realtor barking) is that you really need to give us a call if you have any interest in a lot in Emerald Shores.  Don't wait until you get around to it because the lot that you want, in your price range, and with the view you like, may be gone.
Well, there's clearly a demand for lots in a deed restricted neighborhood on this popular side of Lake Martin. And frankly, Emerald Shores has really pretty lots on the big water of Blue Creek.  It's an established community with homes already built, so there's a history of sales and construction.
For more information, give me a call at (334) 221-5862, or CLICK HERE to email me.  Lake Martin Voice Realty is the listing company, so we can answer all your questions.
Quick Video Tour of Emerald Shores: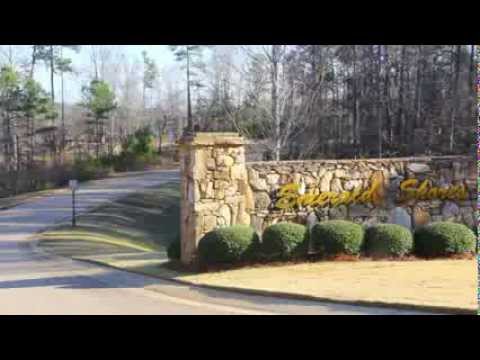 Video Tour of the Blue Creek Area of Lake Martin: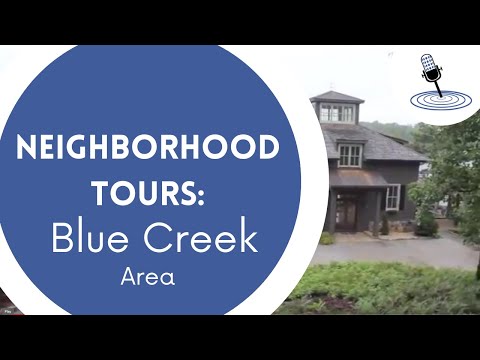 Lake Martin Voice Realty is excited to team up with Alabama Power and offer 29 new deeded waterfront lots for sale in Emerald Shores. 
Emerald Shores is a waterfront neighborhood on the eastern shores of Lake Martin. These are big, wooded lots surrounded by the big water of Blue Creek.  They're part of an already established neighborhood (entrance signs, roads paved, utilities, boat ramp, common area trails), and they're close to all the east side Lake Martin restaurants, marinas, and landmarks.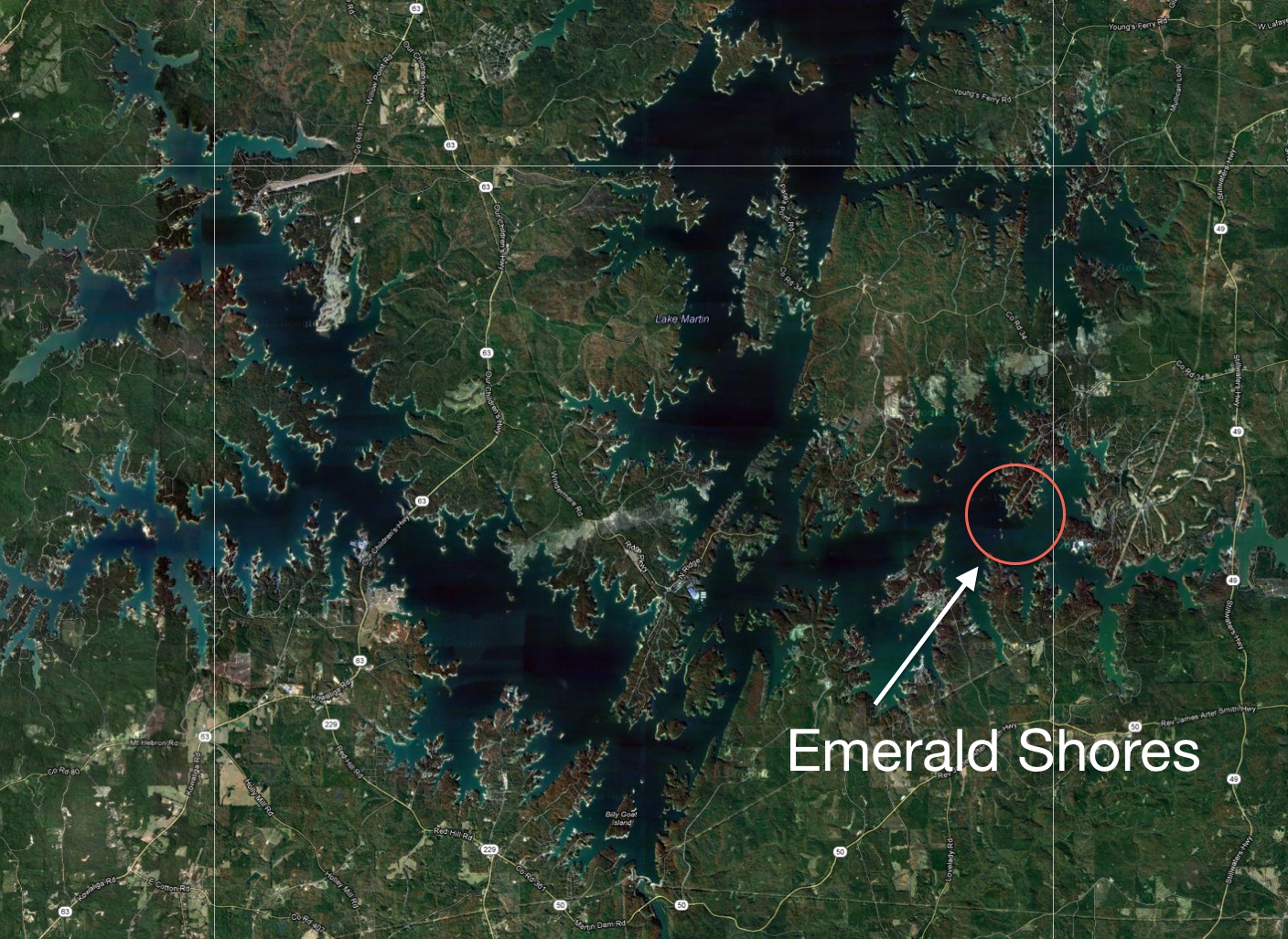 Lake Martin Voice Realty is proud to be the Listing Agency!
The first phase of Emerald Shores began in 2004.  17 lots were sold at that time, then six after that, and now 29 more are available.  There's a lot of choice for buyers here: lots range in size from 0.6 to almost 2 acres, and waterfront footage ranges from 115 feet to over 1,000 feet of shoreline per lot.  At the center of Emerald Shores is a 17 acre wooded common area with a paved walking trail.  A neighborhood boat ramp makes it convenient to launch your boat.
Another big perk for many buyers:  covered boat docks are allowed in Emerald Shores.  That's a big deal on Lake Martin.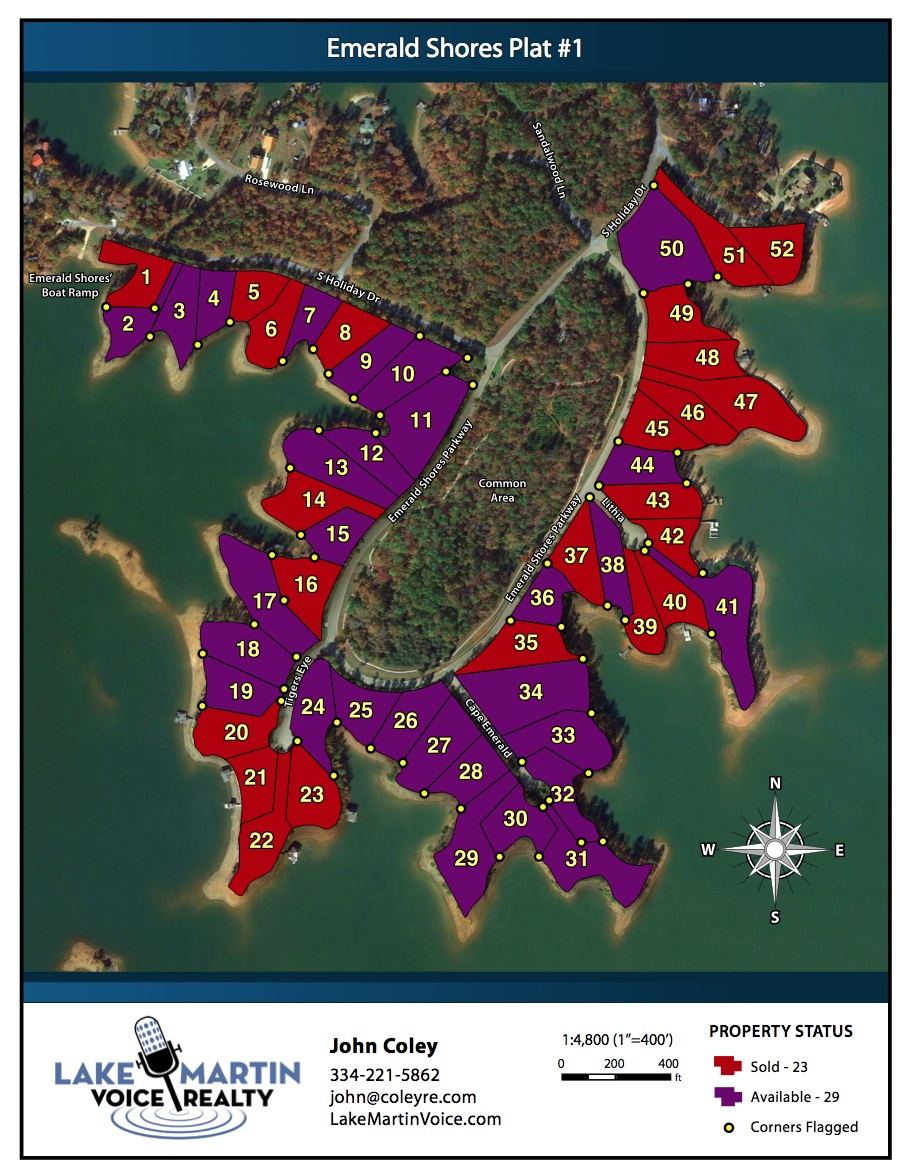 For more information on these deeded lots, CLICK HERE, or give us a call at (334) 221-5862.  We have plat maps, tax maps, photos, a video tour – everything you need to learn the lay of the land.
Emerald Shores is on the east side of Lake Martin, so it is convenient to Atlanta, Auburn, I-85, and Highway 280.  By car, take Highway 49 and turn onto Highway 34.  Turn left onto Win Blu. At the stop sign, turn left onto Holiday Drive.  Take 1st right onto South Holiday.  Follow all the way to Emerald Shores entrance.  By boat, it's on the north side of Blue Creek as you drive toward StillWaters.
For a quick video introduction to Emerald Shores, click below: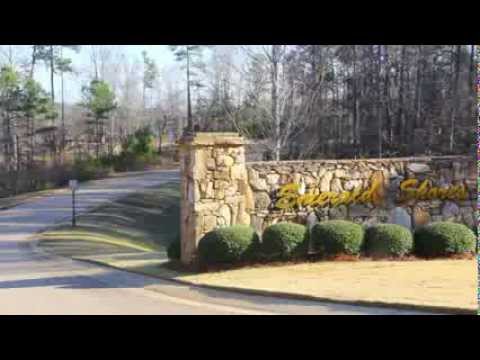 And for a video tour of the Blue Creek area, click below: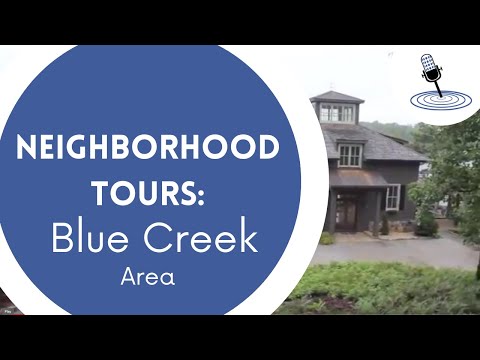 Unlike some crazy civil engineering projects I've seen, this tunnel under Highway 63 has major significance for the Lake Martin area.  Most of you know that there's been road construction near Russell Crossroads for about 3 years now now.  Part of this construction project is a nifty tunnel.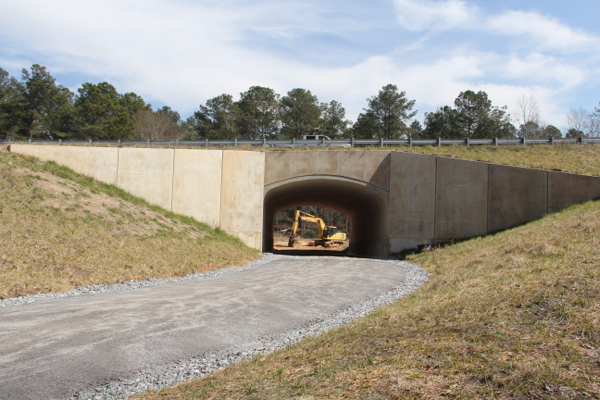 This tunnel is a really big deal for Russell Lands and therefore, Lake Martin real estate.  It's a huge part of Russell Lands' plan to link together their waterfront neighborhoods of Windermere, Windover, Windermere West and The Ridge to west side of Highway 63′s Willow Point.  The central hub of all of this will be Russell Crossroads.
Right now the idea is to open the tunnel road to hikers, runners, bikers, golf cart and horse riders. I love the it.
I think this will be especially transformational for Windermere, Windover, and Windermere West which do not have neighborhood amenities.  After the trails and roadways are complete and christened for use, homeowners in Windermere, Windover, and Windermere West will  figure out that Saturday morning coffee at Catherine's Market is a five minute golf cart ride away. Big things will happen.
I can envision a lot of other things happening along this trail system.  The fact that you don't have to cross Highway 63 opens up a realm of possibilities.  Willow Point people can ride to The Ridge Marina on their golf carts.  People in The Ridge can mountain bike through the tunnel and explore Russell Forest trails.  Homeowners in Windermere and Windover neighborhoods can do all this, plus go to SpringHouse restaurant or Willow Point Country Club.  The ease and sense of community will be a great thing.
This really reminds me of Sandestin in the late 1970s.  If you are old enough, like me, to remember the original Sandestin, it used to only be a residential development on the bay side, and an unconnected beach on the gulf side.  You had to get in your car to cross Highway 98, and the whole thing was disjointed.  Then they put a tunnel under the highway, developed out some commercial space, and suddenly everything in between flourished.
I'm not saying the Russell Lands is about to have a mega development like Sandestin, but I am saying that all of these neighborhoods are going to truly be able to use Russell Crossroads.  I think it will increase property values in all of these developments.  Russell Lands has pumped millions into this project, but homeowners will reap the benefits over the next 5-10 years.
If you'd like to know more about homes in the above mentioned neighborhoods, check out my Neighborhoods page, give me a call at (334) 221-5862, or CLICK HERE to contact me via email. I can help you with any property for sale in the Lake Martin MLS, regardless of who has it listed.  
I take Lake Martin wildlife pictures all over the lake, but I need to create a specific photo file for "Wildlife I Have Seen in StillWaters."  Lake Martin is a rural area, so animals coexist with lake lovers on all sides.  StillWaters is a huge gated golf/lake community with on and off the water homes, townhouses and condos, and it seems that wildlife like the deer I spotted last week call it home, too.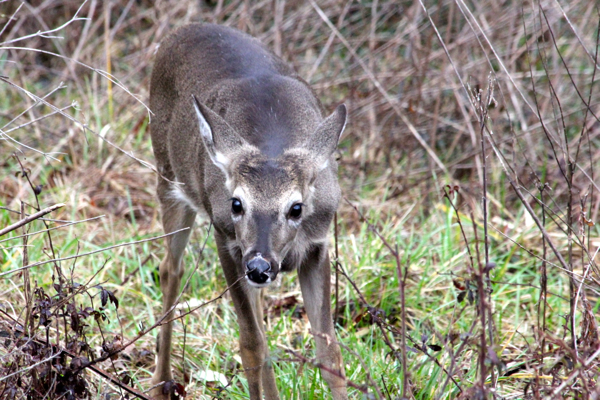 This one was grazing on the side of the road as I drove to a new listing of mine in StillWaters, 100 Harbor Point Place Unit 613.  If you look closely you can see the early formation of his antlers.  It's amazing how deer were created to blend in so well with their environment.  You can barely see his back in the photo below: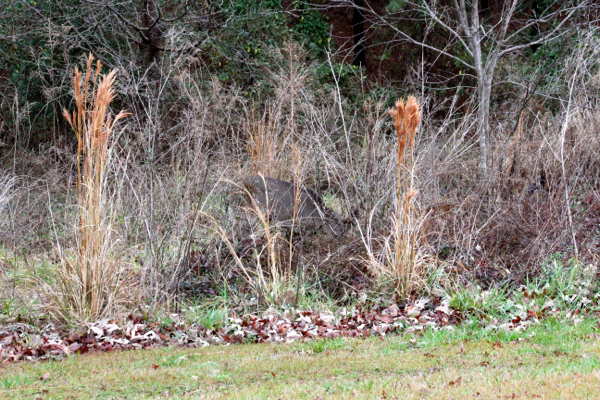 If you like the idea of being in an established, gated golf  and waterfront community, and enjoy neighbors of all kinds, StillWaters might be a good fit.  If you'd like access to all StillWaters' amenities, but prefer to leave the yard work and home maintenance to someone else, check out my listing, 100 Harbor Pointe Place Unit 613.  It's a 2 bed/2 bath off-the-water condo with a deeded boat slip, and it's right across the street from Harbor Pointe Marina.
It's currently listed for $131K – a great deal when you consider its location within StillWaters and all of the amenities owners can access.
Here's one more parting shot of our friend and StillWaters neighbor.  If you're interested in homes or condos in StillWaters, or real estate anywhere on Lake Martin, give me a call at (334) 221-5862, or contact me by CLICKING HERE.  I'd love to be your realtor.