Archive for the 'Water Level' Category

The 6th Annual State of Our Watershed Conference, The Tallapoosa River Basin will be at the Betty Carol Graham Technology Center at the Central Alabama Community College in Alexander City on Tuesday, May 25th, 2010.
This year's conference topics include an update on the tri-state water wars, progress of the FERC Dam Re-licensing, and Watershed Management in the Tallapoosa River Basin.
For more information, see The Tallapoose Watershed Project website.  For conference information and registration, click here.
Every now and then I like to include a post that covers the basics skills you need if you are interested in Lake Martin waterfront real estate.
It's not really tough math, but water depth on Lake Martin changes in the winter months.  Full pool is 490 feet, winter pool is 480 feet (right now at least).
If you're wondering why the level changes, read this.
Maybe you're thinking about buying a waterfront home on Lake Martin, even if you are not insisting on being able to drive your boat from your dock in January, you still need to know the water depth of the homes you are considering.  Water depth, along with other such fuzzy metrics as view and privacy constitute a big part of pricing on every lot or home on the lake.
And if you own waterfront property on Lake Martin right now, you probably already know your winter and summer water depths. But if you are nosing around the market, you need to check the other homes' depths so you can compare to yours.
If you are curious about any property on the lake, and would like help in pricing something, or finding a home or lot to suit your future plans, please call.  I would love to help you.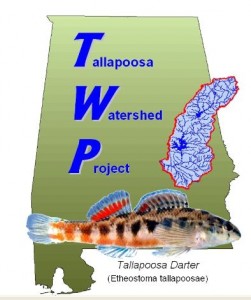 The 5th Annual State of Our Watershed Conference, The Tallapoosa River Basin –Moving Toward More Effective Water Policy will be at the Betty Carol Graham Technology Center at the Central Alabama Community College in Alexander City on Wednesday-Thursday, May 13th-14th, 2009. This year's conference will focus on moving toward sustainable water management policy for the Tallapoosa River Basin.
This year's organizers and sponsors include the Auburn University Water Resources Center, Alabama Water Watch, the Middle Tallapoosa Clean Water Partnership, Lake Watch of Lake Martin, the Montgomery Water Works and Sanitary Sewer Board, and Central Alabama Community College
Go to www.twp.auburn.edu and, under TWP Highlights click the 5th Annual State of Our Watershed Conference link to go to information on the conference, including the Tallapoosa River Basin Management Plan (8.2 megabite pdf file), conference announcement, and conference registration (required for lunch headcount), and additional information.
Alabama Power, the owner and operator of Martin Dam, has requested they be allowed to raise the winter water level in Lake Martin to 483 feet in 2009.  They made this request to the Federal Energy Regulatory Commission (FERC) on December 29, 2008.  They also requested to start filling Lake Martin up a month earlier – Jan 15 as opposed to Feb 17.
Lake Martin Water Level FAQ:
1. I thought that Alabama Power already requested to raise the lake's winter level? True, they did.  But they did it as a temporary variance to the rule curve.  Apparently their last request only covered 2008.
2. Does this mean a change to the rules, will they only let it down to 483 every winter? No, this is a temporary variance request for 2009 only.  But many hope that 483 will be be the new winter water level when Alabama Power makes its application to re-license Martin Dam in 2011.
3.  Martin Dam has a license? Yes, Alabama Power owns and operates it, but FERC licenses its use.  They establish a "rule curve" – a plan of how to handle the inflow and outflow of water from the Tallapoosa River.  The licenses run for like 30 years, and Alabama Power is due to apply to a new license in 2011, with the new rules to come into effect in 2013.  They are in the application process now, and the public has venues for input like here and here.
4. How does a higher water level affect real estate on Lake Martin? Water into the lake is like bacon.  More is always better.
5. If FERC approves, how quickly will the level get up to 483? That depends on how much rain the Lord sees fit to send our way.
6. What? Lake Martin's water level goes up and down? Why? Click here for a primer on how the creation of  Lake Martin led to why the water level fluctuates.
Hat tip to Maverick in the forum and Jesse Cunningham of the Lake Martin HOBOs for letting me know about this.
Hey readers – let me hear from you – will a 483 foot winter help you out? Please leave a comment in the "Leave  a Reply" section below.  If you can't see that, click on "Comments" then scroll to the bottom.  I'm interested to see the results.
More Posts On Lake Martin Water Level
This is not a news flash: Lake Martin's water level is back!
It's hard to believe, but in the 5 short weeks since I wrote this post about the water hitting 480, Lake Martin stands inches away from its highest possible mark of 490. All of the nay sayers have been proved wrong. Many (myself included) wondered if it would take more than one summer to recover from the worst drought recorded in 80 years. The next time we have a rain shortage, I hope we remember how fast it bounced back.
How has it affected businesses around the lake?
Real Estate
I have been extremely busy in the last month especially. I have picked up all sorts of new waterfront listings. I have been running all over the lake taking pictures and shooting video tours. Buyers are calling again. Turns out, my phone does work! It's a good feeling. I am no exception, many other Lake Martin realtors tell me the same thing.
All agent fluffery aside, 2008 will prove a great time to buy property on Lake Martin. There is still a lot of inventory out there from the doldrums of 2007. Sellers have reduced prices and (if they're smart) are still eager to sell. Interest rates are down, so conditions are still very favorable for buyers.
Retail
JT Voltz at Blue Creek Marina tells me that they are "covered up" in work already. Their staff is back full steam and looking forward to a better summer.
I spoke to Oskar (of Oskar's) this morning and she said that their business has bounced back as well. They are ready to forget 2007 and are looking back to 2006 to plan for their restaurant traffic this summer.
Early season success has not been limited to the Dadeville side of Lake Martin. Green Valley Market and Cafe tells me that last weekend they served about as many meals as they ever have. They opened in 2007, so they anticipate to easily break their own records of catering and restaurant business this summer.
David Naile of Nail's Convenience Store in downtown Kowaliga says that the last couple of weekends' nice weather has shown a spike in gasoline and c-store sales. Naile confirmed that he is planning to expand his offerings inside the store to accommodate the higher traffic.
Lake Martin's water level has finally risen above the rule curve established by Alabama Power and the Corps of Engineers.
Today's read of 481.83 is above the rule curve of 481.7. What does this mean in English? Lake Martin's water level is ahead of the pace it needs to get to full pool of 490. This is great news. It has been over a year since we could say that.
How did it get there? Rain, plain and simple. The Lord God saw fit to send rain our way. It wasn't Alabama Power, or the Governor, or the Corps of Engineers. They don't make it rain, though their efforts (along with many others) make sure that we make the most with what we get.
Two days of storms have dumped 2 to 3 inches of rain in the Lake Martin watershed, and the result as been a rise in the lake's level of 1.3 feet (so far) in the last 24 hours. This doesn't mean the drought is over. But, the level raise has buoyed many spirits.
Praise God!
Related Reading:
Alabama and Lake Martin Win Battle In Water War
Higher Winter Water Level Approved For Lake Martin
Lake Martin and Alabama have won a victory in the long running "water war" with Georgia and Florida.
In this press release, Governor Bob Riley calls it "the most consequential legal ruling in the 18 year history of the water war."
What happened?
The US Court of Appeals ruled that a "secret settlement" between Georgia, the Corps of Engineers, and Atlanta area water users is illegal under federal law.
What was the "secret settlement?"
It would have allocated about 23% of Lake Lanier for Atlanta's water supply. Lake Lanier is a federal reservoir.
Why should anyone outside the state of Georgia care what Georgians do with Lake Lanier's water?
A federal reservoir means it is owned by all tax payers of the US government, not just Georgians. As Riley said in this article: ""It establishes that the decades-old practice of Atlanta taking more and more water from the federal reservoirs in the Coosa and Chattahoochee Rivers without any legal authority to do so will not stand."
How does this affect Lake Martin's water level?
If Georgia is forced to take less water out, there is more water flowing into the Coosa system, which means Lake Martin has to put less water out to hold up the level in the Alabama River (which is formed by the Coosa and Tallapoosa).
What does this victory mean for Lake Martin in the larger scope of the water war?
The Guv thinks that this decision could be used to challenge other withdrawals by Georgia communities upstream. More water coming in, and less going out, equals more water for Lake Martin, and a more stable water level. Hoo-yah!!
For related reading, please see all posts that relate to Lake Martin water level:
Alabama Governor Bob Riley has recently played a huge role in lobbying FERC on behalf of Lake Martin's water level. He is also Alabama's most visible representative in the ongoing "Water Wars" – the struggle of Georgia, Florida, and Alabama to determine the future water usage of each state, and how that impacts the other two.
The Guv recently spoke to the Montgomery Lions Club, of which I am a member. He spoke on a variety of topics, then opened the floor for questions. Since I am keenly interested in feeding my children, I asked:
"What is the update on the Water Wars?"
Thankfully, The Guv limited his response to include some examples that affect Lake Martin. Namely he talked about how the recent drought caused Georgia to nearly suck their lakes dry, which of course directly and indirectly affected water flow into Alabama, and therefore Lake Martin.
He made two interesting points that cause me to have hope for Alabama's
(and Lake Martin's) negotiating positions:
1. Georgia's reservoirs (like Lake Lanier) were built by the Federal Government. Not a private company (Martin dam was built by Alabama Power) or even the state government. Since federal tax dollars were used to build those dams, don't they belong just as much to the citizens of Alabama and Florida as the citizens of Georgia?
2. Apparently all of these dam projects must have charters where they state the purpose for building the dam in the first place. In my deliberately cursory and extremely biased review of the COE site, I saw no mention of using the water for watering golf courses in Buckhead, water amusement parks by ATL, or boiling hot dogs at The Varsity. To the contrary, their charters state that among their purposes is to regulate water flow to navigable rivers. True, Lake Lanier and Lake Martin are on two different watersheds. But I think the Guv was trying to point out the inherent responsibility of downstream flow when the Georgia lakes were built.
I realize that this is a huge subject, with points and counter points on all three states' sides. The above two items hardly encompass the entire argument. I also realize that it is possible that I misunderstood Gov. Riley, however hard I tried not to just hear the good news selectively.
But, I do feel confident that Lake Martin stands a great chance of coming out of this with more than we started with, such as a higher winter water level.
Do any of you out there in Lake Martin readerland have more to add to this topic? Please click "Continue" and then "Leave A Reply." I am sure that others would benefit from your comments.
Do you enjoy the sparkling, fresh-as-a-daisy posts of Lake Martin Voice? Would you like an email notification of each new entry? Then type your real email address in the yellow box in the upper right corner to receive a spam-free notification. Or if you're lazy like me, get hip to RSS and then click on the Lake Martin Voice RSS feed.
Lake Martin scored a major victory when FERC approved Alabama Power's plan to raise the winter water level to 483, effective this year.
Alabama Power has also requested to move up the date to fill the Lake Martin to summer level up to January 15, 2008. THIS IS ALL GOOD NEWS.
Lake Martin's winter water level is usually 480 msl. It's lower than that this year, as Alabama has suffered through the worst drought recorded in 80 years. Pretty much the rest of the southeast has suffered, too, but Alabama and Georgia have been hit the hardest.
Also, Alabama Power is in the process of reapplying for the license to operate Martin Dam.
Most everyone that knows and loves Lake Martin is hoping that the move to 483 level during the winter will be a part of that relicensing, as well as the early fill up date of January 15.
If we get our normal amount of rain, this should mean that Lake Martin will recover its "lost" water more quickly. Yee-haw!!
Can you believe it? How many of you out there will be able to drive your boat to your dock at 483 feet versus 480? I am betting lots.
Related posts:
Alabama Power Wants Higher Winter Water Level On Lake Martin
Why / When Does The Water Level Go Up On Lake Martin?
Lake Martin Magazine interviewed me a couple of weeks ago about the effect of the drought on the Lake Martin real estate market, and general trends affecting buyers, sellers, and realtors. They included it in an article called "Special Report: The Water Issue" in the November 2007 issue. I thought Nikki Reeves and Kenneth Boone did a good job of covering a huge topic.
While they didn't publish the entire interview, they did use a couple of nuggets, and managed to add in a compliment to me. Here's the entire interview, with the parts that Lake Magazine used highlighted in yellow:
Lake Magazine: Has the lake level affected your individual/company's business this year in comparison to previous years? Has it done so in a positive/negative way?
John Coley: While I personally have been fortunate to have a better year in 2007 than 2006, I can't say that for the real estate market as a whole. Through August, the number of waterfront closings per year was down 35%, from 346 to 226. I can't help but think that a portion of that is due to the low lake level. I don't think that it's a majority of the culprit, though. I think the major blame for a slower market still lies at the feet of sellers who have overpriced their offerings. From 2000 to 2006 sellers became accustomed to 30% gains in value per year, and priced in 07 accordingly. The facts have shown that there was little or no value gain in 07 from 06, and some sellers have not figured that out yet. Case in point is the auction in July 07 at Harbor Pointe. They sold 25 condos in one day even though the water was extremely low, so you can't blame it on the level. They sold them because the prices were low enough for buyers to accept.
LM: Do you think the drought will be a positive thing for the lake market – in terms of rebalancing a surplus of property and real estate agents?
JC: This is kind of a philosophical question. I think it is part of the natural free market cycle of business, so I don't think it's "positive" or "negative." It's just natural, so deal with it. Is a forest fire a "positive" experience for wild turkeys? Well, if you're the turkey that gets burned up, no. But if you survive it and the forest in general grows more healthy because of the fire, then maybe it's "positive" for you.
On the practical side, I do think that the lake will follow the national trend of less people joining the real estate profession over the next two years or so. The same thing happened in the tech stock boom of the late 1990s. Lots of people quit their jobs to be "day traders" or they did it on the side. The stock market crashed, and they went back to their old jobs.
There will always be room in the market for good, honest, hardworking real estate agents. In a slower market, there is less incentive for those who are half hearted or not dedicated to join up. The same rule applies in any profession. In the minds of the average American, real estate agents have a pretty low image, so I doubt we'll see any "Farm Aid" style benefit concerts for starving Realtors.
LM: What benefits are there for buyers in the coming months? Sellers?
JC: Buyers – I think it's a buyers' market in every category (condos, lots, homes), so they have the benefit of buying at good prices. The only way they can benefit, though, is to actually buy. If they sit around and try to perfectly time the "bottom" – then they may miss out. Study after study shows that most "experts," much less the average joe cannot accurately predict the perfect bottom of any market. In fact, once the public realizes that a market is on an upswing, sellers have started to gain momentum again.
Sellers – I have talked to several people that are now considering upgrading their homes to take advantage of the buyers' market. I think another benefit is that if they price their property correctly, and either the water comes up next spring or interest rates tick down a half point, they could have some pressure relieved. The last buyers' market in 1999 and 2000 lasted for a couple of years, if that, then it took off and ran for 7. Sellers can be confident that, if they price it right, stage it properly, and market it hard, their home will still sell. It might take longer, but a good agent can get it done.
LM: Is there a silver lining to the drought for the area's real estate market?
JC: If Alabama Power is successful in their efforts to raise the winter level water pool to 483 or 485 as opposed to 480, that would be great. If this drought gives them the evidence they need to make the case, it will be worth it.
And if there are fewer real estate agents around, maybe there will be fewer agents' mugshots grinning at you from signs, magazines, and mail outs. Ha!!
LM: What are your predictions/plans for 2008?
JC: If this severe drought continues, I think it will become a major, rather than minor negative effect on waterfront sales. The question in the minds of the buyer that's new to the market, is "will it ever come back?" Veteran buyers realize we're in an 80 year anomaly and it hasn't bothered them that much. But 2 or 3 years straight of less than full pool conditions will start to take a heavy toll. Personally I think that is highly unlikely if you look at the rain patterns over the last 50 years. But it's a remote possibility.
I think that most sellers will not be very negotiable in Jan 08 – Mar 08, gambling that the water will come up. They will figure, "hey, I've waited this long, why not wait a little longer." I think more buyers will start to wake up and realize that the time to buy is now. For so long I heard from buyers that said "call me when that market is not so crazy." I'm calling them now.
LM: Anything else you think needs to be included.
JC: Feel free to quote from these related posts:
Nobel Winners in Economics Say Buy Now on Lake Martin
This Man's to Blame For the Slow Lake Martin Market
6 Crucial Changes Coming to Lake Martin Real Estate
To Predict Lake Martin Real Estate, Look West
Thanks again for the mention, Lake Mag!! (all photos in this post were taken by Kenneth Boone / Lake Magazine – Lake Martin Issue, November, 2007)