Archive for the 'Water Level' Category
On November 4, 2011, Alabama Power requested to keep the water level three feet higher than normal this winter.
This is old news to locals, of course, but I realized I had not posted anything about it on my blog.  Sorry about that.
This has been an unusually  busy fall for Lake Martin Voice Realty. Both John Christenberry and I have been blessed to have a few deals in the works and lots of people here looking for a waterfront home or lot on Lake Martin.
Alabama Power made this request to the Federal Energy Regulatory Commission (FERC). FERC is also the acronym that will decide to approve or reject Alabama Power's application for a new rule curve for the next 30 years.
For all of the official information from Alabama Power as it relates to Lake Martin's water level, go to this page on their website, then select "Tallapoosa River" and then "Lake Martin" in the appropriate drop down boxes.  The normal winter water level for Lake Martin under the current rule curve or license is 480 feet, Martin Datum.  Alabama Power has requested to keep it at 483 this year because of, in their words, "to address forecast LaNina impacts during the upcoming winter and spring months. Once approved, the lake should remain up to 3 feet higher than normal winter pool. Lake elevations are always subject to change, depending on conditions."
If you would like to monitor the water level on Lake Martin, I think the best spot on the web is Bruce Pate's Lake Martin.com. From here you can see the current level, and also a cool chart that allows you to compare to prior years, and to the current rule curve.  Bruce also allows you to create a water level alert, customized to your needs.   For instance, you might know that when the lake gets below 484 you can work on your dock or install a water pump for your landscaping.  Go to Lake Martin.com and create an alert that will email you when it gets close to that amount.  Neat idea!
Other Great Resources About Lake Martin's Water Source
Lake Martin is fed by the mighty Tallapoosa River, which, I would argue (in extreme bias) is the most historically significant river that is east of the Mississippi and south of Clingman's Dome. Here are some links to see Tallapoosa River flow numbers:
Tallapoosa River near New Site / Horseshoe Bend
The Tallapoosa is part of the Alabama / Coosa / Tallapoosa River Basin, aka the ACT Basin.  If you would like to watch water level readings for the ACT Basin, see:
ACT Basin by Army Corps of Engineers
Alabama Dept of Environmental Management
If you put any thought at all into buying a waterfront home on Lake Martin, there are plenty of things to consider.  You might compare the price, size of the home, its view, the privacy, water depth, or any other of a number of factors.
Here's one that I bet you haven't thought about:
Is the home in a flood plain? Will you need flood insurance?
I know, it sounds crazy. I can hear you now: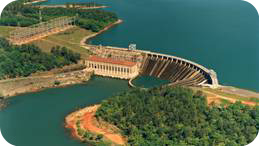 Wait, John – Lake Martin is a man made lake, all of that water is held up by Martin Dam. Lake Martin (at some points) is more than 150 feet deep.
How can a home sitting up above the water level be concerned about being flooded? Furthermore,  if a home is sitting above the elevation of the top of the dam, how can it be flooded? Impossible!
Nope.  Nothing is impossible with FEMA.
Yes, FEMA.  That bumbling bureaucracy that brought you Katrina Relief is at it again. They have redrawn the flood maps for much of the tri-county area that stretches over Lake Martin.  Bucking a century long trend of technological advancement, this broad brushstroke made their master map less accurate.  It threw many more homes into the federally designated flood zone.
Why should you care?
If you buy a Lake Martin home and your mortgage company requests certification that the home is not in a flood zone, you would be flagged.
What should you do?
Your options would either be to:
1.) pay for flood insurance (many quotes are at $3,000 per year)
2.) pay a licensed surveyor or civil engineer to come shoot the elevation ($500 – $800) and apply to FEMA for a permanent exemption for your particular home.  You show this to the mortgage company, and they remove the flood insurance requirement.  Obviously, most home buyers choose this option.
Crazy. It sounds like FEMA is passing along the cost of getting accurate maps to individuals.
Agreed.  If you are buying a waterfront home on Lake Martin, or even refinancing one, you need to budget this money, just in case.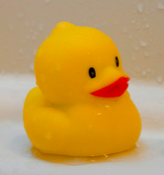 Wait a minute – this is nuts, you say. How can a home that sits above the elevation of the dam be worried about a flood? Shouldn't FEMA be worried about the people DOWNSTREAM of Martin Dam?  That's like worrying about your little rubber ducky that sits in the soap dish.  There is no physical way he can wash away if the tub overflows. He is above the tub.
You are being too logical. Besides, FEMA says there is a "choice" – you can just buy hugely expensive flood insurance if you don't want to pay a surveyor.  Who sells flood insurance? Oh yeah. FEMA.
To summarize: FEMA says that most of Lake Martin needs flood insurance.  They can't tell us exactly which homes need it. They need us to tell them if we need flood insurance, but only if we hire a professional. If we don't want to hire someone, we can pay for it. They sell it.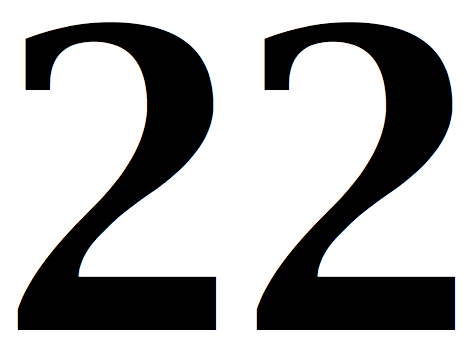 It's a formula that only Yossarian could appreciate.
Read more about the Lake Martin flood insurance issue here.  It is a transcript from a meeting that FEMA held with concerned citizens.
From the shores of beautiful Lake Martin – here's the second installment of the concrete seawall construction video series at Water's Edge.  In the first video we watched Henderson and Coker Contractors pour the footings, and in this video we watch them set and fill the forms for the seawall.
During the summer, when the lake is at full pool, we rarely stop to think about what is under the surface.  In this case – a lot of carefully planned rebar and concrete.  This sea wall will protect the huge peninsula portion of Water's Edge from erosion for years to come.
Stay tuned for the next installment in this series . . . at this point, your guess is as good as mine about exactly what will happen in the  next phase of seawall construction.
If you're unfamiliar with Water's Edge, check out some of these video tours below.  Give me a call if you'd like to see the homes at Water's Edge, or any property in the Lake Martin MLS.
Announcing Water's Edge on Lake Martin
Water's Edge Architect's Notes: Interior Spaces
Water's Edge Architect's Notes: Exterior Features

The 6th Annual State of Our Watershed Conference, The Tallapoosa River Basin will be at the Betty Carol Graham Technology Center at the Central Alabama Community College in Alexander City on Tuesday, May 25th, 2010.
This year's conference topics include an update on the tri-state water wars, progress of the FERC Dam Re-licensing, and Watershed Management in the Tallapoosa River Basin.
For more information, see The Tallapoose Watershed Project website.  For conference information and registration, click here.
Every now and then I like to include a post that covers the basics skills you need if you are interested in Lake Martin waterfront real estate.
It's not really tough math, but water depth on Lake Martin changes in the winter months.  Full pool is 490 feet, winter pool is 480 feet (right now at least).
If you're wondering why the level changes, read this.
Maybe you're thinking about buying a waterfront home on Lake Martin, even if you are not insisting on being able to drive your boat from your dock in January, you still need to know the water depth of the homes you are considering.  Water depth, along with other such fuzzy metrics as view and privacy constitute a big part of pricing on every lot or home on the lake.
And if you own waterfront property on Lake Martin right now, you probably already know your winter and summer water depths. But if you are nosing around the market, you need to check the other homes' depths so you can compare to yours.
If you are curious about any property on the lake, and would like help in pricing something, or finding a home or lot to suit your future plans, please call.  I would love to help you.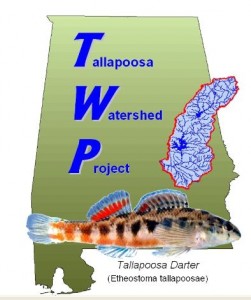 The 5th Annual State of Our Watershed Conference, The Tallapoosa River Basin –Moving Toward More Effective Water Policy will be at the Betty Carol Graham Technology Center at the Central Alabama Community College in Alexander City on Wednesday-Thursday, May 13th-14th, 2009. This year's conference will focus on moving toward sustainable water management policy for the Tallapoosa River Basin.
This year's organizers and sponsors include the Auburn University Water Resources Center, Alabama Water Watch, the Middle Tallapoosa Clean Water Partnership, Lake Watch of Lake Martin, the Montgomery Water Works and Sanitary Sewer Board, and Central Alabama Community College
Go to www.twp.auburn.edu and, under TWP Highlights click the 5th Annual State of Our Watershed Conference link to go to information on the conference, including the Tallapoosa River Basin Management Plan (8.2 megabite pdf file), conference announcement, and conference registration (required for lunch headcount), and additional information.
Alabama Power, the owner and operator of Martin Dam, has requested they be allowed to raise the winter water level in Lake Martin to 483 feet in 2009.  They made this request to the Federal Energy Regulatory Commission (FERC) on December 29, 2008.  They also requested to start filling Lake Martin up a month earlier – Jan 15 as opposed to Feb 17.
Lake Martin Water Level FAQ:
1. I thought that Alabama Power already requested to raise the lake's winter level? True, they did.  But they did it as a temporary variance to the rule curve.  Apparently their last request only covered 2008.
2. Does this mean a change to the rules, will they only let it down to 483 every winter? No, this is a temporary variance request for 2009 only.  But many hope that 483 will be be the new winter water level when Alabama Power makes its application to re-license Martin Dam in 2011.
3.  Martin Dam has a license? Yes, Alabama Power owns and operates it, but FERC licenses its use.  They establish a "rule curve" – a plan of how to handle the inflow and outflow of water from the Tallapoosa River.  The licenses run for like 30 years, and Alabama Power is due to apply to a new license in 2011, with the new rules to come into effect in 2013.  They are in the application process now, and the public has venues for input like here and here.
4. How does a higher water level affect real estate on Lake Martin? Water into the lake is like bacon.  More is always better.
5. If FERC approves, how quickly will the level get up to 483? That depends on how much rain the Lord sees fit to send our way.
6. What? Lake Martin's water level goes up and down? Why? Click here for a primer on how the creation of  Lake Martin led to why the water level fluctuates.
Hat tip to Maverick in the forum and Jesse Cunningham of the Lake Martin HOBOs for letting me know about this.
Hey readers – let me hear from you – will a 483 foot winter help you out? Please leave a comment in the "Leave  a Reply" section below.  If you can't see that, click on "Comments" then scroll to the bottom.  I'm interested to see the results.
More Posts On Lake Martin Water Level
This is not a news flash: Lake Martin's water level is back!
It's hard to believe, but in the 5 short weeks since I wrote this post about the water hitting 480, Lake Martin stands inches away from its highest possible mark of 490. All of the nay sayers have been proved wrong. Many (myself included) wondered if it would take more than one summer to recover from the worst drought recorded in 80 years. The next time we have a rain shortage, I hope we remember how fast it bounced back.
How has it affected businesses around the lake?
Real Estate
I have been extremely busy in the last month especially. I have picked up all sorts of new waterfront listings. I have been running all over the lake taking pictures and shooting video tours. Buyers are calling again. Turns out, my phone does work! It's a good feeling. I am no exception, many other Lake Martin realtors tell me the same thing.
All agent fluffery aside, 2008 will prove a great time to buy property on Lake Martin. There is still a lot of inventory out there from the doldrums of 2007. Sellers have reduced prices and (if they're smart) are still eager to sell. Interest rates are down, so conditions are still very favorable for buyers.
Retail
JT Voltz at Blue Creek Marina tells me that they are "covered up" in work already. Their staff is back full steam and looking forward to a better summer.
I spoke to Oskar (of Oskar's) this morning and she said that their business has bounced back as well. They are ready to forget 2007 and are looking back to 2006 to plan for their restaurant traffic this summer.
Early season success has not been limited to the Dadeville side of Lake Martin. Green Valley Market and Cafe tells me that last weekend they served about as many meals as they ever have. They opened in 2007, so they anticipate to easily break their own records of catering and restaurant business this summer.
David Naile of Nail's Convenience Store in downtown Kowaliga says that the last couple of weekends' nice weather has shown a spike in gasoline and c-store sales. Naile confirmed that he is planning to expand his offerings inside the store to accommodate the higher traffic.
Lake Martin's water level has finally risen above the rule curve established by Alabama Power and the Corps of Engineers.
Today's read of 481.83 is above the rule curve of 481.7. What does this mean in English? Lake Martin's water level is ahead of the pace it needs to get to full pool of 490. This is great news. It has been over a year since we could say that.
How did it get there? Rain, plain and simple. The Lord God saw fit to send rain our way. It wasn't Alabama Power, or the Governor, or the Corps of Engineers. They don't make it rain, though their efforts (along with many others) make sure that we make the most with what we get.
Two days of storms have dumped 2 to 3 inches of rain in the Lake Martin watershed, and the result as been a rise in the lake's level of 1.3 feet (so far) in the last 24 hours. This doesn't mean the drought is over. But, the level raise has buoyed many spirits.
Praise God!
Related Reading:
Alabama and Lake Martin Win Battle In Water War
Higher Winter Water Level Approved For Lake Martin
Lake Martin and Alabama have won a victory in the long running "water war" with Georgia and Florida.
In this press release, Governor Bob Riley calls it "the most consequential legal ruling in the 18 year history of the water war."
What happened?
The US Court of Appeals ruled that a "secret settlement" between Georgia, the Corps of Engineers, and Atlanta area water users is illegal under federal law.
What was the "secret settlement?"
It would have allocated about 23% of Lake Lanier for Atlanta's water supply. Lake Lanier is a federal reservoir.
Why should anyone outside the state of Georgia care what Georgians do with Lake Lanier's water?
A federal reservoir means it is owned by all tax payers of the US government, not just Georgians. As Riley said in this article: ""It establishes that the decades-old practice of Atlanta taking more and more water from the federal reservoirs in the Coosa and Chattahoochee Rivers without any legal authority to do so will not stand."
How does this affect Lake Martin's water level?
If Georgia is forced to take less water out, there is more water flowing into the Coosa system, which means Lake Martin has to put less water out to hold up the level in the Alabama River (which is formed by the Coosa and Tallapoosa).
What does this victory mean for Lake Martin in the larger scope of the water war?
The Guv thinks that this decision could be used to challenge other withdrawals by Georgia communities upstream. More water coming in, and less going out, equals more water for Lake Martin, and a more stable water level. Hoo-yah!!
For related reading, please see all posts that relate to Lake Martin water level: