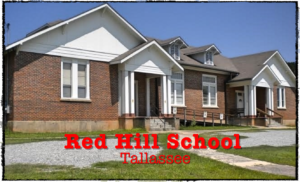 Do you come to Lake Martin on the weekends? If you consider yourself a semi local you may have worshipped on Sunday at Church in the Pines or even shopped on Saturday at the Alex City Farmers Market.
But have you been to the singing that happens every Friday night at the old Red Hill School in Tallassee?
It really is a pretty cool event. It's just the type of thing I had in mind when I created my app. There are so many great things going on here at Lake Martin that deserve some attention.
Recently I was contacted by Paula about the Old Red Hill School Jam – a weekly event every Friday night from 6:30 -8:30. For over 12 years folks have been entertained by a country, folk, gospel or blues music jam for free. Visitors can dance, sing and play, or just listen while they enjoy free coffee and snacks.
For more information call Paula at 334-541-2474.
Google Maps Link to Red Hill School.
To download my free Lake Martin Voice app click here – I know you don't want to miss anything going on at the Lake!
1220 Cafe in Tallassee may not be a waterfront bistro, but it is located on one of the gateway corridors to Lake Martin.  Tallassee natives and veterans of the restaurant industry, Pam and Noah Griggs, opened 1220 Cafe as a "fast casual" restaurant, and since I'd heard so many good things about it, I decided to check it out myself.
I was really surprised by how big it is.  They have a lot of room both inside and outside, so even if you see a lot of cars in the parking lot, they can fit you in.  In small towns you often find local places that simply reheat frozen foods from distributors, but not here. They have put a lot of thought and effort into creating foods that are fresh and unique.  Noah's mom has even contributed the recipes for many of the homemade desserts.
My parents travel through Tallassee all the time and my mom is an avid coffee fan.  Neither she nor my dad will pass by without stopping, and the 1220 Cafe folks make them a special frozen coffee drink that is not on the menu – that's something that doesn't happen at a chain eatery. And, at Lake Martin you can count the number of restaurants with cool cappuccino machines on your toes, so this is definitely a special experience for this area.
Next time you're on the south side of the lake, or driving through Tallassee on the way to the lake, check them out.  You can also find them on Facebook.