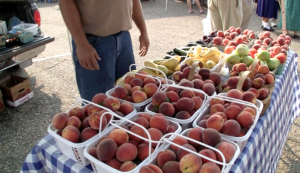 Lake Martin vacationers: MainStreet Alexander City hosts a farmer's market every Saturday morning from 7-11am.  This is a quintessential summer activity;  if you're into fresh produce, local honey, goat cheese, BBQ sauce, soap, herbs, and baked goods, head downtown.
On any given Saturday morning you're sure to run into the Jones family, Lake Martin homeowners from Atlanta, who are hip to things culinary, and fans of local produce. Despite having a world of foodie options in the city, they frequent the Alex City farmer's market (and then the Piggly Wiggly meat counter right up the street) and create fantastic dishes to serve lakeside.  If you're lucky enough to be invited to dine with them, leave your cooler of Natural Light and pimento cheese at home.  Allow Mr. Jones to set the menu.
We took our own family trip to the farmer's market, and filmed this quick video so you can check it out too:
The Lake Martin community extends well past the shoreline into the small towns and countryside around it.  The more you know about the area, the more you will feel at home here.  If you need help finding that perfect lake home, or just want some ideas of things to do while you're here, give me a call at 334 221 5862.