I was glancing through the February issue of LAKE Magazine – looking for my monthly column –  and I had to grin when I saw this article.  Allison Trumbull got engaged at Children's Harbor.  I helped her parents find a lake home a few years ago, and clearly Lake Martin has become a big a part of their lives.  And now their daughter has added a Lake Martin engagement as a part of their family's "story. " Very cool.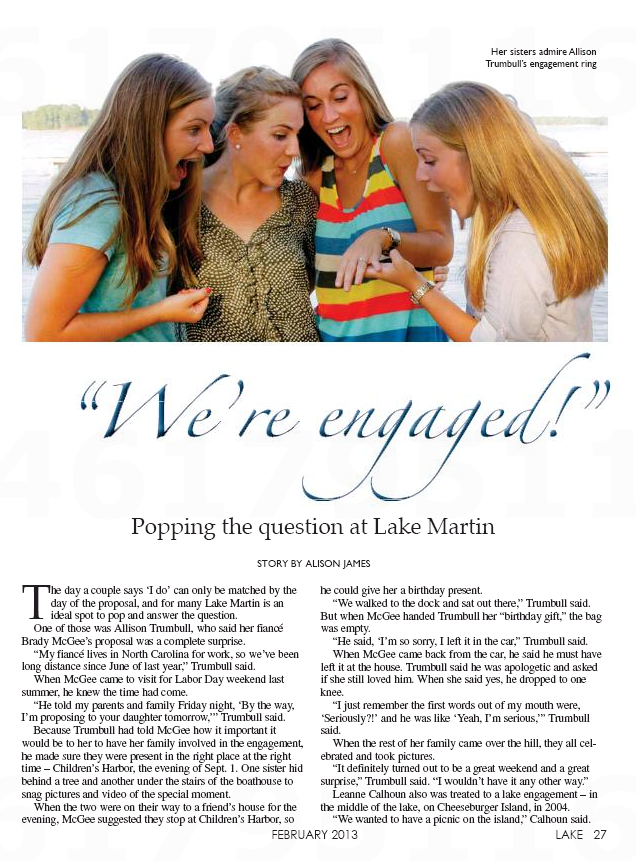 The fact that LAKE Magazine now has a "Wedding Edition" in February is proof that there are more couples getting engaged and married here. Maybe Lake Martin is becoming a destination to rival Cabo?  Glancing through LAKE's Wedding Edition, I can see that the Lake Martin community is responding with more venues, caterers, photographers, etc.  That's a great sign for the Lake Martin area economy.
Have you been to a wedding at Lake Martin?  Do you have any pics or advice to share? Use the comment box below and let us know about your experience.  And if any of your wedding guests decide they, too, need a Lake Martin home, I'm your man.  Give me a call at (334) 221-5862 or CLICK HERE to contact me.