I take Lake Martin wildlife pictures all over the lake, but I need to create a specific photo file for "Wildlife I Have Seen in StillWaters."  Lake Martin is a rural area, so animals coexist with lake lovers on all sides.  StillWaters is a huge gated golf/lake community with on and off the water homes, townhouses and condos, and it seems that wildlife like the deer I spotted last week call it home, too.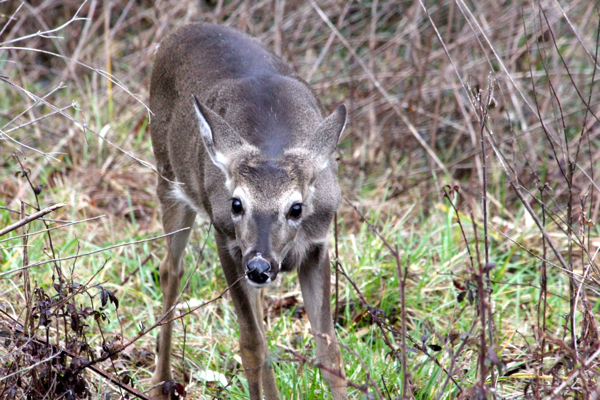 This one was grazing on the side of the road as I drove to a new listing of mine in StillWaters, 100 Harbor Point Place Unit 613.  If you look closely you can see the early formation of his antlers.  It's amazing how deer were created to blend in so well with their environment.  You can barely see his back in the photo below: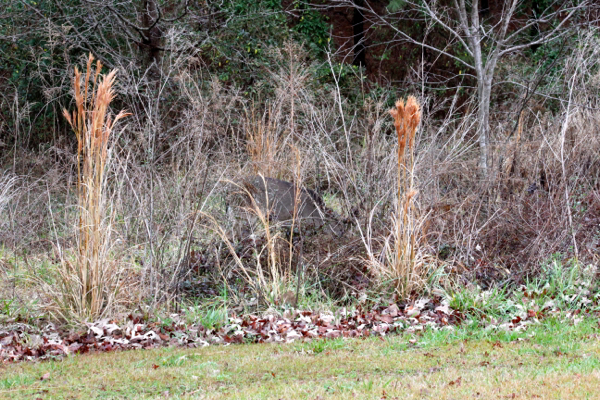 If you like the idea of being in an established, gated golf  and waterfront community, and enjoy neighbors of all kinds, StillWaters might be a good fit.  If you'd like access to all StillWaters' amenities, but prefer to leave the yard work and home maintenance to someone else, check out my listing, 100 Harbor Pointe Place Unit 613.  It's a 2 bed/2 bath off-the-water condo with a deeded boat slip, and it's right across the street from Harbor Pointe Marina.
It's currently listed for $131K – a great deal when you consider its location within StillWaters and all of the amenities owners can access.
Here's one more parting shot of our friend and StillWaters neighbor.  If you're interested in homes or condos in StillWaters, or real estate anywhere on Lake Martin, give me a call at (334) 221-5862, or contact me by CLICKING HERE.  I'd love to be your realtor.