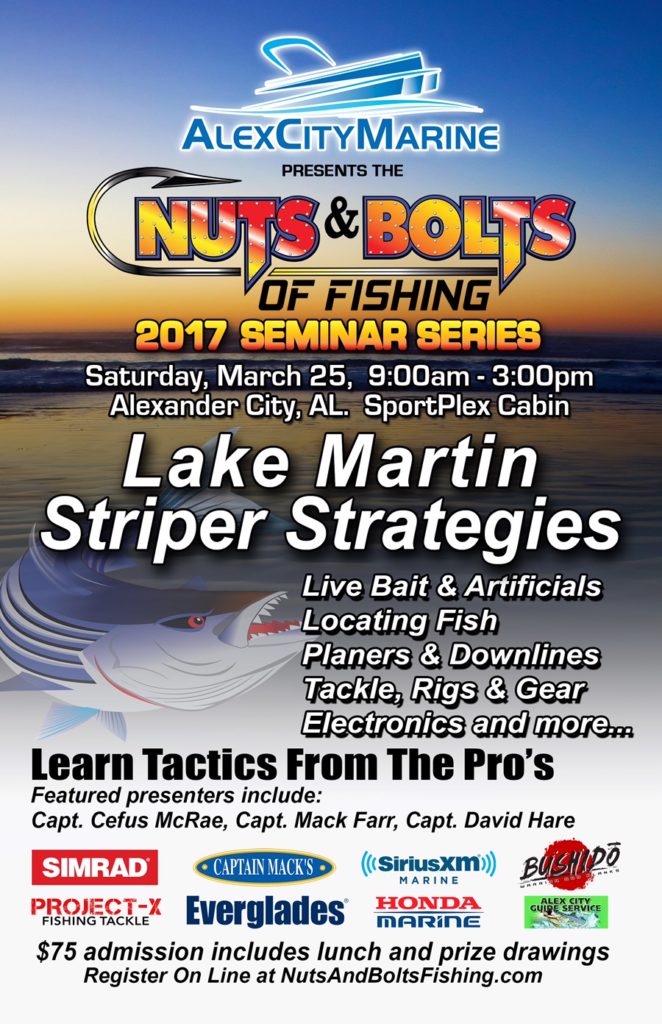 The Nuts & Bolts of Fishing Seminar – Springtime Striper Strategies on Lake Martin on Saturday, March 25 is a full day live, interactive seminar focusing on targeting and catching stripers this spring.
Nuts & Bolts of Fishing seminars provide the 'nuts and bolts' of what anglers want to know and need to know to become more successful on their regional lakes and reservoirs. This event will highlight striper fishing on Lake Martin.
The presentations include:
Getting the Most from your Electronics
Tackle, Tactics and Rigs
Locating Fish
And more – plus there is a Q&A session with the Pros at the end of the day.
Admission is $75 and includes lunch and prize drawings.
Location is the SportPlex Cabin at the Bailey Sports Complex in Alex City.  Click here for directions. Saturday, March 25, the doors open at 8:30 a.m. and the event takes place from 9 a.m. to 3 p.m.
I don't have a fishing boat and mostly fly fish for the striped bass here on Lake Martin. However, I am always curious about how the bait fishermen and those who use conventional tackle go about it. I asked Capt. McRae a couple of questions that I think you might like.
Q: I have heard that the first step in finding striped bass is to find the bait. Do you agree?

 

Striped bass are a nomadic fish. They don't have a 'home', like largemouth bass.   Instead, they follow the kitchen. Stripers have to eat a lot because they are always on the move.   So, yes…find the kitchen, and the stripers won't be far away. But finding bait doesn't always mean there will be stripers ready to eat.  Obviously there has to be lots more bait in the lake, compared to the striper population…otherwise, they would eat it all up in a few days. So another way, especially in the winter and early spring, to locate actively feeding gamefish is to look for the birds. Seagulls cannot dive under water to get food, like loons for instance. They depend on stripers to push the bait to the surface for easy pickings by the birds. Locate whirling, diving seagulls and you've found the mother lode.

Q: I am mostly a fly fisherman. Will your seminar be covering any tips that I could use?

 

The content would definitely be beneficial. We don't necessarily have a full length presentation on fly fishing, or specific flies and streamers to use but…. the same techniques we use for pulling planer boards can work very well for the long-pole angler. Fishing on an overcast day in the winter, when the fish have the freedom to be anywhere in the water column, will keep the fish close to the surface for the fly angler. Sinking lines and streamers that mimic herring or shad will work really well. The key is locating them. And location is exactly what Capt. David Hare will be sharing. Stripers will come from great depths to take a fly, but they have to know it's there, and they have to be ready to eat. Fishing the upper Tallapoosa in the spring where the water is only 6 to 10 feet deep is a prime example of a great place to fish. And it's the same places we pull planer boards. The baits behind the boards are only a few inches to a foot deep and the stripers will explode on them. It's quite a sight. We also throw a lot of small bucktails for stripers on Lanier and Hartwell. When they are zoned in on small shad or threadfin herring, we use crappie minnows and small bucktails. Essentially matching the hatch. We do a lot of fly fishing on Lake Lanier in the winter and early spring using those same tactics and it's extremely fun and can be very productive.
This sounds like a great way to learn more about striped bass fishing here on Lake Martin. And it's perfect timing for the Spring!
Register online at NutsandBoltsFishing.com.  Seating will be limited, so be sure to sign up early!
Questions? Contact Capt. Cefus McRae at 404-402-8329 or [email protected].