It is no secret that I love to fish for striped bass at Lake Martin.  And I am always looking to improve my game.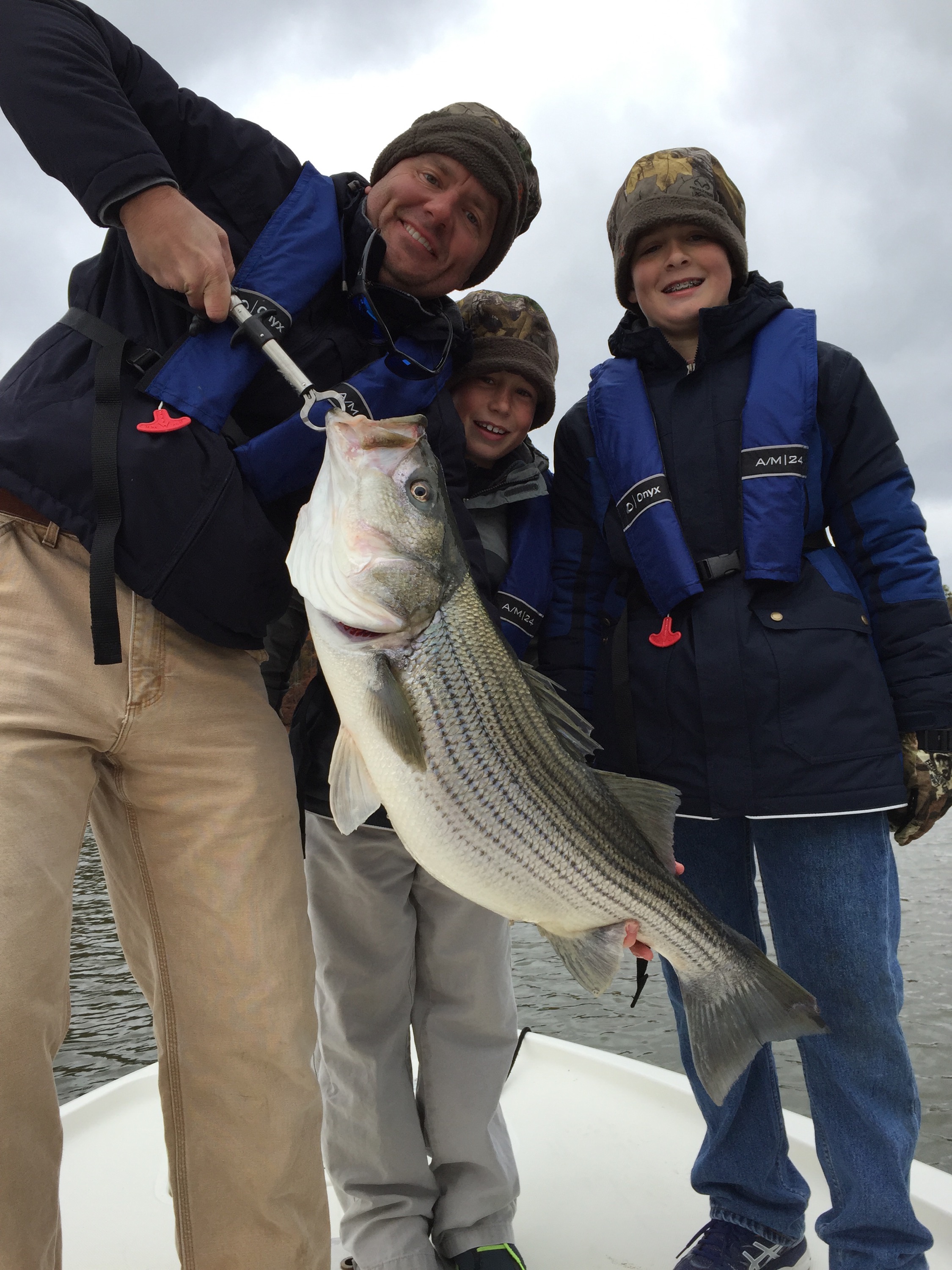 This picture from a few years ago was taken here at Lake Martin in the Fall and yes it was chilly. Here it is March and it is time for a March report from David Hare.
I always pay attention to David Hare's striped bass reports. David is the owner and head guide at Alex City Guide Service.
Please see his report for March below. Also pay attention to the Striped Bass Class (bet you can't say that fast without laughing). The class is March 25 – it is a great opportunity to get some help with catching striper.  Click here for more information about the class.
I also pay close attention to David's Facebook page.
If you have any questions, please contact David directly at:
Alex City Guide Service
Captain David Hare
256-401-3089
[email protected]
Lake Martin Striped Bass March Report, by Captain David Hare
Sitting here on 2/08/17 trying to give you a March report! Well I'm going to tell you what should be happening based on past years of guiding here and living on this lake.
March is a month that you could find stripers on most any part of the lake, however some of my favorite places in March are in the creek channels for example: (but not limited to) Elkhatchee, Blue Creek, Big Sandy, and others. Creeks do not hold all the stripe by any means but for me they produce very well. The next several weeks (12-14 weeks) you can have lots of fun fishing creeks for trophy size stripers. In fact a couple years back on March 13th one of our guides boated a record 52 lb. 'er at the mouth of a creek channel. That same day we had several fish in the 30 to 40 lb. range. That being said – March produces monsters.
I know, I know I haven't told you what to fish with or how? It's no secret that we (Alex City Guide Service) specialize in live bait fishing which for most people is a very challenging way to fish due to catching shad and not to even mention being able to keep them alive, so what you can do is go out and catch you some bream on a hook and line, keep them alive and go right then and fish them on planer boards in these areas. Take your time and your patience and work creek areas and you just might be surprised at what you catch.
Say that sounds like a lot of work, time and trouble? Well that's when you just pick up the phone and call me to book a trip of a lifetime. We are considered the go to guide service on Lake Martin and year after year we entertain thousands of clients and produce some of the best catches in the South.
Now for you anglers that want to learn techniques to be able to catch stripers on most any striper lake we have a seminar here locally on March 25, 2017. This seminar is going to focus on live and artificial baits, locating fish, planer boarding, downlines, trolling, tackle, rigs and rigging, gear, electronics training and more ….. Pro's Capt. Cefus McRae of Nuts & Bolts of Fishing, Capt. Mack Farr of the popular Capt. Mack Umbrella Rigs and Tackle, and myself – Capt. David Hare, owner and guide of Alex City Guide Service on Lake Martin are going to be giving presentations. This seminar is a must for the novice and an eye opener for the most advanced striper fisherman. It starts at 9:00 a.m. and ends at 3:00 p.m. Lunch is included and there will be door prize drawings. It's a no brainer when you get all this at only a $75.00 admission fee. For reservations and more info contact Capt. Cefus McRae by logging on to Nuts & Bolts of Fishing 2017 Seminar Series. Seminar will be rain or shine inside the Alexander City SportPlex Cabin. 

Until next time tight lines!
Capt. David Hare
256-401-3089