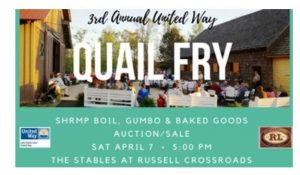 Saturday, April 7th from 5-8
is the 3rd Annual Lake Martin Area United Way Quail Fry!
Come hungry and ready for fun! Dinner includes fried quail, shrimp boil and gumbo.
The Lake Martin Area United Way Quail Fry is being held inside at The Stables – Russell Crossroads (no need to worry about the weather forecast). Doors open at 5 pm with dinner starting at 6. After dinner will be a baked goods sale and auction.
Tickets are $30 in advance, $35 at the door and they are available for purchase at the United Way Office – 17 Main Street in Alex City or Valley National Bank (USAmeriBank) – 391 N Broadnax Street, Dadeville.
All proceeds benefit the Lake Martin Area United Way.
Interested in knowing about other events at Lake Martin? Be sure to download our free Lake Martin Voice App!