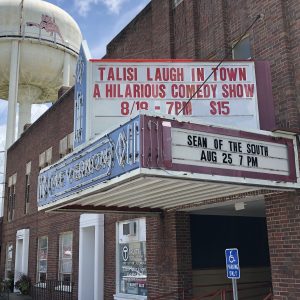 Are you a fan of Sean of the South? Me too! His commentary on life in the American South is spot on.
Sean Dietrich, aka  Sean of the South, will be appearing at the Mt. Vernon Theatre in Tallassee on Saturday, August 25th at 7PM.
CLICK HERE TO ENTER TO WIN FREE TICKETS
Would you like to go? I am giving away 4 pairs of 2 tickets to his show – courtesy of Kennebec – the newest waterfront community on Lake Martin. So let me hear from you and you will be entered in the drawing for free tickets to the show!
Special guests will be the Goat Hill String Band who will start playing at 6:30PM. Doors open at 6PM. Tickets are $25.
Who else would entertain us with tales of the pound cake boys, driving through Atlanta, fishin', Waffle House angels, porch sitting, cakewalks and traveling across 2 lane roads of the old rural southeast? Heck, he even wrote about Lake Martin the other day!
And of course you have to love hearing about his new bloodhound puppy, Thelma Lou.
Don't forget to enter to win! I'm John Coley and I would love to talk with you about Kennebec.
CLICK HERE TO ENTER TO WIN FREE TICKETS
No purchase necessary, all entries will be entered into the drawing, winners are randomly selected, opening date of the contest is August 17 and closing date is August 23 at Noon, a list of winners will be posted!