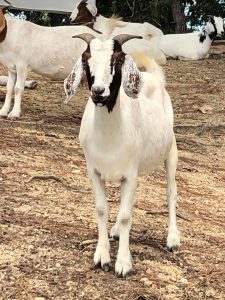 Where Is Goat Island on Lake Martin?
Goat Island is one of the most famous islands on Lake Martin. It is located very near the Martin Dam on the south side of Lake Martin. A local group of "goat advocates" cares for the goats and Goat Island is a great spot to stop and relex.
The easiest way to find Goat Island on Lake Martin is to download my app. The app is called Lake Martin Voice, and it is free. Here is a link to it on Apple and here is a link on Google.
Once you download the app, make sure to say "Yes" when it asks to share your location. No, I am not tracking you. But this will help you navigate around Lake Martin.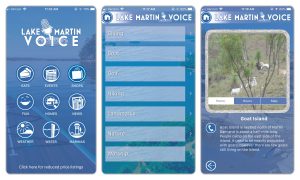 Goat Island has a pin dropped on it on the map, and your location is the blue dot. It is super easy to drive your boat right to it!
The app also has the location of lots of other fun landmarks like boat ramps, other islands, places to play golf, places to hike, and churches for worship.
One of the most popular features of the Lake Martin Voice App is the Events page, which has events from all over the lake, not just one company's or one marina's. Speaking of marinas, the app has a Marinas page which shows you the location, hours, and phone numbers of all the marinas on the lake. If you have shared your location with the app, you will always know where the closest marina is.
The Lake Martin Voice app also has the area restaurants, but its real estate search "pays the bills." Yes, I am a full service, full time real estate agent here at Lake Martin and I would love to help you out if you need it. Contact me at the number at the top of this page or email me here.
FAQ About Goat Island on Lake Martin:
What are the Latitude and Longitude Coordinates of Goat Island on Lake Martin?
If apps aren't your thing, or if you just want to use your maps app, the coordinates for Goat Island are :Lat: 32.689331 Long: 85.915641
What is the nearest boat ramp to Goat Island on Lake Martin?
The nearest boat ramp to Goat Island is located at Anchor Bay Marina<link>. There is a Elmore County boat ramp located at the Anchor Bay Marina. If you don't have a boat, they also rent boats there. If you have the Lake Martin Voice App, just go to "Marinas" – then scroll to find Anchor Bay. Its address and GPS location are on the app.
I don't have a boat but can I canoe or kayak or paddleboard / SUP  to Goat Island on Lake Martin?
See above. It would be a long trip (for me at least). I am guessing at least two and a half miles each way or a five mile round trip paddle. Even if that is not a long distance for you, please know that this area of Kowaliga Bay on Lake Martin can receive some of the heaviest boat traffic on summer weekends. If it were me, I would not paddle there during those times. Plan accordingly. That said, if paddling is your thing, and it is a summer weekday or any other time from September to April, go for it! I think it would be a fun adventure. Just please wear PFDs and plan for the weather.
What are the rules on Goat Island? How do I feed the goats?
The best place is to check out the Goat Island Facebook Page.
How late in the year do the goats stay on Goat Island at Lake Martin?
According to the weather, they come off around end of September beginning of October.
How can I help support the cost of caring for the goats?
From time to time the family in charge has fundraisers (t-shirt sales, hat sales, etc) to help defray their cost of feeding the goats, boarding them in the off season, vet bills, and all the rest of the things associated with responsible pet care. The best way to keep alert on these opportunities is on their facebook page. Donations can be made by PayPal to: [email protected], or to the Venmo account: Goat-Island.