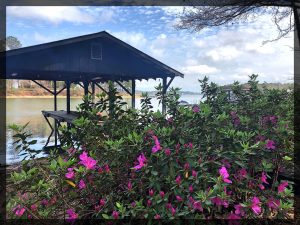 This time last year we spent 22 days straight at Lake Martin quarantining. It started out with me asking "What ARE we doing?" but my wife and I quickly realized it was the most precious time we had spent together as a family.
This year we may not have 22 days straight to enjoy together at the Lake but in memory of the best  Spring Break our family has EVER had, here are a few ideas for how to spend your week:
Take a hike at one of the trails around the Lake – the Cherokee Ridge Alpine Trail at Overlook Park or the John B. Scott Deadening Alpine Trail.  Another great trail is the Smith Mountain Fire Tower Trail which was just selected as one of the top seven kid-friendly hikes in Alabama by Only in Alabama.
Enjoy the Piedmont Birding Trail stop at Wind Creek State Park and spot waterfowl, raptors and songbirds. And while at the Park enjoy a picnic or hiking, cycling and horse riding trails.
Do you like tours and turbines and rooms with lights and switches? Call Alabama Power at 205.257.1000 to schedule a tour of Martin Dam! This is an awesome tour but be sure to call APCO to schedule in advance!
Does horse riding sound fun? Give The Stables at Russell Crossroads a call 256.794.1333 and book a trail ride Wednesday-Saturday with rides limited to four people.
Did you ever wonder where the song Kaw-liga was written? It was written by Hank Williams right here at Lake Martin. Take a minute to read the historical marker by the Hank Williams Kowaliga Cabin on (where else of course) Kowaliga Road / Highway 63. Be sure to visit the Kowaliga Restaurant, enjoy a great view and delicious meal and meet Kowaliga IV. They are open Thursday, Friday, Saturday and Sunday from 11AM – 9PM.
Interested in seeing some cool cars from the 1960s and 1970s? Visit the Wellborn Musclecar Museum in downtown Alexander City. It is open by appointment only Tuesday – Friday or on Saturday from 10AM – 3PM.
Want to rent a kayak, canoe or tube? Call Off the Beaten Path, an Eco Tour Agency, and they can provide whatever you need! 334.703.2536.
Looking for a relaxing place to enjoy a cup of coffee? Cornerstone Coffee Company in Eclectic is a great craft coffee shop open from 6AM – 4PM, Tuesday – Saturday.
Have you ever wondered what it was like to shoot a machine gun? You can do that at Lake Martin Machine Gun! Book a one hour machine gun shoot on Monday, Friday, Saturday of Sunday.
Are you looking for a dog friendly trail? Try out the Russell Forest Trails – over 100 miles of trails for hiking!
Hungry? Check out one of my favorite pizza joints – Lake Martin Pizza in Dadeville. Get a pizza to go or enjoy their newly opened outdoor patio. 256-794-1333
A new restaurant just opened in The Square in downtown Alexander City – Alana's Place. It offers breakfast and lunch. While there enjoy some shopping at Half Moon Market & Interiors.
And another favorite restaurant of ours – Castelluccio Fine Italian Dining. An excellent choice for Italian food in downtown Alexander City.
Looking for some Lake Martin swag? Check out Unsalted Waters online store! They feature a cool Lake Martin collection.
Enjoy your time at Lake Martin! 
For more ideas for what to see or do or where to eat take a look at our free Lake Martin Voice app – the best way to keep up with Lake Martin events and an easy way to find restaurants, shops and landmarks. We update the App daily! Don't miss any Lake Martin events – download our FREE APP here. Or go to your favorite app store and search "Lake Martin Voice."