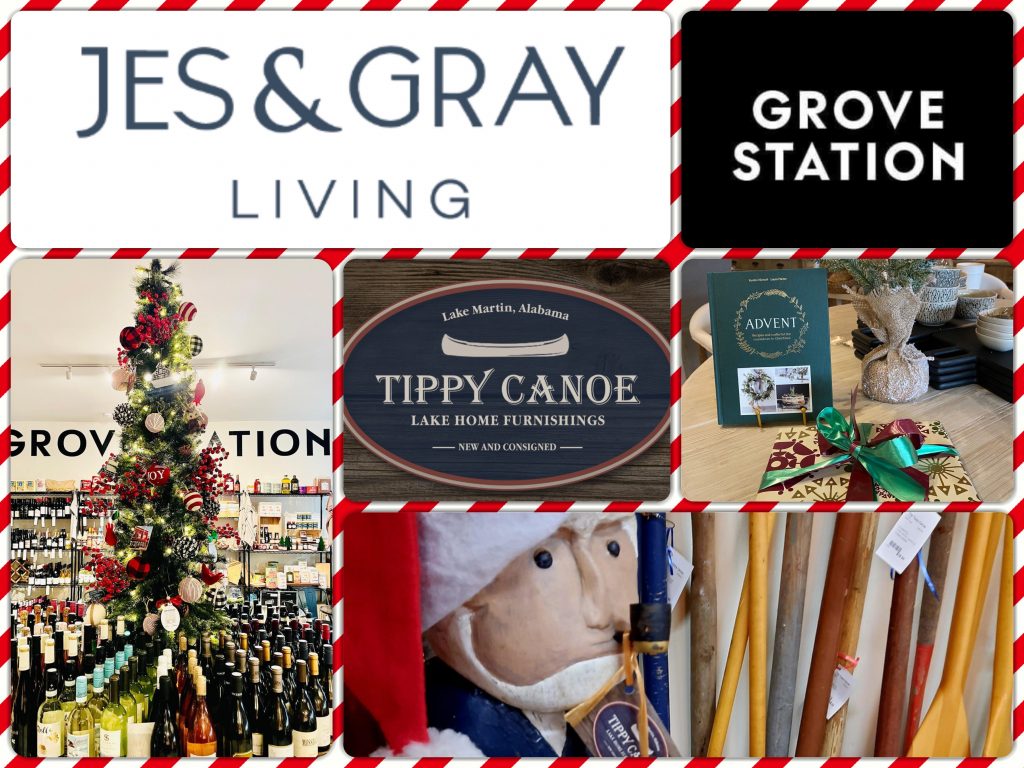 Shop, Eat, Enjoy Local for Christmas at Lake Martin!
There are only 11! days until Christmas and if you are looking for a few gift ideas please consider three of my fav shops in the Lake Martin area.
One local spot I recommend is Grove Station in downtown Tallassee. Grove Station is a local bakery, butcher shop, wine and craft beer shop and market. But what I really love about Grove Station are the cooking classes and special dinners they offer. My wife Palmer and I enjoyed a delicious dinner and Oktoberfest themed beer tasting earlier this fall. It is such a great addition to Lake Martin!
Stop by Grove Station and pick up some goodies for a gift basket or buy a gift certificate for an upcoming class or dinner. I swing by there a lot because they have a great butcher. They have really great steaks, etc., but they also have interesting seafood that I have bought and prepared at home. Also, just as a warning, be prepared to be tempted by their bakery items too!
Another spot I recommend is Tippy Canoe in Alexander City, south of Highway 280 on Highway 63 near Kowaliga. It has a great inventory of new and consigned home furnishings and gifts. The selection changes often. My friend Mimi Rush is the owner. She is a long time Lake Martin area resident and also an agent like me. Mimi is always fun to talk to, and does a great job of having unique items that really say "Lake Martin" to me. They offer gift certificates too so you can't go wrong purchasing one from Tippy Canoe.
Jes & Gray Living, also in Alexander City, is another favorite spot to shop. It specializes in home decor, artwork. lighting and furniture for a "casual and cozy lifestyle" and I'm all about that. It also offers jewelry for that special someone. A gift certificate from Jes & Gray is on Santa's list too. Their store is located in downtown Alexander City, and is a great example of the fun new activity that is happening downtown.
There are several nice stores in downtown Alex City that are worth your time, so once you visit Jes & Gray, walk around! I am not promising an unexpected, romantic snow flurry like a Hallmark movie, but I do think you will have fun!
For other local shops, restaurants and events around Lake Martin be sure to download my free Lake Martin Voice App.