Welcome To Pleasure Point, Lake Martin
This list of homes for sale auto populates from the Lake Martin MLS. For you, it means three important things:

1. These are not just my listings, but compiled from every brokerage around Lake Martin, every agent.
2. This list is renewed any time any agent at Lake Martin makes a change in the MLS. So check back often!
3. Just like any waterfront home, lot, or condo on Lake Martin, I can help you with it, regardless of who has it listed. I would love to be your real estate agent.

Please CLICK HERE to contact me, or you can email me (info @ lakemartinvoice . com), or you can call me at (334) 221-5862.

If you see anything you like, click on it, register, and the MLS will automatically notify me. Don't worry, no spam.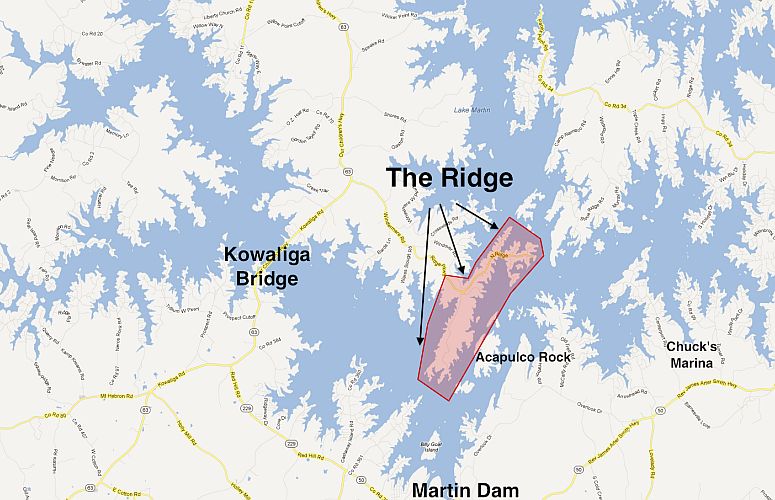 The Ridge has an Alexander City address, and has all the city utilities you would expect. By car it's convenient to some of the more city-fied, hip shopping and eating spots like Catherine's Market and SpringHouse, so if you forget your gluten-free brownie mix, you're in luck. By water, The Ridge is in the center of Lake Martin – Chimney and Acapulco rocks are right around the corner.
Lots vary, of course, because this is Lake Martin.  Some lots in The Ridge are steep and rocky with huge deep water views.  Some are further back in a slough and are more quiet and gently sloping.  Basically, you're paying for the location on the lake, the architectural review of structures, the list of approved builders, the sense of exclusivity, and the neighborhood amenities. If you like these things, The Ridge might be a good match.
There's also a townhouse community called The Ledges at The Ridge within this neighborhood that offers high end waterfront town homes.
History of Pleasure Point Neighborhood On Lake Martin
The Ridge is a huge, high end waterfront development with homes and lots for sale in the middle of Lake Martin, AL.
Like most newer developments, The Ridge has all kinds of neighborhood amenities like sidewalks, a clubhouse and pool, beach area, tennis courts, hiking trails, etc.
It is home to The Ridge Marina, and was developed by Russell Lands, a company that builds high end neighborhoods on Lake Martin.
Video of Pleasure Point Neighborhood On Lake Martin
Days On Market
0,0,0,0,0,0,0,0,0,0,0,0
Information is deemed to be reliable, but is not guaranteed. © 2023
Inventory
43,45,49,52,53,59,60,53,55,61,59,59
9,25,21,21,19,29,23,16,28,29,16,18
Information is deemed to be reliable, but is not guaranteed. © 2023
Prices
648006.93,574462.18,545057.08,713020.13,848357.30,984098.08,1015354.82,1101690.32,875987.58,914237.66,1014930.44,995360.95
187955.56,545015.28,437521.38,1222109.05,621700.00,1194072.41,855312.13,1141210.94,697413.64,764793.03,1067075.00,438527.50
320000.00,279000.00,264999.00,269999.50,329000.00,349000.00,349000.00,409999.00,315000.00,390000.00,380000.00,374000.00
198900.00,289000.00,245000.00,229000.00,225000.00,349000.00,259900.00,324950.00,213450.00,269900.00,252500.00,189500.00
Information is deemed to be reliable, but is not guaranteed. © 2023
Latest Blog Posts For Pleasure Point, Lake Martin