Waterfront home for sale in Trillium at 550 Longpine!
I am so proud to offer 550 Longpine in Trillium for sale! This beautiful waterfront home is the kind of house I got into real estate to sell! Not just because it is (clearly) a luxury home, but because this home really embodies the best of the Lake Martin experience.
This is what struck me the first time I drove up to 550 Longpine: as a real estate agent, you never really know what to expect. Many homes in Trillium are very nice, but because they were built in a different era, let's say, you see a lot of million plus dollar homes that need updating. This is not the case here. From the driveway, I could see the timber / wood / stone features that carry throughout the home. To me, this home is a perfect combination of nice finishes and accessibility. This home feels fun. It feels like family.
When I talked with the owner, this theme continued. He confirmed to me that the areas like the huge greatroom, spacious kitchen, and covered back deck "act as funnels" to draw your family together when they spend time at Lake Martin.
Inside, the heart pine floors contrast with the stone work in the greatroom and granite in the kitchen to give you elegance that doesn't feel like a an untouchable museum. It also has three bedrooms upstairs to accommodate guests.
And the lot – awesome! It has a rare combination of being flat, yet has deep water at the dock. Most of the time on Lake Martin if you want year 'round water, you have to trade off by having a steep rappel to your dock. Not so at 550 Longpine. Here you have an easy stroll over flagstone sidewalks to a deep water dock complete with a boat lift and boat ramp!
Maybe I ahve gushed too much here, but I would love to etell you more about 550 Longpine. Check this page for more info or contact me here!
If you're looking for a waterfront lot on Lake Martin, you might be interested in some new lots we have listed in the Pace's Peninsula area of Lake Martin!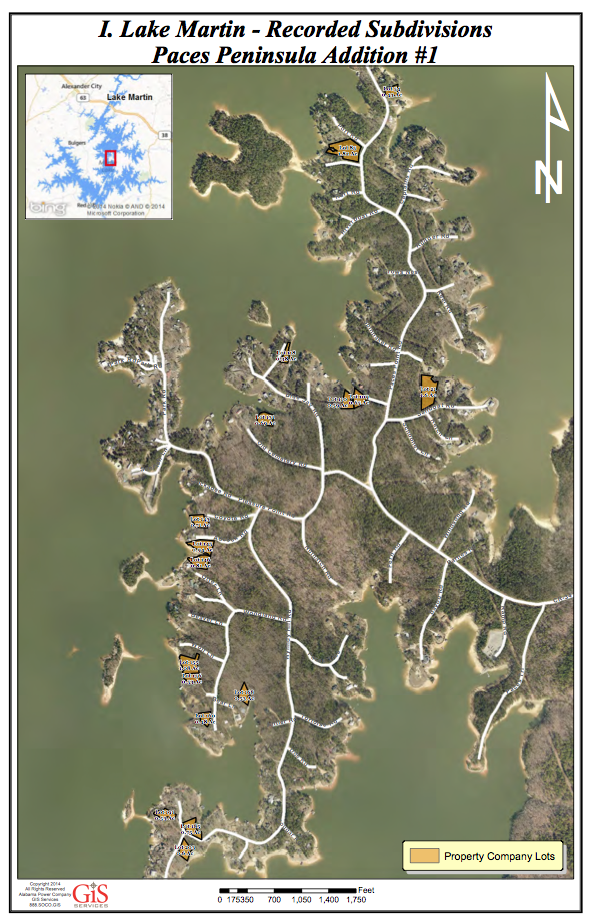 Click here to see the whole list of lots for sale in Pace's Peninsula.
We at Lake Martin Voice Realty are proud to be the listing company for these lots. We put them on the market on October 6, and we already have eleven of the sixteen lots under contract!

As you can see from this page, the lots are not in a row or in a specific neighborhood. Rather, they are sprinkled around the Pace's Peninsula area, mostly off of Pace's Point Road and Pleasure Point Road. These roads are at the very end of Tallapoosa Count Road 34, a (relatively) major road that runs west from Alabama Highway 49 on the east side of Lake Martin.  These are lots that Alabama Property Company (a subsidiary of Alabama Power) has owned for years.
If you are interested in any of the remaining lots, please CONTACT US HERE.
Did you miss out on one of these lots? Would you like to be notified more rapidly about Lake Martin real estate? We would be glad to help you out with that.  Contact us and allow us to help! We promise never ever to spam you, sell or rent your info out to anyone else.
But, we can't keep you up to date without a little info from you!
One of the subjects that stretches my empathy to a breaking point is when someone chooses to buy waterfront property on a lake other than Lake Martin.
Now, let me just put out the disclaimer that I understand intellectually that there are other nice lakes here in the United States. In theory, my brain accepts the academic concept that not all people would choose to be on Lake Martin; however, I must admit a high level of flabbergast when I am told by a buyer that they have decided to find a home on a lake besides Lake Martin.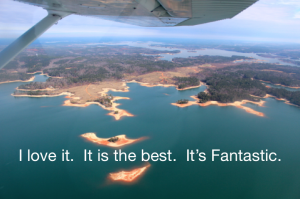 When it comes down to it, especially if the person has visited our fair lake and seen all we have to offer, how could they possibly walk away?
I will say that it does not happen very often.
Maybe it's because buyers that are really fired up about other lakes just don't call Lake Martin real estate agents. But in my line of work, I do speak to a lot of people that are looking to buy waterfront property on a warm, Southern lake, and therefore considering many. I can tell you that nine times out of 10, those who buy, end up selecting Lake Martin. Again, I understand this is merely anecdotal.
Still, it bugs me that anyone would select anything besides the obvious choice. To gain a little more insight, I talked to a couple of other Lake Martin real estate agents.  India Davis at Lake Martin Realty's Willow Point office agreed with me that the losses are few and far between.  "We have more amenities that these other lakes – more things to do, more restaurants, and that kind of thing. Plus, people really like the size of the lake, so you don't feel crowded like some of the tiny, narrow lakes in other areas," she said.
India felt that those who did choose other lakes did not make their decision based on anything other than price or convenience.  "Some buyers might feel that they can get what they want for a lower price. Or other buyers might choose a lake that is closer to their primary home. Those are about the only reasons I see people buying elsewhere."
I agree with India. I find that for most buyers, the unspoiled beauty of Lake Martin and all of the things to do here trumps other lakes in this part of the nation.
If someone goes to another lake, price and proximity to their primary home seem to be a big factor; however, I also see so many people that come to Lake Martin who literally drive right by other lakes in order to come here.  This is a mindset that I can appreciate!
Furthermore, our overall lower cost of living is a real attraction to people nationwide. I recently had a call from a retiree that was in Oklahoma. He was researching the best lakes in the South with the lowest cost of living, and Lake Martin was tops on his list.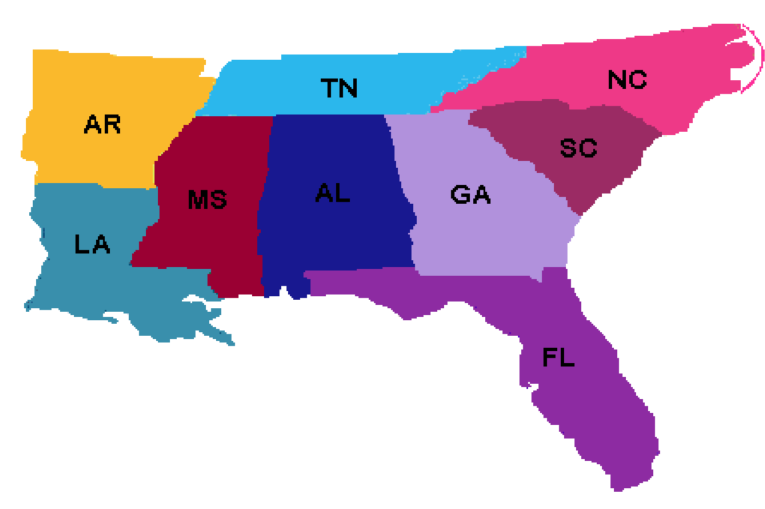 I also talked with Gordon Pickler at Designer Homes Realty Lake Martin, LLC. Gordon pointed out that the convenience of Lake Martin to population centers contributed to how it has been developed over the years.  "In the 1970s, the northwest side of the lake attracted Birmingham folks, and Montgomery families tended to the southern side. For the last 20 years, the east side of the lake has seen a huge influence from Georgia. People from Georgia, especially, are used to what I call 'commuter lakes.' Those are lakes where the homes treat the lake as an afterthought. At Lake Martin, the waterside of the home is the most important. When people see that and realize how relatively undeveloped we still are, they love it." Gordon quipped.  Gordon makes a lot of sense to me.
Try as I might, I still can't really understand someone not choosing Lake Martin. I mean no offense to any other lakes, but we are so blessed to have Lake Martin in our backyard.
To quote my dad who likes to paraphrase Dizzy Dean: "It ain't braggin if it's the truth."
I'm sure you've already seen this on national news and the interwebs, but just in case, the breaking news around Lake Martin is that Kowaliga Kevin, the Poodle of Prognostication, has predicted twelve more weeks of summer here at Lake Martin. So even though the calendar says "Fall," – Mr. Kevin says we will have more summer to enjoy.
Here's the video of a local news department covering the event: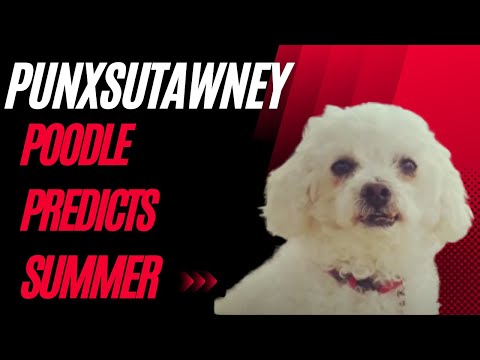 So there's no need to pack up and leave Lake Martin as the calendar ticks toward January first. You can have plenty to do and explore around Lake Martin in the cooler months, too. Now that Mr. Kevin has guaranteed the time, you can plan with confidence.
I have to say, after witnessing this event many years in a row, Kowaliga Kevin is always right. No offense to Punxsutawney Phil, but maybe dogs are better at this sort of thing.
They call it stormy Monday, but Tuesday's just as bad.
It was raining yesterday at Lake Martin and I don't care. We need the rain, and it was Monday after all, post Labor Day. Traffic will be light regardless of precipitation. Things change after Labor Day around here, regardless of weather.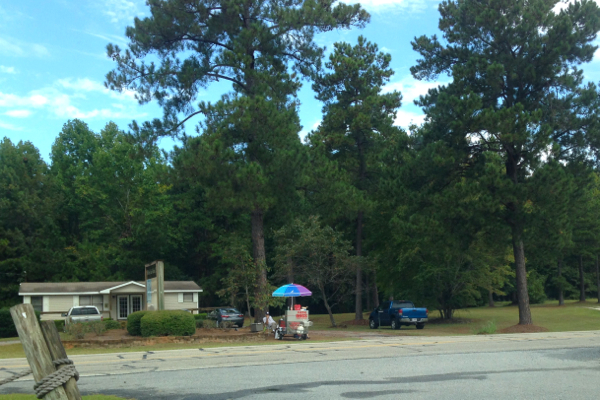 Hence my pic. This guy has been selling hot dogs since around July Fourth. He's set up in downtown Kowaliga, just across from my office at Nails conveneince store. I've never been tempted to buy a dog, despite some pretty good reviews I've heard. But when I see a guy selling hot dogs on the side of the road at 10:00 am on a rainy Monday in post Labor Day September, maybe I ought to buy one out of sheer principle.
About the time I took this picture, the clouds lifted and it turned into a beautiful almost-fall day.  In fact, the past two days have been so achingly perfect (clear, just warm enough, high water, no crowds) I have given serious consideration to pulling my kids out of school and living some sort of home school farm-to-fork existence at the lake.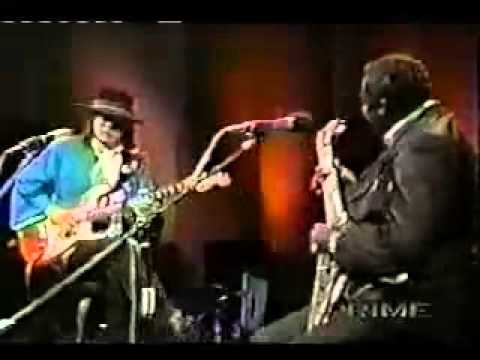 Do you like to fish for stripers on Lake Martin? Then you definitely need to contact Captain David Hare of Alex City Guide Service. He sends out his Striper Reports every month or so and I think they are invaluable. David is a really nice guy, plus a great guide.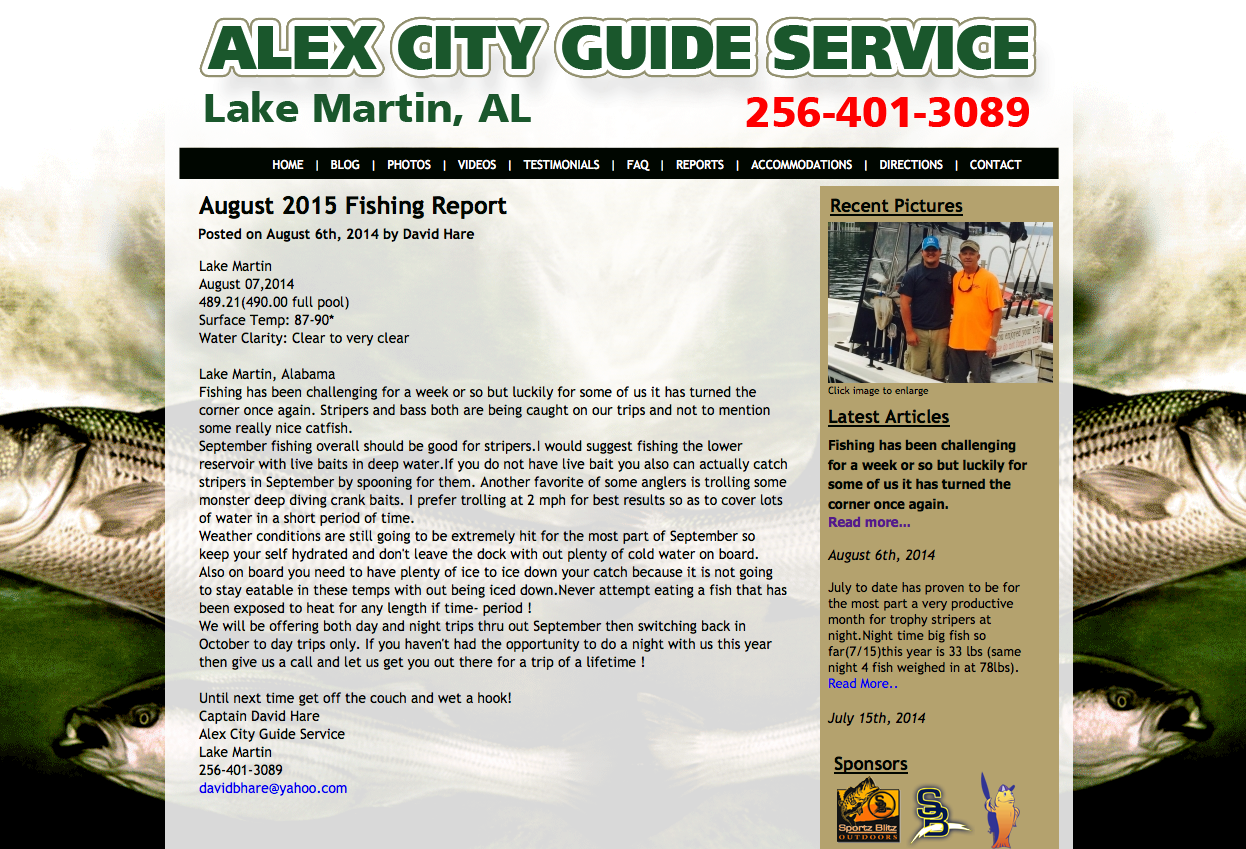 I always slightly mourn the passing of summer, but one of the many fun things to do on Lake Martin in the fall is to try and catch a striped bass. I am already looking at some dates to try and book David or one of his other guides. As I have written in previous years, my big goal is to figure out how to catch these monsters on my fly rod.
While David is not a fly fisherman, he can put you on the striped bass here at Lake Martin.
If you would like to buy some Lake Martin property, call me, I would love to help you out.
If you want to catch striped bass or other fish, call David at the number below, and let him know John Coley said hi!!
Here's a sample report from September 1o, 2014:
Lake Martin
September 10th,2014
488.76(490.00 full pool)
Surface Temp: 85-88
Water Clarity: Clear to very clear
October is really nice fishing weather for the most part and here on Lake Martin in Alabama is no exception. The fall temps should start cooling the water down some and in return should produce more bites overall !
This October I am predicting it to be one of the best yet for stripers on Lake Martin. One of the reasons I feel this way is because I'm already seeing some transition in the stripers both small and trophy size. I think you are going to have a little easier time finding them than in the past few Octobers and I think you are going to be pleased with the quality of the catch.
The days are getting shorter and will continue to do this for several more weeks which means you can stay until dark for that last minute bite and still make it home for supper with the family !
I will be checking all of the hot spots for October stripers but don't be surprised if you see me in the abnormal locations too. I am leaving nothing uncovered this fall because this summer I scouted a lot of areas that I have been overlooking and found some areas that I think will produce in October !
Here at Alex City Guide Service we want to thank everyone that did night trips this summer with us and looking forward to seeing everybody this fall for the day trips !
Until next time get off the couch and wet a hook!
Captain David Hare
Alex City Guide Service
Lake Martin
256-401-3089
[email protected]
My Saturday was spent with a fun couple from Georgia, showing them Lake Martin waterfront homes for sale in Parker Creek.  Around lunchtime, we had an hour break in between showings and I was starving.  But with only an hour to spare, our lunch options were limited: bottled water and peanut buter crackers at the Parker Creek Marina were the best we could do.  And I was thankful for those.
Fast forward a year to next summer, same situation, except I plan to have lunch with my clients at Parker Creek Marina's new restaurant.  That's right – Parker Creek Marina is opening a restaurant in 2015, and I think it's a great addition for the west side of the Lake Martin.  Below is a picture I took of their plan.  It's on a bulletin board inside the ship's store, so it's available for everyone to check out.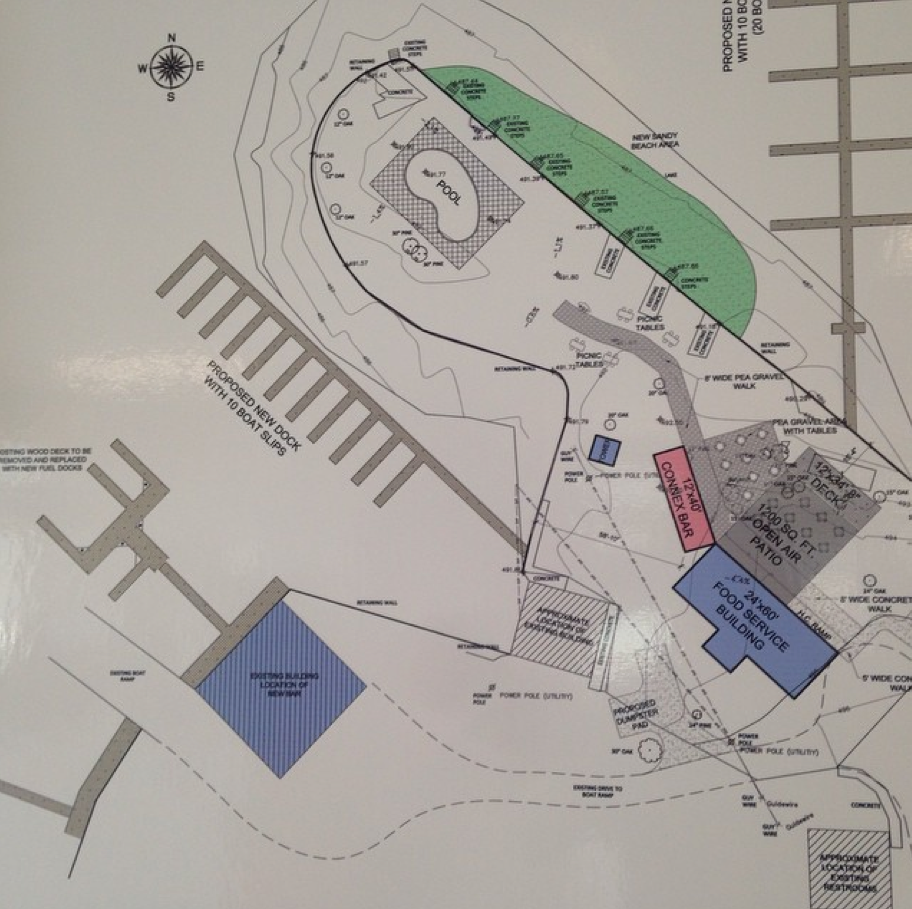 The back story on this restaurant has to do with the elusive Parker Creek food boat I've been searching for.  There were plans for a food boat (like Nibblers Float Thru Grill near Blue Creek), but the marina was told it had to install new septic in order to run this boat and be up to code.  They decided if they had to have new septic, they might as well have a permanent restaurant on their premises.  Parker Creek is such a popular area of the lake, and there just aren't many restaurants close by.  I hope they have wild success, and I will gladly swap in my bottled water and crackers for whatever fare they decide to serve.
If you're looking for a waterfront home in Parker Creek, the addition of this restaurant makes this area even more attractive. Give me a call and let's talk Lake Martin real estate. I'm a full time agent at Lake Martin, and 100% of my realtor time is devoted to helping clients buy and sell property here.  I can help you with any listing in the Lake Martin MLS, regardless of who has it listed.  I'd love to help you, too.
I originally wrote this article about Lake Martin waterfront real estate sales for LAKE Magazine's August 24th edition. As summer winds down, we have a chance to look at the Lake Martin MLS sales numbers and try and get a picture of what has happened with waterfront sales so far this year . . .
If this month's real estate market report was a Dukes of Hazzard episode, this would be the moment when Bo and Luke, driving furiously in the General Lee, round a curve and spot a "Bridge Out" sign that spans a muddy river. The camera would freeze on their expressions of "uh oh." Waylon would say something witty, and the network would cut to commercial.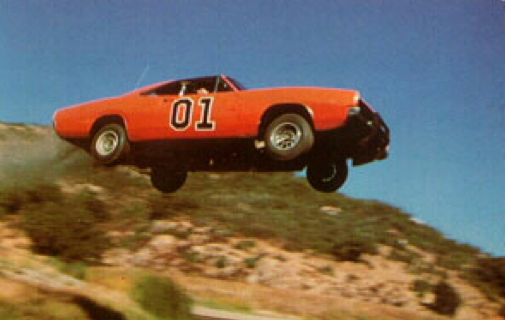 The question in the viewer's mind: Will this be great? Or mind blowing?
With Roscoe in hot pursuit, there is little doubt that the Dukes would jump the creek and escape.  But, there's a slim chance that the car might roll three times while Luke shoots a dynamite-laden arrow at a falling tree, saving some innocent bystanders in its path. Incredible!
We would still be amazed if they merely jumped the creek.
We find ourselves in a similar spot this month as we review the Lake Martin real estate market reports.
I examined the Lake Martin Multiple Listings Service (MLS) waterfront home sales for Jan. 1, 2014, through July 31, 2014. These results include all agents in the area but none from private sales between individuals or developers.
After reviewing the numbers, I have no doubt that the Lake Martin area is going to have a great year. But will it be incredible? Will we see the most homes sold since the record year of 2005?
The careful reader will recall that last year, in 2013, we were asking the same questions ("Lake Martin Lots Selling Hot in 2013″).  Through the end of July in 2013 there were 138 homes sold. That year did not end up beating the record of 2005, but it came close while trouncing the second place effort of 2006.  If we fast forward to the present, we see that through July 31, 2014, 168 homes have been sold, or 22 percent above 2013. We are tracking above last year, which was the second best year on record. Not bad.
But what if we look at how many waterfront homes were sold at this same point in 2005? Through July 31, all agents, all brokerages in 2005 sold 178 homes on the MLS, which is about 6 percent greater than this year.  We are not on a winning pace, but we are close. We are stalking the leader and coming down the stretch.
What about waterfront lots?
The year 2013 was a record breaker for waterfront lots sold on the Lake Martin MLS. For the entire year, area agents combined sold 71 lots, whipping the previous record of 55 in 2005 and almost doubling the prior year of 38 in 2012.
Are Lake Martin waterfront lot sales still hot in 2014?  In a word, yes.
The year 2014 is tracking just behind 2013. Through July 31 last year, we had sold 37 waterfront lots in the Lake Martin MLS. At the same date this year, 34 had been sold. I think that a difference of only three is not much to worry about, statistically, so it's safe to say we are on pace with last year.  At any rate, we have all but guaranteed that 2014's lot sales total will best 2012 and 2011.  I also think it is safe to say that this year will beat 2005.
So we return to the original question: Will 2014 be great, or will it be incredible?  We will know in a few months. My guess is that, on the home sales front, we will come really close to 284 waterfront homes sold but will not beat it.  There are 60 homes under contract at this writing, but not enough inventory, I think, to beat the record. Similarly, I think Lake Martin will see very close to 71 lot sales, but not materially more.
Don't be disappointed if Luke doesn't fire a dynamite-tipped arrow, we still will have had a great year if sales approach those numbers.
If you're looking to buy waterfront real estate, that means you probably want a boat.  And if you have a boat, you probably need some gas.  When showing Lake Martin waterfront homes, I often get these questions, "Where is the nearest marina?" " How do you get there by land?" and "How do you get there by water?" If you're looking for waterfront homes for sale in the Parker Creek area, then take a look at what Parker Creek Marina has to offer: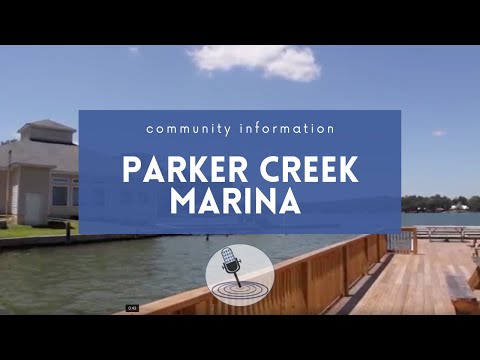 I've heard all about this food boat that is operating out of Lake Martin's Parker Creek Marina.  I haven't seen it yet, so I thought I'd drop by.  I went during the week, so the marina was closed and I didn't learn anything about the food boat.  But it was a pretty day and it gave me a chance to video their new dock.
I don't know exactly what Parker Creek has in store for next summer, but something's going on.  If you have any updates, let me know.
If you're looking to buy Lake Martin waterfront real estate in the Parker Creek area, check out my Parker Creek Neighborhood page.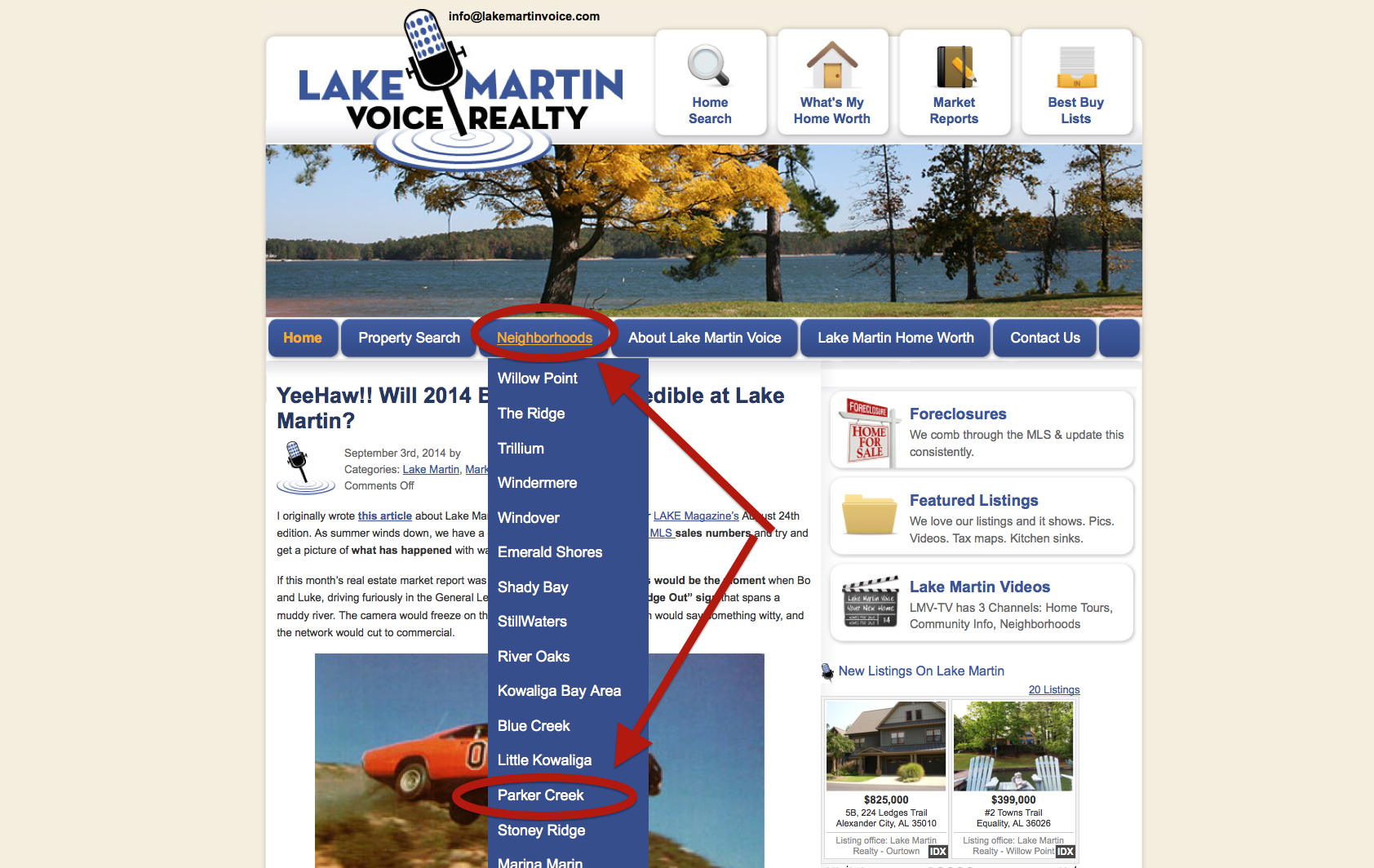 Lake Martin is huge, and it can feel overwhelming to search the entire lake for a home.   I created these Neighborhood pages to simplify the process.  If you know exactly where you want to be on the lake, quickly skim the live feed of current homes for sale in that area.  If you're not sure where you'd like to buy, use these pages to learn about Lake Martin in manageable chunks.  Each Neighborhood page has a video tour, a history of the area, a map showing boundaries, and most importantly, a live MLS feed of homes and lots currently for sale.  These are not just my listings – these are all listings from all agents and brokerages.
And if you see something you like, or you want help sifting through the info, give me a call and let's talk Lake Martin real estate.  334 221  5862.  I'd love to work with you!
One of the things that I love about Lake Martin is that I am constantly learning about new spots - rope swings, skiing sloughs, hiking trails, fishing haunts.  Despite the fact that I'm a full time real estate agent here, and despite the fact that I grew up in Alex City, rarely does a week go by where I do not learn of a new road or a new slough on Lake Martin.
For example, I read a recent issue of LAKE Magazine, and I learned about Peanut Point ("A Visit to Peanut Point" July 2014).  I know, I know, many of you readers are rolling your eyes right now.  How could I not know about Peanut Point??  But after I read about it, I had to seek it out.  I realized I had driven by there once before, last May, and wondered, "What in the world is going on here?"
We have some good friends who have a lake house on what they call the "Non-Palooza" side of Lake Martin, and they are Peanut Point regulars.  They offered to bring us by, and it was a lot of fun! There's something exciting about driving up by boat and getting boiled peanuts.  Lake Martin + boiled peanuts = Fun.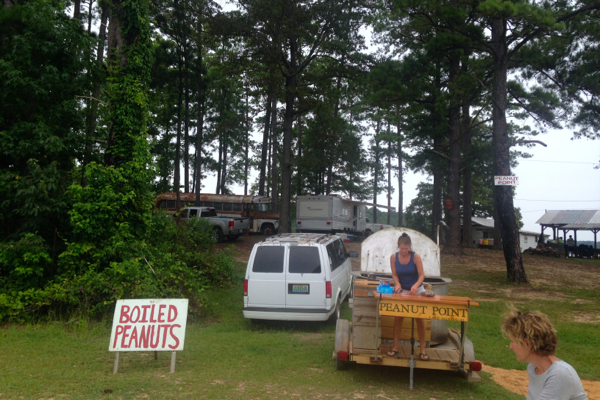 Granted, I am a huge fan of boiled peanuts.  A couple of football seasons ago I boiled a bushel of my own one Saturday for a marathon session of watching SEC football.  I ate so many that the next morning I awoke convinced I had a stomach virus.  My wife gently reminded me that my sodium intake the previous day was gargantuan.  Never-the-less, she let me lay out of church that morning.
To find Peanut Point:  There's a very small cut thru on the west side of Woods Island.  It separates Woods Island from the mainland where the Alex City version of Young's Ferry Road peters out into a dirt track.  If you don't know where that is, go to Bay Pines Marina and ask them.  They will tell you to travel south/southwest, or about seven o'clock on the clock face.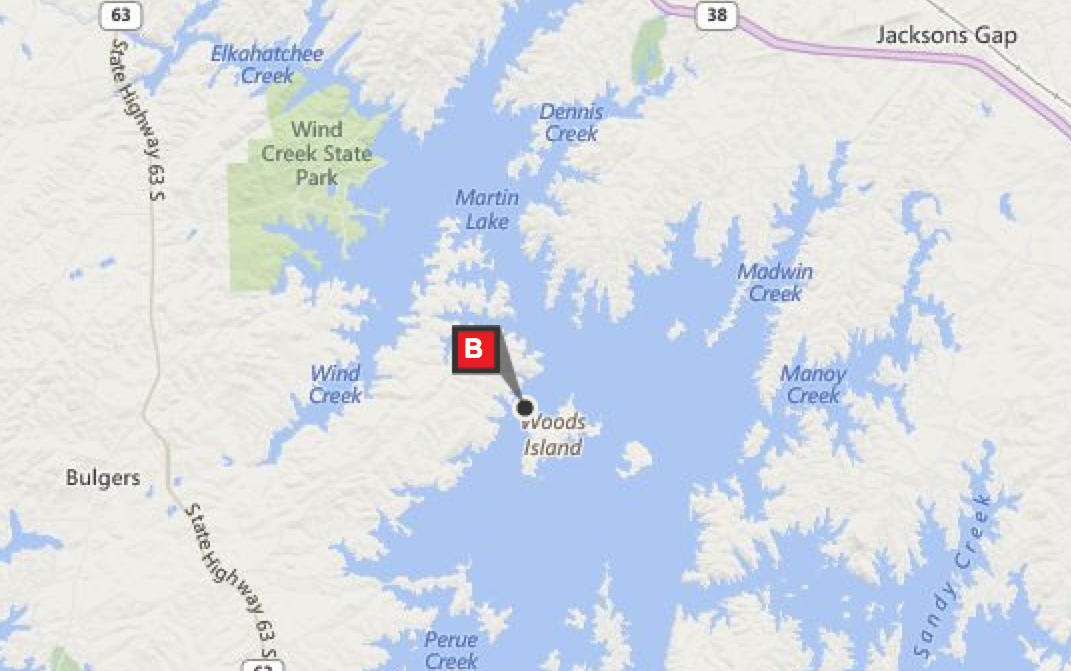 A gentle reminder to my readers that I am a Lake Martin realtor, and I do not sell boiled peanuts.  If you call me to ask if Peanut Point is open, I will tell you "Yes!" 100% of the time.  I'd love to help you research Lake Martin real estate, but I'm leaving the boiled peanuts to the experts.