Often, I'm asked, "How is the market doing in 2015 compared to 2014?" In short, I think its doing great! If you look at the graph below provided by the Alabama Center for Real Estate, you can see that February 2015 sales doubled from February 2014. In February 2015, sales were at 14, compared to sales at 7 in February 2014.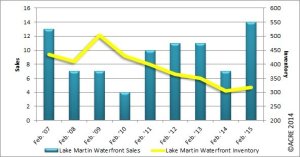 The yellow line, represents the inventory levels. The levels are the same, and certainly a lot better than they were in the dark days of 2007. Overall, when you look at the big picture, you can see that supply on the inventory side is similar and demand on the sale side is similar. We are poised for another great year here at Lake Martin.
Hear more about this in the video below.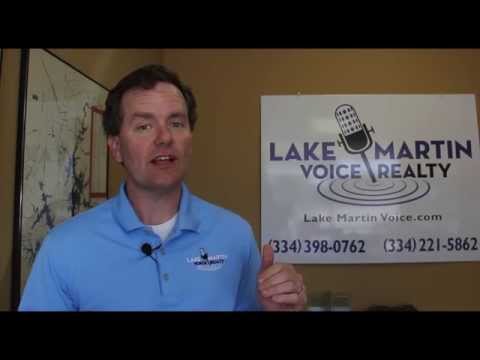 We have dropped the price on 38 Antler Road, a four bedroom, three bathroom waterfront home on the east side of Lake Martin.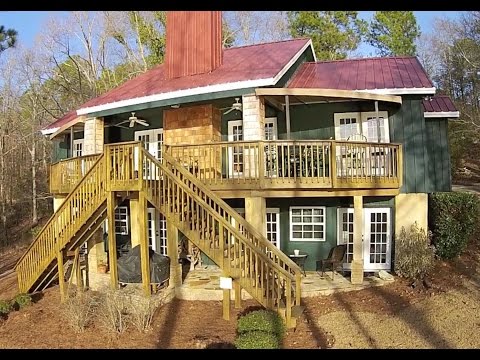 This home is one of my favorites, as it has really nice appointments, yet remains a fun, accessible lake house. It's located toward the end of County Road 34 on the Dadeville side of Lake Martin, so it's centrally located on the water. Check out the video above, or CLICK HERE for complete information on the home.
Or, just call me, John Coley, directly at 334 221 5862 or contact me here. I would love to show you all this home has to offer!
Great news! Prices have dropped on great waterfront lots in Lake Martin's Shady Bay neighborhood!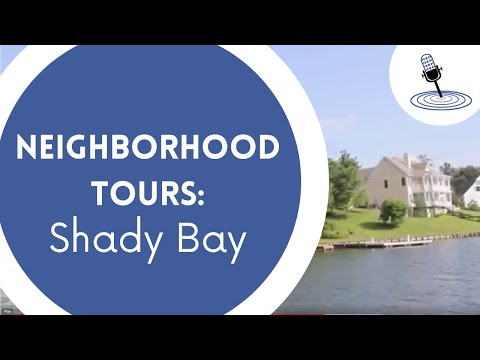 Shady Bay is a great waterfront neighborhood on the northern end of Lake Martin. I have several waterfront lots for sale in Shady Bay. We started out with fourteen lots and have sold six, so we are down to eight. We recently dropped the prices on these lots, so if you are looking for a site to build your Lake Martin dream home, now may be an excellent time to take advantage of the new prices.
For more information on these lots, please see:
For more information on Shady Bay in general, please watch the above video or click on this: Shady Bay Neighborhood Page.
Which lot looks right for you? Please call at 334 221 5862 or contact us here if we may help!
We are pleased to announce a brand new free app for the Lake Martin area!   The Lake Martin Voice app is your mobile guide to the Lake Martin, Alabama, area. We offer mobile real state search and events, mapped guides to restaurants (with menus), shops, weather, and much more!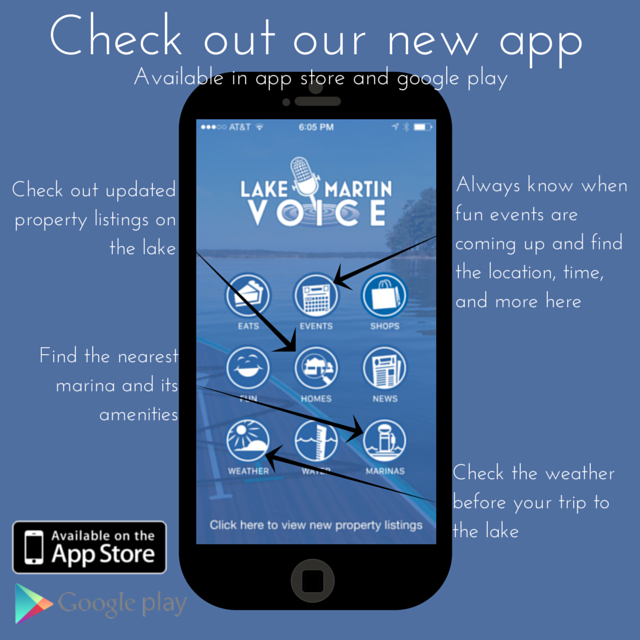 As you can see above, the different tabs you can click through to navigate and learn more about what's near you or happening at the lake are:
Homes – every single home & lot for sale in the Lake Martin MLS, at your fingertips. Use our fast searches like "New Listings" or "Price Drops" or create your own custom search. Cruise by boat and see what's for sale around you if you share your location with the app.
Eats – Restaurants on and off the water around Lake Martin, mapped, with menus
Events – what's going on this week? Next month? Click and scroll to find out.
Fun – Other things to do like where to hike, where to bike, boat ramps, golf courses, churches, and more.
Weather & Water – conditions right now at Lake Martin.
Marinas – mapped locations of all Marinas, plus contact info. Share your location with the app and see where you are, too!
Shops – retail therapy locations on and off water
News – the skinny on Lake Martin stuff
For example, here's what the "Eats" section looks like. If you share your location, you can see where you are in relation to the restaurants. I snapped this screen shot when I was over on the east side of Lake Martin. If you want to browse around the map, you can. Or, if you want to scroll through the list at the bottom, you can do that to. Your call!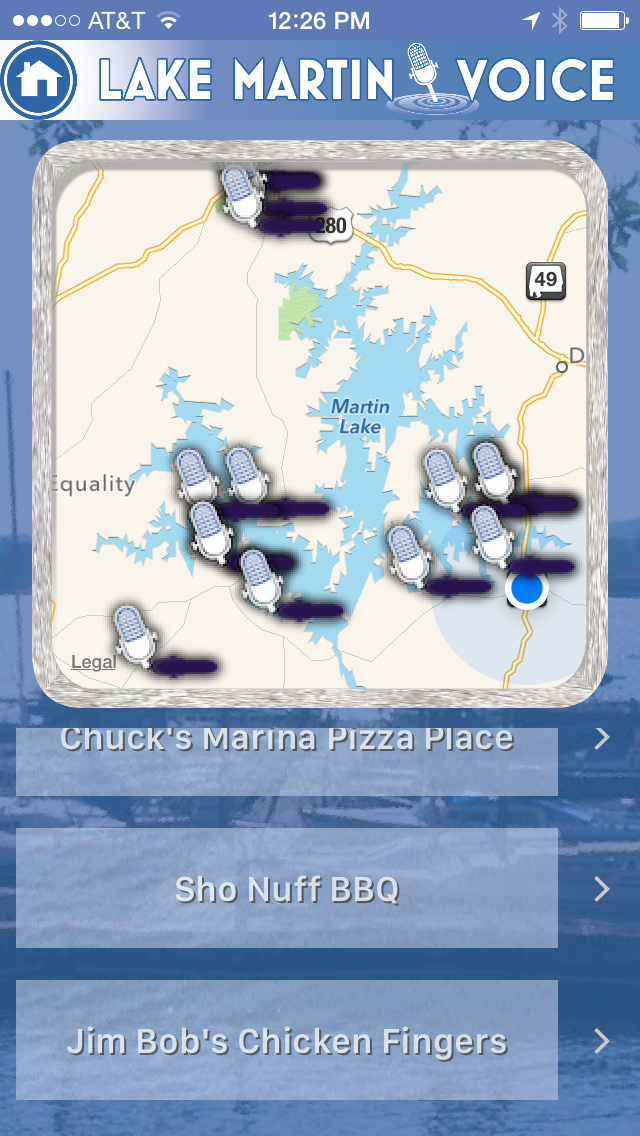 The Shops, Eats, and Marinas sections all work similarly, in that you can browse by map or by list. Every single Lake Martin marina is listed, but you will notice not every restaurant and store are. We purposely left out big chains like Wal-Mart or McDonalds. Nothing against them, but there are plenty of maps and apps that can help you find them easily. Our goal here is to make a special point to mention the locally owned businesses that are so frequently overlooked by visitors. For that matter, there are Alex City folks that are unfamiliar with the Dadeville side, and vice versa, so hopefully it helps them, too!
The Lake Martin Voice app is available in the Apple App Store and on Google Play for Androids.
For more information, please see our FAQ page at: Lake Martin Voice app FAQ 
If you want to request to have an event, restaurant, or shop listed in the app, you can fill out request forms below.
CLICK HERE to request for a shop be added.
CLICK HERE to request for an event to be added.
CLICK HERE to request for a restaurant to be added.
Yes, the news we've been wanting is finally here – it's official!
FERC HAS APPROVED A 483 FOOT WINTER POOL & FULL POOL IN FALL!!

FERC has been in the process of relicensing the usage permit for Alabama Power for several years. Each license lasts about 30 years, so it's a tedious process. If you would like full coverage of this, please see past articles I have written in the Water Level category in my blog. In fact, I think the first post I wrote for my Lake Martin real estate blog back in 2007 was about its water level.
Back to the Good News
If you would like to read the official statement from FERC, please CLICK HERE for that. If you would like to download the entire EIS, CLICK HERE – but be warned, it's a PDF and about 4.7 MB and 295 pages.
The announcement has two main parts:
Lake Martin will only go down to 483 feet at the bottom of winter pool, as opposed to 480 in the past. Three more feet will mean a ton more homes and boat ramps will have access to the water in winter. For real estate, this means lots more homes can claim the coveted "year 'round water" prize.
Lake Martin will remain full until October 15, instead of Labor Day. In the past, the gradual water draw down started after Labor Day, usually the first week in September. Under the new guidelines, if we have enough rain, draw down will not start until October 15. As in the past, it won't drain overnight, but it is a slow decline that hits bottom in late November or December. Now, it the bottom will be three feet higher!
What Does This Mean? As I have said in the past, I don't think this huge victory will raise waterfront real estate prices on Lake Martin overnight. We should not see a huge markup tomorrow. But I do think that it will provide upward pressure for the next three decades. Everyone likes water, and the higher the better. I see this as a tremendous economic impact for the area as more tourists and second homers stay around longer in the fall!! I will write more about this but for now I would like to post this and celebrate!!
Update 4-10-15: Here's a link to Alabama Power's Official News Release
ONE MORE ANNOUNCEMENT:
I was going to wait until tomorrow but I am giddy with excitement, so here it goes:
I have created a FREE app for the Lake Martin area!! More info CLICK HERE!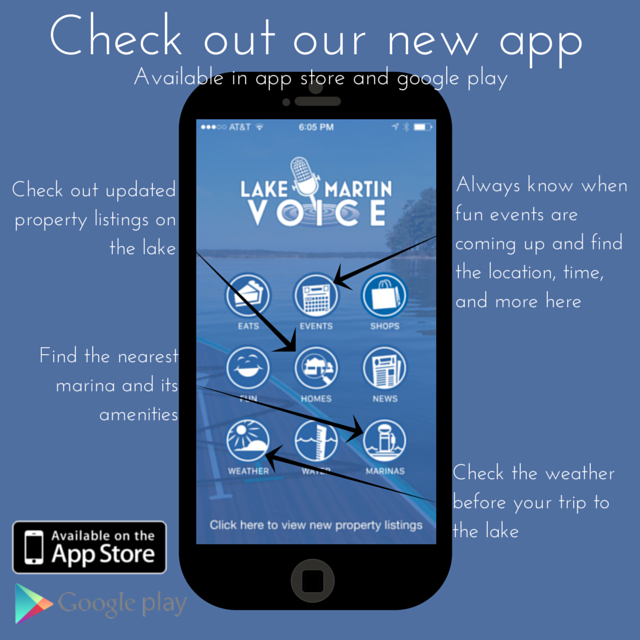 The purpose is to provide an awesome mobile real estate search, but it's much, much more than that. I also have curated info that heretofore only locals knew – Lake Martin events, where to eat (with menus), where to shop (with hours), weather and water level, and other things to do (where to hike, where to bike, etc).  Imagine, when you wonder what's going on at the lake, you are two clicks away from it now!!   Here's what the logo looks like: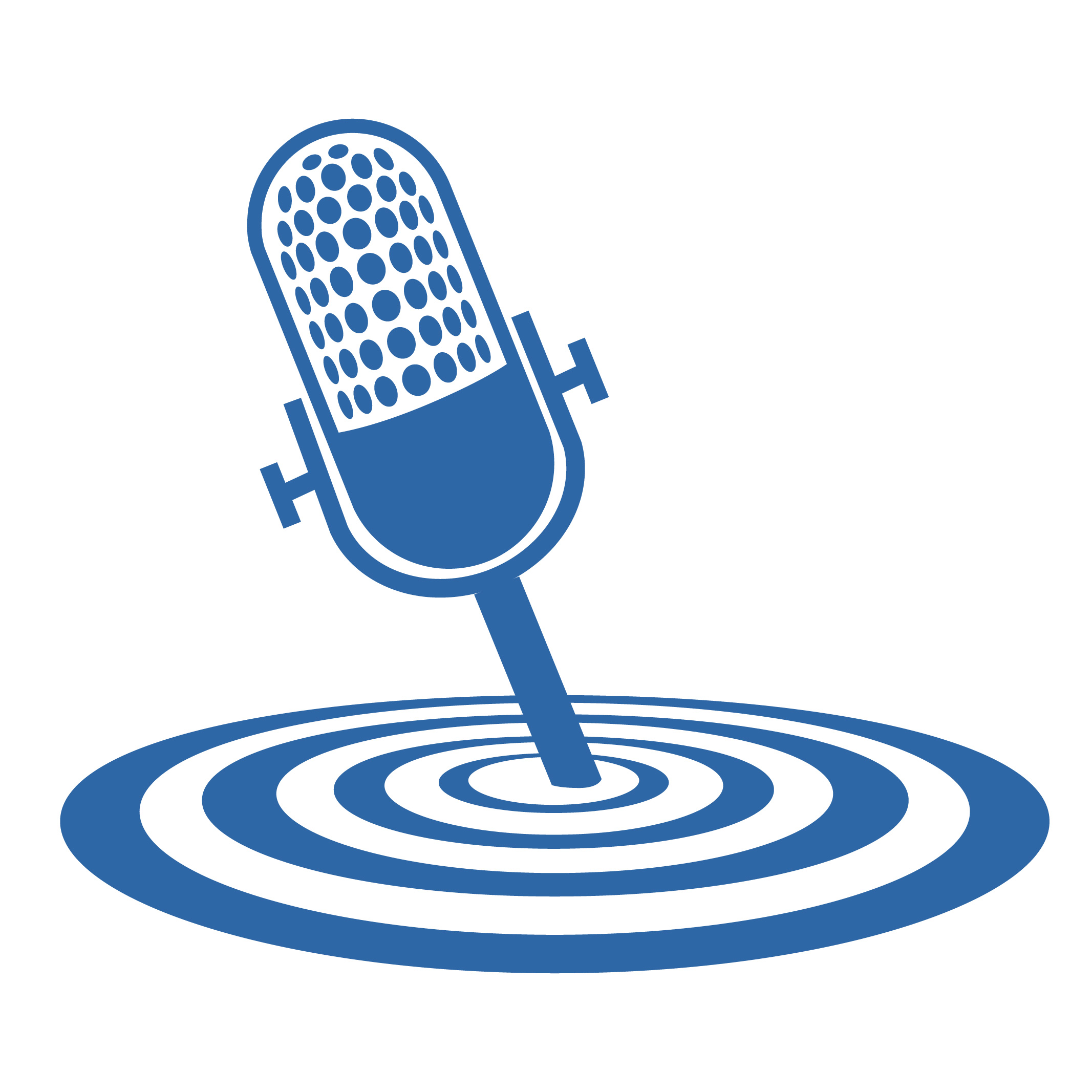 It works on Apple and Google / Android, and in celebration of the high water approval it is FREE!!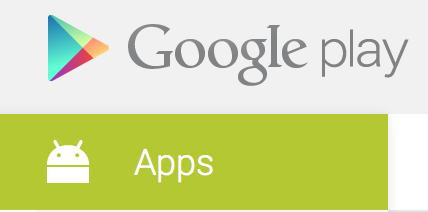 More news!
If you think the water level thing is good news, how about the fact that the creator of the universe sent His Son to die for you? That's what Easter is all about. We are giving praise for the fact that even though God knows are hearts, our innermost thoughts and sees that we're sinners, He sent His son to die for His children. By His Grace we are saved, no other reason. Now that's some real good news!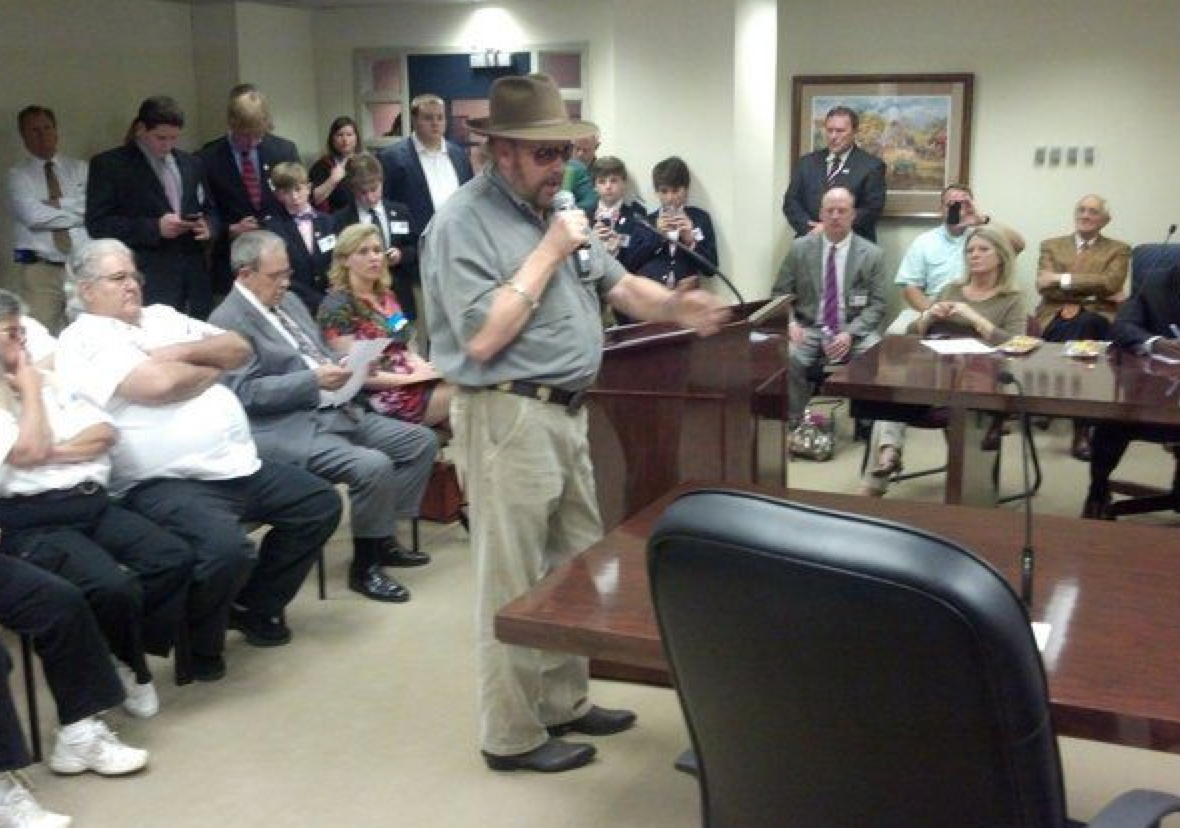 I know some people don't call Hank Junior Junior anymore, but he was in Montgomery recently lobbying for a new bill concerning deer hunting. Hank Junior's an avid hunter and land owner in LA (aka Lower Alabama).
I thought it was interesting that he made reference to the Lake Martin legend of Kowaliga while he was speaking. That's right, the same Kowaliga that inspired Hank Senior to write the song, and it was the same Kowaliga that named a restaurant, bridge, marina, and burgeoning downtown scene in the Lake Martin area.
Here's a link to the article about the bill Hank Junior supports.
I continue my quest to learn how to consistently catch striped bass on Lake Martin from my paddle board, with my fly rod.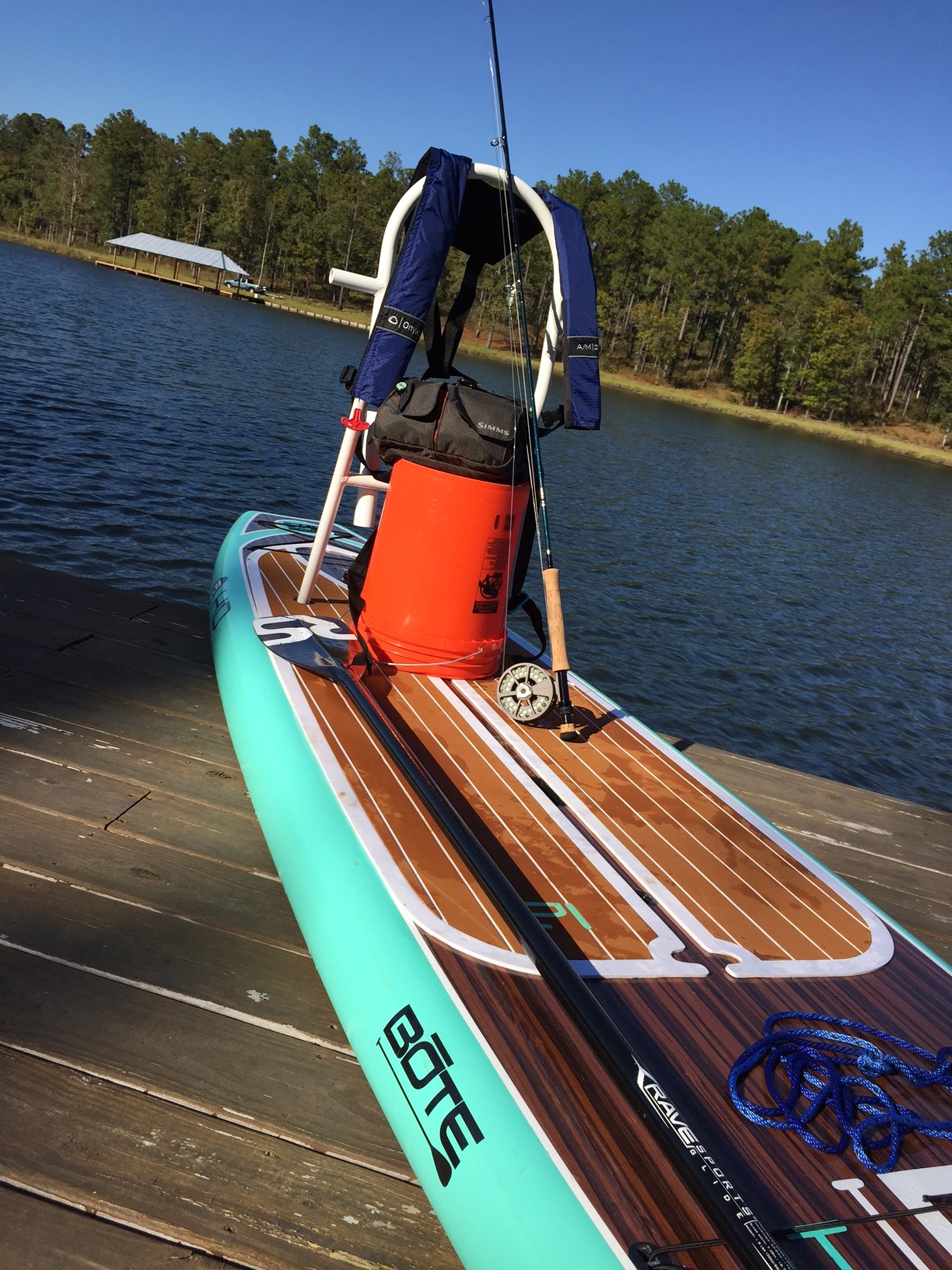 I wish I had a lot of success to report. I have not, but I am looking forward to getting after it again in the spring.  I think it's because I am trying to learn four disciplines at one time: cast a 9 wt, maneuver a paddle board, catch stripes, not fall off. I can't really do any of these very well right now and when you combine all four it's pretty comical to watch.
I have learned a little from my setup to know what I need and don't need:
Paddle – I have an adjustable paddle. It's not optimal for racing or touring but I am glad I have it when I flyfish from my paddle board.  I wish it broke down even shorter.  Most of the time when I am paddling it is small quick maneuvers when I am sitting down, trying to get in position so you really don't need a long paddle. I guess if you are paddling a long way to your fishing spot then the adjustable would be nice.
Line catchers – if I thought fly fishing from a boat was line grabby, I am telling you that there are tons of things that can grab your fly line on a paddle board.
Stripping basket – I need to buy one of these. I think the bucket I sit on can double as this but then I would lose my seat and I would have to change back and forth in between spots. Plus I found that after I have stripped all my line in and am readying for another cast, the line is all over the place, in the water, etc. I think it would just be a lot simpler to have a stripping basket or bucket. I am considering a DIY project here.
Go with the wind – you might as well plan on going on a windy day. That way if it's not as windy as you expected it is a positive. Every time I have been out, gale forces kick up. So I have tried to not fight it, I just paddle like a dog upwind and then drift back and fish with the wind. Of course, this entails keeping at the proper angle so I don't catch myself with a 1/0 hook in my scalp. Some SUP boards have built in anchors but my Bote does not. I guess I could rope in to some structure. I am up to suggestions here.
Coolers and weight- all of the SUP fly anglers I see in magazines and online have a really nice cooler strapped in with them, and it doubles as their seat. At this point I cannot imagine adding a lot more weight to my already heavy rig but I would really like to have a cooler also. I don't know, but I don't think it would drag me down too much.
My setup- just FYI I list my setup for fly fishing for striped bass from a paddle board. If you have any better ideas for substitutions or additions, please let me know. I clearly don't know what I am doing:
Fly fishing related:
Sage 3 piece 9 weight RPLXi
Lamson Konic reel
Simms fanny pack
Flies tied by BaileBr3
Paddle Board related (purchased at Lake Martin Dock):
Board – Bote HD – 12' (love it but if I bought another I would upgrade to the brand new Rackham)
Paddle – Rave adjustable paddle
Tackle Rac – Bote makes this, it helps store gear on the board
Also, I recently read a great article on the subject, by a much more accomplished angler than I:
Top 5 Must Have Items for SUP Fishing
He has an interesting use for 5 gallon buckets: wind anchors.
At any rate, I hope to be more successful in the future!
What are the major towns or cities around Lake Martin, Alabama? I get this question from time to time when I am talking to buyers on the phone about Lake Martin real estate.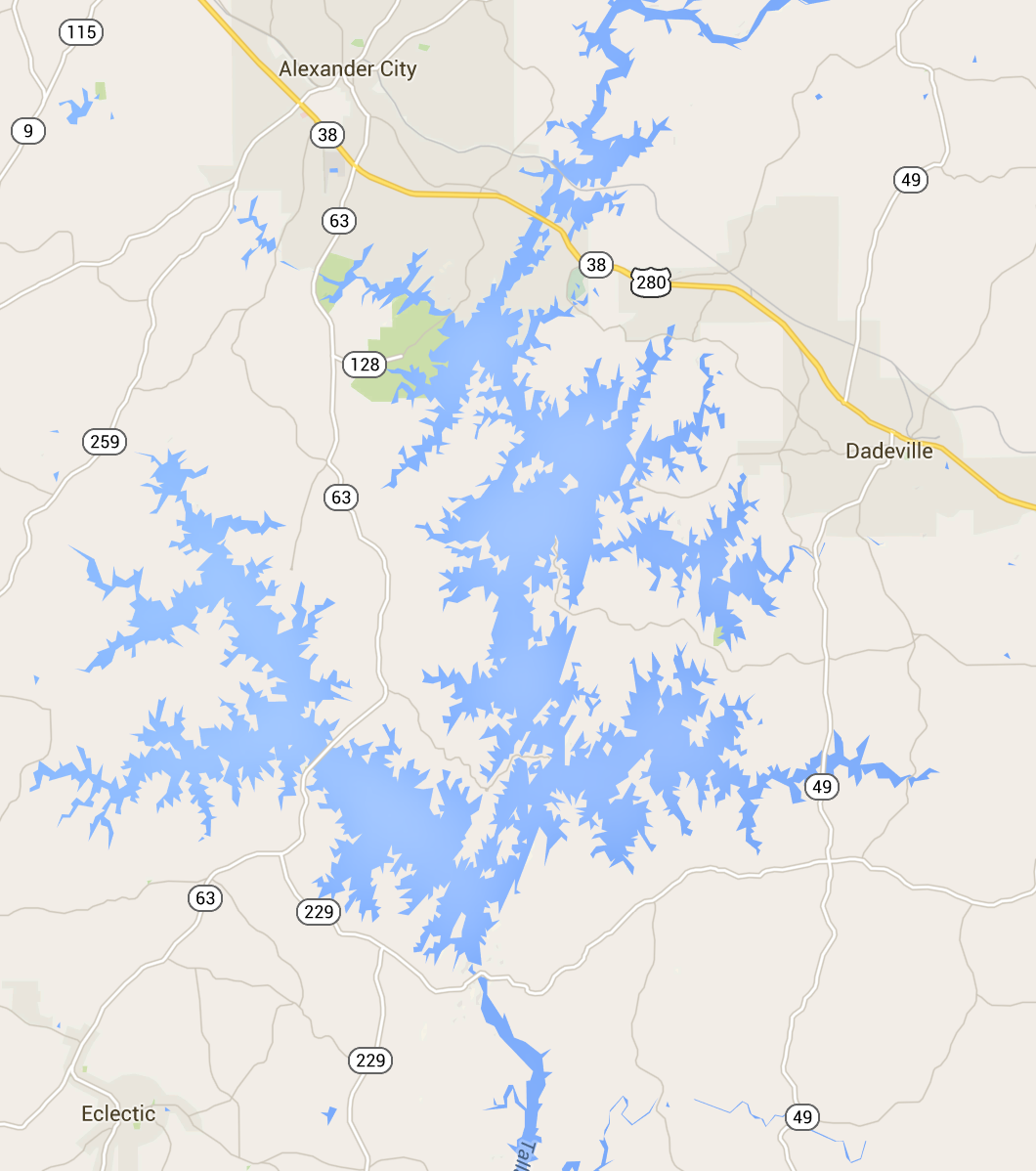 I have written here before that I usually get my best and most effective blog post ideas from my buyers. When one of my buyers asked me this question today, I realized I have never written about it here.
I am biased because I grew up in Alexander City, and sell on the lake now, but I think it would be a wonderful community for anyone.  The three major towns closest to Lake Martin are:
1. Alexander City (aka Alex City) (1 hour 10 min from Birmingham, 45 min from Auburn, 1 hour from Montgomery)
2. Dadeville  (1 hour 30 min from Birmingham, 30 min from Auburn, 1 hour from Montgomery)
3. Eclectic  (1 hour 30 min from Birmingham, 45 min from Auburn, 25 minutes from Montgomery)
If you are a researcher and would like to know more beyond the Wikipedia articles I linked above, here are some great resources for the area:
Lake Magazine and Lake Martin Living are lifestyle magazines, Alex City Outlook is a paper, the Dadeville Record is a paper, here's a link to their viewer:  http://boone.newspaperdirect.com/epaper/viewer.aspx
or their sites:
http://www.alexcityoutlook.com/
http://lake.lakemartinmagazine.com/
http://living.lakemartinmagazine.com/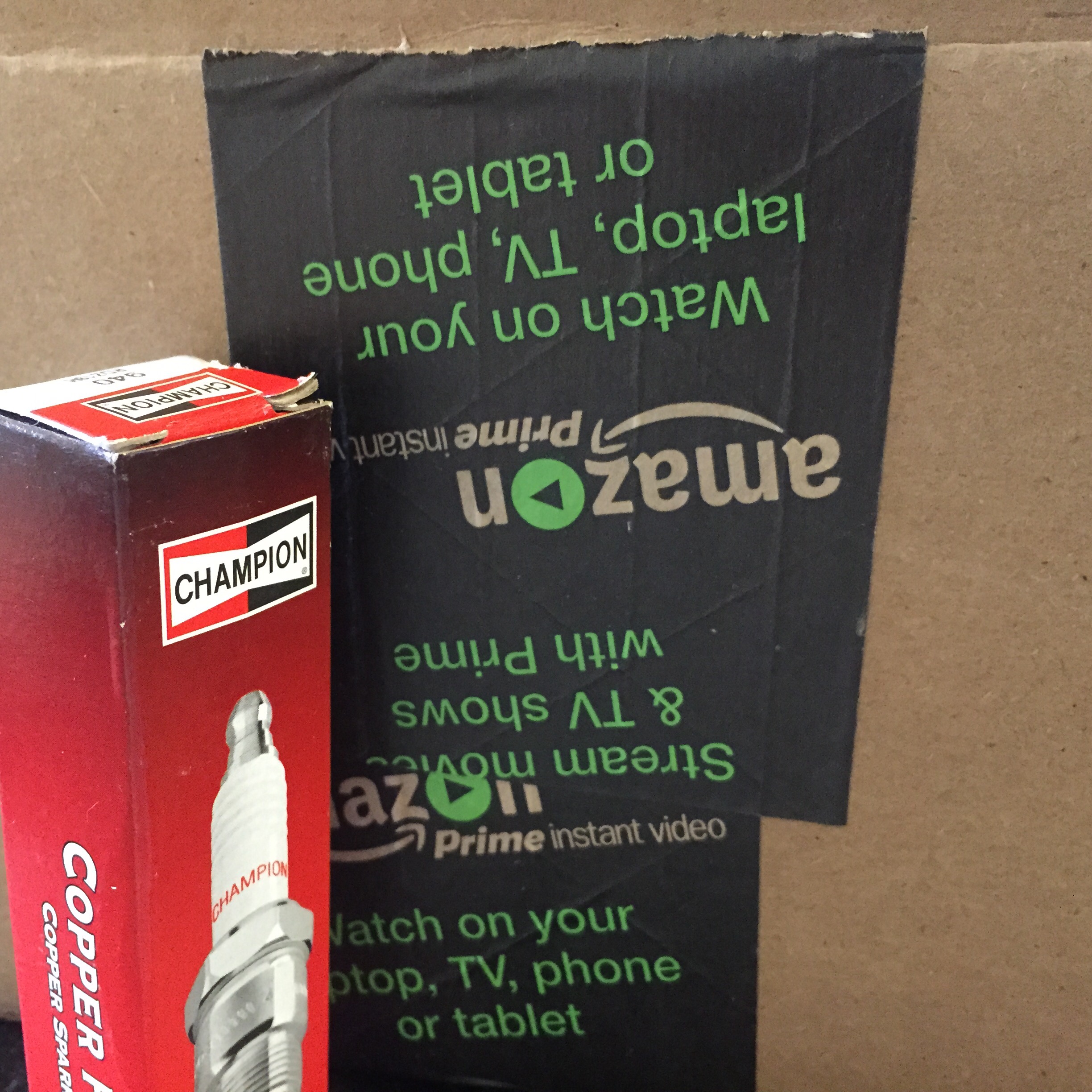 Saturday afternoon I spent the day running around town getting supplies to tune up my yard equipment. I know – super exciting… I am a stone cold gangster.
When I got done shopping, I realized that none of the stores I visited had two items- a specific hanger for my weed eater and an obscure spark plug sized just for it. No worries. I fired up my Amazon app, ordered them, and went about my bidness.
They were sitting on my doorstep at ten am Monday, less than 36 hours later.
I know my story is not unique. In fact, it's pretty common. But I still get awe struck sometimes when I consider how Amazon has totally changed the game in e commerce, and how that bleeds over to almost everything else. We consumers didn't start out demanding random spark plugs in less than two days. Amazon's excellence made it happen though, and now I confess disappointment when other vendors can't deliver like that.
Contrast that with this recent LA Times article I read about Zillow. Basically, their estimates stink and their home search tool is misleading and inaccurate.
So why do consumers keep using them? Why are we so demanding about shipping times on the latest Brotherband book but so accepting about a company that feeds us such terrible real estate data? I talk to buyers all the time that quote a zestimate to me and ask why it's so high or low. Invariably they admit "oh yeah Zillow is terrible in my hometown." So why use it for Lake Martin? Why use it for anywhere?
Aren't you tired of the expired listings that look active? Aren't you distrustful of their estimates? Can't you see the futility of a website that says a house has 1,665 square feet but no bedrooms? Does the appetite for mediocrity in real estate know no bottom? Who knows, one day I might have to shift my approach and become Mr. Zillow. Maybe they will have decent data and maybe it will be the best place to connect to consumers, and I will have lost this philosophical position because the market has spoken. When that day arrives, look out. I will be its biggest cheerleader. But right now the most popular site we use to look for $5 spark plugs is better than the one for $250,000 homes. Does that make any sense?

As for me, I'm trying to revamp my entire website. Really, I guess, my entire business model. Today's consumer demands fast, accurate info delivered on multilateral platforms. That's it. They demand Amazon Prime level service from real estate agents. I strive towards that, not anything else. I am sure I will fall far short of that standard, but I'd rather fail doing that than drown in the legion of average.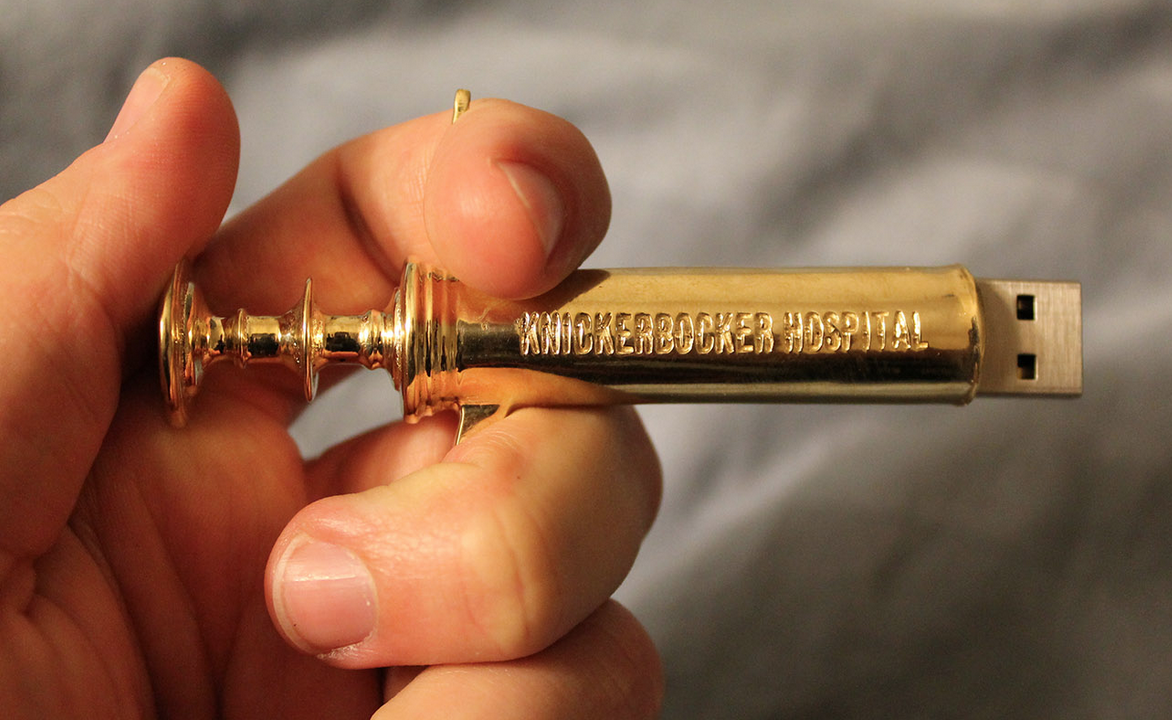 The antidote to antsiness is preparation – at least that's what I think when it comes to buying a home at Lake Martin.
I spat out this nugget of wisdom as was talking to a buyer this morning. He and his wife are looking to move to Lake Martin permanently when they retire, which happens in a few months. They have selected Lake Martin as their ideal retirement area because they both went to Auburn, and have kids in Auburn now. They fell in love with Lake Martin and knew it's where they want to live.
However, we have hit a couple of bumps in the road on the way to finding their dream home here at Lake Martin. We had one under contract, but the home inspection revealed a few things they didn't like, so they had to withdraw from the contract. That's a subject for another blog post.
Right now they are focused once again on the search mode. A few homes have looked promising, only to be taken off of the list for one reason or another. In one case, the home was snapped up quickly by another buyer. In a different case, we eliminated a home because we felt it was overpriced.
Anyway, I got the call from the husband that they are "getting antsy." They have a trip up to the Lake scheduled in the next few weeks and would really like to find their perfect home for retirement.
That's when I spat out - "the antidote to antsiness is preparation." My point was, let's go through the Lake Martin MLS, make lists, and commit to spending time on the phone to compare notes. That way, when they are finally able to make it to the lake, we have a good group of "maybes" instead of a wild goose chase. Fortunately, these particular buyers are not goose chasers; they are deliberate. They are informed. Their search will be easy and productive.
I was pretty pleased with this pithy quote, though. Most of my off the cuff quotes are either ludicrous, like when I tell my kids, "tonight I am going to teach you to skin a squirrel," or overly simple, "this country started to slide when they eliminated glass bottled co-colas."
So I am going to keep using "the antidote to antsiness is preparation." I don't know if it helps you personally or in your business. It does for Lake Martin real estate. I see it often. Buyers that want to breeze up to the lake and fly around, seeing every new listing or every one they pass, soon find themselves disoriented and frustrated. It's a big lake. Do your research. Search our MLS here. Mark your favorites, (yes you have to sign in, but only I see your info. I don't sell it.) Then let's talk, and I can help you separate the wheat from the tares. The sheep from the goats, if you will.