As the Lake Martin real estate market heats up, so do those that try and FSBO their waterfront home. I get it.
FSBO stands for "For Sale By Owner" – pronounced "FIZZ-bo" by the cognoscenti. Every market has their fair share and Lake Martin is no exception. As conditions shift into seller market status, it stands to reason that we will see more FSBOs. In fact, I usually counsel my more marketing savvy sellers to try selling it by themselves first. If you can call a few neighbors and friends and sell the home yourself, more power to you. Get a good idea of market value and a good real estate lawyer and you might pull it off.
The above note was sent to me by a buyer couple that I helped look around Lake Martin for a couple of summers. That's pretty normal – most second home buyers take a while to look since it's such a big decision.
Anyway, I showed this couple a variety of homes in different locations. I helped them get an idea of the market, and helped them sharpen their ideas about what they would need. They were pretty educated on Lake Martin real estate to begin with, since one of them is from here and they used to have a Russell cabin. So I wasn't guiding newbies, more like assisting grad students.
Their story had a happy ending! They ended up buying a home directly from a seller, a FSBO. I was really happy for them. They ended up writing me a sweet note and were quite nice about the whole thing. They were actually worried I would be upset! Ha!! Far from it!!
I was just glad to know they ended up with their Lake Martin dream home. Once I saw the home they bought, I couldn't blame them! It is perfect for them!
Since they wrote the note, my family and I have spent quite a few hours hanging out at their lake home, grilling out, wake surfing, and just relaxing. It has been great!
It's folks like them that make my "job" a lot of fun, and I am truly happy for them.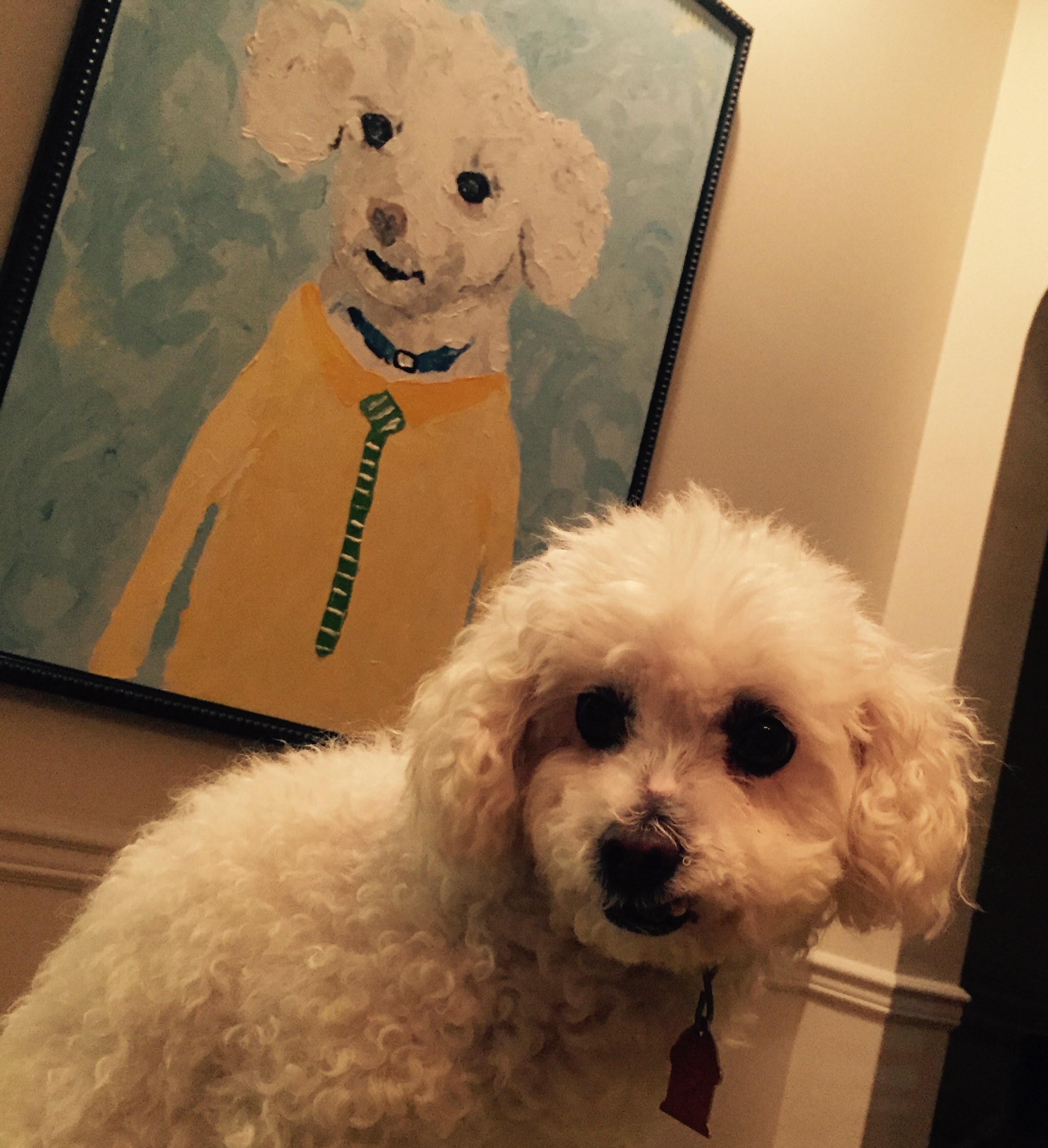 Kowaliga Kevin, the canine prognosticator of Lake Martin, has predicted six more weeks of summer for our beautiful lake.
Famous world over for his accurate weather prediction, Kowaliga Kevin has long been relied upon to let lake area residents know whether to pack up the boat and water toys or to enjoy more lake time. This year he has once again satisfied everyone by predicting another stretch of great weather. 
"I know I usually go thorough this rigamarole with exiting the boat bathroom and whatnot," said Kevin, alluding to his groundhog-esque Pomp and Circumstance. "But hey, this year it's so obvious I really don't have to trot out that old pony. I mean, it's seventy-eight degrees and the water is perfect. Do you really need me to tell you it's awesome?"
The shedding of the dramatic was a surprise to veteran Kevin watchers as he has heretofore shown a penchant for showmanship. Speaking from his headquarters, with his self portrait looming behind him, he added, "I've got another six weeks to enjoy the waters of Lake Martin. I'm not going to waste it by posing for you guys."
When asked about rumors that Kevin was almost replaced by a "Frost" last year and a "JoJo" this year, he retorted, "Please. Those guys are losers. To quote Ric Flair, 'if you wanna be tha man, you gotta beat tha man.' Everyone knows I am the bull of these woods. I'm not worried about any pound puppy upstarts. I am not only A pro, I am The Pro."
Though his delivery may be brusque, this is great news. Six more weeks of summer for Lake Martin!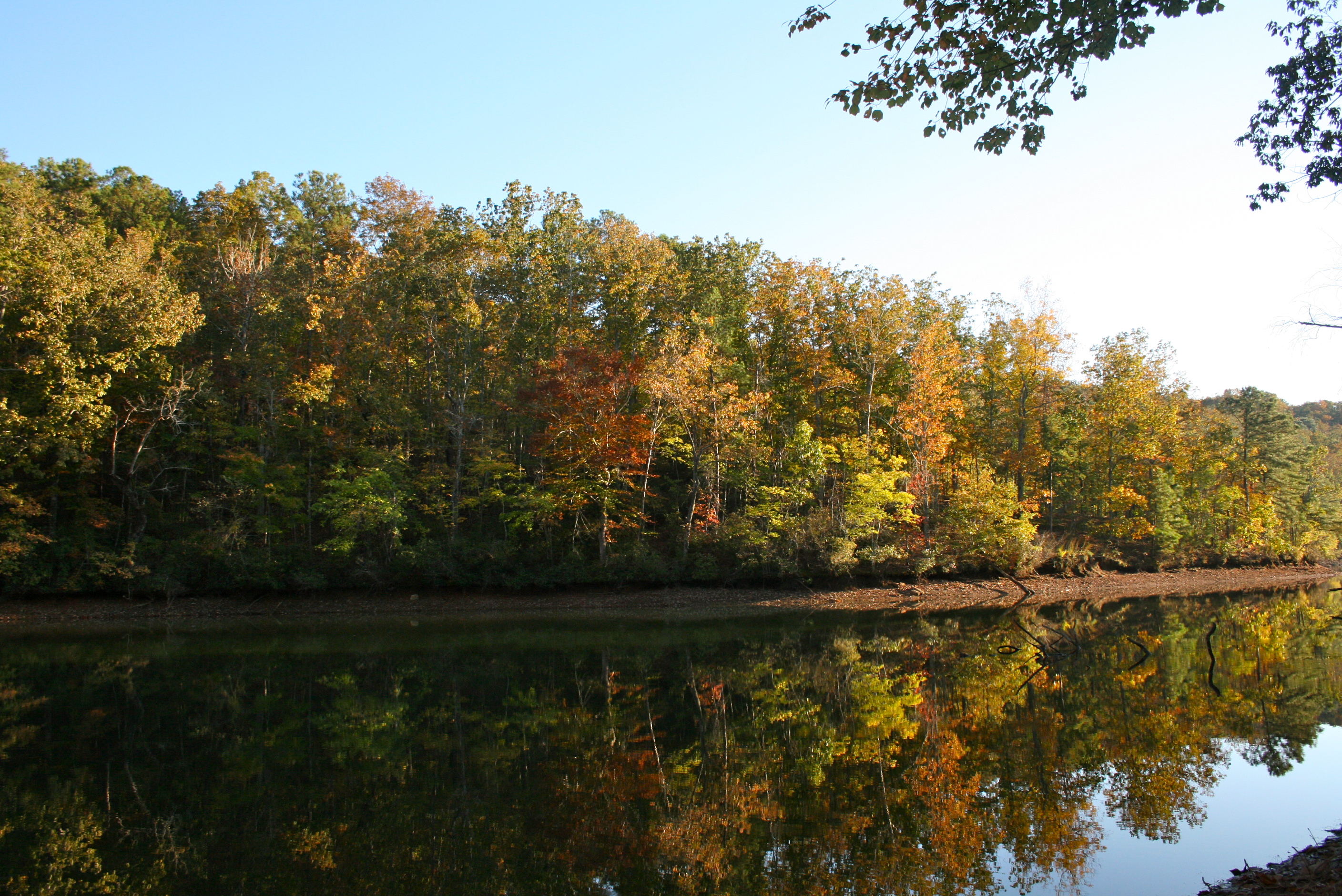 Are Lake Martin waterfront real estate sales seasonal? That's a question I hear a lot this time of year.
It's a pretty natural question, I think. If you own waterfront property on Lake Martin, you might be wondering whether or not to put it on the market now, or wait until the spring when the weather and the sales heat back up.
Or, if you are considering buying a home or a lot on Lake Martin, you could possibly be thinking that everything goes on sale after Labor Day.
To start with the buying side question, the answer is no. There is not huge price drop that happens after Labor Day. It just doesn't happen. A studied the numbers on this a few years ago and found that the sale to list price ratio does not change when the temp goes down.  See this link. This myth persists, though. But it is bunk.
What about on the selling side? Are there so few sales on Lake Martin in the cold months that you're better off to wait until the Spring?
I don't think so.
Some sellers might worry that they will have a higher Days On Market statistic in the Spring if they don't sell. I polled a few of my fellow agents and they agree with me:
It's better to have it on the market and have a few higher days on market. Nobody pays much attention to that piece of data. In our market it doesn't mean a seller is desperate, it usually means they are stubborn on price.
Think about it – if it's not on the market, agents (like me) can't advertise it. They can't put it in the MLS. No one knows about it. It definitely won't sell in that scenario.
Do you need help with Lake Martin real estate this fall? I would love to help out. I am a full time agent here at Lake Martin. Please call me at the number at the top of the screen or contact me here.
What are the forgotten items of Lake Martin home construction?
If I am building a home at Lake Martin, how is it different than building where I am from?

I hear these questions a lot. I am not a contractor, not even close. I am a simple real estate agent here at Lake Martin. But by the nature of being here, and selling here, I do hear quite a bit about the construction process. When waterfront lot owners or potential buyers ask me these types of questions, I always say:
It's pretty much the same except for a few big things.
That sounds pretty vague, but allow me a big of an explanation. Many times lot buyers come to Lake Martin with a construction cost in their head of $x per square foot. Maybe that's what they built their home for, or maybe they saw some tract home builder advertise for it.
Per square foot construction quotes can sometimes be pretty tricky. Even builders will tell you that because of differing finishes and quality.
But here at Lake Martin, I can think of at least four factors that you really need to consider when budgeting your home construction. After you read these items and watch my videos, if you have more technical questions, feel free to call me at the number at the top of the page, or contact me here. I will be glad to recommend reputable builders here at Lake Martin.
Dock:
A nice covered dock with floating dock and boat lift can easily cost $50k, but it's money well spent. Divide that money into the square footage of your home and you can see how it will wreck the stat. You will probably want a boat lift unless your neighborhood doesn't allow it or it will block your or a neighbor's view. And speaking of views – one of the tradeoffs of big views is that it usually means big waves. Big waves can potentially beat up your boat, and the best way to solve that is a boat lift. Don't scrimp on the dock, you will wish you did it right later. It's better to get the dock guys to make it right when they are there, the quality subcontractors are hard to schedule. Trust me – you will want a specialist here. Just because your cousin's second grade best friends pen pal has built a few tree houses doesn't mean he knows how to handle the forces present in a dock- water, wind, weather, and waves will always present special challenges. Here's a quick video I did about docks on Lake Martin: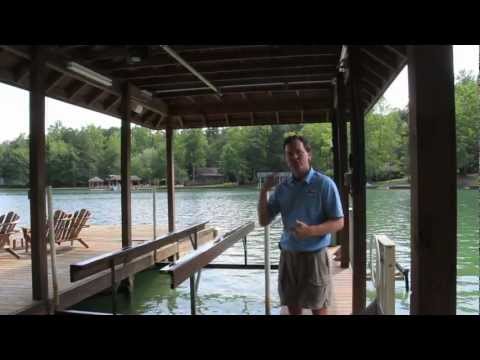 Seawall:
Seawalls are also very important on Lake Martin. Remember – the dirt is the most expensive part of the investment. Don't let erosion wash money into the lake. As a side note, I have no idea why we call them seawalls here and at the ocean they call them bulkheads. No matter what you call them, as a lot buyer, you need to pay attention to the existence and condition of the seawall. If there is none, ask yourself, what kind will this eventually need? Are there neighborhood restrictions? What are my tastes? Rip rap? Wooden? Concrete? How tall does it need to be? This is another area that you don't want to go cheap. Read more about seawall construction HERE or watch the below video.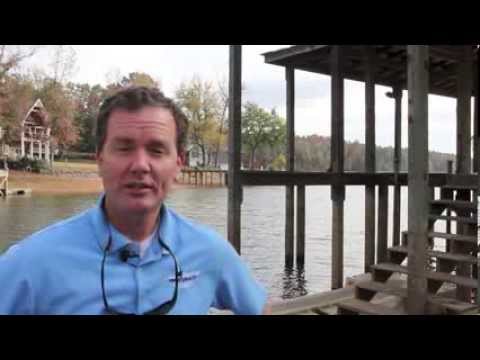 Foundation:
This is a guess but I would say that the majority of lots on Lake Martin will not need a crazy foundation. But some might. If the waterfront lot you are considering is super steep, you need to ask a builder about the potential of an expensive foundation. If it does, it may require a lot of money in concrete.
Septic:
The vast majority of homes on Lake Martin are on septic systems to handle their waste. There are some exceptions like Stillwaters and The Ridge where they have a private septic system that handles the entire neighborhood. The septic guys tell me that 90% of septic systems on the lake now require a pump to get far enough away from the water. This is because recent building codes require the septic tank and the septic field lines to be away from the lake, the home, and other lot lines. Septic systems vary greatly in price, depending on the size of the homes and how far away the field lines are from the home. Septic contractors tell me most systems are around $15k on septic system with a pump vs $7k on a gravity fed one.
Related Content:
CLICK HERE to learn more about seawall construction
CLICK HERE to learn more about boat lifts and docks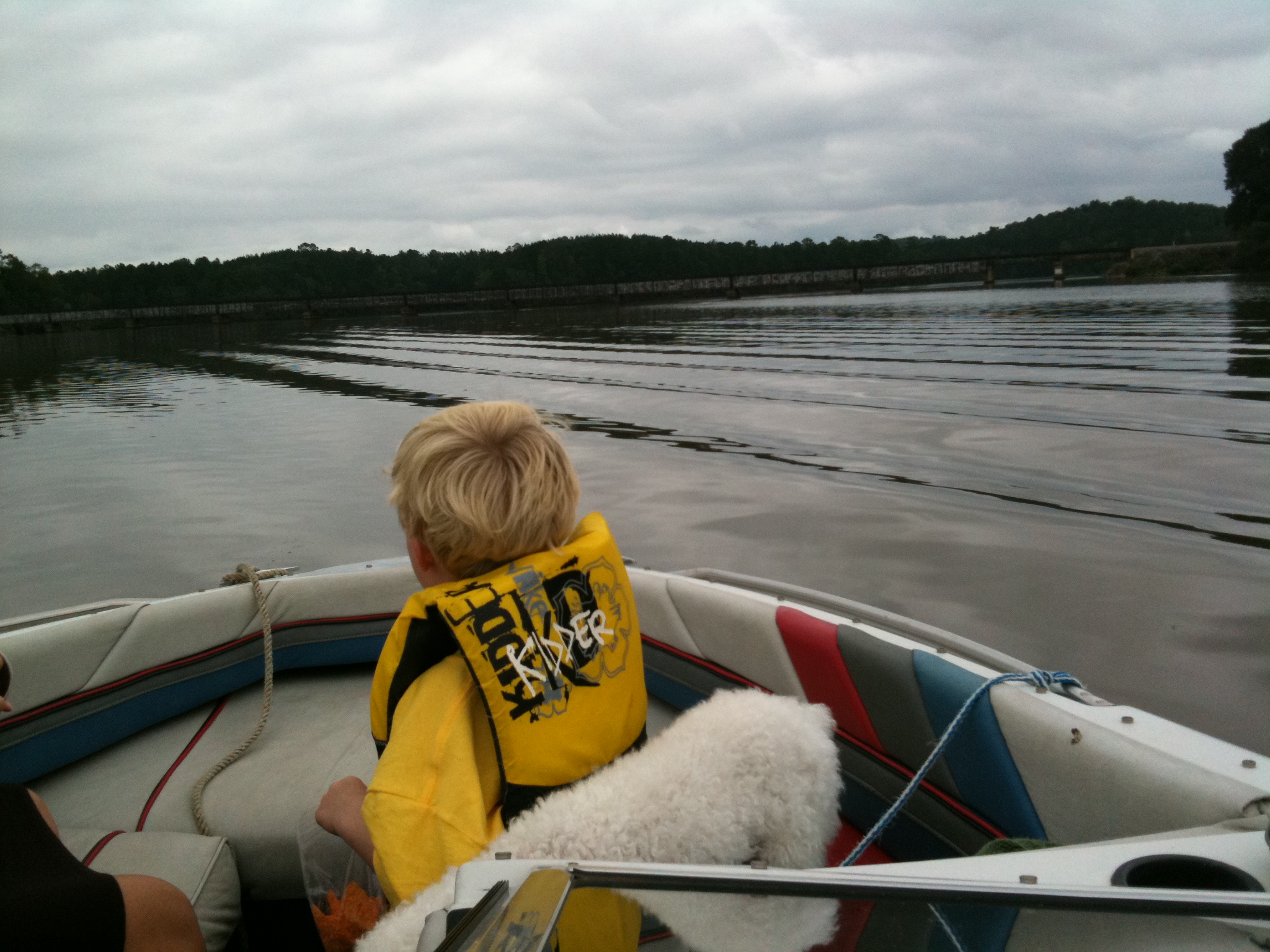 Lake Martin, Alabama, is the place to be on Labor Day.
What else would you expect me to say? I sell real estate here at Lake Martin. But the truth it the truth.
Here are a few things to do, a few events around Lake Martin for Labor Day 2015.  Keep in mind, they are not in order of importance, just order as they come to mind. If you want the best way to keep up with Lake Martin events, and an easy way to find the restaurants, shops, and landmarks I mention, download my FREE APP here.
Lake Martin Labor Day Weekend To Do list:
Friday Night On the Green – at Russell Crossroads
Saturday Pancake Breakfast – at Russell Crossroads
Saturday Lunch into Afternoon – watch football at The Landing at Parker Creek
Saturday Night – get your carb on at Lake Martin Pizza Co. or Oskar's.
Sunday Night – Concert at The Amp – Railroad Earth is the headliner but my money is on the Vegabonds.
The above are all pretty easy spots to find. Are you up for more of a challenge?
If so, then pierce the mysteries of NOCR – North Of Chimney Rock, that is. There is a movement among its adherents that NOCR is always the choice of the Lake Martin fan with discriminating tastes. It's been described as "the non-palooza side of the lake."
OK.
So I will announce a few of its treasures with decided non-palooza vagueness. No websites. No hashtags:
Peanut Point
That Ice Cream Place at Wind Creek Park
Smith Mountain Fire Tower
Tying up at the railroad trestle
An alternative to all of this is to go on a boat ride, 1970s style. In the 1970s, little grasshoppers, there were no cell phones. There were no land line phones, either, pretty much, because there was no sense in paying for service (and leasing a phone) for only half of the year. So when we went to see friends, we could not call them to see if they were there ahead of time. We just drove over there, totally without notice and without a sound track. We were also probably drinking real Cokes, too.
Downside – yes, there were strikeouts. But the upside is that when you found someone at home, it was a real treat. As the person who is potentially being visited, I can tell you it is great. Back in the 70s, when you saw another boat driving towards you in your slough, well, it was better than a package from Amazon.
Lake Martin home sales have been great, but what is the magic statistic that lets us know if home prices are on the rise?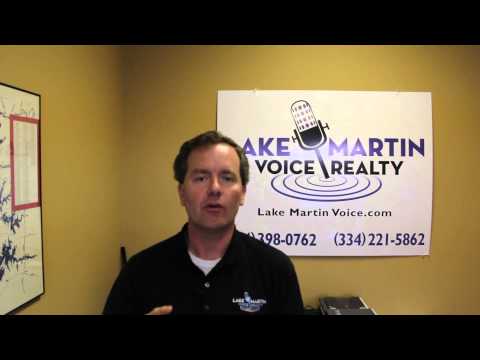 Is there a magic statistic that lets us know that Lake Martin waterfront home prices are on the rise? I decided to look at a months of inventory, which I think can give us a better inclination if prices will be rising. If you are not familiar with the term, months of inventory can be found by taking the number of homes for sale now and dividing it by current month home sales.
In the case of July 2015, we had 359* waterfront homes for sale at Lake Martin, and we sold 42 waterfront homes on the whole lake, that's all agents, all brokerages. That gives a months of inventory statistic of about 8 1/2 months. This means that if we sold at that rate in 8 1/2 months, we would run out of homes to sell.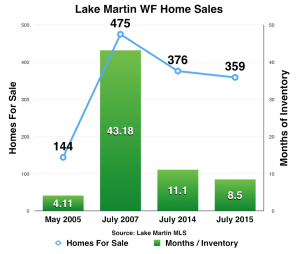 It's hard to tell if that's the magic number or not. I like to look at trends and see where that number is going. I don't really peg my hopes on any one statistic. Looking over some of the past years, in 2014 there was 11.1 months of inventory with 376 waterfront homes for sale on Lake Martin. In a year, our ratio has gone down with less homes for sale and more sales, which is great for sellers. 
To get some perspective on this statistic, I wanted to look at the best and worst summer months the Lake Martin real estate market ever had. If you look at July 2007, one of our worst summer months, there were 475 homes for sale and a months of inventory number of 43.18.   Terrible. Our best summer month we have ever had, May 2005, there were 144 homes for sale which equated to a  4.11 months of inventory.
Looking at this year, we are doing a lot better than last year with a 23% decrease. I'm going to keep watching this statistic. Will prices go up as fast as they did in 2005? I don't think so, because there is not as much pressure – a higher months of inventory. But, I do think home prices are going up here at Lake Martin in 2015. We just have tons of momentum.
If you have any questions, please contact John Coley with Lake Martin Voice Realty at 334 221 5862 or emailing directly at john (at) lakemartinvoice (dot) com.
**************************************
Copyright notice – the above, and every other post on this blog, is the property of John Coley, Broker, Lake Martin Voice Realty. Appraisers may use my information in their appraisals without charge or asking, but please give me credit by citing me, my company name and title, and website address of http://lakemartinvoice.com.  If anyone else would like to use this information, please contact me here and ask. I probably will let you do it, just please ask!
(*)Disclaimers: All of the above info was taken from the Lake Martin Area Association of RealtorsMultiple Listing Service. Accuracy is not guaranteed but deemed reliable. The above does not include sales by   FSBOs or developers that sell privately and not through the MLS. But, I do think that the above represents a very large majority of all waterfront sales on Lake Martin, Alabama.
126 O'Daniel Point is a classic Lake Martin waterfront home in every sense of the word. Nestled among soaring trees, this three bed, two bath home is on a flat lot with a beautiful view. So many Lake Martin homes offer a great views, but you have to negotiate stairs or a long walk. Not so at 126 O'Daniel Point. Stroll easily back and forth, the home is a few flat steps away.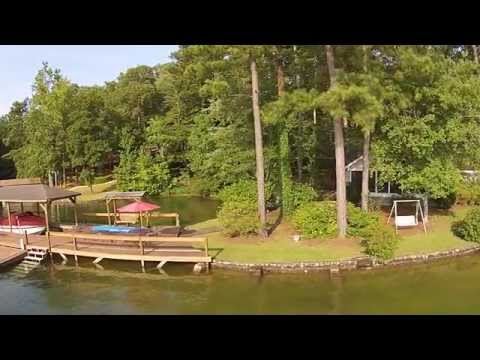 Located on the popular Kowaliga Bay area, the home is mere minutes from Kowaliga, Russell Crossroads, and Willow Point. By water, it's close to Chimney Rock, and so many other fun locations.
From the street entrance, you enter into the living room with vaulted ceilings and tons of room, and the kitchen nearby ensures everyone stays involved. The home is all on one story, so there's no need to hike up and down steps. Every room is accessible – the guest bedrooms and bath, the master suite, and all living room areas, No stairs!
The kitchen was updated in 2009 and features granite counter tops, stainless appliances, a deep sink, an island, and a great view of the water. The master suite also overlooks the water. The vaulted ceilings give the room lots of space, and sitting by the built in shelving can be a spot to relax, work, or just read a good book.
Outside, a huge screened porch offers a large area for more living. It's a great place for outside meals, games, or just observing the beauty of the lake. The porch overlooks the Tallassee Slough area of Kowaliga, just off the big water. It's the best of both worlds – seeing big water but not having traffic speed by just yards from your dock. When it's time to boat, your covered boat lift has it ready to go. This home has so much to offer – great view, Kowaliga location, a neat home on a flat, wooded lot. Schedule your showing today!
For more information, CLICK HERE for the listing page for this property.
Or, just call me, John Coley, directly at 334 221 5862 or contact me here. I would love to show you all this home has to offer!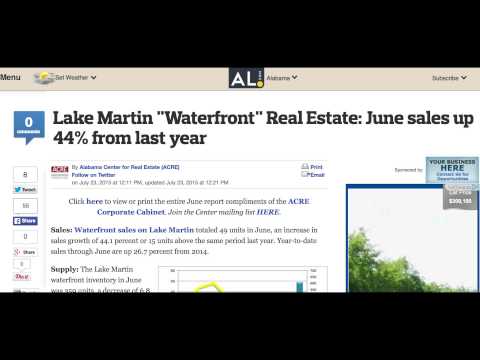 June waterfront home sales on Lake Martin were up 44% from last year!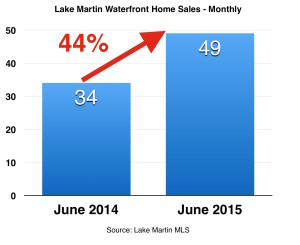 Yes, you read that right. The Lake Martin real estate market is doing well this summer. June of 2015 beat last year in sales by 44%. That's not the only good news! If you look at the year to date, we are selling well ahead of the prior year. 2015 is beating 2014 by 26%! That is impressive because 2014 was a record year of home sales on Lake Martin, even better than 2005.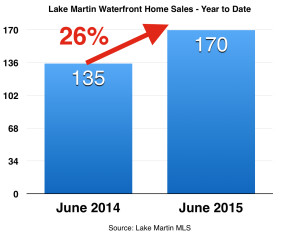 ACRE pointed out on AL.com that supply is down 6.8% and we are still having rising demand and sales even with a lesser supply.  You can read more from this article on AL.com by clicking HERE.
Another factor that is incredible is that lot sales are pacing far ahead this year as well. We have sold 46 lots through the Lake Martin MLS. That's all realtors and all brokerages in the Lake Martin area. Last year at this time we had sold 25 lots through the MLS, and last year was a great year for lot sales.
Just to recap, waterfront homes are pacing ahead by 46% and lot sales are pacing ahead by 84%. Overall, we are doing great in sales so far! Keep updated with Lake Martin market statistics HERE.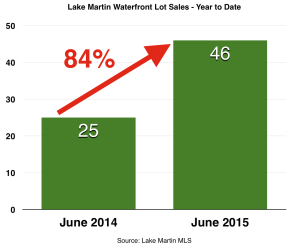 If you have any questions or need real estate help on Lake Martin, feel free to contact me, John Coley, with THIS FORM or at john (at) lakemartinvoice (dot) com or  334 221 5862.
Would you like to search the Lake Martin MLS from your smart phone? Then download the Lake Martin Voice free app!
Happy Friday and Congratulations!! You just saved $10,000 on Lot 61, Phase II of The Ridge!
We just dropped the price on Lot 61, Phase II of the Ridge. It's an awesome waterfront lot on Lake Martin. Just think of it, you didn't have to lift a finger and you saved $10,000. The price has been reduced to $229,000 from $239,000. CLICK HERE for more info on the lot.
Lot 61, Phase II is on Eagle Ridge in one of Lake Martin's most prestigious neighborhoods: The Ridge!
Waterfront lot and home sales are beating last year by 26% on Lake Martin, and 2014 was a record year. Now is the time to take advantage of a great new price on this  wonderful lot!
Call John Coley at 334 221 5862 or john (at ) lakemartinvoice (dot) com.
More Info: The Ridge in Lake Martin
The new restaurant here on Lake Martin, The Landing at Parker Creek, just opened! I decided to go down and video the area, take a look in the video below. PLEASE NOTE: The Landing's # is (205)410-6190!! Please don't call me unless you want me to try and sell you some real estate!!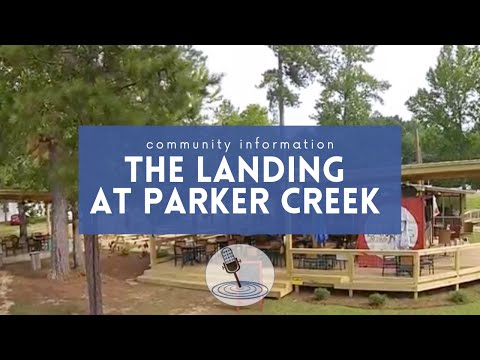 The restaurant has a unique, casual setup with areas to eat, drink, and even play yard games like cornhole, ring toss, and ladder toss. There are 21 new boat slips, so visitors can come by boat or car to enjoy the food and fun atmosphere.
To see more about this new restaurant: check out their website at www.thelandingatparkercreek.com and their Facebook page HERE. 
Located at 486 Parker Creek Marina Road, Equality, AL 36026
Phone: (205)410-6190
As you might guess from its address, The Landing at Parker Creek is located next to Parker Creek Marina. It is already a great addition to the Parker Creek area and Lake Martin as a whole. I am excited about eating there for years to come!
If you would like to see waterfront lots and homes for sale in Parker Creek, CLICK HERE for my Parker Creek Neighborhood page. It has a live MLS feed so it's always up to date!
If you want to keep up with new restaurants in the area, or just find a new place to grab a bite to eat, check out our "Eats" tab on the Lake Martin Voice Realty App.
The Lake Martin Voice app is available in the Apple App Store and on Google Play for Androids.