Over my years of selling waterfront Lake Martin real estate, I have acquired some fairly specialized skills.  Some skills are more business oriented (generating leads via my website), and some are more experiential (like how to smoothly unlock a door and turn off a home's alarm when the MLS instructions are not exactly accurate).  This was a new one for me, though, and it came about in the name of delivering good customer service.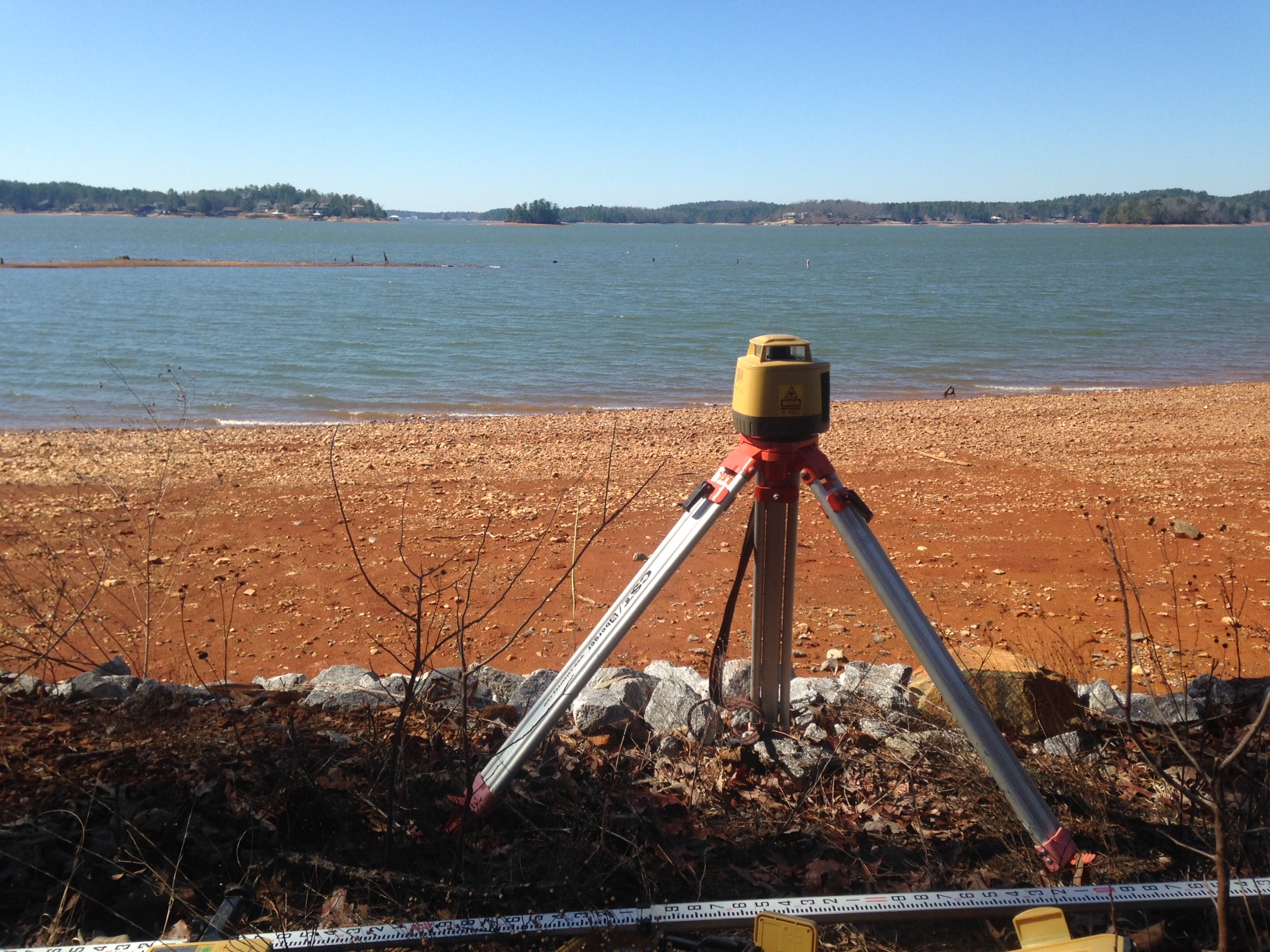 I was the listing agent for a great lot in Emerald Shores.  Another realtor brought the buyer, and a contract was signed.  As the closing date neared, the buyer began to worry that the water at the end of his future dock would not be deep enough.  That's a big deal.  A big lot with an awesome view is not so great if can't park your boat at the end of the dock.  Unfortunately, a local contractor told the buyer there would only be about 4 feet of water depth at the end of his dock at full summer pool, and this did not sit well.  This was only one guy's guess – and a sheer guess at that - but it was enough to rattle the buyer and kill the sale.  The deal was over.
I'd walked the lot many times and had a gut feeling that this 4 foot, full pool depth estimation was incorrect.  If there is a dock already in place, then it's not hard to estimate summer water depth in the middle of winter (see one of my eariliest LMV videos, Lake Martin Water Depth).  But if there is no dock?  A little trickier.
One of the jobs of any salesman is to overcome a buyer's objections – that's Zig Zigler 101.  That usually means getting them more information.  Once I understood this particular buyer's objection (risk of buying a high end lake lot with little water at the dock),  I knew I had to figure out a way to get a better measure.
I started looking up surveyors equipment on eBay, knowing full well that I was no surveyor. I happened to mention my online search to a good buddy, Doug Fuhrman, owner of Southern Traditions Construction.  Doug said all I really needed was a Laser Level.  And guess what?  His partner, Donnie Richards, had one in his truck.  That was in my driveway.
This Rotating Self Leveling Laser Level is like a light house that shoots a laser all the way around it.  I could set it up on shore, and then walk out into the lake bed and adjust a receiver rod up and down.  The system automatically finds its own level and then slings the laser around to show changes in depth to exact tenths of a foot.  Since the average length of a Lake Martin dock is about 50-60 feet long, I would take measurements at 50 and 60 feet from the shore.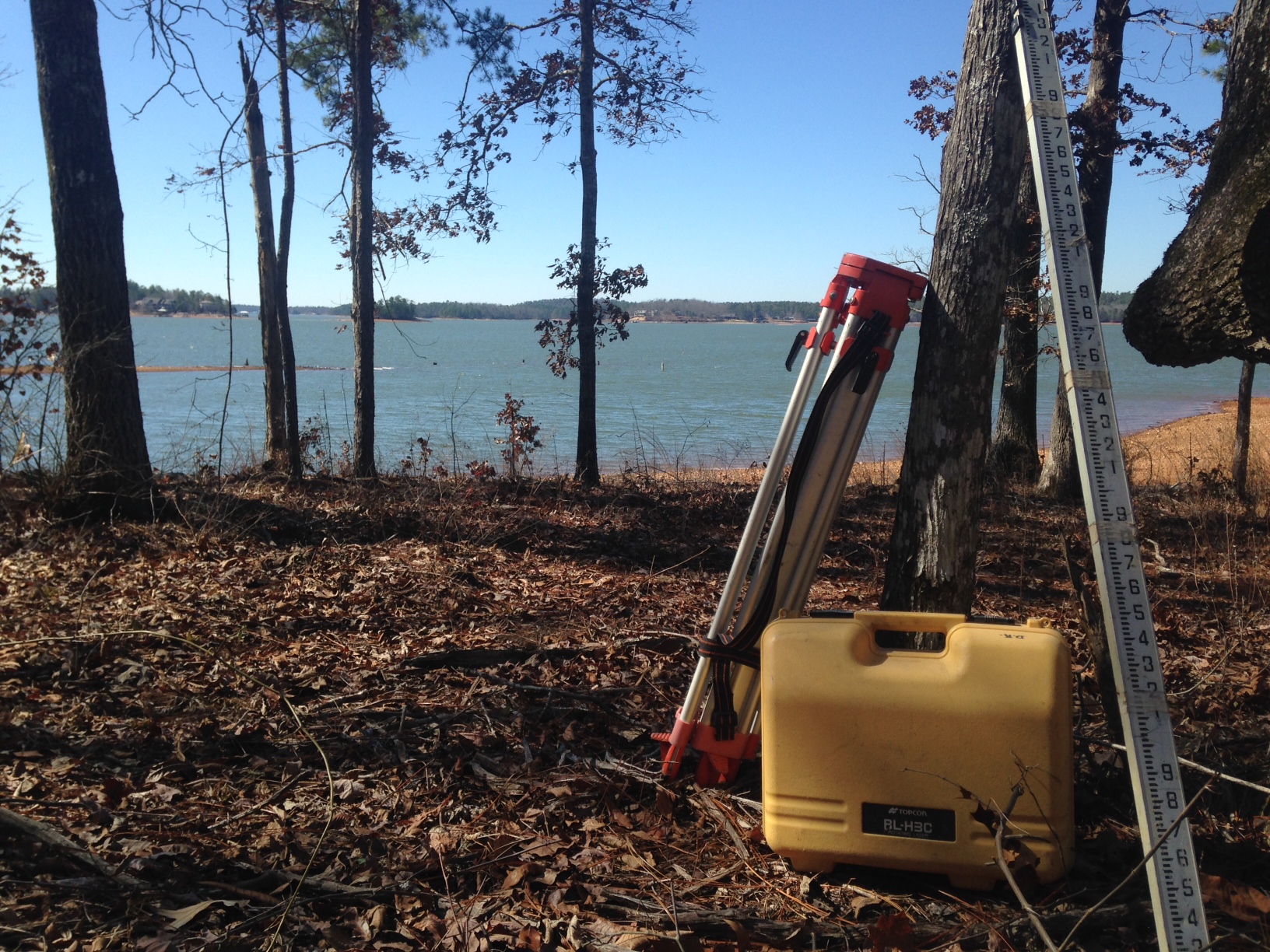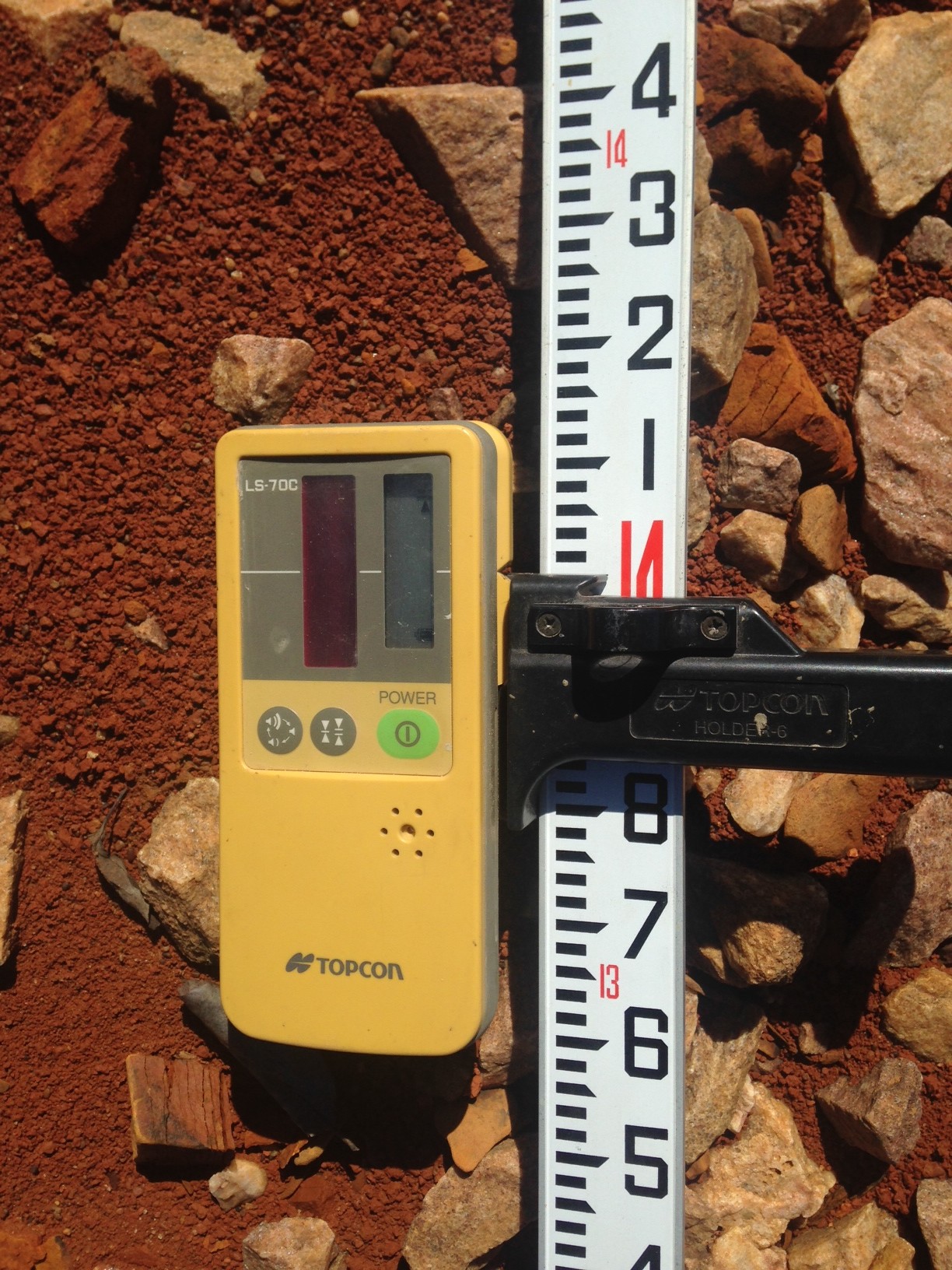 It was a bone chilling, windy February Friday when I set out with Doug's equipment to get the accurate depth measurement.  (I brag a lot about the warm weather at Lake Martin on this blog, but there are a few chilly days, too.)  After taking my readings, sure enough, I found the water depth would be closer to 8 feet at the end of the dock – much more in line with the buyer's expectations. The buyer was pleased – and he now had hard data to back up his choice of lots.  The sale was completed.
Is this part of my normal routine?  No.  Could we have all shrugged our shoulders and said, "Oh well," when the buyer decided the water was too shallow?  Certainly.  But my sellers would have lost a sale, and the buyers would have lost their dream lot.
I know you hear claims everyday that businesses "go the extra mile" and "go above and beyond" in the customer service department, and it sounds cliche.  So I thought I'd give you a recent, concrete example and let you be the judge.  I write this post not to be boastful, but to sincerely say that if I have the opportunity to work for you – either on the buying or the selling end of a deal – I will do what it takes to give you great service.
Lake Martin Voice Realty is a small, boutique real estate company on Lake Martin.  We don't set out to make every sale because that is not realistic – there are over 100 agents in the Lake Martin MLS.  We do, however, set out to give exceptional service to those clients who choose us.  We'd love to help you with your real estate needs, too.
If I could get real estate continuing ed. hours for adventures like this, that would be cool.
For more info on shoreline permitting and dock building, go to  Alabama Power's Shoreline Management website.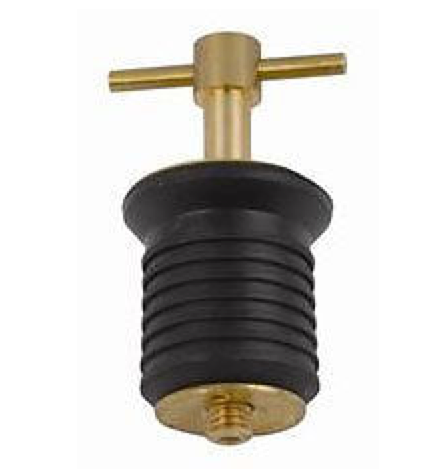 February 18 is known as Plug Day around Lake Martin. It is an unofficial holiday because that's the day that Alabama Power starts filling up the lake! Goodbye 480!
If you are unfamiliar with the winter / summer water level schedule on Lake Martin, check this site for the prior years and this year's plan.
No need to get nerdy about the water level if you are unfamiliar. Just know that this is a great time of the year. Help celebrate as Lake Martin makes its annual journey up to full pool of 490! There's even a Facebook page these days: Plug Day
Every year I do a market report for the Lake Martin area waterfront real estate sales. It's a comprehensive look at all of the property that is sold through the Lake Martin, Alabama, Area MLS*.  This year, the Lake Martin year end review of home sales looks quite bright. I will cover the basics below, and then in future posts I am going to go really in depth with the waterfront lot sales at Lake Martin. I took some time to really dig down into the details of Lake Martin's lot market to see if we can glean some trends.
The last time we looked at the waterfront real estate sales on Lake Martin was back in August. We studied the market results through July 31, 2013, and found that sales were going really well. Now that 2013 is over, I thought we would take a look at the year in review.
The Lake Martin Multiple Listings Service, as always, is the database from which I draw all of these numbers. I filter out all of the non-waterfront sales, just to get to the nitty gritty, which is why these results might differ from the overall market report that you might see elsewhere, such as in the ACRE reports at AL.com, the Alex City Outlook, and Lake Magazine.
So, back to waterfront properties – how was the market at Lake Martin? How were waterfront home sales in 2013?
Lake Martin Waterfront Home Sales 2013
Blistering, in a word. If you recall from July's sales totals, the year was going well for waterfront home sales, and especially well for lot sales. That trend continued through the year's end.
In the twelve calendar months of 2013, an eye popping 263 waterfront homes were sold in the Lake Martin MLS. Once again, the current year beat the prior year in terms of number of homes sold. Many of us in the real estate industry feel that beating the prior year is per se evidence of an improving market. Lake Martin is so very blessed to have done that every year since 2008. This year beat 2012 by a whopping twenty-four homes, as 2012′s waterfront sales total was 239 homes. Before you are tempted to think, "Big deal, John, it's only two more a month," I ask you to consider the percentages. Twenty-four more homes represents an increase of about ten percent over 2012. 2012′s sales total of 239 homes was itself a 15% increase over 2011. When you step back and look at these increases, it even surprises me that in the last two years our market has increased homes sold by twenty-five percent. What business would scoff at that?
How does this year measure up to posterity? Great question. A close look at the Lake Martin 2013 market's total of 263 homes sold is the best on record other than the 281 homes sold in 2005. That means that we were only about seven percent from the best sales year ever in terms of numbers of waterfront homes sold. If the sales trend of the past two years continues, we project to sell about 294 homes on the lake in 2014.
Lake Martin Waterfront Lot Sales 2013
If waterfront home sales were blistering in 2013, then I guess waterfront lot sales were surface-of-the-sun hot.
This past year saw 71 waterfront lots sold by agents at Lake Martin. Consider that 71 is almost double of what was sold in 2012 – and 2012 was a great year. Plus, it dwarfs years like 2009 when only 19 were sold in twelve months. It is truly remarkable to see the leap our market took for waterfront lots. Another business that lot sales has really affected is construction. Anecdotal evidence shows me that general contractors and subcontractors are busy again. I ate lunch on a random chilly Tuesday at Oskar's – and the place was packed with people in the building trade.
I have no idea how many of the lot sales in 2013 were made by buyers that intend to build spec homes to sell. I guess we will see when July or so rolls around. I would not be surprised if twenty or so fit that category. If so, any increase in supply of homes for sale could affect lake home prices, which is the next thing I would like to address.
Lake Martin Waterfront Home Price Trends 2013
With this uptick in Lake Martin waterfront home and lot sales in 2013, a natural question is, "has this boom affected prices?" My answer is – I don't think so.
That might not be good news for Lake Martin property owners that are hoping for a price increase. But, I really can't call an increase until I see it. As I am a full time agent working here, I do have my gut feelings on these things. 2013, to my gut, did not feel like a year of rising prices. Then again, it's been at least five years since a price increase so I may have forgotten what it feels like!
The above chart shows my attempt to graphically represent pricing trends here on Lake Martin, with all of the waterfront home sales recorded in our MLS. A shift forward of the entire bell curve would show me that prices have increased. I don't see that yet. While 2013 looks like it is beginning to round out a little bit, I can't really say it is a true price increase. Not yet, at least.
Fear not, when I see an increase or decrease, I will call it. But for 2013 my gut and the numbers line up. There was no change in pricing. If, however, my gut tells me something different than the chart, I guess I will have to go back to the drawing board to make sure this is an accurate way to consider price trends. For now, it feels and looks right.  One way that I have thought of trying to get more accurate is to break the above chart down into more increments. For instance, maybe up to $1 million I should break it into $50,000 increments instead of $100,000. At any rate, if any reader has a suggestion, please contact me and let me know.
Please stay tuned! Over the next couple of weeks I will continue to dig more deeply into the numbers of Lake Martin real estate sales for 2013.
My Call To Action
I can't resist ending without a call to action. Are you considering buying a waterfront home, lot, or condo on Lake Martin? Do you need help breaking down the lake's market trends to see how it affects you? Please contact us and we can help. We are full time real estate agents here at Lake Martin.
Do you own property at Lake Martin? We can help you, too. Contact us and put us to work helping you get the right price, and create the correct custom marketing plan.
Related Posts About Lake Martin Real Estate Market Reports:
Lake Martin 2012 Waterfront Market Report
All Lake Martin Waterfront Market Reports
Copyright notice – the above, and every other post on this blog, is the property of John Coley, Broker, Lake Martin Voice Realty. Appraisers may use my information in their appraisals without charge or asking, but please give me credit by citing me, my company name and title, and website address of http://lakemartinvoice.com.  If anyone else would like to use this information, please contact me here and ask. I probably will let you do it, just please ask!
(*)Disclaimers: All of the above info was taken from the Lake Martin Area Association of Realtors Multiple Listing Service. Accuracy is not guaranteed but deemed reliable. The above does not include sales by   FSBOs or developers that sell privately and not through the MLS. But, I do think that the above represents a very large majority of all waterfront sales on Lake Martin, Alabama.
An almost 4,000 square foot waterfront home with a $60 monthly power bill. Really? It's true, and  LAKE Magazine will explore Lake Martin's first Passive House in its February edition.
If you're a regular reader, you've heard me talk about it before because it's for sale and it's one of my listings.  So how can this home be so amazingly efficient?  Check out LAKE Magazine for the science behind the build.  Architect, Bryan Jones and Builder Paul Gouin spoke with Kenneth Boone and Betsy Iler about the theory, the materials, and the testing that goes into a Passive Home.  I took some pictures of their interview and posted them below.
If you're looking to buy a waterfront home on Lake Martin, give me a call at (334) 221-5862.  I can walk you through this home, and any other property on the Lake Martin MLS.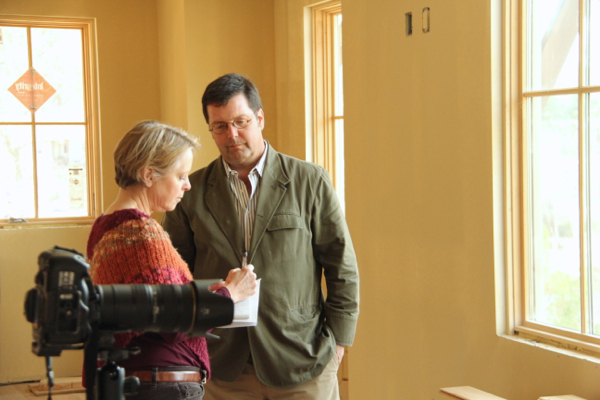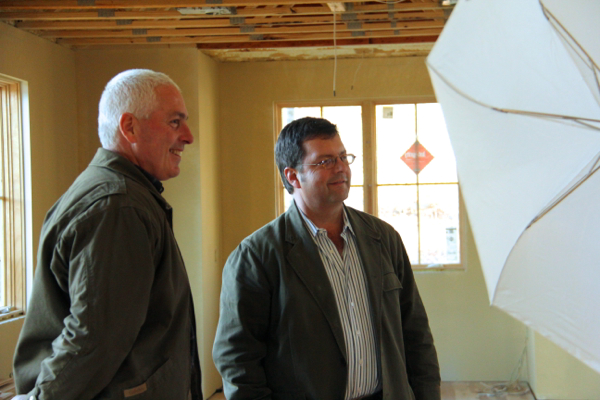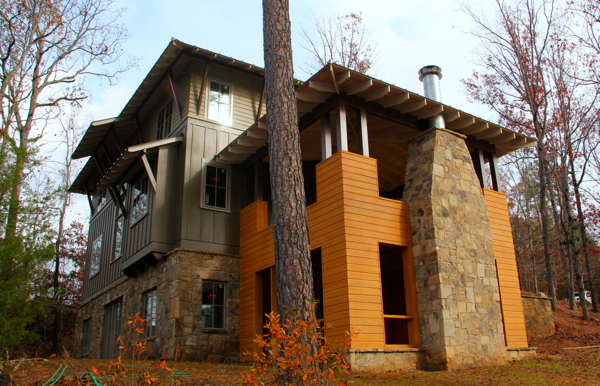 For more info on this home, 205 Old Cemetery Road, MLS #13-1168, click here.
Being an adult sometimes means buying yourself Christmas gifts and acting like they're for the whole family.  I guess it sounds selfish, but it's the truth.  I'm super fired up about my paddle board!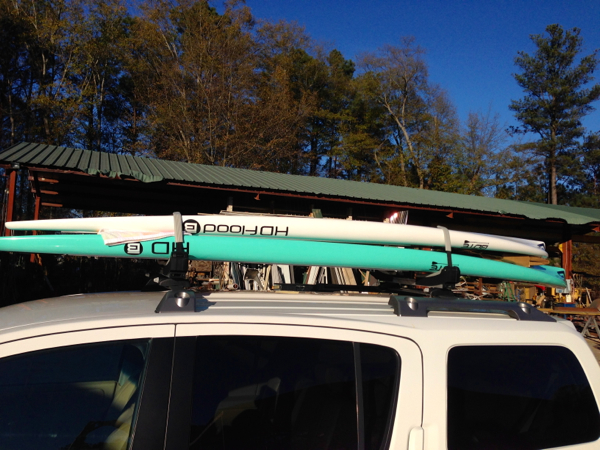 My brother-in-law bought one for his wife, and I got one too.  Sharon at Lake Martin Dock Company made us a good deal on these BOTE boards.  Wil got the white 10'6″ Flood HD for his wife – he thinks it will be well suited for her since she will be paddling with friends as a workout.  I (I mean we) got the BOTE HD, which is 12′ long.  They both are set up for fishing, although we'll probably spend most of the time paddling for fun.  Hopefully I can catch a striped bass with my fly rod from it soon!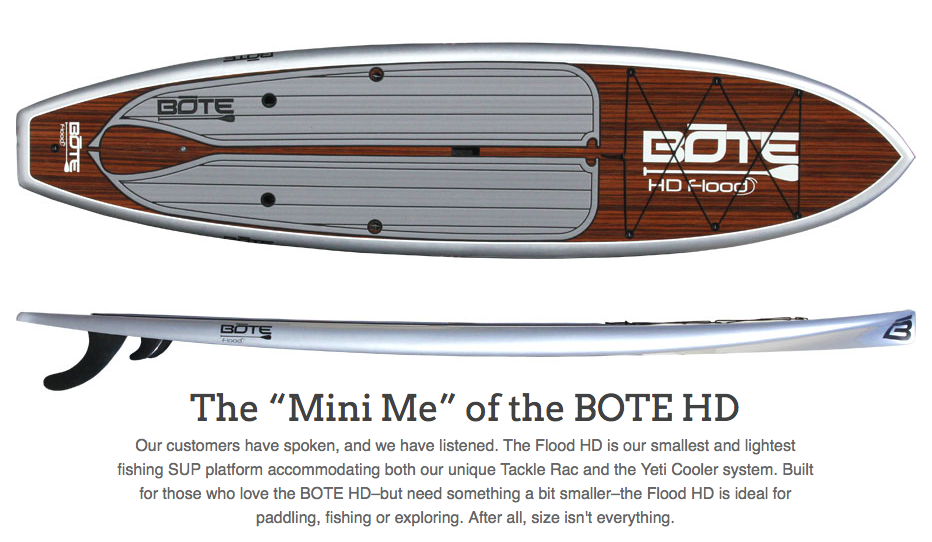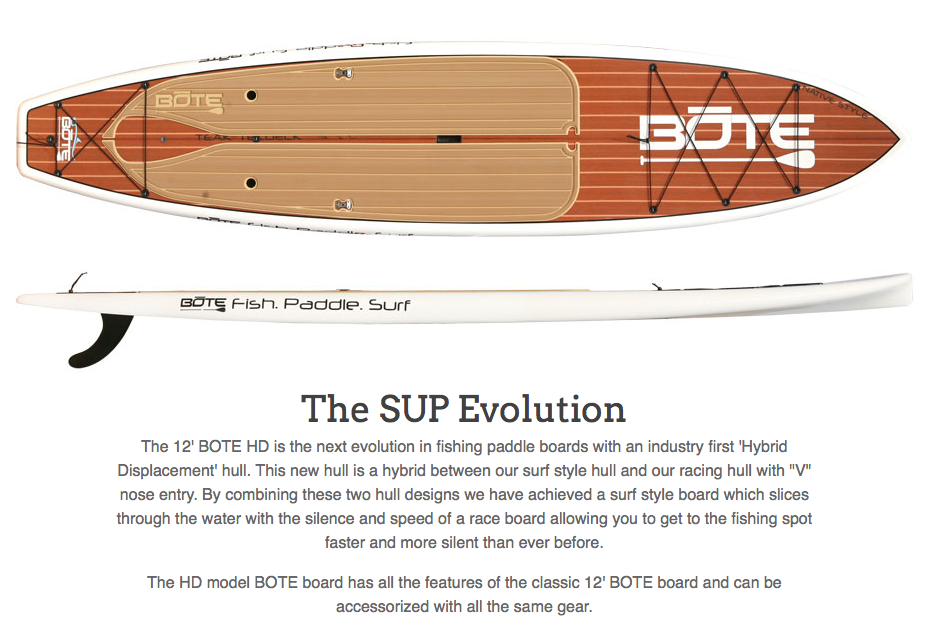 All kidding aside, I do plan on letting the whole family use it, and I actually had to hold my wife back from purchasing a second one.  I definitely see another paddle board purchase in the near future.  Thanks again to Sharon, Lake Martin Dock Company, and BOTE boards.  If you're into paddle boarding, check out the Paddle Lake Martin Facebook page here.  If you're thinking about a purchase, give Sharon a call at (334) 857-2443 and let her know that John sent you.
Lake Martin waterfront vacationers:  I'm adding a "must-do" to your checklist for your next trip to Lake Martin.  Stop by Daylight Donuts in Alex City and stock up.
We all have our travel traditions, and picking up donuts on the way to the lake may become one of yours.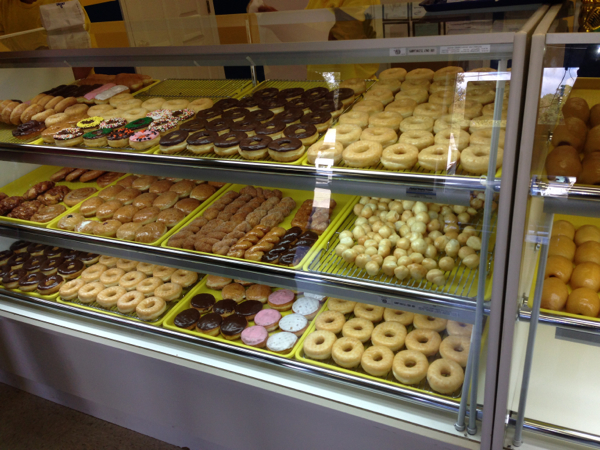 It's only a quarter mile or so off of Highway 280, right by the KFC.   At this posting, you can't find it on Google Maps or Yelp, so map the Alex City KFC and you're basically there.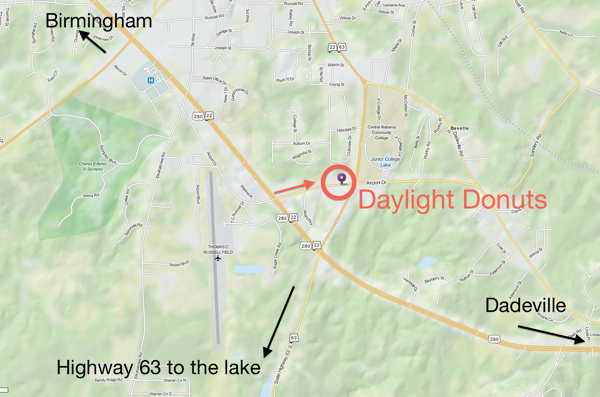 When I stop in, I tell myself its about supporting the local economy and doing blog research for my business. But really, it's just an excuse to get some really good donuts.  If you see my dad around town, ask him about the the apple fritter.  Or he may have already told you: he'll buy a few to take home, and claims that 12 seconds in the microwave results in confectionery perfection.  I know about the 12 second rule because he has mentioned it about 100 times.  And he is a true connoisseur of sweets.  It's got to be amazing.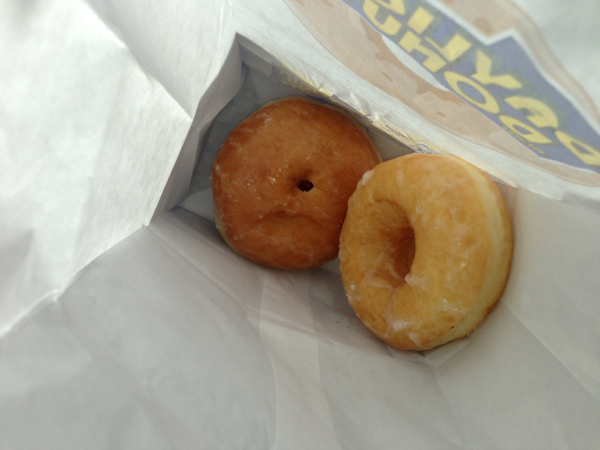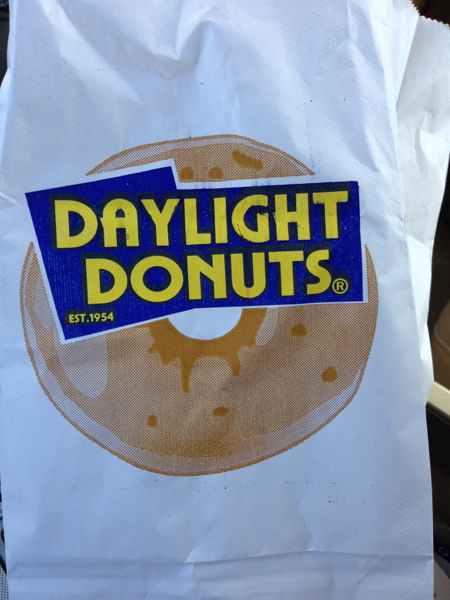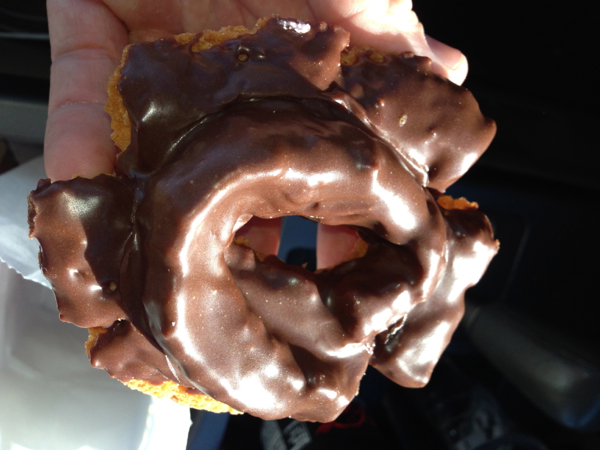 Part of the fun with vacation homes is the journey there and back.  When we visit my wife's parents in Florida, my kids start talking about our mid-way stop at Dairy Queen the minute we get in the car.  At least with donuts, you can have them the next day for breakfast.  Not so with a Blizzard.
If you're looking to buy a waterfront Lake Martin home to go with your Daylight Donuts, give me a call.  I'd love to be your realtor.  (334) 221-5862, or [email protected], or click here to contact me.
For Lake Martin waterfront homeowners and visitors alike, the Lake Martin Forum website is a great resource.  It's an online chat room for Lake Martin people – but not in a weird Craigslist way.  You'll see lots of practical questions and answers: where to go, what to do, what is the best place to find something?
A great discussion took place the other week, and I thought I'd share the question asked and then my response.  I get asked questions like this all the time, so I figure it's worth passing on:
The Question:  My lake house is on a deeded lot near the amphitheater. I recently built a covered boat lift. Last weekend I raked and burned the leaves from our beach area.  A friend of mine, who lives in a Russell development, said covenants restricted him from doing either.
What other restrictions are covered in development properties?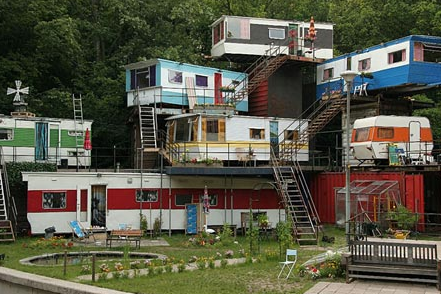 My answer:  This is an interesting discussion. Since you are not in a formal neighborhood with covenants and restrictions, you might not be familiar with other neighborhoods around the lake.
Lake Martin is like anywhere else in that if you buy a home or a lot that is subject to covenants or easements, you have to abide by their rules. Speaking in general for Russell Lands neighborhoods, it is correct that no covered boat docks are allowed.  Examples of these neighborhoods are, but not limited to, Willow Point, Windermere, Windover, Trillium, The Ridge, River Oaks, etc. When I am showing homes or lots in a neighborhood that I know is developed by Russell Lands, I am quick to tell the buyers that they can't build a covered boat dock. The way it's usually written in the neighborhood covenants is something like "nothing which exceeds three feet of the highest water level will be allowed."
Burning leaves – that might be excluded in some Russell Lands neighborhoods, but I just checked the ones I have from Windermere, dated 1973, and I can't find anything in there that prohibits it.  Maybe in other neighborhoods it is prohibited. I don't know. I have seen some rules in others to the effect of "only burn leaves on days permitted by fire department" etc.  (One contributor said that contacting the Volunteer Fire Department in your area is a good idea, and I agree).
The key thing is to read the rules, covenants, and restrictions for each neighborhood that you consider, before you buy. All neighborhoods are different. Also be sure to get the most updated copy, as the original rules might have been amended.
For example, this year I listed a lot of lots in Emerald Shores. Most of them sold but we have a few left. One of the first things I did as the Listing Agent was to get a copy of the covenants and architectural restrictions, plus amendments. Emerald Shores' covenants have three amendments, all dealing with covered docks. Originally they were prohibited. The first amendment allowed them, second overturned it, and finally the third allowed it. So covered boat docks are allowed in Emerald Shores.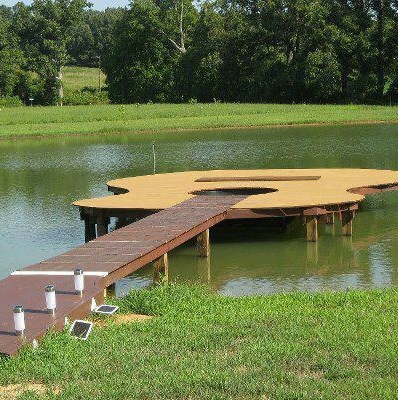 I usually advise buyers to make their offer contingent upon buyer's favorable review of these documents. While I am not a lawyer, my understanding is whatever is recorded is the big deal. So you can research any deed in the courthouse, and it might say, "subject to covenants recorded on Page ABC Book XYZ" – that's when you know to go look up that in the courthouse also.
Another thing to remember is that some parts of Lake Martin are just merely areas, not formal neighborhoods. I have a page on my blog that lists a lot (not all) of them, with links to more information on each. Hopefully this is helpful.
If you're interested in Lake Martin waterfront real estate, give me a call.  I'll do my best to answer your questions, and I will track down the answers for the ones I'm don't know.  I'd love to be your realtor. (334)221-5862, [email protected], or click here to contact me.
http://www.lakesonline.com/Forum/show.asp?id=157197&fid=6EB63121-22CA-4F54-A718-45B4048F320B&tid=157194&SiteID=AL001
The Lake Martin waterfront real estate market is not what most people think of as a cutting edge market. We're a rural second home market in Alabama – dirt roads, people. Does it get any more small town than that?
But small town does not always equal podunk.  You would not believe our real estate reach.  It amazes me all the time.
Last week I received a call from John Wake in Arizona. I had no idea what it was about. Turns out, he has a website called Best Of Real Estate Video.com – where he features the best real estate video folks from around the world. Some are small, boutique agencies in rural second home markets like Lake Martin Voice. Others are huge companies like Corcoran Group in megalopolises like New York.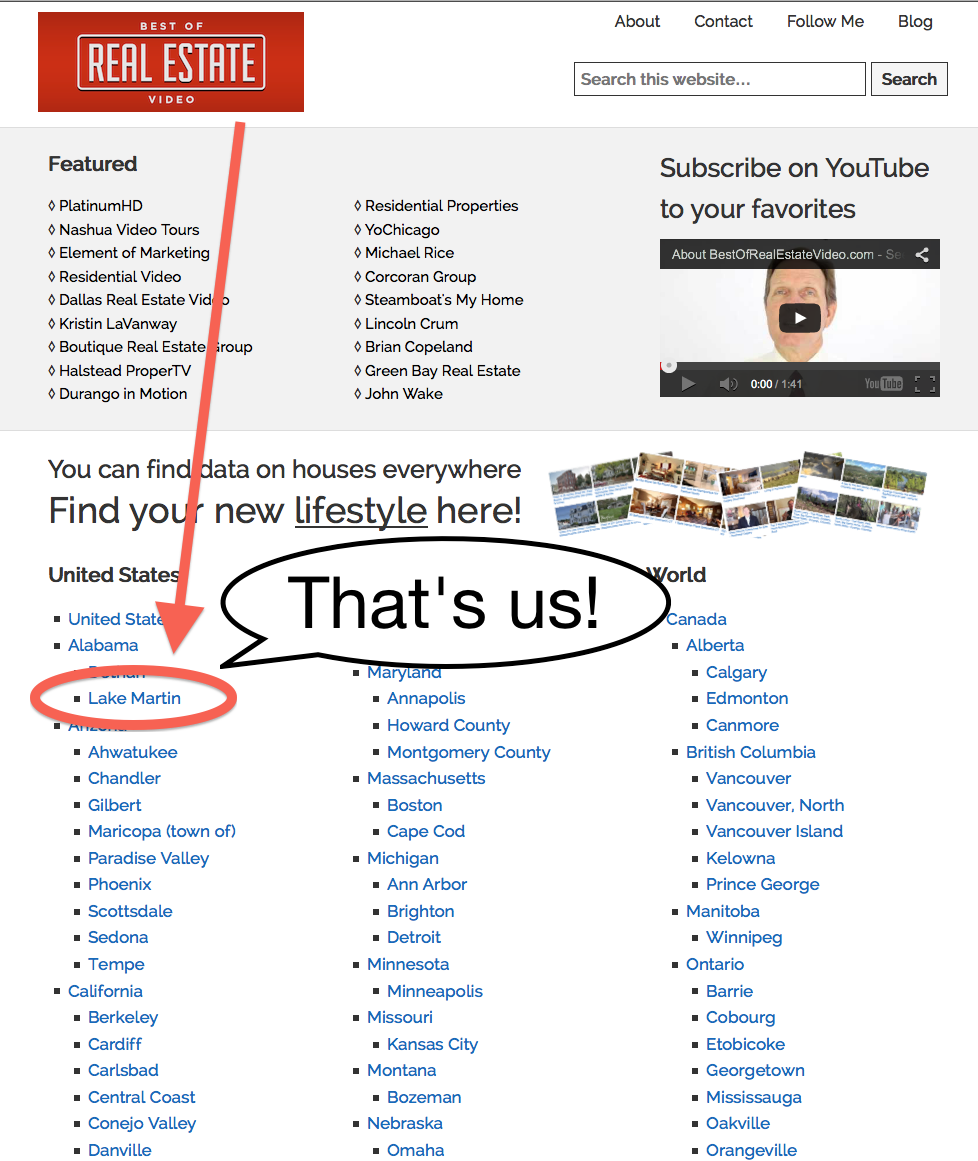 Lake Martin Voice Realty is very pleased and flattered to be included in such an outstanding group. Please check out the site, they have tons of interesting links out there. We especially support their policy of: "I don't consider virtual tours to be videos so Best of Real Estate Videos doesn't include YouTube channels that are mainly virtual tours."
People, if a "video" is just the photos set to cheesy music, it ain't a video. Show me some motion. Show me some context.
Anyway, please check out their link:
http://bestofrealestatevideo.com/
For me, it's an endless source of inspiration. When I am stumped on a subject for my next Lake Martin video, I can go over there and come away with an idea in about 30 seconds!
What is also tells me is that if this guy in Arizona finds great video info about Lake Martin real estate on LakeMartinVoice.com , so do lots of other people – buyers and sellers.  If you'd like to know more about how we can serve you, give me a call at (334) 221-5862, email me at [email protected], or click here to contact me.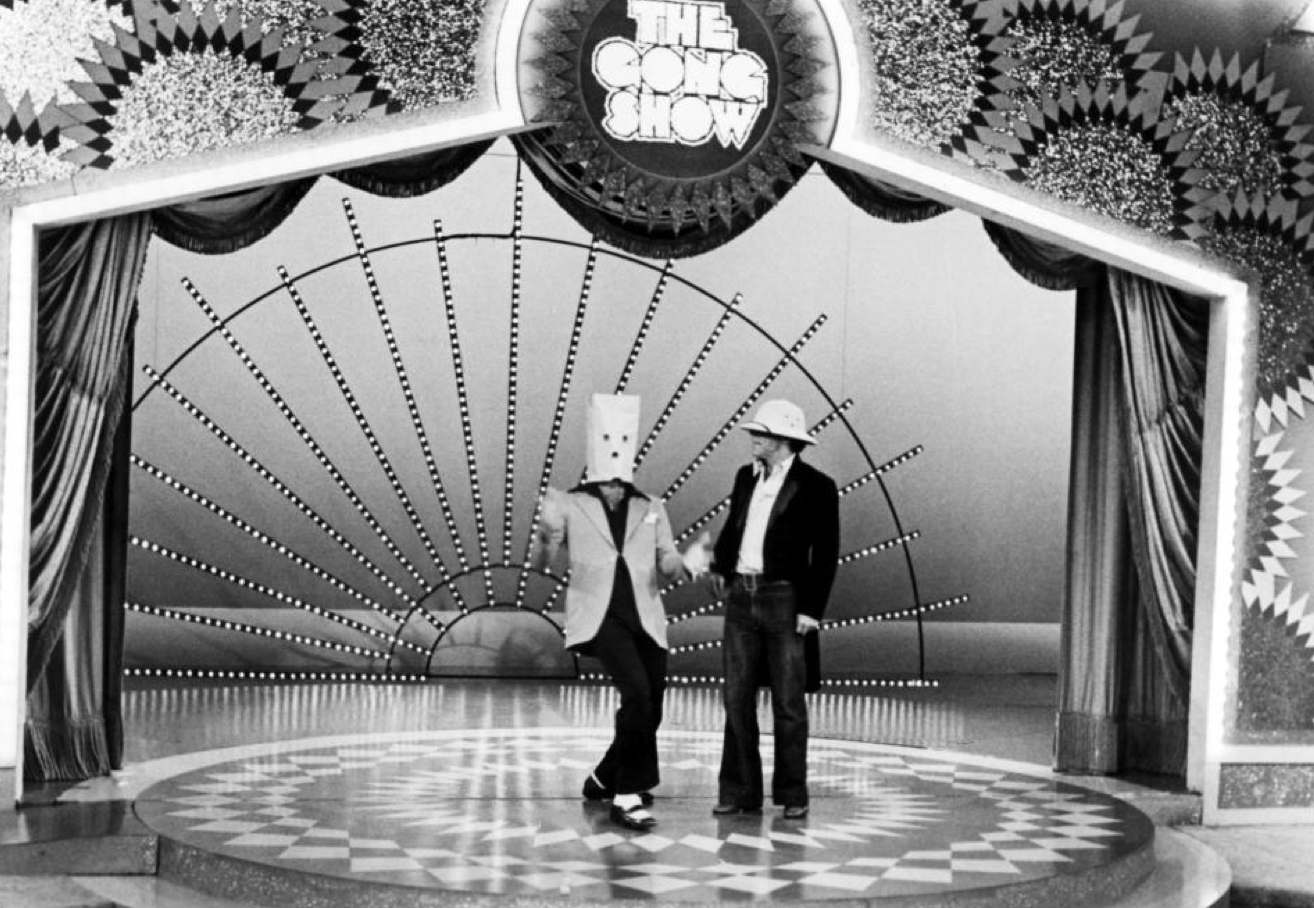 This time of year at Lake Martin creates a question for some sellers in the real estate market.  That question centers around whether or not they should keep their waterfront home, condo, or lot on the market through the winter.
Lake Martin is a seasonal, second home market in a rural community. Most of our real estate sales happen between February and November. Currently, the lake level is drawn down ten feet in the winter. It gets chilly.
So is it worth it to keep your property on the market through the winter? Or should you, as a seller, take it off of the market and let it rest, only to be reborn in spring? The tradeoff seems to come down to Days On Market vs. Anonymity. That is, if you truly want to sell your Lake Martin home, what is worse, having a higher Days on Market in the spring, or not being on the market at all during the winter?
I think it's better to be on the market. That way your waterfront property is in the Lake Martin MLS, all other agents know about it, and your listing agent can legally advertise it. Otherwise no one knows it's for sale.
But on this issue, as with many others, I wanted to test to see if I was a lone dissenter. I recently wrote about the subject in my monthly column for Lake Magazine. In order to get some perspective, I interviewed fellow Lake Martin agents Becky Haynie of Lake Martin Realty, Carl Hopson of RealtySouth Lake Martin, and John Christenberry of Lake Martin Voice Realty.
They agreed with me, and gave some great examples. Here's a link to the article on Lake Magazine's website:
Why Stay On The Market Through Winter?
I guess I am biased since they agreed with me, but I think they are great points.
If you are considering selling your waterfront home, lot, condo, or acreage on Lake Martin, we would love to help you. Please hit the "Contact Us" button below or call at 334 221 5862.
Allow me to introduce you to Lake Martin's first waterfront Passive House.  It's very likely you will love this Blue Creek area home simply because it is beautiful.  But it's also a cutting edge bastion of energy savings that will use roughly 80% less energy to operate than conventional buildings.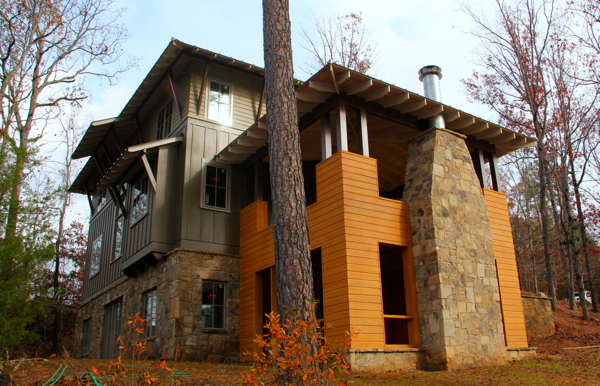 How can this be?  It's a 3 story, almost 4,000 square foot home with huge windows in a hot, Southern climate. There are 5 bedrooms, 4 bathrooms, and two great rooms to heat and cool year round.  Builder Paul Gouin and Architect Bryan Jones are Lake Martin homeowners themselves, and know well the needs and challenges of waterfront living.  What they have created is an awesome melding of science and art – all within steps of the waters of Lake Martin, I may add.
This home is for sale. It can be yours.
I'm the listing agent, so call me (334) 221-5862 or email me ([email protected]) for more information, or CLICK HERE to go to the 205 Old Cemetery Road listing page.  MLS# 13-1168.
So what does Passive House mean?  I'll borrow from Bryan Jones' blog article on the subject. He writes that a passive house has several areas of focus:
A Super Insulated Envelope
Thermal Bridge-Free Detailing
Air-Tight Envelope
Advanced Windows & Doors
Energy Recovery Ventilation (a constant ventilation system instead of a conventional HVAC system that consumes lots of energy)
Efficient Systems (water heaters, appliances, etc.)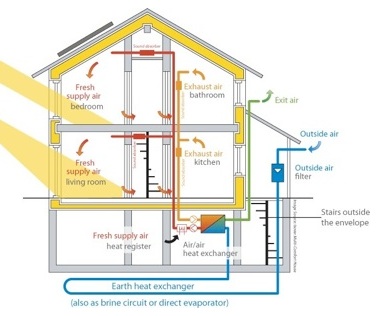 I liked what Bryan had to say about why design like this is interesting to him.  I don't have to be a scientist to appreciate some of the big ideas influencing homes like this:
"What is interesting about Passive House to us?
Pretty houses with real substance – Our passion is designing beautiful site specific lifetime homes for people in context with the surrounding environment.  Sustainability has always been one of our 10 principles that we use to create better homes.  Passive House takes prescriptive sustainability to another level backed by pure building science and performance testing.
Science not a check list – The Passive House design process uses energy modeling of our design and specifications to predict how the design will perform in a particular orientation and climate.  The model returns energy performance data to determine if the house meets Passive House Criteria.  A house designed to meet Passive House Criteria should perform up to 80% better than a typical structure. The process is not clouded by a point system checklist offered by LEED for homes and the  EarthCraft program.
Energy modeling provides data for long term decisions -The Passive House energy model gives us a tool to help our clients make design and material decisions knowing operating cost over time vs. the initial construction cost.
Measured results – Passive House designs uses a 3rd party passive house RATER to perform testing during construction and at project commissioning.  We can verify for our clients that the high performance building that they paid for is performing as designed.
Passive survivability – What would happen if your house had no power available?  Designing a home for as low energy usage as possible along with photovoltaic panels means you could potentially run the house "off the grid" if required by inflated energy cost or by necessity."
Construction is nearing completion.
The home is available for showing.  If you have questions, or find this type of construction intriguing, I'd love to talk to you.  If I can't answer all of your questions, I can hook you up with the experts. Give me a call at (334) 221-5862, email me at [email protected], or click here to contact me.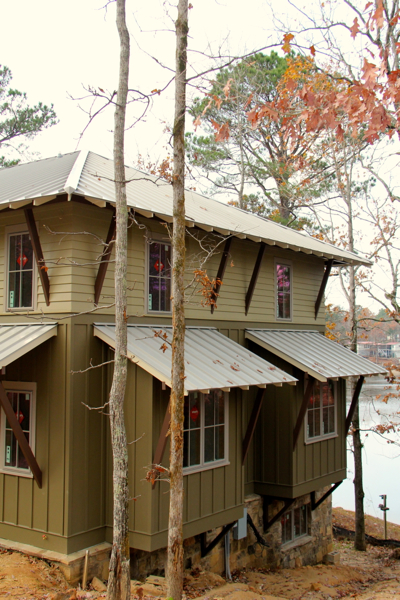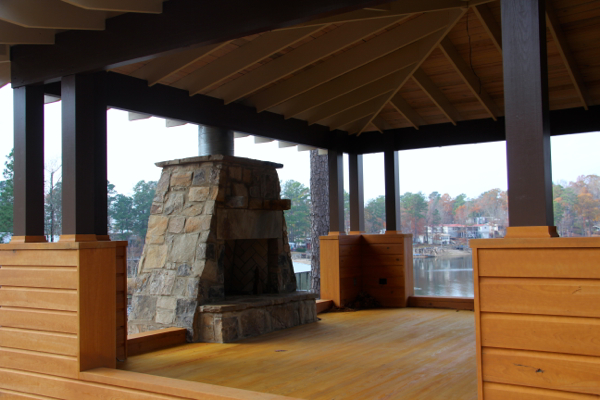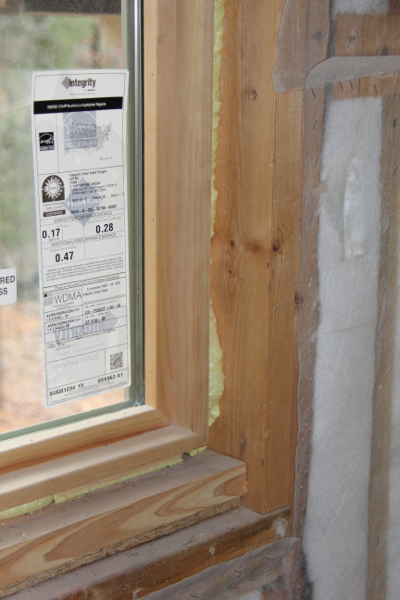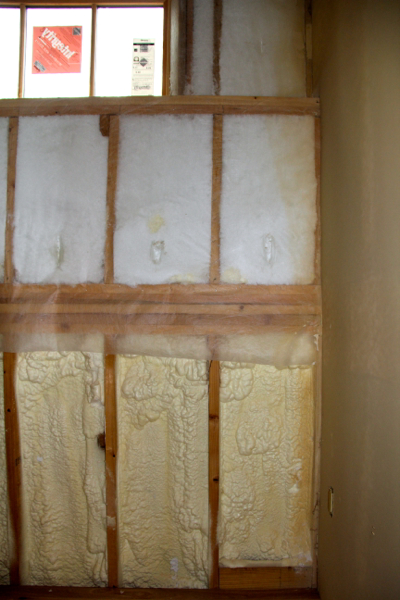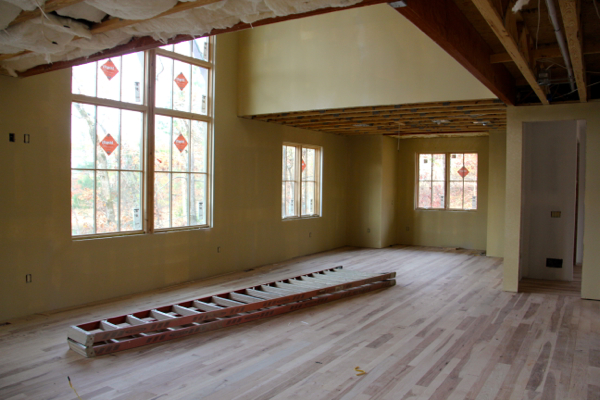 Introductory video for 205 Cemetery Road on Lake Martin: