Archive for the 'Entertainment' Category
If you're not able to be here in person, rest assured that spring has come to Lake Martin and it is beautiful.  It doesn't feel quite as spring-y as I write this post today (April 15, 47 degrees) as it did last week when I took these pictures, but summer will be here soon, no matter.  And it is still beautiful!
I took the pictures below near the Russell Forest Trails.  Hiking is a great spring activity at Lake Martin, and there are really good trails all around the lake.  The Russell Forest Trails allow horses and bikes, as do the trails at Wind Creek State Park.  If you're looking for more of an Appalachian Mountain hiking experience, try some the the Cherokee Ridge Alpine Trail Association's trails on the eastern and southern sides of the lake.  These include high, woodsy paths and waterfront trails.  I've written about the Chimney Rock and Little Smith Mountain trails several times.
If spring has Lake Martin real estate on your mind, give me a call.  I'd love to talk to you about the homes, lots, condos and town homes that are nestled over our 770 miles of shoreline.  Call 334 221  5862 or click here to contact me.
Being an adult sometimes means buying yourself Christmas gifts and acting like they're for the whole family.  I guess it sounds selfish, but it's the truth.  I'm super fired up about my paddle board!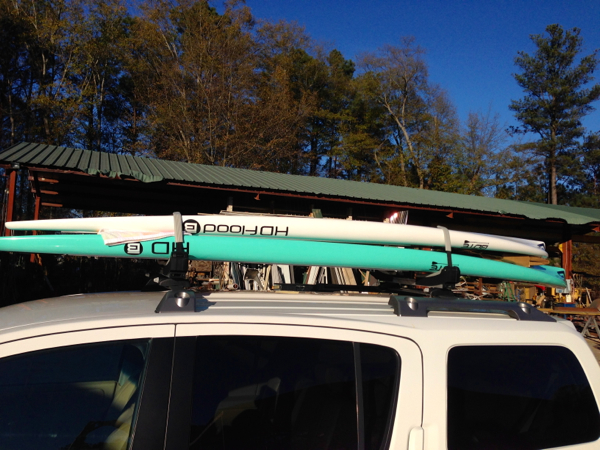 My brother-in-law bought one for his wife, and I got one too.  Sharon at Lake Martin Dock Company made us a good deal on these BOTE boards.  Wil got the white 10'6″ Flood HD for his wife – he thinks it will be well suited for her since she will be paddling with friends as a workout.  I (I mean we) got the BOTE HD, which is 12′ long.  They both are set up for fishing, although we'll probably spend most of the time paddling for fun.  Hopefully I can catch a striped bass with my fly rod from it soon!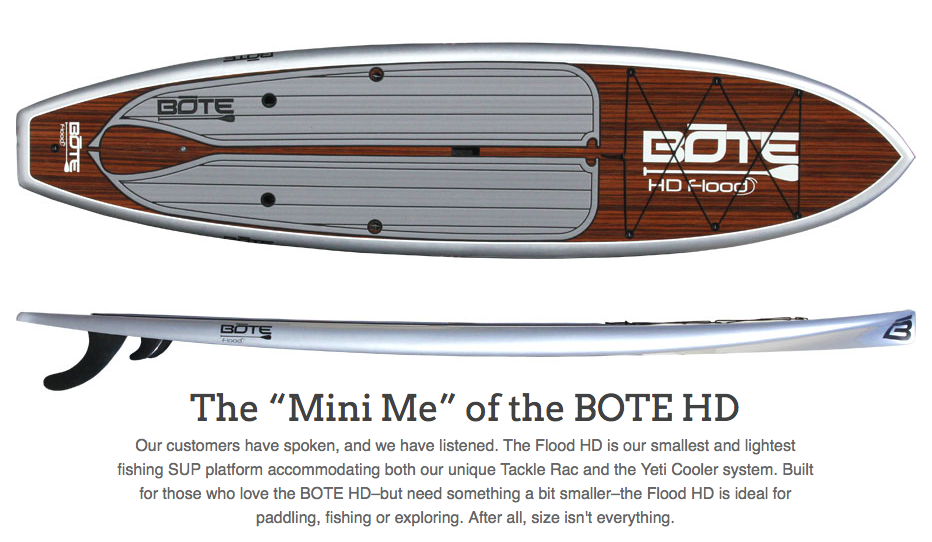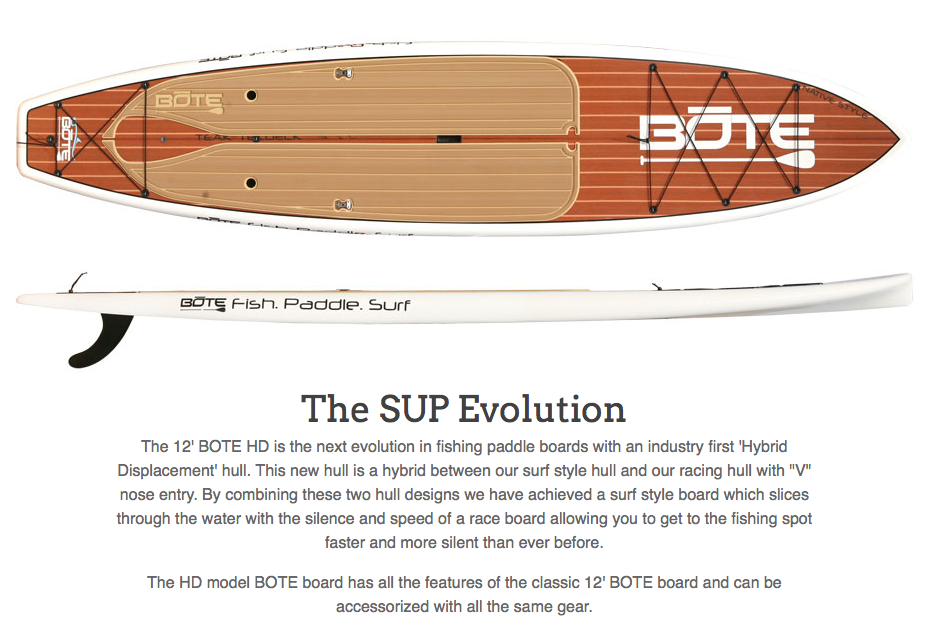 All kidding aside, I do plan on letting the whole family use it, and I actually had to hold my wife back from purchasing a second one.  I definitely see another paddle board purchase in the near future.  Thanks again to Sharon, Lake Martin Dock Company, and BOTE boards.  If you're into paddle boarding, check out the Paddle Lake Martin Facebook page here.  If you're thinking about a purchase, give Sharon a call at (334) 857-2443 and let her know that John sent you.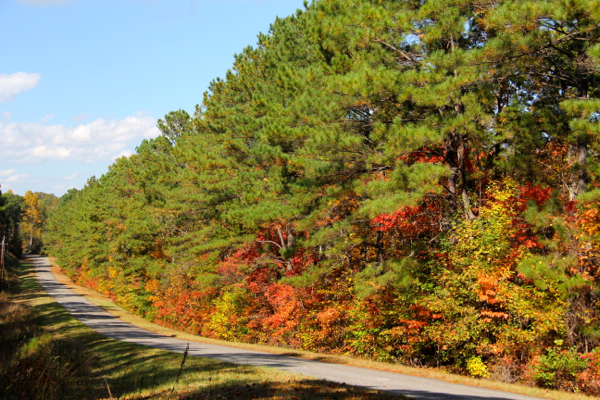 Happy Fall from Lake Martin!
I was driving near Irwin Shoals last Friday – an area considered by many to be the northern most point of Lake Martin – and I took these pictures so you can see the fall colors that are bursting all over the Lake Martin area.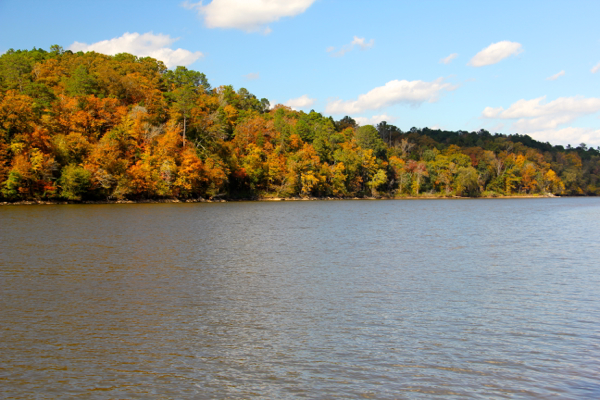 If you've never spent much time at the lake during the fall and winter, let me encourage you to make it a priority.  It's peaceful, it's beautiful,  and there are lots of outdoor things to do (see my hiking links at the end of this post).  Fall is a great time to be at Lake Martin.
In the real estate world, buyers are still out there looking for waterfront property.  History tells us that most Novembers and Decembers don't have many home sales – people are just busy with the holidays, I guess. That being said, I'm about to have a new listing in the Jackson's Gap area, and have had two other Lake Martin homeowners request CMAs today.
If you're thinking about buying a waterfront property, give me a call and let's discuss the year round of appeal of Lake Martin.  If you're thinking about selling, let's talk about ways to use your time wisely and get your home ready to market, either now or in the spring.
For a taste of the outdoor fun at Lake Martin in the fall:
Little Smith Mountain Hiking Trail at Lake Martin
All Trails App Maps the Cherokee Ridge Alpine Trails on Lake Martin
Deadening Alpine Trail on Lake Martin
Yes, the weather was soggy at Lake Martin this 4th of July, but the fireworks at The Amp did not disappoint. If you've never been to The Amp (Lake Martin Amphitheater) to see the show, let me highly recommend it – there's just something about being incredibly close to the booming and bursting that makes time stand still. They're beautiful from the water, no doubt, and there is something so unique about watching the show from the boat.  But if you want to feel it in your guts, try it at The Amp. And barring a monsoon like this year, there's always a live concert leading up to the action.  Thank you, Russell Lands!
Our cabin is close enough to The Amp that we can watch them from our back yard – the occasional shrapnel burns holes in our boat bimini, and our guests sometimes walk away with gray soot on their faces.  But for kids and adults alike, this is thrilling.   Here are a few pictures I took that I think help capture the experience of fireworks at The Amp: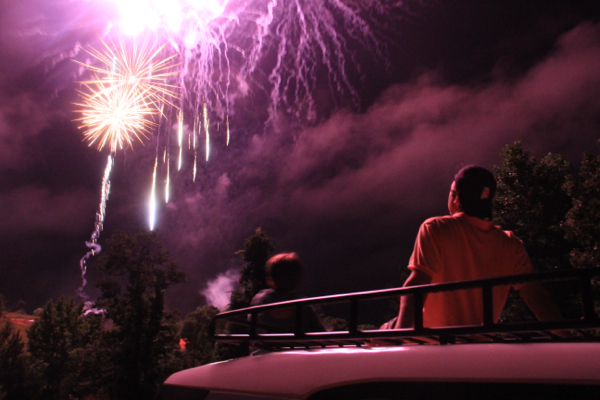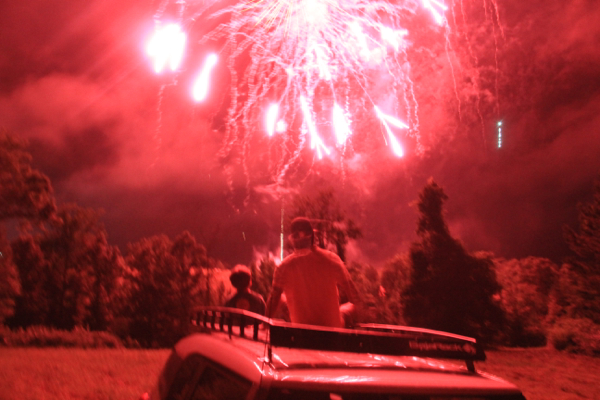 Our friend in these pictures brought his two young sons for their first fireworks experience, and it did not disappoint!  I imagine it will take a lot to wow these boys with fireworks in the future. Sparklers will no longer suffice.
In addition to fireworks, The Amp holds concerts throughout the year.  Click here to check out their website and schedule.  Some are ticketed events, but the fireworks are free!
If you'd like to invest in Lake Martin and add 4th of July fireworks at The Amp to your family's list of yearly traditions, give me a call and let's talk waterfront real estate. I sell Lake Martin full time, 100% of the time, and would love to help you with your search.  Call me at (334) 221-5862, email me at [email protected], or click here to contact me.
Here's a video of the finale of the Lake Martin Fireworks show for Independence Day 2013. The fireworks were provided by Russell Lands, and shot at The Lake Martin Amphitheater.
The fireworks show was originally scheduled on July 4, of course, along with a concert, as in prior years. But the Lord decided differently, and sent a rain storm that caused the show to be postponed until 9 PM on Friday, July 5, 2013.
As always, we at Lake Martin Voice Realty thank Russell Lands and The Amp for a great fireworks show! It looked great from the ground, and I am sure folks in the thousands of boats on Lake Martin enjoyed it, too!
We at Lake Martin Voice Realty give thanks to Almighty God for allowing us to live in America, blessing Her with another birthday, and we fervently pray for revival within and without the USA!
Russell Lands has postponed their Fourth of July Fireworks show. They shoot the fireworks from The Lake Martin Amphitheater on Friday at 9 o'clock.
According to their release:
"The weather has forced us to postpone The Amp event originally scheduled for tonight. The fireworks will take place at The Amp tomorrow night, Friday, July 5, at 9pm. Unfortunately, we are unable to include the concert portion of the event because of the artists' existing bookings. Everyone is welcome. No ticket purchases are required. If the weather forces further event schedule adjustments, you can find them on our Facebook pages."
June 8, 2013.  The Lil' Calypso Art Festival at Chuck's is a really fun Lake Martin event.  First of all, it's at the well known Chuck's Marina in Blue Creek, so there's pizza and live music.  Second, there's a broad, diverse group of artists represented – from t-shirt  and Lake Martin knick-knack vendors to what I consider to be serious artists, both painters and sculptors. I've videoed a few of the booths in the video below.
This is pretty famous Lake Martin annual event they do as a fundraiser for the Union Volunteer Fire Department.  It's the first time I've been in several years, and the parking is tight, but they have a shuttle to take you back and forth to your car.  You can check out Chuck's Facebook page for info on their events throughout the summer.
If you're not familiar with the restaurant side of Chuck's Marina, Chuckwalla Pizza, here's a quick video I shot about it several years ago:
The Blue Creek area is a really fun area of Lake Martin – lots of restaurants, marinas, and landmarks.  If you're interested in finding a home in the Blue Creek area – or any waterfront area of Lake Martin – give me a call at (334) 221-5862, email me at [email protected], or click here to contact me. 
 If you're not on the water at Lake Martin, hiking is another activity that's a lot of fun.  I've posted several times on the Cherokee Ridge Alpine Trail Association's (CRATA) hiking trails that branch off of the Scenic Overlook on the south side of the lake.  CRATA is responsible for the explosion is quality hiking trails at the lake – these are not the wide red-clay and gravel hiking trails (that are more like roads) that you find on the western side of the lake.  These are amazing alpine trails that instantly transport you to real mountain hiking vistas, combined with large swaths of waterfront footage.
My family hiked the Chimney Rock Loop over spring break, and as we were leaving, we ran into CRATA guru, Jimmy Lanier.  Mr. Lanier told us about a new trail they were currently constructing on Smith Mountain (eastern side of Lake Martin).  There is already a Smith Mountain Alpine Trail that begins at the base of Smith Mountains and ascends to the Smith Mountain Fire Tower.  If you haven't climbed the restored Smith Mountain fire tower, put it on you 2013 Lake Martin To-Do List.  The views are incredible.
Mr. Lanier said that CRATA is creating another new trail there – The Little Smith Mountain Trail – and volunteers were needed to, literally, pave the way.  Two weeks later I spent the morning with a group of volunteers digging out a portion of this new trail.  The trail's route was already marked, so we used the yellow tools you see in a picture below to dig up the ground and make the trail flat and hike-able.  It's not a technical job, but there is a little artistry involved.  The other volunteers knew what they were doing and helped me refine my craft – although I was a good bit slower than the rest of the crowd.
I'm not sure if this new trail is open to the public yet, but when it does open, I'm there.  For more info on hiking at Lake Martin, go to CRATA's website.  They have some beautiful pictures they've taken along their trails, histories of these trails, and info for hikers wanting to check them out in person.
Our crew heading out to dig: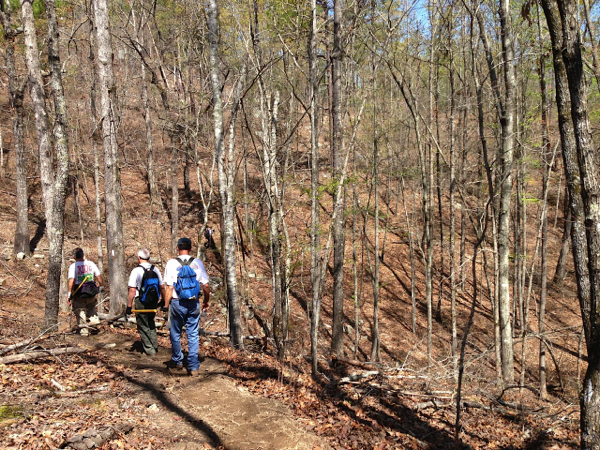 These are the tools we used to dig the trails: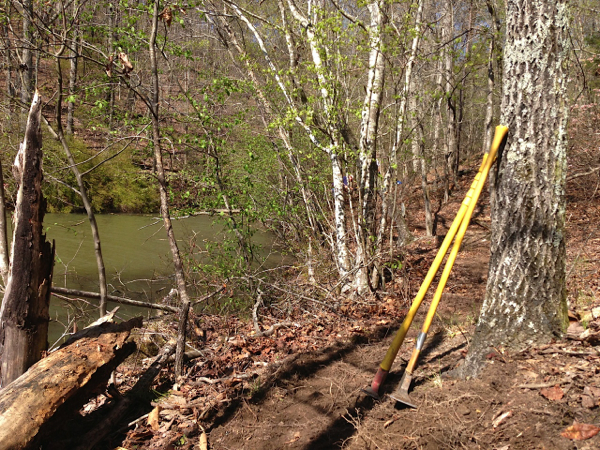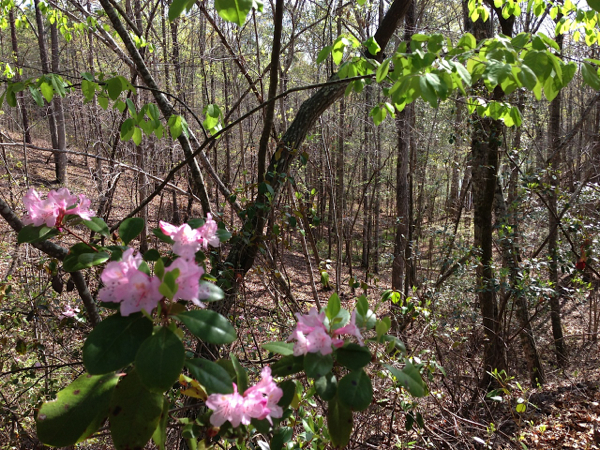 I'm not a professional trail blazer, just a Lake Martin realtor who likes to hike, so I'd love for you to call me with questions about waterfront real estate.  (334( 221-5862)
Attention Lake Martin Paddle Boarders and Paddle Boarding Fans:
Grab your boards and join us for a race this Saturday, May 11th at Children's Harbor.  If you've been part of a paddle board race at the lake before, you know you're in for a good time.  If you've never been to a paddle board race, or you don't own a paddle board, come see what it's all about.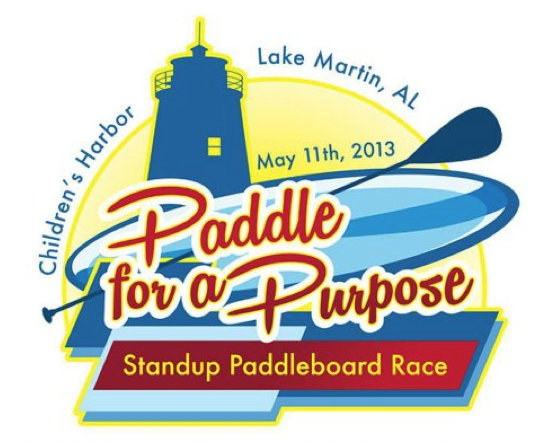 It's a race, for sure, but it's also a laid back, family-friendly event that all ages can enjoy.  My nine year old son hopped on a borrowed board last year at the Castaway Island race, and completed the 1 mile course with no trouble.  I've even seen racers do the course with a kid on the front of their board!  There is a $40 entrance fee, but you get a t-shirt, gift bag, and post race lunch, PLUS the proceeds benefit Children's Harbor, so you know that money is going toward a great cause.
Racing is set to begin Saturday morning around 9:00 am, with a pre-race meeting at 8:30 am.  There is a 1 mile and a 3 mile race, with trophies for the top three finishers in each category, plus door prizes.  Lake Martin Voice Realty is a sponsor, so I'll see you there!
For all the scoop, click on the links below:
Children's Harbor Facebook Page
Paddle for a Purpose Active.com website
Lake Martin Voice Realty agent, John Christenberry, won first place in the Fowl Division of the Lake Martin chapter of the Alabama Wildlife Federation's Wild Game Cookoff.  He and Paul Barry put together a wild turkey flatbread pizza that wowed the judges! I wish I could take some credit for his success, but my only contribution was the sign in the background.  So congratulations, John and Paul!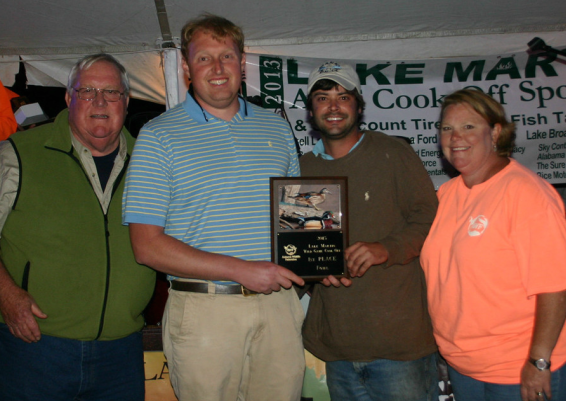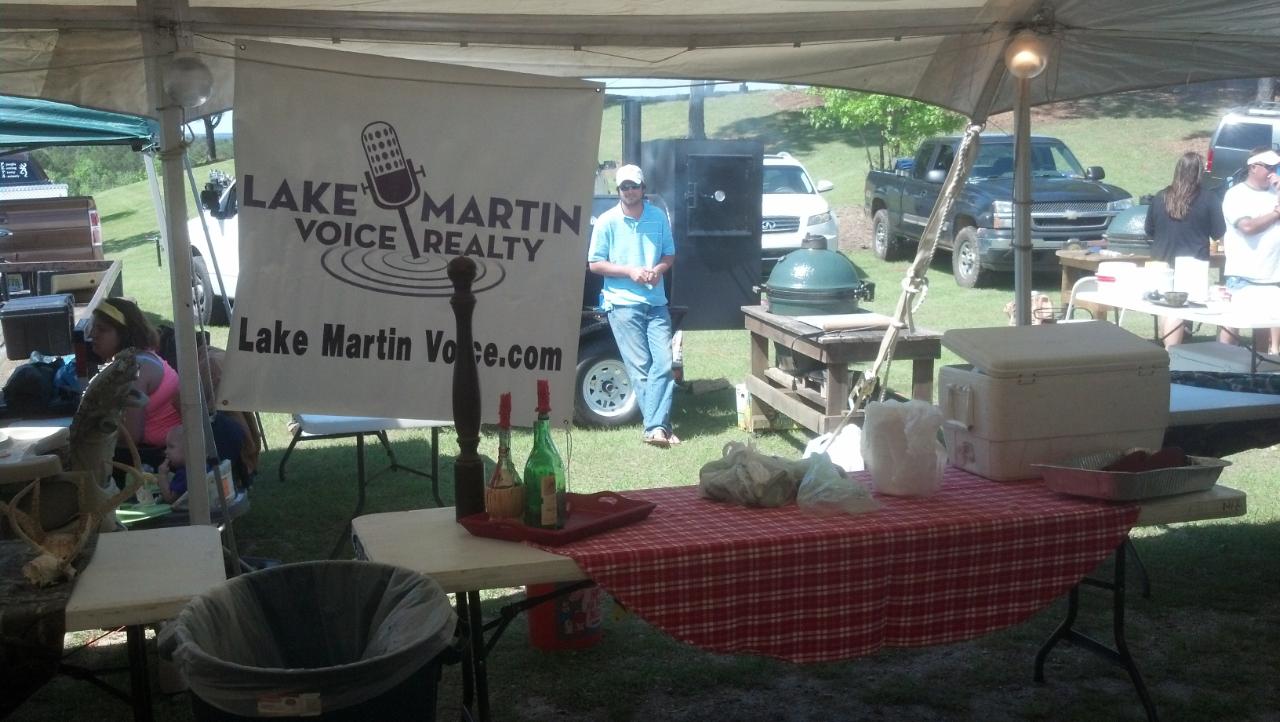 Christenberry is known hither and yon as a great cook.  I won't say that's his best skill, as he is a great Lake Martin agent as well.  One time he a drove a crock pot full of red beans and rice in his boat over to my cabin – it was awesome!
Flush with victory, his fans have talked him into another AWf contest.  If you are attending the Central Alabama chapter of AWF's cook off in Prattville, stop by his tent and sample his wares.