Archive for the 'Events' Category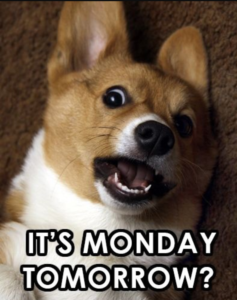 So how do you feel about Mondays? Maybe a free boating clinic at Blue Creek Marina on Lake Martin would help with Monday blues!
One Monday a month from now thru October, captains from Blue Creek Marina will focus on a different boat type to help you learn to safely operate and dock your boat.
Registration is required. Space is limited. Hours for the clinics are 10 a.m. to 3 p.m. Call Jennifer or Nicole at Blue Creek Marina to reserve your free spot. 256-825-8888.
Snacks and bottle water provided – bring your own lunch.
See the schedule listed below.
Pontoons:
March 6, April 3, May 1, June 5, July 10, August 7, September 11, October 2
Towboats:
March 13, April 10, May 8, June 12, July 17, August 14, September 18, October 9
Sterndrives:
March 20, April 17, May 15, June 19, July 24, August 21, September 25, October 16
If you would like the best app for Lake Martin, Alabama, complete with events, eats, home search, and landmarks, please see my Lake Martin Voice App. It's free! Just search "Lake Martin Voice" in the app store.
It is no secret that I love to fish for striped bass at Lake Martin.  And I am always looking to improve my game.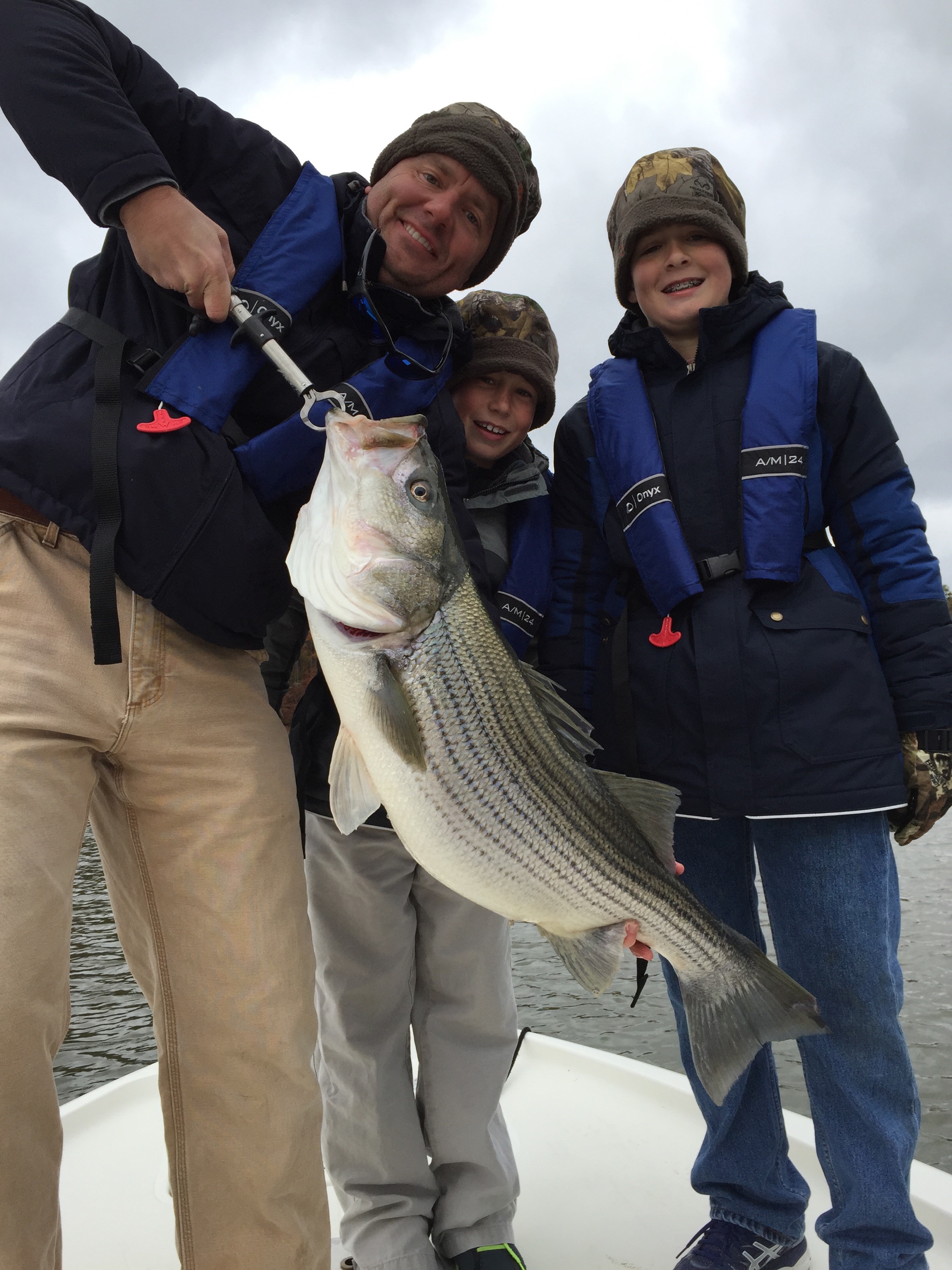 This picture from a few years ago was taken here at Lake Martin in the Fall and yes it was chilly. Here it is March and it is time for a March report from David Hare.
I always pay attention to David Hare's striped bass reports. David is the owner and head guide at Alex City Guide Service.
Please see his report for March below. Also pay attention to the Striped Bass Class (bet you can't say that fast without laughing). The class is March 25 – it is a great opportunity to get some help with catching striper.  Click here for more information about the class.
I also pay close attention to David's Facebook page.
If you have any questions, please contact David directly at:
Alex City Guide Service
Captain David Hare
256-401-3089
[email protected]
Lake Martin Striped Bass March Report, by Captain David Hare
Sitting here on 2/08/17 trying to give you a March report! Well I'm going to tell you what should be happening based on past years of guiding here and living on this lake.
March is a month that you could find stripers on most any part of the lake, however some of my favorite places in March are in the creek channels for example: (but not limited to) Elkhatchee, Blue Creek, Big Sandy, and others. Creeks do not hold all the stripe by any means but for me they produce very well. The next several weeks (12-14 weeks) you can have lots of fun fishing creeks for trophy size stripers. In fact a couple years back on March 13th one of our guides boated a record 52 lb. 'er at the mouth of a creek channel. That same day we had several fish in the 30 to 40 lb. range. That being said – March produces monsters.
I know, I know I haven't told you what to fish with or how? It's no secret that we (Alex City Guide Service) specialize in live bait fishing which for most people is a very challenging way to fish due to catching shad and not to even mention being able to keep them alive, so what you can do is go out and catch you some bream on a hook and line, keep them alive and go right then and fish them on planer boards in these areas. Take your time and your patience and work creek areas and you just might be surprised at what you catch.
Say that sounds like a lot of work, time and trouble? Well that's when you just pick up the phone and call me to book a trip of a lifetime. We are considered the go to guide service on Lake Martin and year after year we entertain thousands of clients and produce some of the best catches in the South.
Now for you anglers that want to learn techniques to be able to catch stripers on most any striper lake we have a seminar here locally on March 25, 2017. This seminar is going to focus on live and artificial baits, locating fish, planer boarding, downlines, trolling, tackle, rigs and rigging, gear, electronics training and more ….. Pro's Capt. Cefus McRae of Nuts & Bolts of Fishing, Capt. Mack Farr of the popular Capt. Mack Umbrella Rigs and Tackle, and myself – Capt. David Hare, owner and guide of Alex City Guide Service on Lake Martin are going to be giving presentations. This seminar is a must for the novice and an eye opener for the most advanced striper fisherman. It starts at 9:00 a.m. and ends at 3:00 p.m. Lunch is included and there will be door prize drawings. It's a no brainer when you get all this at only a $75.00 admission fee. For reservations and more info contact Capt. Cefus McRae by logging on to Nuts & Bolts of Fishing 2017 Seminar Series. Seminar will be rain or shine inside the Alexander City SportPlex Cabin. 

Until next time tight lines!
Capt. David Hare
256-401-3089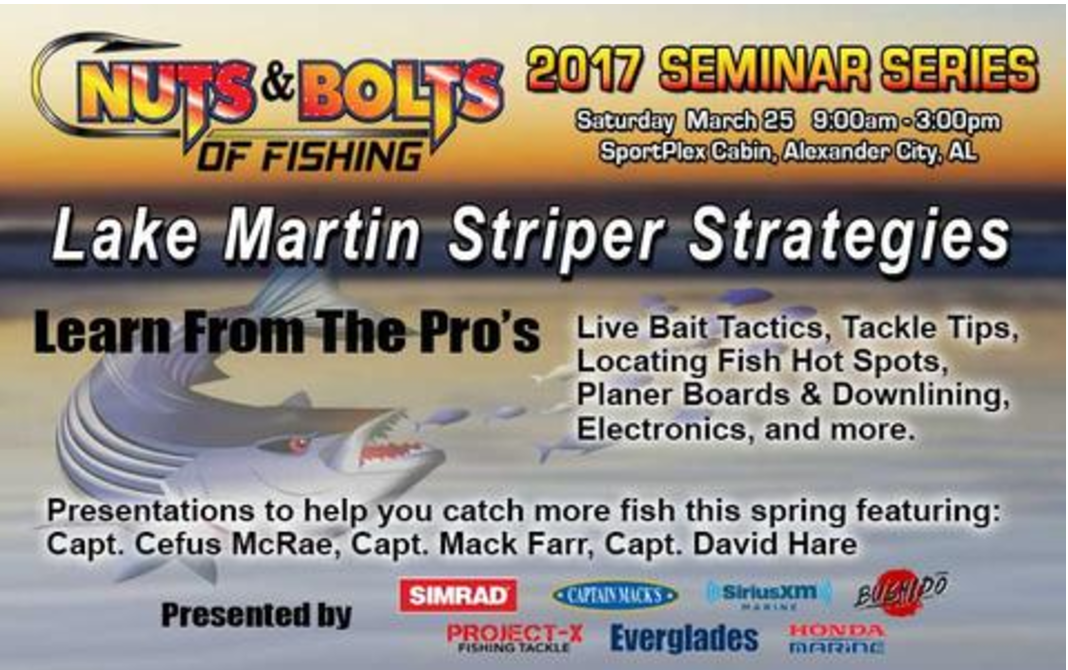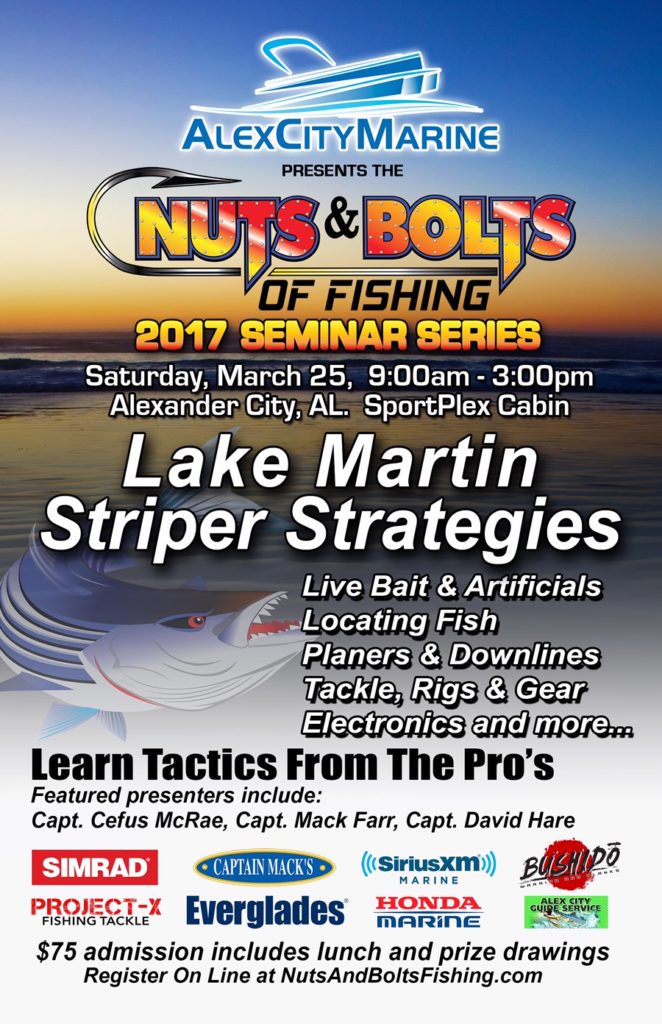 The Nuts & Bolts of Fishing Seminar – Springtime Striper Strategies on Lake Martin on Saturday, March 25 is a full day live, interactive seminar focusing on targeting and catching stripers this spring.
Nuts & Bolts of Fishing seminars provide the 'nuts and bolts' of what anglers want to know and need to know to become more successful on their regional lakes and reservoirs. This event will highlight striper fishing on Lake Martin.
The presentations include:
Getting the Most from your Electronics
Tackle, Tactics and Rigs
Locating Fish
And more – plus there is a Q&A session with the Pros at the end of the day.
Admission is $75 and includes lunch and prize drawings.
Location is the SportPlex Cabin at the Bailey Sports Complex in Alex City.  Click here for directions. Saturday, March 25, the doors open at 8:30 a.m. and the event takes place from 9 a.m. to 3 p.m.
I don't have a fishing boat and mostly fly fish for the striped bass here on Lake Martin. However, I am always curious about how the bait fishermen and those who use conventional tackle go about it. I asked Capt. McRae a couple of questions that I think you might like.
Q: I have heard that the first step in finding striped bass is to find the bait. Do you agree?

 

Striped bass are a nomadic fish. They don't have a 'home', like largemouth bass.   Instead, they follow the kitchen. Stripers have to eat a lot because they are always on the move.   So, yes…find the kitchen, and the stripers won't be far away. But finding bait doesn't always mean there will be stripers ready to eat.  Obviously there has to be lots more bait in the lake, compared to the striper population…otherwise, they would eat it all up in a few days. So another way, especially in the winter and early spring, to locate actively feeding gamefish is to look for the birds. Seagulls cannot dive under water to get food, like loons for instance. They depend on stripers to push the bait to the surface for easy pickings by the birds. Locate whirling, diving seagulls and you've found the mother lode.

Q: I am mostly a fly fisherman. Will your seminar be covering any tips that I could use?

 

The content would definitely be beneficial. We don't necessarily have a full length presentation on fly fishing, or specific flies and streamers to use but…. the same techniques we use for pulling planer boards can work very well for the long-pole angler. Fishing on an overcast day in the winter, when the fish have the freedom to be anywhere in the water column, will keep the fish close to the surface for the fly angler. Sinking lines and streamers that mimic herring or shad will work really well. The key is locating them. And location is exactly what Capt. David Hare will be sharing. Stripers will come from great depths to take a fly, but they have to know it's there, and they have to be ready to eat. Fishing the upper Tallapoosa in the spring where the water is only 6 to 10 feet deep is a prime example of a great place to fish. And it's the same places we pull planer boards. The baits behind the boards are only a few inches to a foot deep and the stripers will explode on them. It's quite a sight. We also throw a lot of small bucktails for stripers on Lanier and Hartwell. When they are zoned in on small shad or threadfin herring, we use crappie minnows and small bucktails. Essentially matching the hatch. We do a lot of fly fishing on Lake Lanier in the winter and early spring using those same tactics and it's extremely fun and can be very productive.
This sounds like a great way to learn more about striped bass fishing here on Lake Martin. And it's perfect timing for the Spring!
Register online at NutsandBoltsFishing.com.  Seating will be limited, so be sure to sign up early!
Questions? Contact Capt. Cefus McRae at 404-402-8329 or [email protected]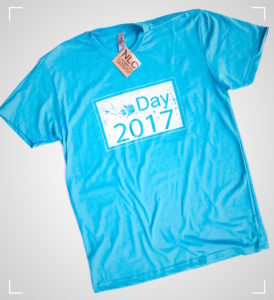 Lake Martin's Plug Day- March 1, 2017! Win This T Shirt!
 The official start of Lake season is here!
For a chance to win this shirt:
1) Download the FREE Lake Martin Voice app (if you haven't already).
2) Take a screen shot from your phone showing that the app is installed.
3) Email me: [email protected] or post it on Instagram and tag me (@LakeMartinVoice) ! I'll draw a winner from the submissions!
Here at Lake Martin the day that Alabama Power starts filling up the Lake is known as Plug Day. We look at it as the official start to spring and lake season. This year the lake has been coming up a few days early anyway, so we've had a head start!
Celebrate with me – watch the water level rise, come to the Lake, it is time to start playing! Oh and why not go for a chance to win this t-shirt, made by local artisan North Lake Crafted!
I created my app to keep you up to speed about all of the fun events at Lake Martin along with a list of the area restaurants, shops and marinas  – and home search !
Most importantly for now – to watch the water level at the Lake, download the FREE Lake Martin Voice app!
Are you wondering why and when Lake Martin water level changes? Here's a link to everything I have written about the Water Level at Lake Martin.
I don't make T Shirts or apps for a living. I sell waterfront real estate here at Lake Martin. I'm John Coley and if you'd like help buying or selling, please call me at the number at the top of the screen or Contact Me Here.
Renew Our Rivers – Lake Martin / Tallapoosa River clean up days are Friday, November 4th and Saturday, November 5th.
Come one – come all!  Help keep Lake Martin beautiful!  Every year the Renew our Rivers event gives you the opportunity to make a difference.  Volunteers assist in roadside and lake shoreline cleanup.
Volunteers should report at 8 a.m. each day to the Wind Creek Park Marina, Kowaliga Boat Ramp or the Blue Creek Marina.
According to John Thompson (one of the organizers of the event) over 290 volunteers were involved last year to fill more than 400 bags which weighed over 6 1/2 tons!  How about those numbers? (Click here to read more about Renew our Rivers 2015)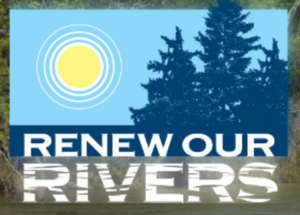 Renew our Rivers 2016 for our area is coordinated by Alabama Power, the Lake Martin Resource Association, Russell Lands, Advanced Disposal, Wind Creek State Park and TowBoatUS Lake Martin.
Alabama Power's Shoreline Management staff is hosting a Public Education Open House on Friday, October. 21. The event will be held from 11 to 2  in the Creekside Lodge Event Center in Dadeville.
Shoreline Management staff will discuss how the permitting process works for shoreline structures such as boat houses, docks/piers and seawalls, and answer any questions. Lunch will be provided.
This will be a great way to learn about the shoreline permitting at Lake Martin.  Hope to see you there!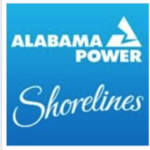 Click here for Alabama Power Company's Shorelines website.
Click here for Creekside Lodge Event Center google map.
A reminder for you to take advantage of the free Driving and Docking Clinics being offered by Singleton Marine at Blue Creek Marina – lots of dates remaining!  I wouldn't want you to miss the boat!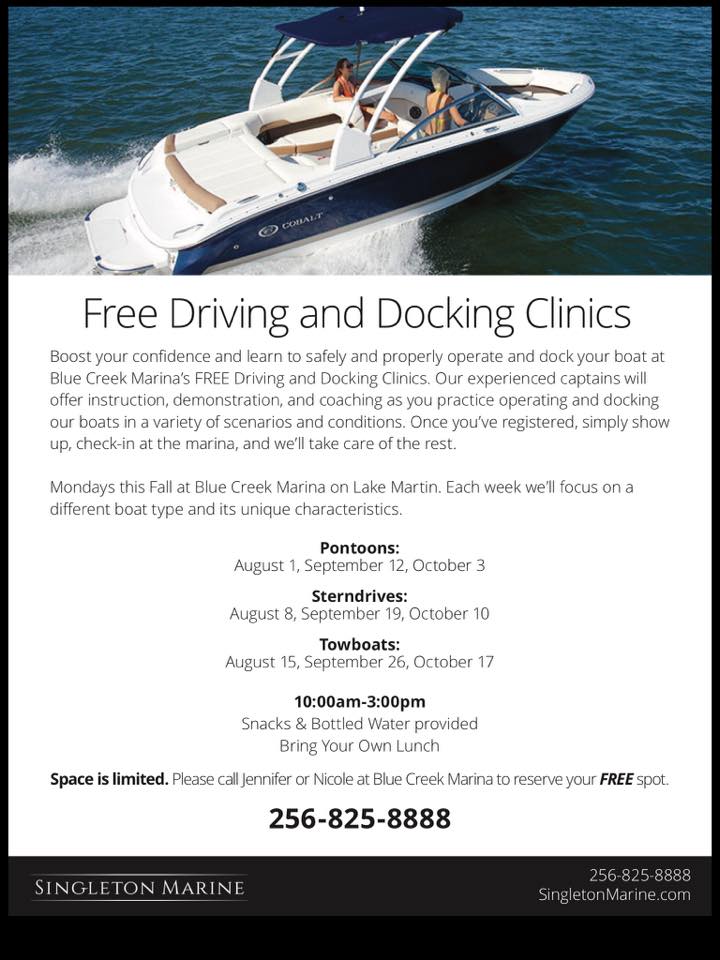 Blue Creek Marina is located at 7280 Hwy. 49 (aka Stillwaters Hwy.) in Dadeville.  Click here for the Google Maps location.
For other events around Lake Martin download my free app:  http://lakemartinvoice.com/app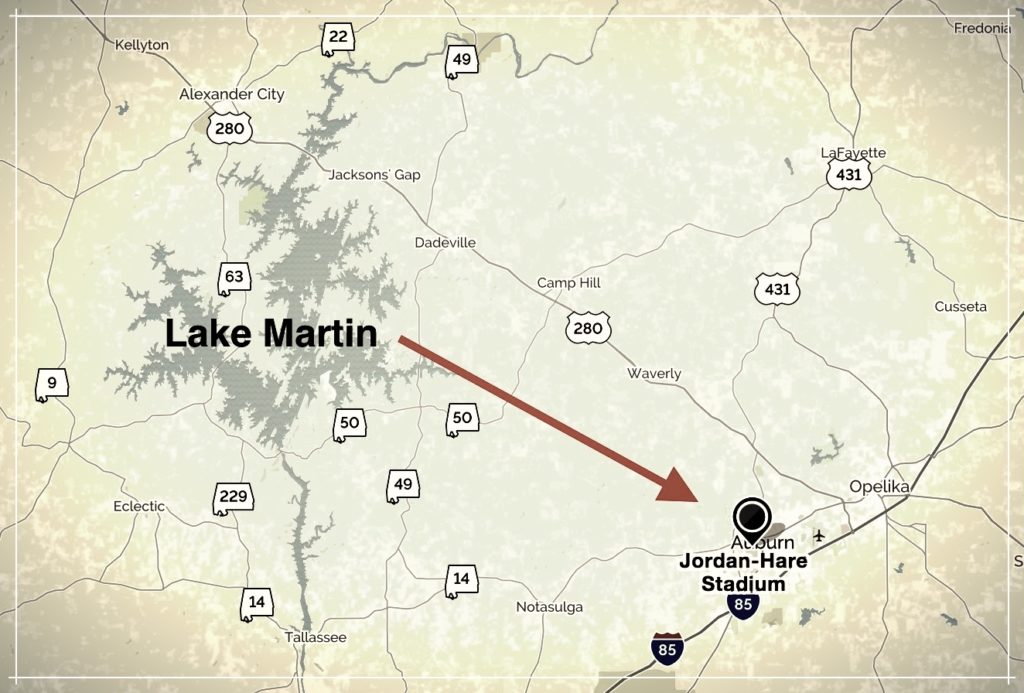 Do people stay at Lake Martin for Auburn games?  I believe the answer is YES. The Lake is a such a short drive to Jordan-Hare Stadium.
According to an article published earlier this month in Alex City Outlook (click here to read) Auburn home football games make a big impact on the economy around the Lake Martin area. Local merchants, businesses and restaurants report increased revenue for home game weekends.
And rentals at Lake Martin are popular for football weekends – enjoy the game in Auburn on Saturday and the Lake on Sunday!  What could be better?  (besides a winning season).
Even if you don't plan on going to the Auburn football game, if you are coming to look at waterfront real estate, it affects you, too.  As an example, I recently had a couple from Atlanta coming in to look at some homes and lots on Lake Martin.  They happened to be coming on a football weekend, and hadn't made any reservations.  Most of the local hotels around the Lake were booked up!  So it always pays to think ahead, even if you are not a football fan.
Since we are talking about Auburn and Lake Martin … were you one of the few that missed Auburn's kicker, Daniel Carlson's, Instagram video from this summer?  He and teammate Will Hastings were at Lake Martin "working hard in the offseason."  Click here to see the video and read the article from AL.com.
Whether or not you Roll with the Tide, yell Waaarrr Eagle, scream Go Vols, support the Bulldogs (Mississippi State or Georgia), geaux with the Tigers, get fired up about the Gators, Gamecocks, Razorbacks, Rebel Black Bears or any other team – enjoy the Fall with Faith, Family, Friends and Football!
The Wakeboard Clinic at Blue Creek Marina this summer was fun!  If you hear about one of these events at the Lake – GO!  It is the perfect activity for a warm summer day and the clinic is open for all levels of experience.
And in case you were wondering – the answer is no, that is not me showing off my awesome wakeboarding skills.  But my sons did learn some new acrobatic maneuvers and we want to say a big THANK YOU to Singleton Marine on Lake Martin for hosting the Liquid Force Wakeboard Demo Clinic at their location – Blue Creek Marina.
If you want to know about events around Lake Martin be sure to sign up for my free app!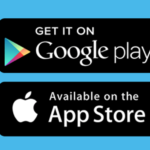 The Lake Martin Voice App is available
on the Apple App Store or on Google Play.
Thanks again to Singleton Marine – Blue Creek Marina!
Come have some great family fun at the Cornhole Tournament being held at The Landing at Parker Creek – Lake Martin on Labor Day Monday, September 5th at Noon!
No entry free!
Cash prizes awarded per team!  1st place – $200, 2nd place $100, 3rd place $50!
What? You've never played cornhole? Just learn a few cornhole terms and you will be yelling "Let's toss some!" before you know it.  For starters a slider is when the bean bag (or bag filled with corn) slides into the hole.  A swish is when the bag lands straight into the hole.  A Sally is a toss made a little too short – it lands on the ground before reaching the actual board.  And an Eddie the Eagle is when the bag goes beyond the board without hitting the board.  Oops.
Let me end on this note – like Herb Winches, owner of The Landing and longtime Birmingham sportscaster likes to say, "Hit 'em straight!"