Archive for the 'Buying Tips' Category
Despite all of the technology we use, real estate is still a very personal business.  Sure, I like to use all the latest bells and whistles, and have even been guilty in the past of trying new technology that didn't really work.  But one thing that always works in this business is being a good servant.
We at Lake Martin Voice Realty are very fortunate that some of our customers and clients allow us to video their testimonials.  While I will admit a big reason they do this is because it helps me, I will say that other buyers have told me these testimonials help them in their own real estate ventures on Lake Martin.  I'll never turn away an on-camera compliment, but my true goal is to capture a tip that might help you.
Here's our Testimonials Playlist which is nothing more than a collection of videos on YouTube.  These short videos will appear one-after-another in the box below.
Client Testimonials for Lake Martin Voice Realty:
If you have any real estate tips, even if you didn't use us, we'd love to hear them!  Comment below.  And if I can help you with a waterfront purchase or sale, please give me a call at (334) 221-5862, email me at [email protected], or click here to contact me.
By the way, I have other playlists, too:
How to Search the Lake Martin MLS:
Lake Martin Community Info Videos:
Lake Martin Neighborhoods:
Home Tours – Lake Martin Waterfront Homes:
Private Video Home Tours (for clients only)
All indications are holding true that 2013 waterfront home sales are following suit with 2012, with many homes selling. In 2012, we saw the second best year in number of homes sold, topped only by 2005.
Naturally, people are asking questions like, "Where are all these buyers coming from?" and "How did they hear about Lake Martin?"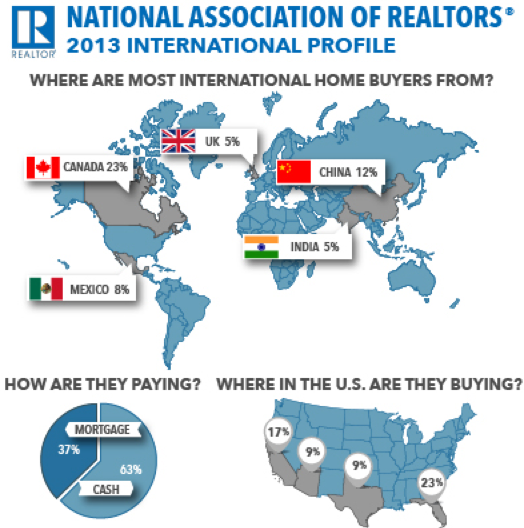 While the data geek in me would love to require a thorough questionnaire with every lake home purchase, alas, one does not exist. But we can infer a good amount of information by studying the next best thing: the National Association of Realtors' Profile of Home Buyers and Sellers.
Every year, the National Association of Realtors (NAR) publishes the Profile of Home Buyers and Sellers. The Profile is the result of a 120-question survey sent to a random sample of home buyers across the nation. This year, about 8,500 surveys were returned. The results were used to compile the statistics and compare them to previous years. This survey is a heavily watched measuring stick of home buyers' preferences and behaviors. In 2013, as in the past, this survey offered valuable insight to us at Lake Martin.
First Step: Agent vs. the World Wide Web
Since Al Gore decided to invent the Internet, there has been a battle between Joe and Jane Agent and the Web. The issue at war is deciding just who is more relevant, useful and trusted by home buyers. This war is all but over.
Winner: the Internet.
Despite NAR's constant advertisement to the contrary, their own survey shows that buyers place much more trust in the Internet than in agents. One very interesting question the survey always asks buyers is, "What is your first step in the home buying process?"  This year, a whopping 41 percent of respondents said they looked online for properties. This is more than double those that contacted a real estate agent (18 percent). The third choice at 11 percent was, "Looked online for info on the process." I would argue that is the same as number one. Added together, those two indicate that about 52 percent of people are looking online before they ever call an agent.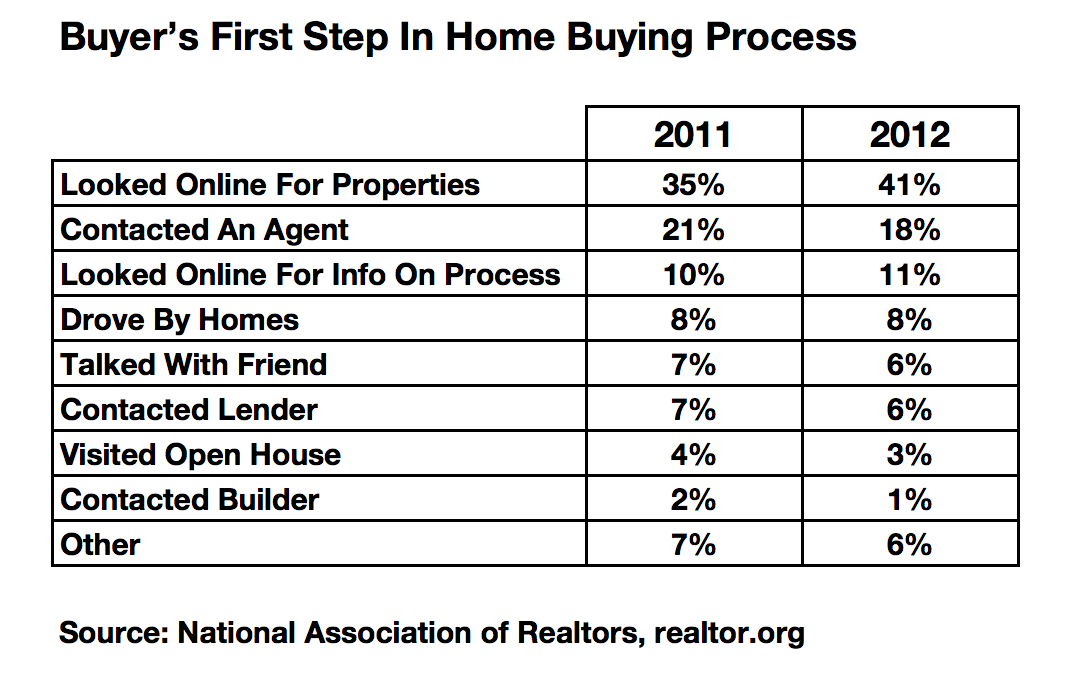 I do grant that potential buyers are looking on the Internet at agents' websites. So some agents can take solace in that fact. But the lesson to be learned is that buyers looking on an agent website is an indirect contact initiated by the buyer, and it's anonymous. The agent has no idea the website is being visited. In other words, the buyer is in complete control of the interaction. Maybe the buyer will contact the agent directly, maybe not. In either case, the buyer is driving the ship.
I do not see this trend reversing any time soon, especially considering the momentum. Last year's survey showed that 35 percent looked online and 21 percent contacted an agent. This means the online first steppers increased by 17 percent, and the agent pickers decreased by 14 percent. Brokerages and agents that do not accept this will find themselves as outdated as the mimeograph machine.
Where Did You Find It?
Today's world is full of resources for the home buyer. Agents, the Internet, signs, billboards, TV and more all vie for the coveted attention of those who are ready to purchase. To some buyers, I am sure it is information overload.
Considering all these channels, two other critical questions to ask are, "What worked?" and "Where did you find the home that you bought?"
Not surprisingly, the Internet trend continues to dominate here. The Web continues to increase in importance, with 42 percent of those surveyed responding that the Internet was where they found their home. Agents checked in with 34 percent, which I suppose is an honorable defeat; however, when you consider that it was down from 35 percent last year, and that the Web increased by two percent, the writing is on the wall.  It is clear that any serious home buyer is not waiting around for their agent to personally call and tell them about homes. Today's home buyer is a researcher.
The Internet's dominance in the "usefulness" category is neither new nor a secret. What should be noted is the degree to which home buyers rely on it. Nothing else is even close.
The implication is huge in that home sellers should ask detailed questions of potential agents, such as, how will my home be displayed online? How many online leads do you get, and how do you track your leads?  Similarly, home buyers by their behaviors are asking agents: What have you done for me lately?
If you'd like to know more about what Lake Martin Voice Realty can do for you, give me a call at (334) 221-5862, email me at [email protected], or click here to contact me.
Last week we at Lake Martin Voice Realty announced the release of 14 new waterfront lots for sale in Shady Bay.
Below are some pictures I took as I walked up and down these lots:
If you're interested in Shady Bay, we invite you to walk the lots, too, but bring your bug spray and perhaps a walking stick.  These are not 100′ x 100′ feet city lots;  they're thickly wooded with all kinds of hardwoods and pines and they slope from Amber Drive down to the water.  They are raw and untouched and ready for buyers to envision their perfect lake home.  Buyers may bring their own builder and house plans, and covered boat docks are allowed.
If you'd like more info on Shady Bay, give me a call at (334) 221-5862, email me at [email protected], or click here to fill out a contact form.  I  can help you with Shady Bay and all properties on the Lake Martin MLS, regardless of the listing company.
Here's a quick video tour of Shady Bay:
Is a waterfront construction project on Lake Martin any different than one in the city?  I wasn't sure, so I asked Doug Fuhrman, owner of Southern Traditions Construction, and lead man on this Real Island renovation project we've been following.  I was hoping there would be some exciting insider scoop I could offer my readers, but Doug's response was,  "Not really."
Ha!
OK.  So since construction is construction, no matter where you are, let me offer some real estate tips based on my experience selling homes on Lake Martin.  While these things may seem painfully obvious, you'd be surprised by what some folks do to their waterfront homes:
1) Windows and doors:
You are at Lake Martin to enjoy the water, even if you never dip your toes in it.  You need to see it.  And even better if you can see it from lots of places inside a home.  Why stick a tiny window in a great room when you can use a big one?  Seems pretty obvious to me, but you'd be surprised.  No buyer ever says, "I liked the house, but there was just too much view of the lake from the home."
It's hard to tell from the angle of this picture below, but across the front of the great room (back wall of the new covered porch) is a wall of glass.  New sliding doors have replaced a set of smaller windows, and the new bedroom addition on the right has wall to wall windows (minus space on the left for a closet, and the far right for the new master bath).  This is not fancy architecture; it's just putting more of the lake in front of your eyes.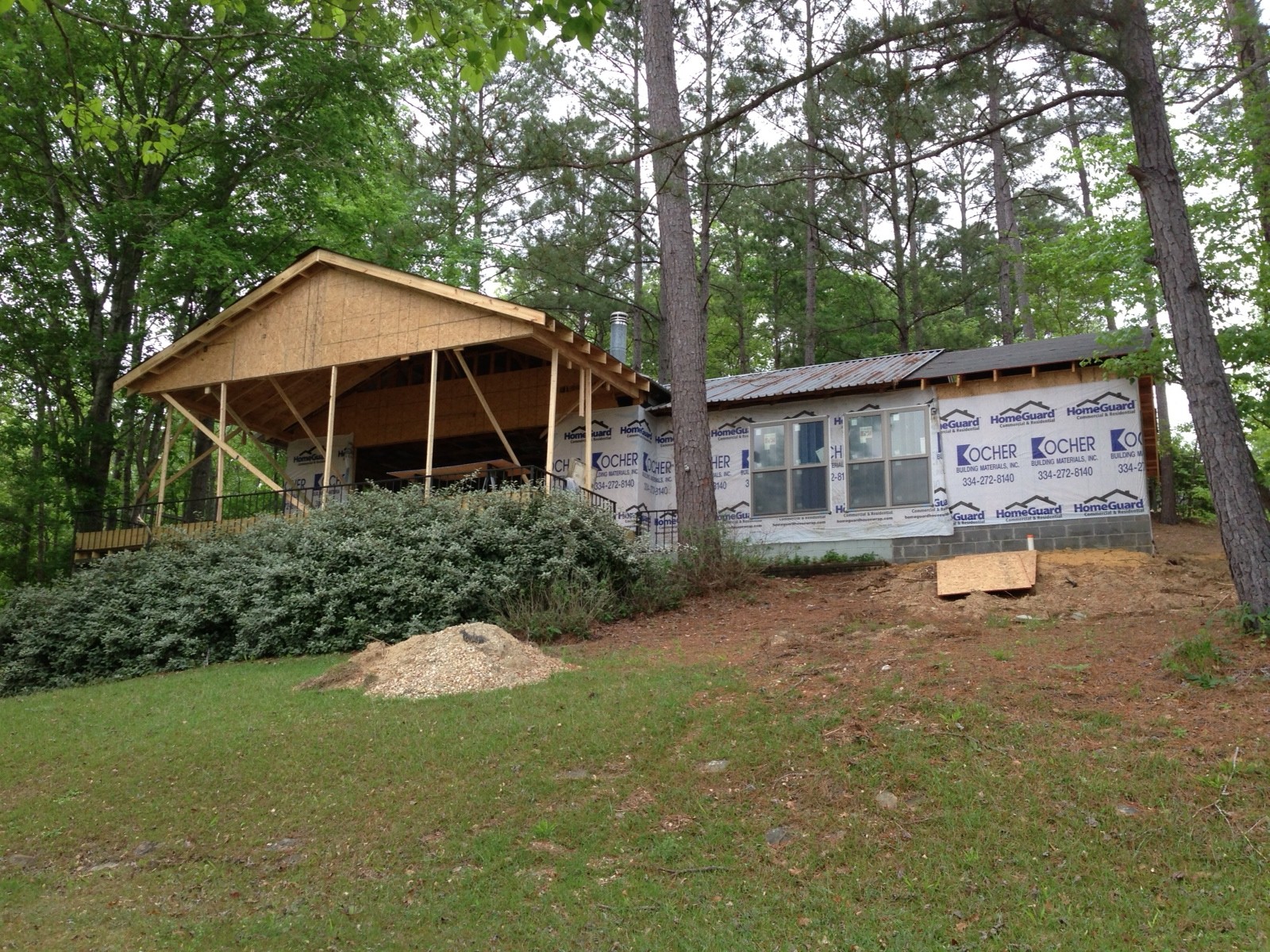 Before: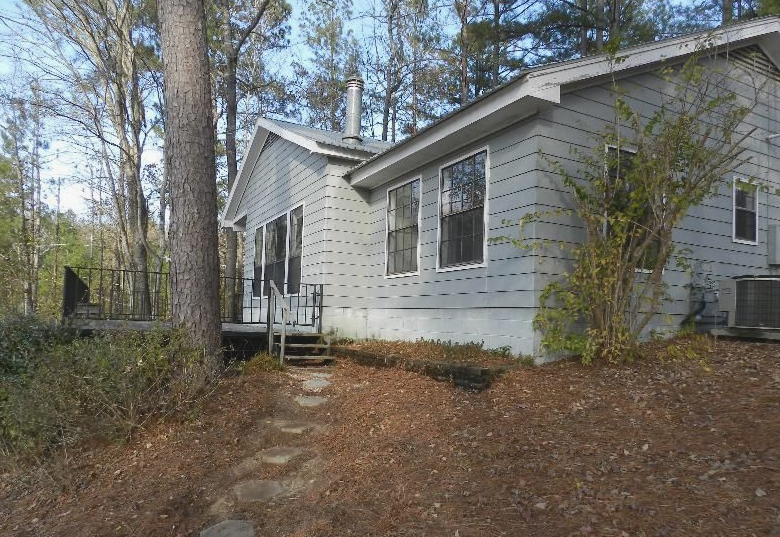 2) Covered outdoor living space
It gets warm here.  It also gets sunny.  And every now and then it rains.  The picture above is a great example of an outdoor space that is OK, but how much more use would it get if it had a roof?  The new owners of this home agree, and are creating a covered space that will be comfortable all day long – rain or shine.  Again, no buyer has ever said, "The inside of the house was great, but I don't want that huge screened porch."
3)  Access to the water
Make it easy to get from the house to the water.  A few years ago I sold a $500k waterfront home that literally had no way to get to the water (other than climbing over a wall and scrambling down a very long hill).  This was one of the first issues the new owners corrected, and imagine how much easier it is to enjoy Lake Martin!  Make it a priority to have the fewest steps possible to get from the inside of the home to the dock, and if the only way to the water does not cut through the master bedroom, even better.
In the process of rethinking this Real Island home, Lee and Amelia decided to add sliding glass doors to the front of the home where there was no lake access before, plus keep the side entry for folks coming in from the street.  Simple and efficient, and with a eye toward the lake.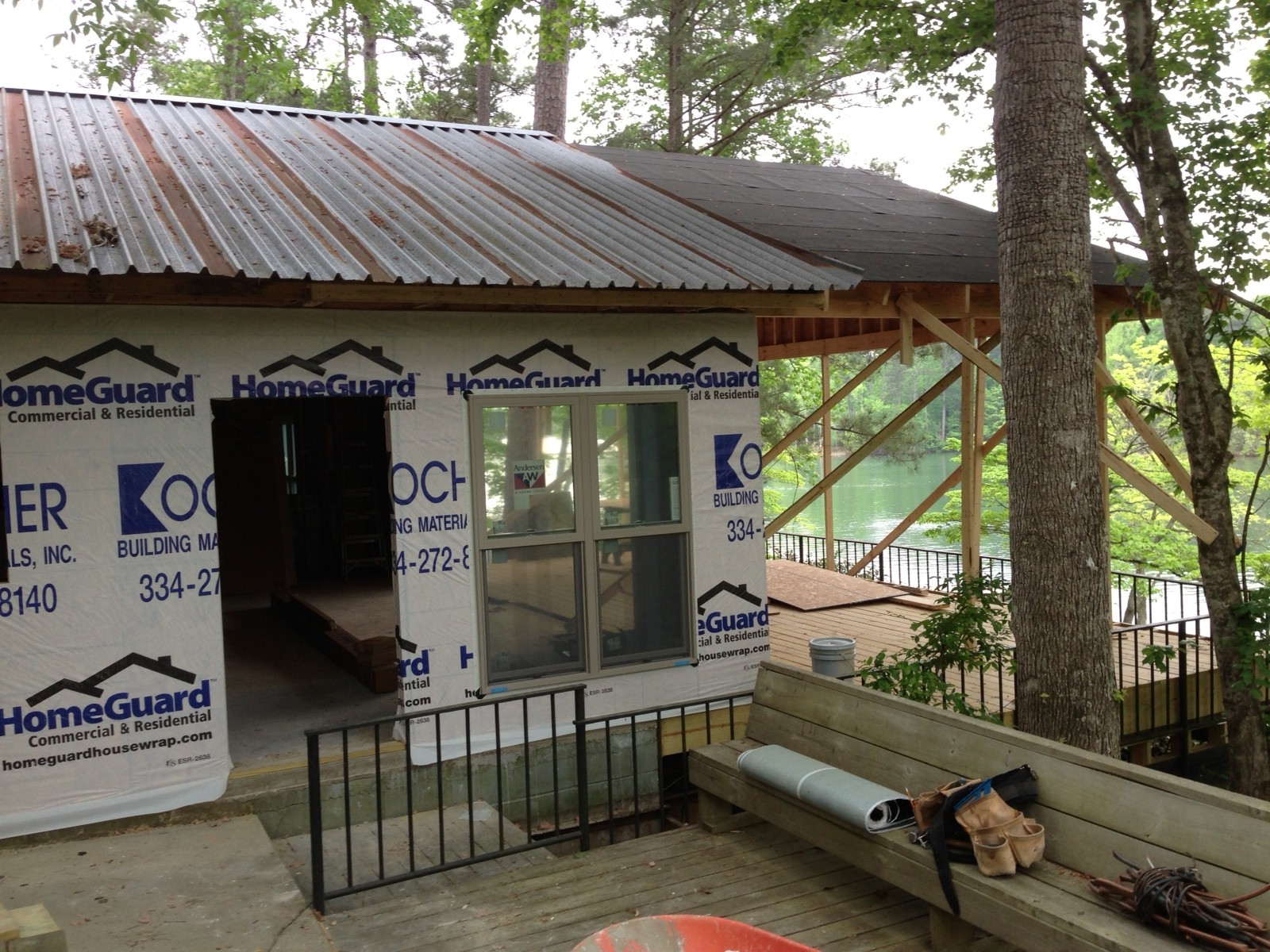 If you're looking for a home in the Real Island / Little Kowaliga area, check out my Little Kowaliga Neighborhood page.  You'll find all kinds of info on this part of Lake Martin, and most importantly, you'll find a live feed from the MLS with all homes that are currently for sale in this area.
If you have ANY questions about Lake Martin real estate, give me a call at (334) 221-5862 or click here to email me.  My job is help people buy and sell homes, and I serve the Lake Martin area 100% of the time.
If you have construction questions, however, I am not your guy.  Give Doug Fuhrman from Southern Traditions Construction a call at (334) 531-3914 or email him at [email protected], and he'll be happy to share his years of construction wisdom with you.
A big part of wildlife identification is simply knowing where you are on this earth. If you are wondering if that bird is a small raven or a big crow, the first step is to ask yourself where you are standing.  Do you know the native range of a raven?
Similarly, I get asked all the time about where on Lake Martin I sell real estate. In fact, I was asked this question twice this week, both by prospective sellers.  So what's my natural range?  I answer, "All over the lake. Why?"
The Smallest Big Lake You Know
Lake Martin, geographically, is a big lake. It extends over three counties, about 770 miles of shoreline. It takes a couple of hours to drive around it in a car, and probably at least one and a half times that riding from one extreme nook to the other in a fast boat.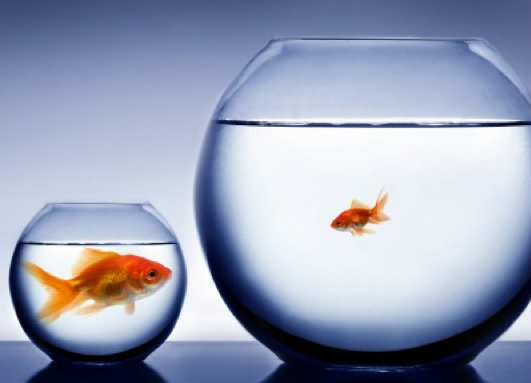 But waterfront home sales-wise, it's small. Consider that in all of 2012, roughly 246 homes were sold on all of Lake Martin (per the MLS – not all sales are recorded on the MLS, but most are). We have (at this writing) about 100 agents in the Lake Martin Association. Not even counting that agents from outside the area occasionally sell here, that's about 2.4 home sales per agent, per year. Once you decide to limit yourself to one particular area, you can expect to decrease that.
Obviously, as a full time agent, you hope to sell way more than that to build and sustain a business and support your family. The Lord has certainly blessed us to do just that.  We have clients from all over the place, and we sell homes on all sides of the lake.  That's one of the reasons our Neighborhood Pages are popular – they help buyers get acquainted with the many neighborhoods/geographic areas of Lake Martin (maps, videos, histories), plus each page has a live MLS feed of homes currently for sale in that neighborhood.
So to be scientific about it, my realtor range is the entire lake.  I can help you with any property in the Lake Martin MLS, regardless of who has it listed.
Give me a call at (334) 221-5862.  I'd love to start the tour.
Sometimes a Lake Martin waterfront purchase is all about the lot.  Sometimes it's all about the home.  In this case, for my buyers, it was all about where to put their three teenage boys plus their friends.  Two summers ago, Kent and Andrea found a cabin with a large wooded lot and a great view of Parker Creek near Parker Creek Marina.  The cabin was cute, but they really needed a little more room . . .
If you're looking for a home on the west side of Lake Martin (Kowaliga Bay, Little Kowaliga / Real Island, Parker Creek), you'll find a good number of older cabins that are dated or don't have a modern, open flow.  Some of these cabins have been added onto over the years and are a little wonky.  But if you like the lot and the view, I urge buyers to be open minded about the home – that is the one factor you can change.  Sometimes buyers have a hard time visualizing a remodeled home while standing in the midst of fake paneling and little choppy rooms, hence my recent efforts to share some recent renovations and give buyers inspiration.
I drove by Kent and Andrea's house in my boat last week and took a few pictures.  They graciously said I could share them with you, to give you a taste for what a remodel or facelift can do for an older lake home.  They expanded the home, adding living and sleeping space, but did not stray far from the original footprint.  The result is a fun home with modern conveniences and room for all the guys:
Pre Renovation View from the Water: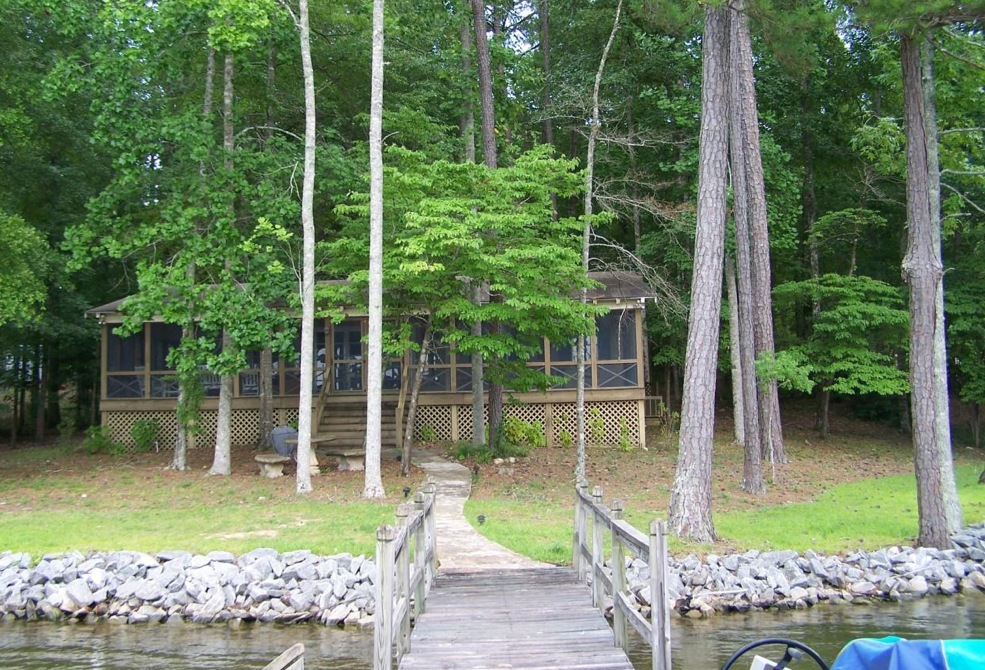 Post Renovation Water View: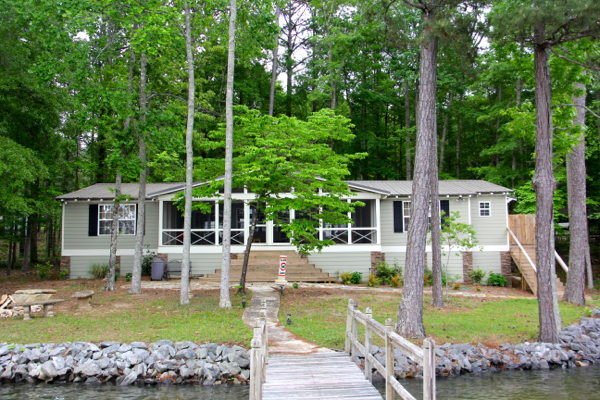 Pre Renovation Street Side of the Home: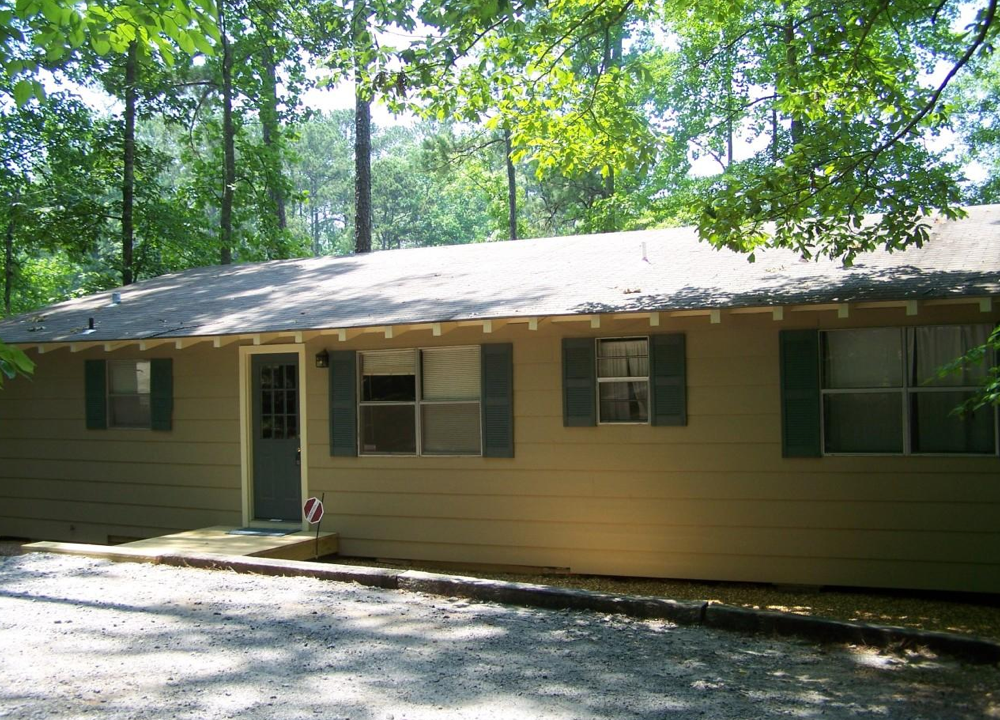 Post Renovation Street Side of the Home: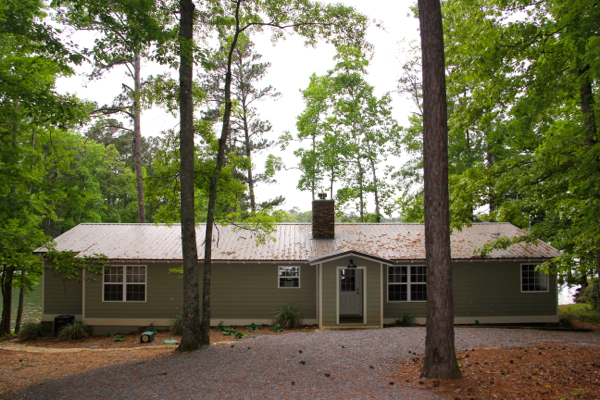 So how do you know how much money to put into a Lake Martin renovation?
Think about the LOT first.  You don't want to overbuild, so consider things like water depth, view, privacy, etc.  On a lot like this, with a view like theirs, Kent and Andrea could not really overbuild.  It's an awesome lot.  In the back of a tight slough without year round water, however, buyers need to be conservative.
If you're looking for a home in the Parker Creek area, check out my Parker Creek Neighborhood Page.  Here you'll find all kinds of info on this part of Lake Martin, and most importantly, you'll find a live MLS listing all the homes that are currently for sale in Parker Creek.  I have Neighborhood Pages for most of the neighborhoods on Lake Martin, and they're a great resource to utilize when house hunting.
If you've been searching the MLS and are feeling frustrated with the homes you see, give me a call.  I can help you pinpoint the homes in your price range with most potential.  That's my job.  My number is (334) 221-5862, or you can click here to email me.  I'd love to be your realtor.
Related Posts:
Lake Martin Dream Renovation in Parker Creek
Real Island Renovation Part Two: Peeling Off the 1980's
It's hard to beat a Lake Martin sunset.  I've been experimenting with this time lapse app on my iPhone, and the other week I recorded some pretty skies over Emerald Shores.  The video below is the sunset view from Lot 18, a 1.26 acre lot with +/- 321 feet of shoreline that is still available for sale.  For all the listing information on Lot 18, CLICK HERE.
Here's an Emerald Shores SALES UPDATE, too.
As of April 23, seventeen of the twenty-nine lots that were released for sale by Alabama Property Company are under contract.  Two additional lots are in negotiations.  In thirty-eight days, sixty-five percent of the lots offered have gone under contract or are being negotiated (we at Lake Martin Voice Realty joyfully listed these lots on March 16, 2013).   These are strong sales numbers, especially when you look in the Lake Martin MLS and consider that in the entire year of 2012, a total of 38 lots waterfront lots were sold on Lake Martin, by all agents, all brokerages, everywhere.
Like I've said before, if you're interested in one of these lots, NOW is the time to call me.  They're moving quickly, but there are still some beautiful lots available.
Lot 18, featured in the time lapse video above, is a great example. It's flat, wooded, and private.  Alabama Property Co. has already installed a rip rap seawall, and that wall is included in the sales price. It's also a flexible lot;  there is a variety of ways to place and orient a home on this lot.  Check out the pictures below: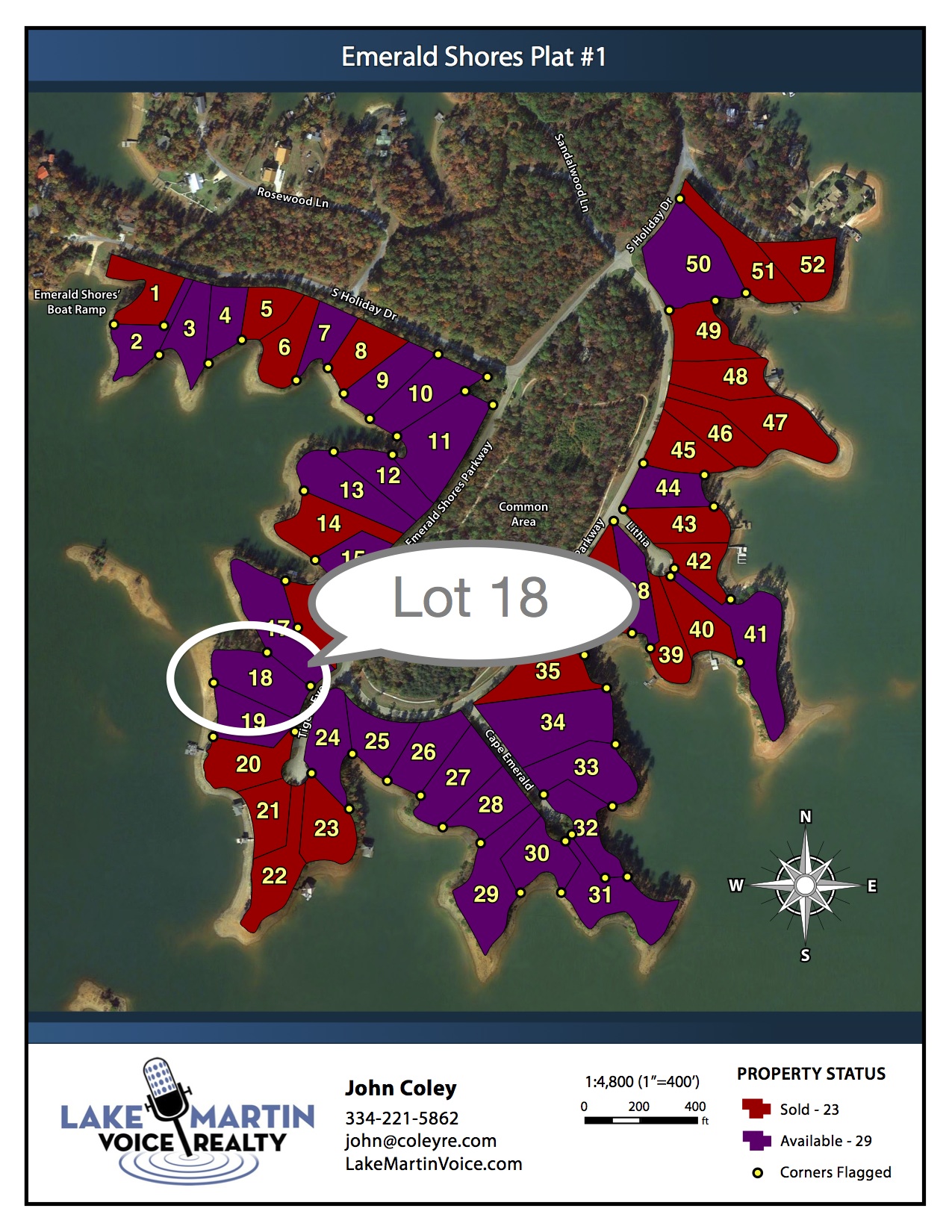 I also really like the lots on either side of Lot 18 – Lot 17 and Lot 19.   Big views.  Pretty sunsets.
For more information, give me a call at (334) 221-5862, or CLICK HERE to email me.  Lake Martin Voice Realty is the listing company, so we can answer all your questions.
This Real Island / Little Kowaliga waterfront home renovation is for all of you HGTV lovers out there . . .
My clients, Lee and Amelia, are new owners of this lake home that sits on an amazing lot in the Real Island area.  The lot is awesome, and they had been house hunting long enough to know that the value of a Lake Martin property is in the dirt, so they jumped on it.  Even though the home was not exactly what they'd had in mind . . .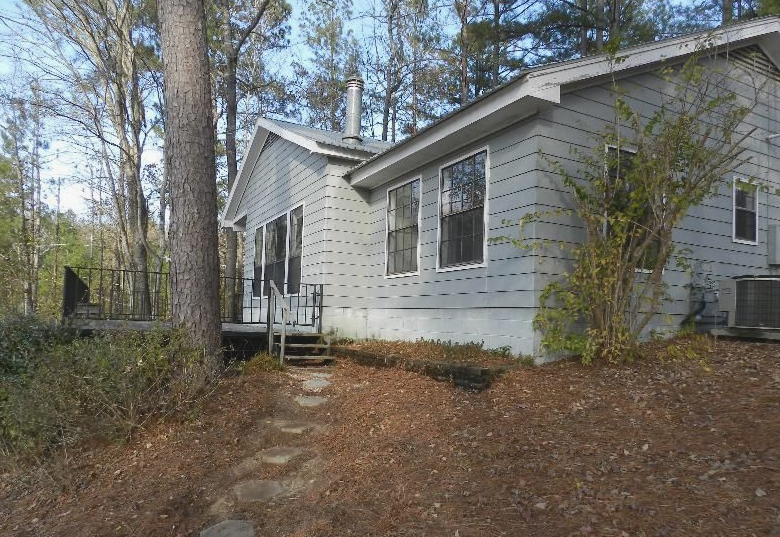 The house was built in 1980 and is pretty rough around the edges – 33 years of use and not much updating.
It's a three bed / two bath home already, but the floor plan is a little wonky, and the space could be used much more efficiently.  As part of the renovation plan, Amelia wants to keep as much of the original footprint, while bumping out a little here and there to make room for her family of five, plus their friends and extended family.
I think this renovation is smart.  At the lake, the home is primarily used for sleeping and eating.  These homeowners are making the most of the space for these activities, and the final product will be clean, spacious, updated, and functional.  But they are also remembering that the value of the home is in the dirt, and they're not going overboard on things that, ultimately, do not add a lot of value to their investment.  This is going to be a fun house.
With the help of Southern Traditons Construction's, Doug Fuhrman ([email protected]), this home is about to be gutted and transformed it into an updated, functional, vacation home. Stay tuned to see what choices are made along the way, and for the big reveal at the end.
If you're interested in the Real Island / Little Kowaliga area of Lake Martin, check out our Little Kowaliga Neighborhood Page.   Here you'll find everything you need to know about this popular part of the lake – a history of the area, video tour, maps, and most importantly, a live feed from the Lake Martin MLS showing homes that are currently for sale in the area.
If you're on the lookout for a good deal on a home at Lake Martin, give me a call at (334) 221-5862, or CLICK HERE to contact me and let's talk waterfront real estate.  I'd love to be your Realtor.
Of the 29 Emerald Shores waterfront lots that were released on March 16 for sale, NINE are already pending, and SIX more are currently under negotiation.
As the listing agency for Emerald Shores,  Lake Martin Voice Realty is excited about the public's interest in these lots, and we want to make sure you have the latest information on this east side development.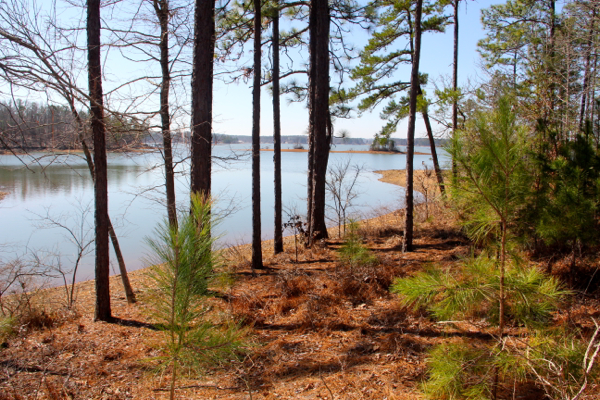 CLICK HERE for listing information on Emerald Shores.
Contracts on these lots have been brought by our company, along with several other Lake Martin real estate companies.  My point in telling you this (I know this sounds like typical Realtor barking) is that you really need to give us a call if you have any interest in a lot in Emerald Shores.  Don't wait until you get around to it because the lot that you want, in your price range, and with the view you like, may be gone.
Well, there's clearly a demand for lots in a deed restricted neighborhood on this popular side of Lake Martin. And frankly, Emerald Shores has really pretty lots on the big water of Blue Creek.  It's an established community with homes already built, so there's a history of sales and construction.
For more information, give me a call at (334) 221-5862, or CLICK HERE to email me.  Lake Martin Voice Realty is the listing company, so we can answer all your questions.
Quick Video Tour of Emerald Shores:
Video Tour of the Blue Creek Area of Lake Martin:
Downton Abbey Fan Disclaimer:  I know Mr. Carson is a butler, not a waiter.  But the essence of Mr. Carson is what I'm after here, so please bear with me . . .

The mark of any good service industry pro is knowing when to step in, and knowing when to back off. Make no mistake, a good real estate agent has a lot in common with a good waiter. If I were the head broker of some huge real estate shoppe I would scour restaurants or other service industry places and recruit good waiters to be my agents.
They both know the inventory, know what they personally like, and also know how to help people find what they like. I am not the pushy type. I would rather set up someone and give them the tools to search, and then step in when they need an opinion on an area or a decision they have to make with their lake home.
I want to arm them with good information and I try to do that with neighborhood pages, custom searches, blog posts, and area info. I want them to feel well equipped to browse them menu, but to know that I am right there. I want to find the right balance of service through empowerment, and service through direct advice.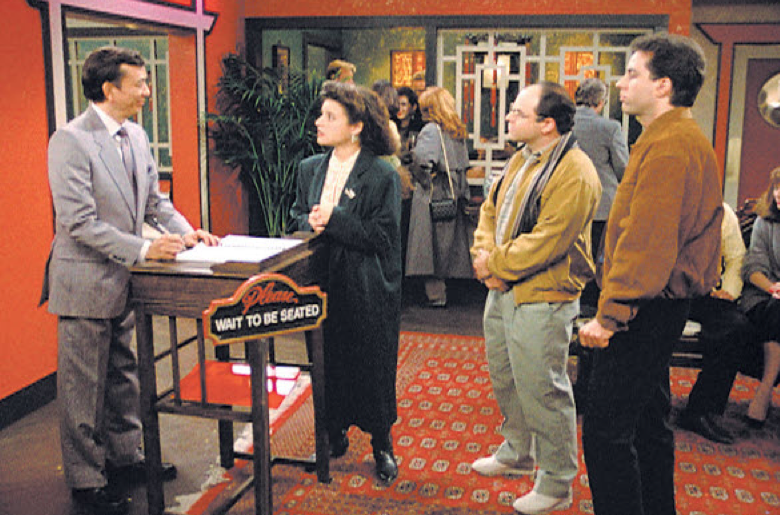 Isn't that what you like in a good waiter or waitress? Or stockbroker, for that matter? Sometimes we just want to hang out at the table for 10 minutes and talk because we haven't had a date night in three months. Leave us alone. Let us causally peruse the menu. Sometimes we are on a schedule and just need to get some food now.  A good waiter or waitress knows the difference, knows when to step in, monitors your progress without you feeling stalked. That's really all I want to do as your Lake Martin agent.
It's as simple as that. Mine is a position of service. Yes, I feel I have some technical real estate expertise and I feel I have lots of knowledge about the menu, and more critically, about what is NOT on the menu and what other people have ordered in the past. Agents need to listen more than they talk.
But when you boil it down, I think a good real estate agent, at Lake Martin or anywhere else, should have a servant heart.  Allow me to be the Mr. Carson of Lake Martin real estate.