Country Living magazine chose their 2017 Lake House of the Year location at Lake Martin! Their July/August issue (which goes on sale at news stands this week) has been dubbed The Water Issue. And since you love Lake Martin like I do you will agree they made a wise choice in choosing Lake Martin as the site of the Lake House of the Year! This issue celebrates life on the water so be sure to pick up an issue today!
This beautiful, relaxed home was built in a collaboration with architect Jonathan Torode of Nashville (Pfeffer Torode Architecture), builder Chad Calhoun of Alexander City (Classic Homes), and Russell Lands on Lake Martin. The home is located at 321 Paddock Point in The Ridge, a Russell Lands development.  Click here for Google map.
The lake home's exterior features rough cedar siding and a natural stone chimney and outdoor spaces that we all love such as a screened in porch, a lakeside fire pit and a deck area to watch the sunset. Inside the 2,900 sq. ft. home are expansive windows – each room taking advantage of natural light, oak hardwood floors, tongue and groove pine walls, a smooth cypress ceiling in the open living room, a natural stone fireplace, beautiful finishes in the kitchen such as subway tile quartz countertops and a pecky cypress kitchen island, 3 bedrooms, 4 1/2 bathrooms with patterned porcelain tile, an upstairs bonus room, a pantry and more.
And guess what? You can take a tour between June 26 and July 9 from 10-5 daily. Tickets are only $15 and will benefit Children's Harbor. Click here to purchase tickets now.
Check out one of the videos Country Living did (click play arrow):

To read the online article and see photos and more videos from Country Living click here.
If you are ready to find your Lake Martin home to enjoy life on the water give me, John Coley, a call or text me at the number at the top of this page, email me [email protected] or contact me here.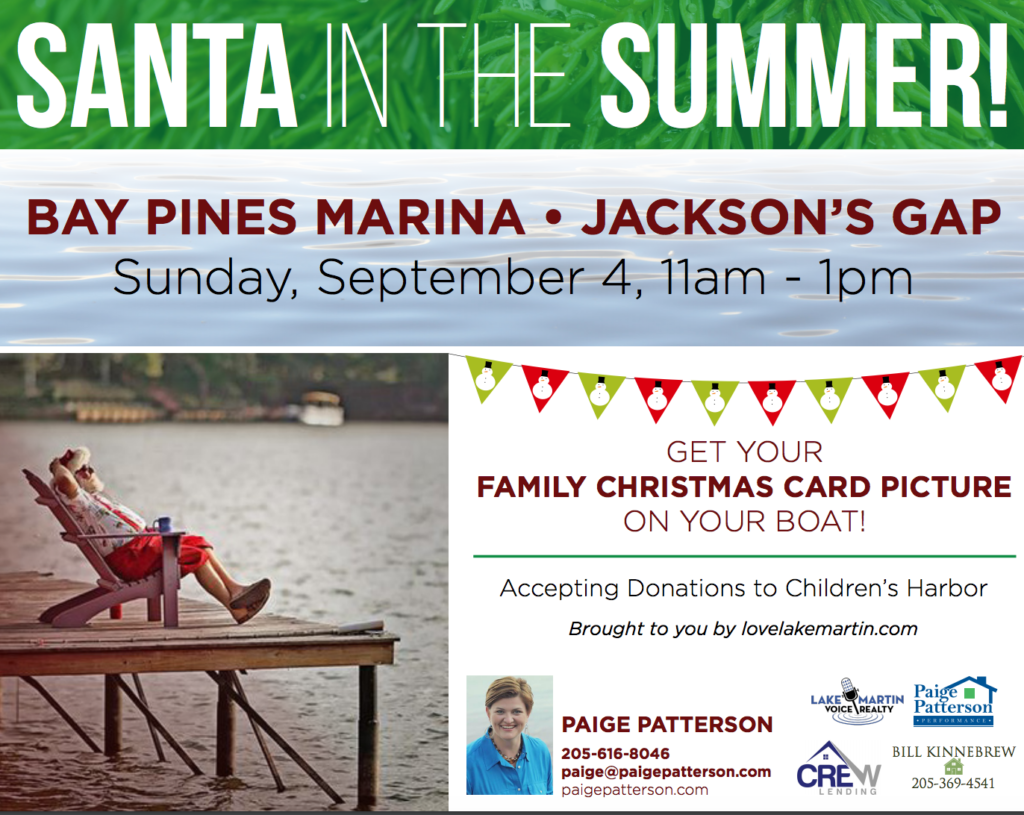 Shhhh…don't tell the kids but Santa vacations at Lake Martin.  Who knew?
You can take advantage of his being on the Lake on Sunday, September 4 and get a family Christmas card picture made on your boat!  Meet at Bay Pines Marina between 11-1 and be ready to smile and say Jingle Bells.  But don't bring your Christmas list because remember – Santa is on vacation.
Brought to you by Paige Patterson – lovelakemartin.com.  Donations will be accepted for Children's Harbor.   Click here for Paige's Facebook page for more info.
Google map for Bay Pines Marina
Ho Ho Ho and away we go!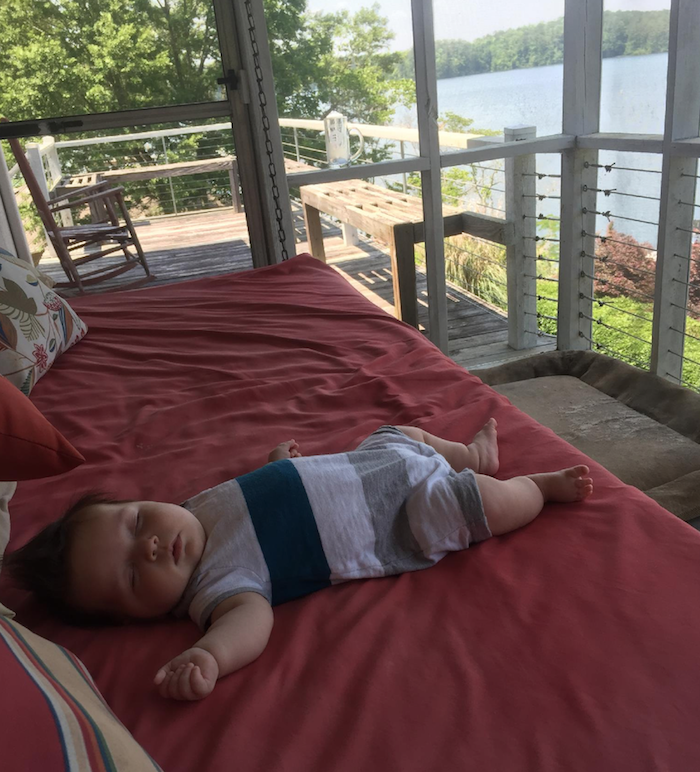 The number one event at Lake Martin on Memorial Day 2016 is napping. Yes, napping.  If you can catch some ZZZZs like this "leetle guy," then go for it.  Time well spent.  For you active types, I have plucked 3 interesting events around the Lake that will serve you well.
 On the way to Smith Marina to enjoy some birthday cake yogurt and celebrate Smitty's 60th birthday (gotta love a guy who throws himself a birthday party like Bilbo Baggins) stop by my new listing at 510 Woodvine Road located in the Parker Creek area.  Doesn't this look like a great location in a quiet area of the Lake?  Lots of room for parking and plenty of privacy.
Then 'round the corner be sure to spend some time at Art on the Lake at Children's Harbor.  This annual art exhibit is always fun with over 50 artists and all kinds of art.
Back out on the Lake, watch for the Dixie Sailing Club McFadden Cup Club Race sailboats.  What a sight!  Next stop – another new listing of mine 40 Cottage Loop at The Village.  Can you imagine spending the weekend here?  No worries with yard work – just enjoy your day relaxing on your porch or taking a dip in the Village pool or lounge at the Village beach.  Or hop in the boat for a short ride to Chimney Rock!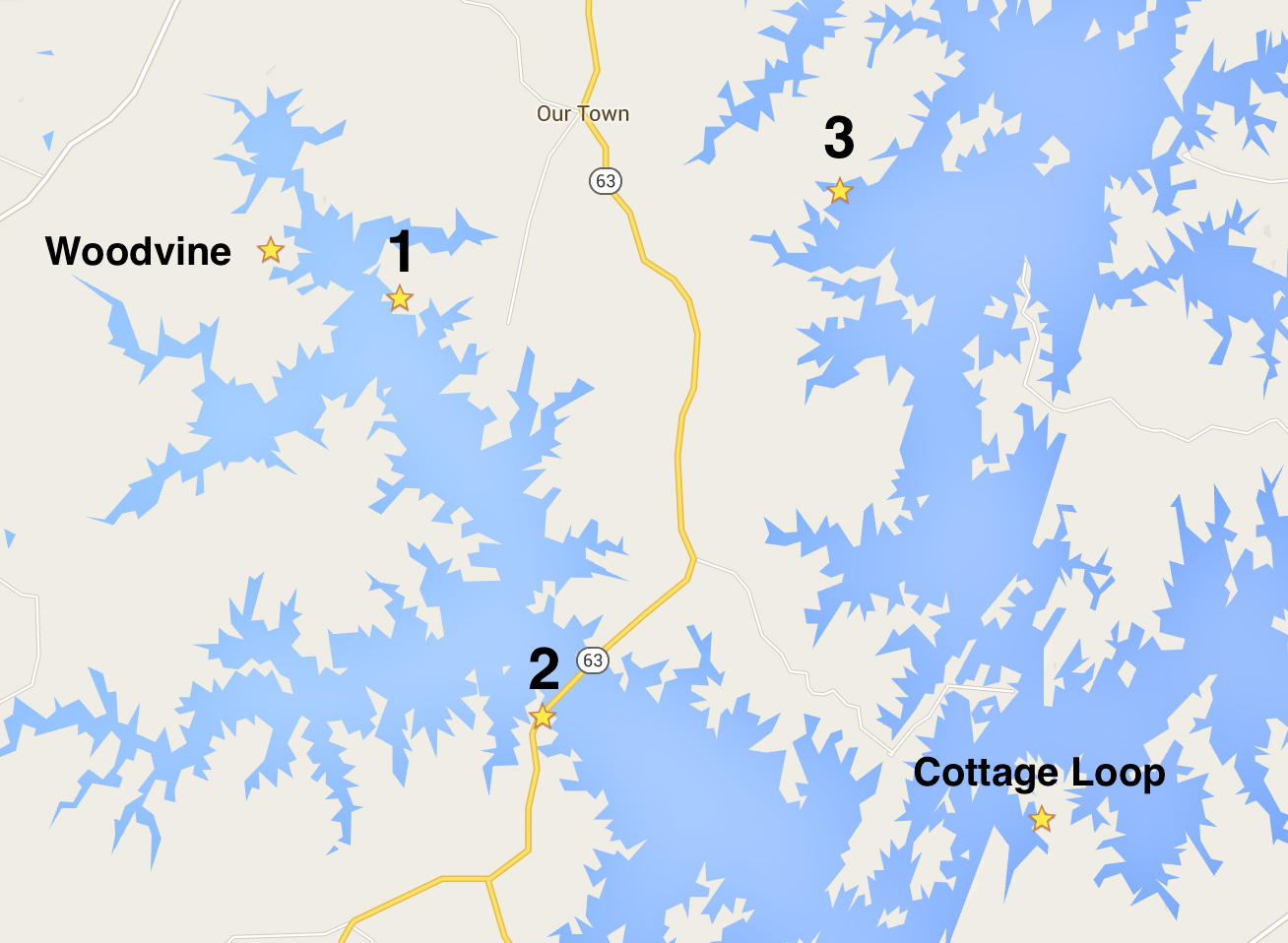 Memorial Day weekend at Lake Martin is all about family fun and kicking off the unofficial start of Summer!  Please take time to remember those who died while serving in the U.S. military but also enjoy plenty of lighthearted time with your family and friends at the Lake!
Interested in keeping up with other events around Lake Martin?  Or are you interested in places to eat, homes and lots for sale, where to shop, marinas around the Lake, places to have fun and more?  Check out the free Lake Martin Voice app!
Have a great Memorial Day weekend at the Lake!  And enjoy that nap!
This Saturday, May 30, is this year's installment of "Paddle for a Purpose." This annual stand up paddle board race is also a fund raiser for Children's Harbor, one of Lake Martin's most popular charities.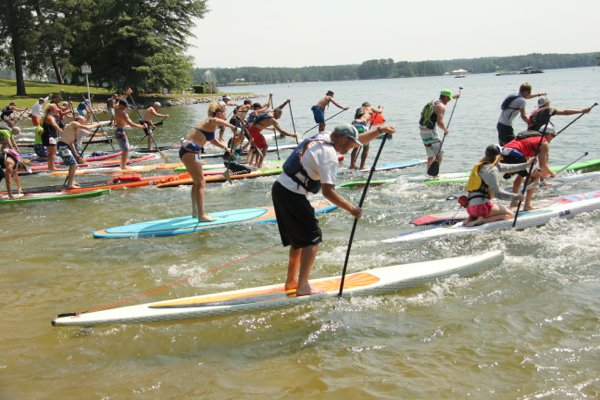 This SUP race is also part of a three race series called "SUP the South." This means that lots of paddlers from around the southeast will be on hand at Children's Harbor. The first leg of the series was in Bay Saint Louis, Mississippi. The Lake Martin race on May 30 is the middle, and the triple crown closes in Destin, Florida, on June 20, 2015.
Racers will have a choice of a 1 mile fun race, a 3 mile, and a 6 miler.
RACE MEETING AT 8:30 AM – FIRST RACE AT 9:00 AM
How To Register for Lake Martin's Paddle For a Purpose
CLICK HERE to register for the Lake Martin Race.
For more information on the series, see this Facebook Page.
Last year, one of my sons raced in the one miler. This year the other one will! We are every excited about the event and Lake Martin Voice is proud to be a sponsor again this year.
Other big sponsors are Bote Paddleboards, and my friends at Lake Martin Dock Company. I bought my Bote at Lake Martin Dock. I get asked a lot about what board I have, it is the 12 foot HD. I really like it because it's flexible, – I can do about anything with it. I fish from it, paddle around for fun, and even occasionally race. I haven't done yoga from it yet, but would love to try.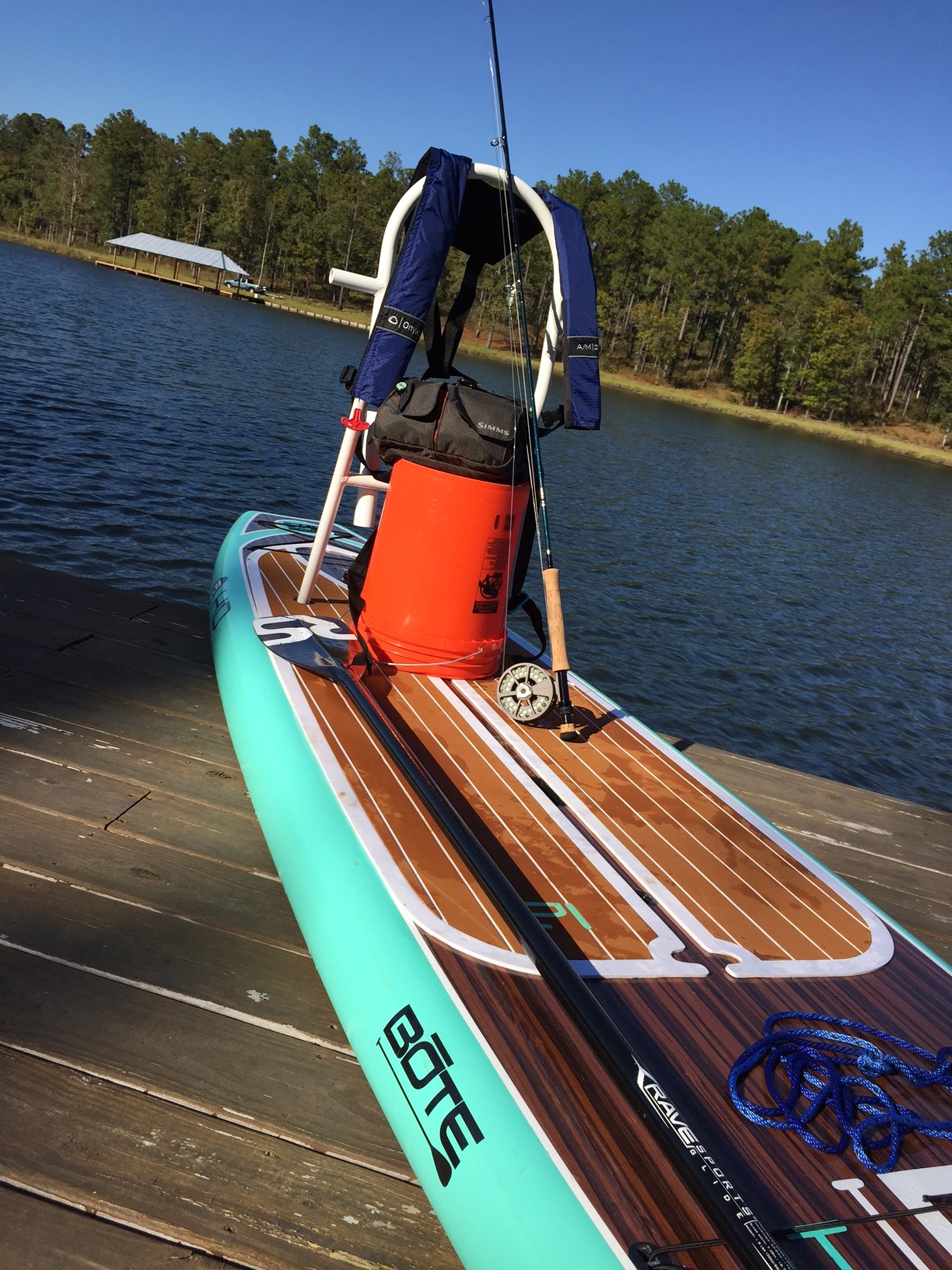 Here's a link to a post I wrote about my  fly fishing setup for my paddleboard. I am on a multi year quest to learn to consistently catch Lake Martin striped bass, on my fly rod, from my paddle board. It's a work in progress! Maybe I can pick up some tips from the pros this weekend.
If you have any pointers, I would love to hear them!

The 3rd and final leg of SUP the South's paddle board triple crown takes places THIS SATURDAY at Children's Harbor!
 The states of Florida, Mississippi and Alabama will be represented by paddle boarders from Paddle Destin, Mississippi Gulf Coast Paddle and Paddle Lake Martin.  Each race will consist of a 1 mile beginner race, 3 mile rec race and 6 mile elite race.  Around here the race is also known as Paddle for a Purpose, because all proceeds benefit Lake Martin's Children's Harbor.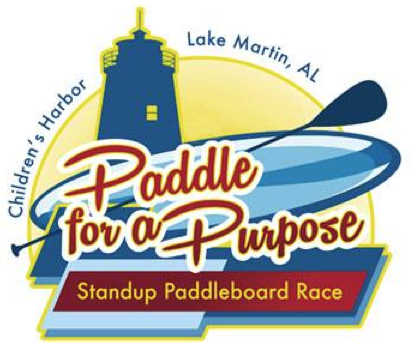 ANYONE can enter and there's still time to register!  It's a super laid back event – my 11 year old is entering the 1 mile race, and my wife is daring me to enter the 3 mile.   If you haven't tried paddle boarding yet and you're curious, bring your family and some chairs and enjoy the morning.  Looks like it's going to be a "clear and pleasant" 80 degree Saturday at Lake Martin.
To catch you up to speed, here are the race dates & locations:
* March 22nd ~ Destin, Florida (Legendary Yacht Club)
* April 26th ~ Bay St. Louis, Mississippi (Bay-Waveland Yacht Club)
* May 17th ~ Eclectic, Alabama (Children's Harbor at Lake Martin)
1 Mile Beginner Race ($35.00) ~ Surf Style (Male/Female)
3 Mile Rec ($45.00) ~ Surf Style (Male/Female)
6 Mile Elite ($45.00) ~ Surf Style (Male/Female)
T-Shirt and Lunch will also be provided for all racers.
*ALABAMA – http://www.active.com/eclectic-al/paddle-for-a-purpose-paddleboard-race-2014
Here's a sneak peak of the shirts for this year's race and the trophies . . .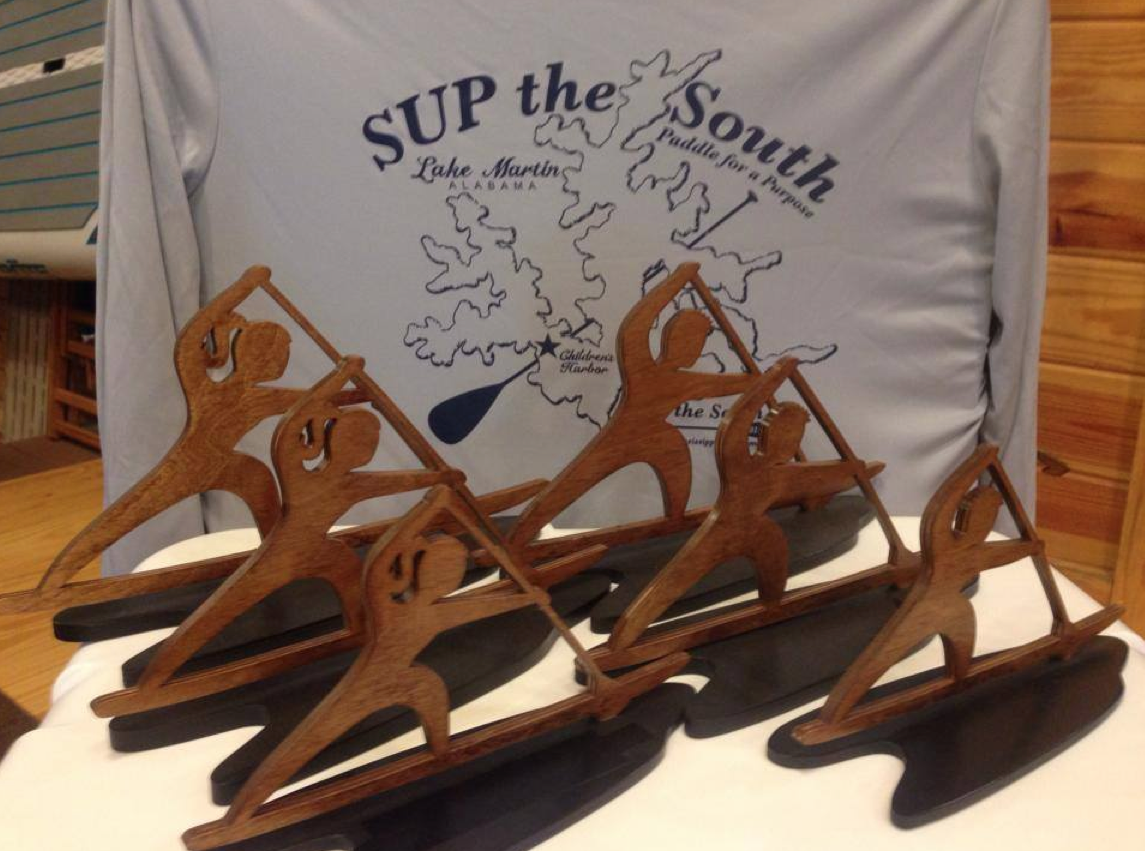 And I'm taking Lake Martin Voice Realty's swag bag goodies (c/o Lake Martin Crazy.com) to Sharon at Lake Martin Dock today.  Lake Martin Dock Company puts together this event with Children's Harbor, and they also sell BOTE Paddle boards.  Saturday will be a great day to demo some paddleboards: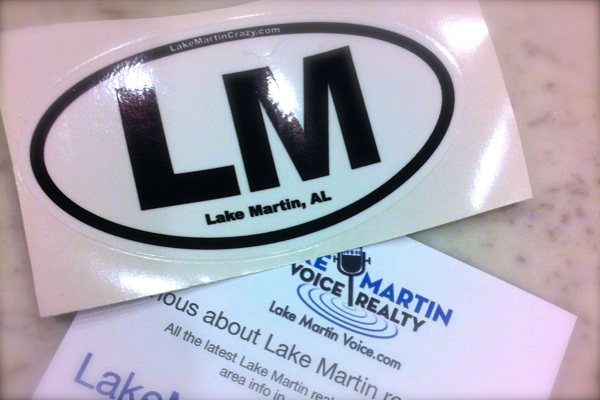 Hope to see you there!
If  you don't have a paddle board, and would like to rent one for the weekend, try calling Anchor Bay Marina at 334-857-2654. Ask for Linda Sharman. They rent paddle boards on Lake Martin, but I am not sure if they are rented out or not. But it's worth a shot! Let her know John Coley said to call!
Thanks to Sharon Johnston at Lake Martin Dock Co. for getting me back on the water this spring!  I broke my paddle board's paddle over spring break, and Sharon replaced it for me – no questions asked.  That's super customer service!
I bought my BOTE paddle board from Lake Martin Dock as a Christmas gift to myself (I mean my family), and I have already tried it out at Lake Martin, at my hunting camp's fishing pond, and in Florida.  These boards are easy to transport and they allow you to get out on the water, even when it's still a little chilly.  I installed a simple pulley system to hang it in my garage in town during the winter, and I'm really surprised by the amount of use it's gotten since Christmas.  Now it's time to bring it back to the lake!
These boards are like pieces of art, so I took some pics while I was at Lake Martin Dock.  These are some of their newest boards – check these out!  BOTE has a new inflatable board – with a lower price point – and it's the blue board in the second picture below.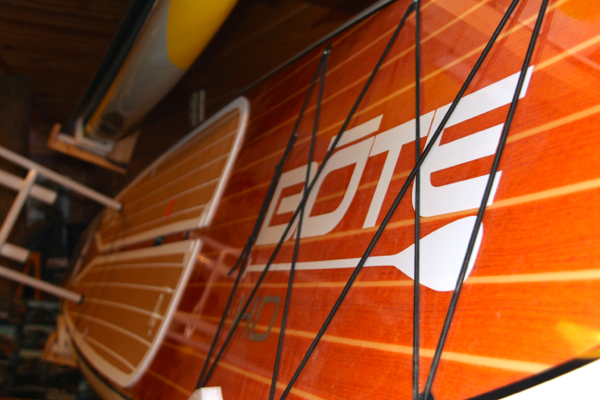 And by the way, Lake Martin Dock Co. and Children's Harbor are teaming up again for the annual Paddle for a Purpose race on Saturday morning, May 17.  You can go to Active.com to register, and all proceeds benefit Children's Harbor. They have a Paddle for a Purpose Facebook page with more info about the race and paddle boarding at Lake Martin in general.   You can also click here to read about last year's event.
In the past there have been boards and paddles to demo, so if you're interested in the sport, but don't have a paddle board, this is a great time to try one out.  If you buy one, please mention you saw it here on Lake Martin Voice!
Hope to see you there! It's a lot of fun, and all ages are welcome!
If you can't make it to the race, but are in to SUP at Lake Martin, see the Paddle Lake Martin Facebook Page.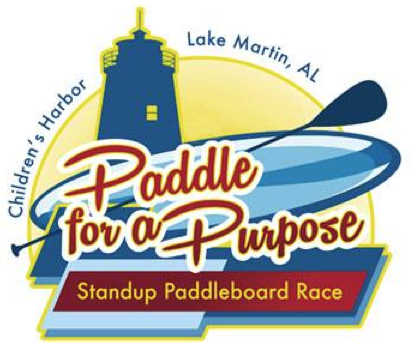 Attention Lake Martin Paddle Boarders and Paddle Boarding Fans:
Grab your boards and join us for a race this Saturday, May 11th at Children's Harbor.  If you've been part of a paddle board race at the lake before, you know you're in for a good time.  If you've never been to a paddle board race, or you don't own a paddle board, come see what it's all about.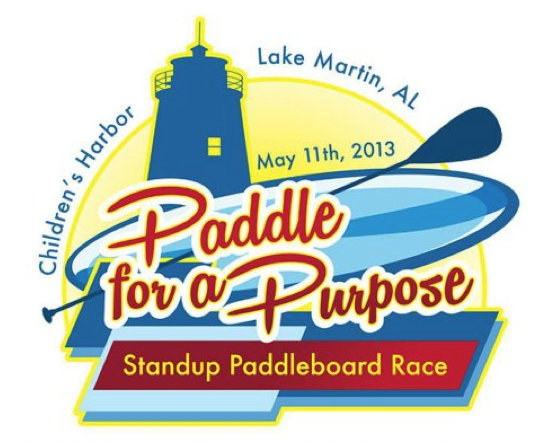 It's a race, for sure, but it's also a laid back, family-friendly event that all ages can enjoy.  My nine year old son hopped on a borrowed board last year at the Castaway Island race, and completed the 1 mile course with no trouble.  I've even seen racers do the course with a kid on the front of their board!  There is a $40 entrance fee, but you get a t-shirt, gift bag, and post race lunch, PLUS the proceeds benefit Children's Harbor, so you know that money is going toward a great cause.
Racing is set to begin Saturday morning around 9:00 am, with a pre-race meeting at 8:30 am.  There is a 1 mile and a 3 mile race, with trophies for the top three finishers in each category, plus door prizes.  Lake Martin Voice Realty is a sponsor, so I'll see you there!
For all the scoop, click on the links below:
Children's Harbor Facebook Page
Paddle for a Purpose Active.com website
A quick update on the Lake Martin area tornado damage:  I started out yesterday (April 28, 2011) by riding a 4 wheeler around the Lake Martin Amphitheater area and into Children's Harbor.  Several of the Russell cabins to the east of there are now totally gone.  Some had  been removed by Russell Lands before the storm, and they were planning on selling the lots there.  But now it's pretty much leveled on that side of the slough.
Then we got in the boat, took shots of the Cocktail Slough, then went around to Windermere.  Windjammer Road, etc. seemed to be hit the hardest.  Oddly enough, there were 2 water patrol guys in that slough, one of which pulled us over and said they were watching for looting, and asked our business in the slough.
Next we went over into Blue Creek.  I heard on WSFA that Stillwaters was hit,  but it looked almost unscathed from the water.  The tornado really went north of there, where Rush Road and Sims Road turn off of Impy Road off of 34.  Mind blowing.
For everyone who has called asking about our cabin, it's fine – thanks for asking.  Three of my fellow Lake Martin Realtors have lost their homes, but they are ok. There were fatalities in the greater Lake Martin area, and our prayers go out to those who have lost property, but even more importantly, lives.
For more images of the tornado's aftermath at Lake Martin:
Lake Martin Voice Photos on Flickr
Lake Martin Dock Company Photos
The Lake Martin, AL area was damaged by deadly tornadoes on April 27, 2011.  The Kowaliga area of Lake Martin was heavily hit.  Children's Harbor, a local worthy charity, is in need of help.
A Children's Harbor work day is scheduled for tomorrow (Friday, April 29, 2011) to continue to clean up damage left by Wednesday's tornado.  Jim Ray, Director of Children's Harbor at Lake Martin, asks folks to bring your chain saws, rakes, etc., and help them get the area cleared off so the camp can be reopened as soon as possible.  Hear from Mr. Ray directly in the video below:
Children's Harbor provides free camping and adventure services at Lake Martin to families who have seriously ill children.  The facilities were in the middle of the tornado's path that cut from Trillium, across Kowalga Bay, and through Windermere.  Any help with the clean up is greatly appreciated.
Contact Jim Ray: (256) 749-0069   or   [email protected]
For more info on the Lake Martin tornadoes, please stay tuned to our social media attempts.  I'm constantly uploading pictures and videos to Twitter,  Facebook, and Flickr.
Will you be at Lake Martin this Saturday, May 16, 2009, and enjoy touring waterfront homes on Lake Martin?
Then you may be interested in the Third Annual Lake Martin Tour of Homes. Proceeds from the tour will benefit Children's Harbor. Children's Harbor serves seriously ill children and their families at the Family Center at Children's Hospital in Birmingham and at Lake Martin, which is just south of Kowaliga Bridge on Highway 63
Last year the tour was of homes in Trillium. This year the tour will visit four homes in The Ridge designed by architects Bill Ingram and Bobby McAlpine.
The tours will begin at The Ridge Club from 10 a.m. to 3 p.m.
Tickets are $25 in advance and can be purchased in Alexander City at MacDavid & Company, Cloud Nine, The Shoppes of Queens Attic, and Catherine's Market. Tickets will also be available the day of the tour at the Ridge Club.
To learn more about Children's Harbor, an extremely worthy cause, visit www.childrensharbor.com.