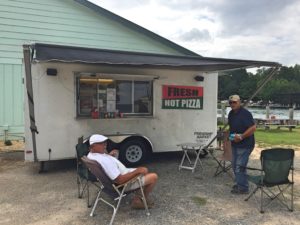 Have you tried Fresh Hot Pizza? Owner, David Reaves, has a food truck located at Anchor Bay Marina and he is offering some delicious, fresh, hot and ready to go pizza and sandwiches and hot dogs and more. Stop by and check it out!
Location? On the beach at 2001 Castaway Island Road Google Maps Link.
Phone Number? Call ahead for pickup 334-224-5434
Parking? Boat or Auto
Find Fresh Hot Pizza on Facebook!
Hours?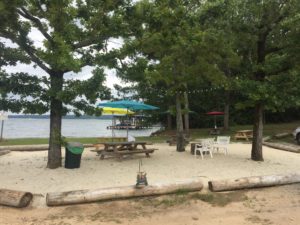 Summer officially starts June 20 but at Lake Martin we all know summer starts MEMORIAL DAY WEEKEND. And boy there are so many events to choose from here at the Lake you are going to wish you could clone yourself to enjoy them all.
Here is a list of events in no particular order:
RXR FEST – three nights of great music at Russell Crossroads – featuring Airside, Mose Wilson and The Delta Twang, The Bank Walkers, Raquel Lily, Jordy Searcy and The Jonathan Bloom Band. Bring your chairs and coolers and enjoy a weekend with family and friends. 6-10pm
Art on the Lake at Children's Harbor – Saturday from 9-5 and Sunday from 9-2 this free art festival features art and jewelry from over 40 artisans with a portion of art purchases helping support Children's Harbor.
Bezlo's Cafe – Opened earlier this year in Eclectic. Avondale Brewing Company Tasting Party from 5-8pm on Friday. Live music from Mark Kelley from 8:30-10pm Friday and Saturday.
Chuck's Marina – Your home all summer long. Live music all weekend – Friday at 7:30pm, Rachel Wilson, Saturday at 7:30pm, Blane Rudd and Sunday from 6-9pm River Dan!
Copper's Grill at Stillwaters – Great food, live music, outside venue! Friday 7-10pm music from Blackberry Breeze, Saturday 7-10pm music from Winston Ramble and Sunday 7-10pm the Sid Phelps Band.
McFadden Cup Club Race – Dixie Sailing Club – Racing open to all members. Saturday from 11-5. Not a member? If interested in crewing see their website.
Eagles at Naturalist Cabin in Russell Crossroads – Saturday at 12pm and 1pm. Come visit two of Auburn's popular eagles!
The Landing at Parker Creek – Saturday starting at 6pm, live music from the M-80s and Jenni Foreman Mote.
Interested in knowing what is happening at Lake Martin? Or check the weather? See the water level? Discover new restaurants or shops? Contact one of the area Marinas? Keep up to date with new property listings? Then download the free Lake Martin Voice App! You will be glad you did!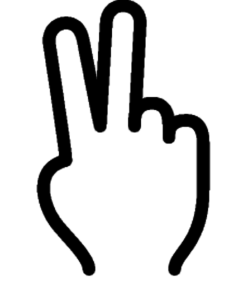 Have you heard the news? We are excited to hear that two cool businesses are coming to downtown Alexander City.
You are already familiar with one of them – Lake Martin Pizza. Its current location in Dadeville will remain open. They have signed a lease on a Broad Street location in downtown Alex City for their second location. We can't wait!

Lake Martin Pizza is known for their New York style pizza, fresh local ingredients and great service! One of my favorite pizzas at Lake Martin Pizza is named Kira's Favorite.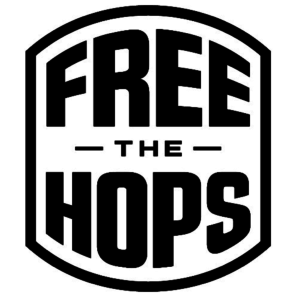 If you love craft brew beer like I do then the second new business to downtown Alex City will be one you will be excited about! Fermenter's Market on the Green will be opening soon.
Sylacauga is the home to Fermenter's Market at the Rex. So if you have been lucky enough to have visited that location you will have an idea of what to expect in Alex City – an excellent selection of craft beer, great wine and your favorite cocktails.
Click here to read the article from the Alex City Outlook for more information.
To stay in the loop about all things Lake Martin be sure to download the free Lake Martin Voice app!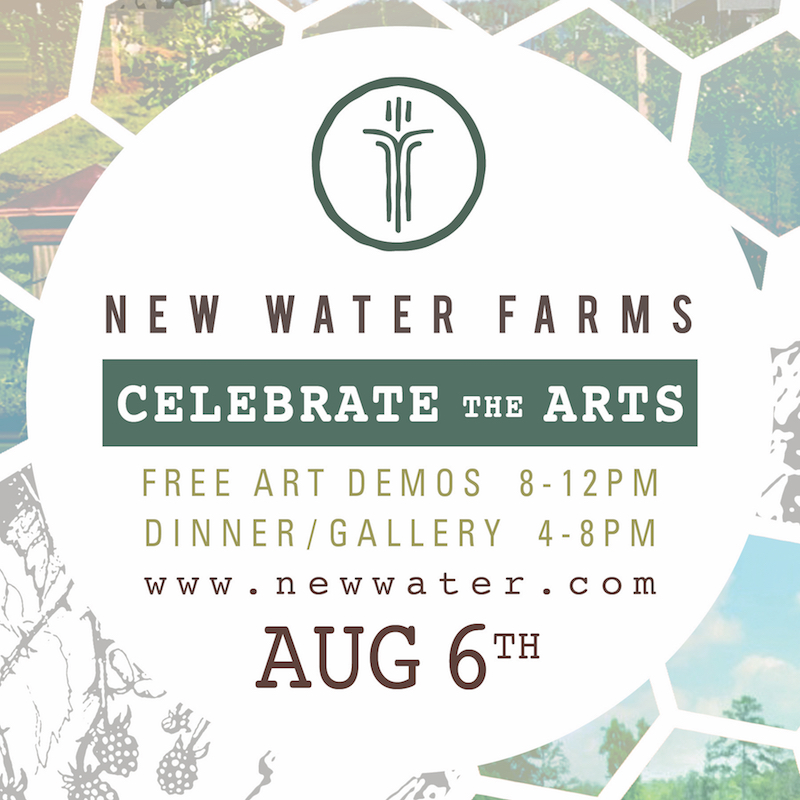 Celebrate the Arts at New Water Farms on Lake Martin in Dadeville on Saturday, August 6th.
You may be familiar with the honey, berries or baked goods from New Water Farms since they are offered at Pepper Place Market in Birmingham during the summer.  But are you familiar with the Farm itself?  Situated on 22 beautiful acres at Lake Martin its goal of "cultivating growth and renewal" is part of the New Water Ministries – a place for people who love Jesus.
It is located at 460 Civitan Road, Dadeville – about 7 miles from Hwy. 280.  Click here for a Google Map to New Water Farms.
Celebrate the Arts is a day for free art demos from 8-12pm showcasing ceramics (Keaton Wynn), glass blowing (Micah Simpson), painting (Betsy Covington), photography (Elizabeth Bacon), woodturning  (Pete Marken), and pen+ink drawing (Kaleigh Hartley).  Watch, chat and purchase pieces as artists work in their medium.
And then enjoy the evening art gallery and a chef-inspired cuisine with Chef Blake Hartley (Bottega Cafe and Hot & Hot Fish Club) from 4-8pm.  Tickets are $75 and are available online.  To see the menu, order tickets and for more information click here.
For other events around Lake Martin download my free app – http://lakemartinvoice.com/app.
Why choose Lake Martin?
George and Lea had been looking for years to find that perfect spot for a vacation home.  Once they found their Lake they knew they could find their home.  Watch the video above to see why George and Lea call Lake Martin a destination, a happening place with a resort feel.  
They loved that Lake Martin was so big and beautiful with so many places to eat with access by water or land. For example, below is a video that I made a few years ago about How to Get to Catherine's Market and Spring House Restaurant by boat.
If you want to keep up with new restaurants in the area, or just find a new place to grab a bite to eat, check out our "Eats" tab on the Lake Martin Voice Realty App.  The App will also help you know about Events, Shopping, Marinas, Weather and Water Level and of course help you find your new home at Lake Martin!
The Lake Martin Voice app is available in the Apple App Store and on Google Play for Androids.
Click here for more information about our app!
Looking for a fun way to spend a Saturday at Lake Martin?  Enjoy some art!  Mark  your calendars for Saturday, June 11 from 10 – 4 for the Lil' Calypso Art Fest.  And yes, how about the coincidence – this is the same weekend that you marked your calendar for the Alex City Jazz Festival.  Before going to the Jazz Fest swing by Chuck's Marina for the 14th annual Lil' Calypso Art Fest!
Over 50 vendors will set up tents all along the grounds of Chuck's Marina and shore of Lake Martin.  A wide selection of art will be represented such as handmade jewelry, pottery, folk art, oil paintings, watercolor paintings, handmade furniture, yard art and much more!
While you can come by boat (just don't expect to see any Banana Boats) or by car – the admission to the show is free. Donations will be accepted for the local Union Volunteer Fire Department.  Some of the members of the Fire Department will be on site to help by running a golf cart shuttle, grilling hot dogs and helping in any way they can!
And of course Chuckwalla's Pizzeria is serving their famous pizza and subs. Also enjoy live music on the tiki bar deck from 1-4.
For more info call Jane Harris at 334-233-0724 or click here for Chuck's Marina Facebook page.
For Google Maps location – click here.
Don't miss anything going on at the Lake!  The best way to keep up with all events at Lake Martin is to download my FREE app, Lake Martin Voice.
Related Posts
The missing piece of what puzzle you may ask?  The Coffee Corner located at 107 Main Street in historic downtown Alex City was the winner of the first ever MainStreet Alexander City Missing Piece Business Competition. The contest,  sponsored by the downtown merchants organization was awarded to The Coffee Corner in summer 2015.  To read more about this new restaurant and the Missing Piece competition check out these links.
I shot the video (above) in December, hence our reference to Christmas, but this is a good idea for a gift card any time of the year.
I like this spot and decided that the Cafe' Au Lait is my favorite.  They are fully open now and serving breakfast and lunch too.  Please go by and enjoy coffee, a sandwich or salad.
Located at the corner of Main Street and Alabama Street in historic downtown Alex City – for a map click here.
To keep up with their latest events, daily brew or new additions to the menu  (the Oreo Delight frappe' looks soooo good) check out their Facebook page or call them at 256-392-4999.
If you want to keep up with new restaurants in the area, or just find a new place to grab a bite to eat, check out our "Eats" tab on the Lake Martin Voice Realty App.
The Lake Martin Voice app is available in the Apple App Store and on Google Play for Androids.
Click here for more information about our app!
Happy Plug Day 2016 Lake Martin!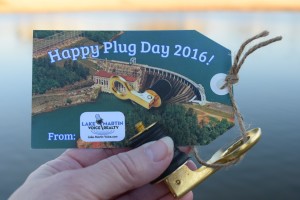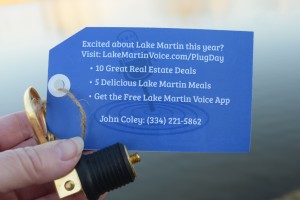 Plug Day on Lake Martin is when we celebrate the annual rising of the water towards full pool. In 2016, that day is March 1.
Question from John Q. Cynic: Is it a tad silly to celebrate when the water starts coming up? I mean, given all of the important issues in the world today, should we really take time out to cheer the annual, repetitive raising of one lake in central Alabama?
To the inquisitor, I respond, "Lighten up, Francis."
Sure, the water comes up every year, and, with one extreme drought exception, stays up until well into the fall. And sure, we fans of Lake Martin have no real control over it. But it's still fun to celebrate.
And to all the Eeyores out there that can't have a little fun, that can't be happy at witnessing one of the first signs of the spring, I say, I am sad for you on the inside. Have you tasted not the joy of warm water and warm weather? Is your heart so encrusted with malaise,  your eyes so jaded that you see not the spark of renewal that is Spring?
For the vast majority rest of us who give three cheers on Plug Day, we say a collective "Yee-Haw!" We are happy that Lake Martin is on the way up to full pool.
Looking around nationally, some real estate blogs and the agents who who write them are so serious they sound like a Warren Buffet annual report. Other agents are so in-your-face aggressive that I'd be scared to ride in the same car with them. Still other realtors come across as so dippy, fluffy, and bland that I'd wonder if they have any thoughts beyond how awesome their latest glamor shot looks.
Since I sell real estate in a second home market here at Lake Martin, I try to be informative, but I also realize that Lake Martin is mostly about fun. Pretty much all about spending time with your family and friends. S'mores. Cannonballs. Preacher's Seats. Escaping the occasional horse fly. Barbecuing ribs. The smearing of sunblock. Sunset selfies. Ribbon sandwiches. Falling asleep on the boat.  Smacking each other with those foam noodles. Falling asleep in the hammock and burning the hamburgers.
My role as a real estate agent here is to help people find their happy place, or help people sell it when the time is (regretfully) right. That's it. It's that simple.
Happy Plug Day, Lake Martin!
We are pleased to announce a brand new free app for the Lake Martin area!   The Lake Martin Voice app is your mobile guide to the Lake Martin, Alabama, area. We offer mobile waterfront real estate search and events, mapped guides to restaurants (with menus), shops, weather, and much more!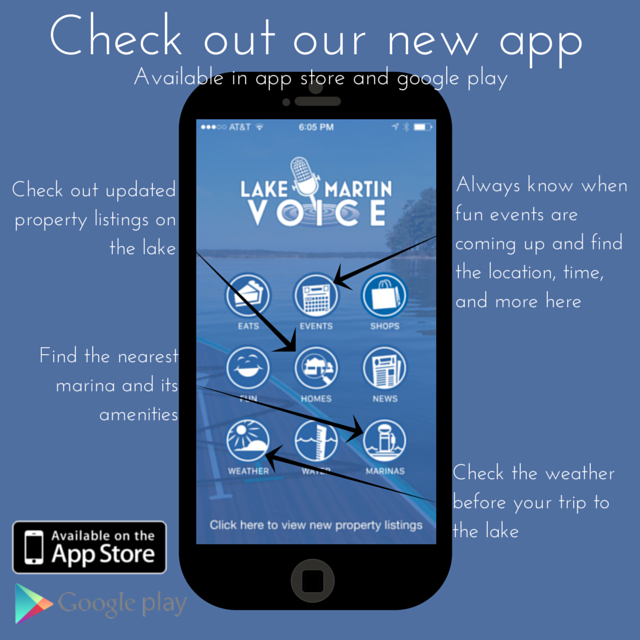 As you can see above, the different tabs you can click through to navigate and learn more about what's near you or happening at the lake are:
Homes – every single home & lot for sale in the Lake Martin MLS, at your fingertips. Use our fast searches like "New Listings" or "Price Drops" or create your own custom search. Cruise by boat and see what's for sale around you if you share your location with the app.
Eats – Restaurants on and off the water around Lake Martin, mapped, with menus
Events – what's going on this week? Next month? Click and scroll to find out.
Fun – Other things to do like where to hike, where to bike, boat ramps, golf courses, churches, and more.
Weather & Water – conditions right now at Lake Martin.
Marinas – mapped locations of all Marinas, plus contact info. Share your location with the app and see where you are, too!
Shops – retail therapy locations on and off water
News – the skinny on Lake Martin stuff
For example, here's what the "Eats" section looks like. If you share your location, you can see where you are in relation to the restaurants. I snapped this screen shot when I was over on the east side of Lake Martin. If you want to browse around the map, you can. Or, if you want to scroll through the list at the bottom, you can do that to. Your call!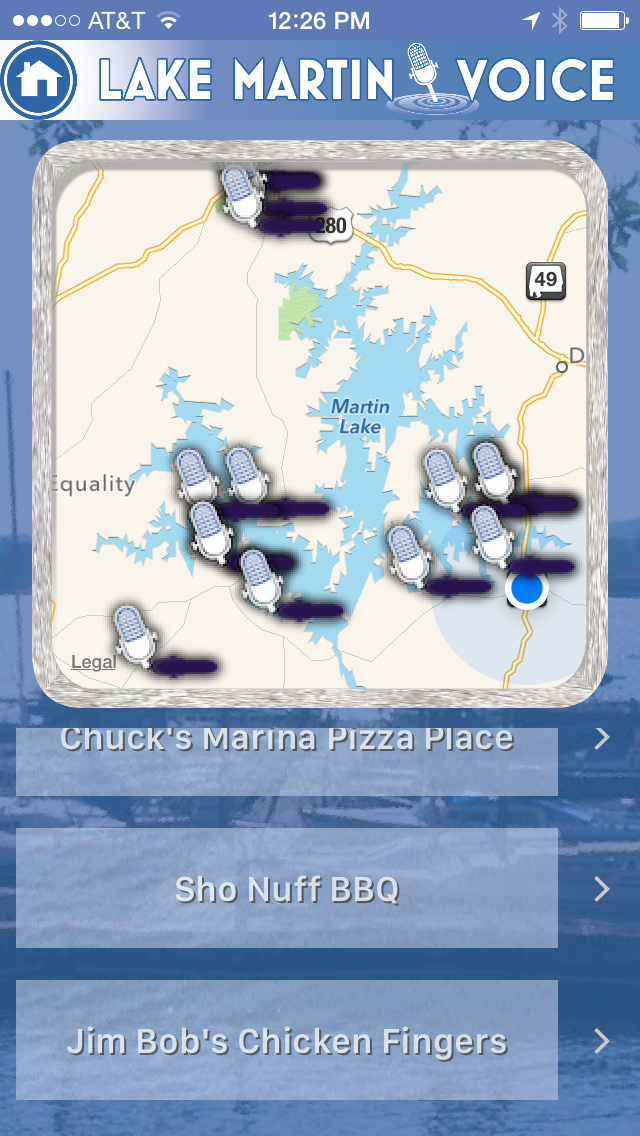 The Shops, Eats, and Marinas sections all work similarly, in that you can browse by map or by list. Every single Lake Martin marina is listed, but you will notice not every restaurant and store are. We purposely left out big chains like Wal-Mart or McDonalds. Nothing against them, but there are plenty of maps and apps that can help you find them easily. Our goal here is to make a special point to mention the locally owned businesses that are so frequently overlooked by visitors. For that matter, there are Alex City folks that are unfamiliar with the Dadeville side, and vice versa, so hopefully it helps them, too!
The Lake Martin Voice app is available in the Apple App Store and on Google Play for Androids.
For more information, please see our FAQ page at: Lake Martin Voice app FAQ 
If you want to request to have an event, restaurant, or shop listed in the app, you can fill out request forms below.
CLICK HERE to request for a shop be added.
CLICK HERE to request for an event to be added.
CLICK HERE to request for a restaurant to be added.
They call it stormy Monday, but Tuesday's just as bad.
It was raining yesterday at Lake Martin and I don't care. We need the rain, and it was Monday after all, post Labor Day. Traffic will be light regardless of precipitation. Things change after Labor Day around here, regardless of weather.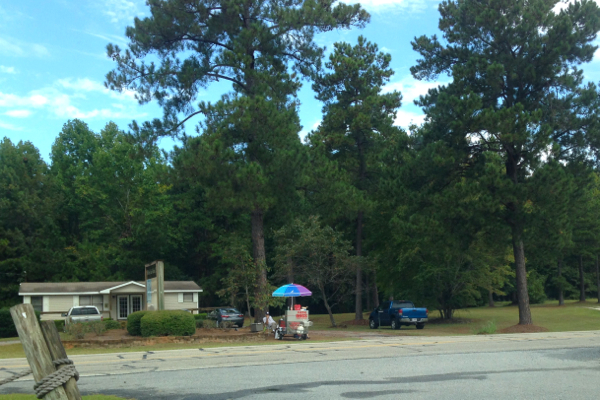 Hence my pic. This guy has been selling hot dogs since around July Fourth. He's set up in downtown Kowaliga, just across from my office at Nails conveneince store. I've never been tempted to buy a dog, despite some pretty good reviews I've heard. But when I see a guy selling hot dogs on the side of the road at 10:00 am on a rainy Monday in post Labor Day September, maybe I ought to buy one out of sheer principle.
About the time I took this picture, the clouds lifted and it turned into a beautiful almost-fall day.  In fact, the past two days have been so achingly perfect (clear, just warm enough, high water, no crowds) I have given serious consideration to pulling my kids out of school and living some sort of home school farm-to-fork existence at the lake.