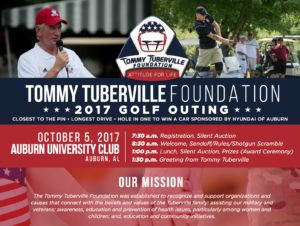 I just got a call from Jim Nichols and wanted to give you a heads up on a great event coming up soon – the 4th annual Tommy Tuberville Foundation Golf Tournament being held on Thursday, October 5, 2017 at the Auburn University Club in Auburn, Alabama.
The Auburn University Club is a beautiful 18-hole championship golf course over 225 acres of rolling hills and woodlands and surrounds the 25 acre Yarbrough Lake. Click here for a Google map.
The Tommy Tuberville Foundation was established to recognize and support organizations and causes that are important to the Tuberville family such as assisting our military and veterans. "Giving back and helping our wounded veterans is something I have always wanted to do to show my sincere appreciation for our military and their selfless service all while carrying on the legacy of my Dad," says Coach Tuberville. Charles Tuberville, Coach T's father, served with distinction in WWII earning five Bronze Stars and a Purple Heart.
The funds raised in this tournament will help build homes for members of our military who are recipients of the Purple Heart Medal.
If spending the day with Coach T and other supporters of the Foundation playing golf on a course in Auburn sounds like something you would enjoy, contact Jim Nichols at [email protected] or call 352-801-8686 for more information.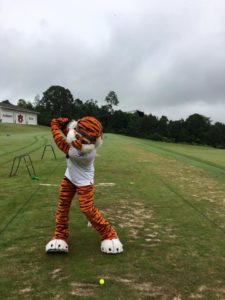 And remember, you never know who you may see on the greens – War Eagle!
Earlier this summer I took a little video footage of Lakewinds Golf Course at Lake Martin with my drone and thought it would be a great time to share the video with you.
With the weather being so mild it is a nice time of year to be on a golf course.  Lakewinds Golf Course is a public golf course owned by the City of Alexander City.
It has a nice layout around the Lake and is regulation length 18 holes.  Lakewinds is open 7 days a week from 7 A.M. until dark.
Lakewinds is located about five miles east of downtown Alex City and just south of Hwy. 280 – the address is 95 County Road 40, Jacksons Gap.
Lakewinds Golf Course Google Map
Make your tee time today by calling 256-825-9680.
If you would like the best app for Lake Martin, Alabama, complete with events, eats, home search, and landmarks, please see my Lake Martin Voice App. It's free! Just search "Lake Martin Voice" in the app store.
The Highlands Golf Club in StillWaters is one of the only public golf courses in the Lake Martin area.  If you can stomach Lake Martin Voice agent John Christenberry's wild golf cart racing, then this video tour will give you an idea of what The Highlands course is all about.
The StillWaters course manager was super helpful when we showed up (he gave us the cart), and wants everyone to know that this is a public golf course, and that anyone on Lake Martin can have a monthly membership to play here.  There are golf condos that you can rent, and specials running all the time.
Click here for a copy of The Highlands score card.
For more information, here's the website:  The Highlands at StillWaters Golf Club. If you have any questions about golf, please contact them directly.  We're just Realtors.
But, if you're interested in waterfront property in StillWaters, we can definitely help you with that.  CLICK HERE to see the homes and condos that are currently for sale within StillWaters.
At Lake Martin Voice Realty, we can help you buy or sell any property in the Lake Martin MLS.  Give us a call, and put us to work.
Related Posts:
Tour of StillWaters Neighborhood on Lake Martin
Tour of Harbor Pointe Condos in StillWaters
Tour of Villas on the Harbor in StillWaters
Deer Take Refuge in StillWaters

Fellow Lake Martin Voice Realty agent, John Christenberry, and I shot this video tour of  Stillwaters on our way to scout a potential listing in that neighborhood.
Stillwaters is a huge development (2,000 acres or so) on the east side of Lake Martin.  The first phases were built in the 1970s.  Inside the guard gates you'll find the public golf course, waterfront homes and condos, off-the-water homes and condos, Harbor Pointe Marina, plus neighborhood amenities like tennis courts, a pool, and playground.  Stillwaters has a Dadeville street address, and by water has a pretty central Lake Martin location.
If you would like to see waterfront homes and lots for sale right now in StillWaters, CLICK HERE to go to my StillWaters Neighborhood page. I have a report that shows every waterfront home and lot for sale – by all agents, all brokerages, on Lake Martin. It pulls from the Lake Martin MLS so it will be current no matter when you visit the page.
Since it's January, it's a little cloudy, but for our readers in colder country it should be refreshing to see what "winter" typically looks like in central Alabama.  We try not to wear a coat if we don't have to.
Stillwaters is a landmark in the Blue Creek area. Since Stillwaters is on the east side of Lake Martin, this means that it is close to Auburn, Opelika, and lots of lake lovers from Georgia.
As one of the older neighborhoods on Lake Martin, Stillwaters has many different phases and little sub neighborhoods. Some of the condominium complexes are Harbor Pointe, Villas on the Harbor, Sunset Point, and Stoneview Summit.  All of these are located within Stillwaters, and have their own Home Owner Associations.
If you would like to contact the Stillwaters Residential Association directly, see their website here: Stillwaters RA.
Just like any waterfront home, lot, or condo on Lake Martin, I can help you with it, regardless of who has it listed. I would love to be your real estate agent. CLICK HERE to contact me, or you can email me (info @ lakemartinvoice . com), or you can call me at (334) 221-5862.