If I drive directly to my office from home, I never glimpse Lake Martin. So sometimes (read Mondays) when I am headed to the office, and need some inspiration or a reminder about what I am really doing, I drive to Kowaliga Bridge, take in the view, and turn around refreshed.  Today it was really helpful, especially after hearing so much bad news lately about the real estate industry.
If you talk to families that have owned or rented Lake Martin homes for a long time, you will never hear them say, "boy we enjoyed the lake house, except for the late 1970s' oil crisis" or "golly, the failure of the savings and loan banks in 1987 really screwed up my weekends at Lake Martin."  Nope.
Instead I hear comments like "that lake house has been the only place I can really relax" or "my favorite pictures of our kids were the ones we took on the dock…"  Somehow, during WWII, Korean War, Bay of Pigs, Vietnam War, oil quotas, 19% rates, S&L Crisis, Tech Bubble, Y2K Crisis, 9/11, Iraq …. somehow people still like their lake homes.
I am not suggesting that buying a home on Lake Martin will make you a happy person. There's only one way to that kind of peace. And I am not trying to belittle today's market woes or equate the Y2K panic to the Bay of Pigs. I am only saying that, well, I don't really know what I am trying to say.
Maybe all I am saying is that here is one thing I KNOW: the skies are stunningly blue today. The wind was whipping down south from Big Kowaliga, whitecapping its way to break on the shores of Sinclairs-By-The-Sea. The heron that was fishing over in the slough by Kowaliga's Used Boat place was too elusive to photograph. No one was around to see me standing like a tourist on the shore, looking around for a bird whose pecan sized brain was too much for mine. Nothing in the realtor playbook for that one.
To respond to some readers' comments, I thought I would publish a few more statistics from the Lake Martin MLS* waterfront home sales for August 2008.
Before I get into it, let me first caution all readers not to draw broad conclusions about the Lake Martin real estate market from the following two graphs.  I still maintain that looking too deeply into monthly sales statistics may be misleading, since we have such a very small market in terms of number of sales.  It just doesn't make for a very good sampling pool when there are only 20 sales. So again I stress, this is for illustrative purposes only.  Keep in mind that you are only looking at 20 sales, only in the month of August.
The chart below makes a great case study as to why I am loathe to use trend analysis on monthly sales statistics. I am trying to answer the question, what did waterfront homes sell for relative to list price in August on Lake Martin? As you can see, sale number 18 does not have a sold price listed (no blue bar).  So if I were to include that in the average, it would totally mess up the average calculation.  I am sure that the home wasn't give away for free.  For some reason, the seller chose not to list the sales price in the MLS.  It was a home that listed for around $300,000 – so I imagine it sold for around that amount.  But I don't want to guess, so I left it out of the average calculation.  It's a rolling average, so e.g. only the first 10 sales are averaged in #10, then on #11, 11 are averaged, etc.  On the last one, #20, I only average 19 since #18 was zero.
Nevertheless, here we go.  The blue bar is each sale's % of Original List Price divided into sales price.  Original List Price is the list price used when a home was first entered on the Lake Martin MLS.  So if a home was put on the MLS on January 1 for $450,000 – then the list price was reduced on March 1 to $400,000 – then sold on August 15 for $385,000 – the calculation is $385,000 / $450,000.
Here is another chart, attempting to describe the average Days On Market for each waterfront home sold through the Lake Martin MLS in August.  My old statistics professor (RIP) would have a fit looking at this.  The standard deviation is too huge to be useful.  It goes from zero on the low side to a high of 456.  The rolling average ends up at 159.
Days on Market is defined as Date Sold minus Begin Date.  So if a property was sold on August 15, and it was entered on the MLS on July 1, that would equal 46 Days On Market.  Our average, at the end of August, was 159 Days On Market.  Is that close to our average for 2008?  My gut tells me yes, but I have not confirmed that.  So don't take it as gospel.
I may decide to incorporate these types of charts in the future, but as you can see they get tedious when you have to comb through them to weed out sales which do not publish a sales price or some such other datum.
Hey Buyers – I'm talking to you. Yeah you.  If you have even thought about buying Lake Martin real estate in the last 4 years or 4 minutes, I am talking to you.  Would you like to know the top 5 properties out there in your category (lot, home, condo) that are the best value? Why not email me at the address at the top of this page.  Warren Buffet is buying, so you can say you did it because of him.  You will look smart.
Related posts:
More posts on Lake Martin MLS Statistics
(*)Disclaimers: All of the above info was taken from the Lake Martin Area Association of Realtors Multiple Listing Service. Accuracy is not guaranteed but deemed reliable. The above does not include sales by FSBOs or developers that sell privately and not through the MLS. But, I do think that the above represents a very large majority of all sales on Lake Martin.
Lake Martin MLS* waterfront home sales did not match the sun and fun for August 2008.
July 2008 waterfront home sales turned in a winner, beating 2007's mark and giving us hope of the start of a rally.
Unfortunately, August did not repeat, turning in a lukewarm 20 sales, about the same amount for August 2007.
Once again, the old supply and demand thing continues to nag Lake Martin just like the rest of the country.  It was heartening to see the first reduction (from 527 to 518) in active listings since November of 2007. The overall active waterfront listings did dip, perhaps (hopefully) beginning its annual cold weather slide:
Another interesting thing to note is the amount of waterfront lots that are for sale right now on Lake Martin.  I must admit I was surprised, and triple checked this number.  Would you belieive that in August there were 152 lots for sale, and only 2 sold?  Check this table:
This confirms the c-store talk among real estate agents.  Given these numbers, and scanning the MLS, I think that any buyer looking at Lake Martin as a pure investment play needs to consider a lot. Especially if you don't want a lot of upkeep.  Lots are low maintenance.  If this applies to you, let me know, I have a new lot listing that you might like.
I will wait another week or so to post results for 3Q08. I try to give it several weeks after the calendar end date to post results, as a lot of agents lag behind a bit in entering their results into the Lake Martin MLS.
Are you thinking about selling, and would like to know how I would use the above information to sell your property, despite all of the doom and gloom? Contact me.  It can be done!  Let me share some success stories with you.
Related posts:
More posts on Lake Martin MLS Statistics
(*)Disclaimers: All of the above info was taken from the Lake Martin Area Association of Realtors Multiple Listing Service. Accuracy is not guaranteed but deemed reliable. The above does not include sales by FSBOs or developers that sell privately and not through the MLS. But, I do think that the above represents a very large majority of all sales on Lake Martin.
If you'd like to know more about The Preserve at Stoney Ridge, just click the play arrow below to check out the video I shot the other day:
If you would like to see waterfront homes and lots for sale right now in The Preserve at Stoney Ridge area, CLICK HERE to go to my Stoney Ridge Neighborhood page. I have a report that shows every waterfront home and lot for sale – by all agents, all brokerages, on Lake Martin. It pulls from the Lake Martin MLS so it will be current no matter when you visit the page.
I was shocked at how big the view is from the Pool / Cabana area. Check the video, about a minute in to it. You can actually see Lake Martin from there.
Also you may be interested in the video home tour of one of my homes for sale, 791 Old Still Road, that is in the Preserve at Stoney Ridge. It is a unique and beautiful Lake Martin home. If you haven't watched this video yet, #1. – you are in the minority and #2. – you will be surprised by one of its features, see if you can guess which:
Lake Martin Voice readers have noticed this for a while now, but we have recently undergone a redesign. I did this to try and keep my blog on the positive tip of usability and reader friendliness, without indulging myself in a bunch of geeky add ons that distract.
That being said, by far the most popular element of the redesign as been the new way to search the Lake Martin MLS.
Coley Real Estate is proud to offer the area's only (so far as I know) Map Based MLS search. Just click on the Search the MLS tab above to see what I mean.
When you do that, you will be taken to a search portal.  You may have to adjust the up/down and right/left scroll bars on your screen to remove my smiling face and see the map.  You will see that the map shows you the total number of active listings and asks you if you want to plot them (at this writing there were 1,335).
If you don't want to see them all, narrow your results by # of bedrooms, or price, or waterfront, on the left.  Now is when it gets interesting, so let's use the map to restrict the results:
1.  Zoom in to your desired level. You can move the map around by clicking in it and dragging around to get in the perfect location.
2. Select a map drawing tool from the bottom, I like the "irregular polygon" tool.  See this pic to find the tool:

3. Click around the area that you want to, with this tool you can make as many clicks as you want.  The circle tool is different, and so is the rectangle tool.  When you are done defining your area, double click to set it in stone.  Then it looks like:
4. View the results. If it doesn't do this automatically, click "Update" so that the number count is refreshed.  You can view individual listings by zooming in and clicking on each green square, or you can view them all in a list by selecting the "List" tab on the upper right corner.
5. Enjoy! If you have any interest in any of the listings, contact me – you call or email me at my info at the top of the page.  If you have trouble browsing around – email me, I will try to help.
FAQ about the Lake Martin Voice MLS Map Search:
1.   Are you cool or something? How do you have this info and no one else does? I would like to pretend that I am cool, but in reality I am not.  This is the same info that is presented by the Lake Martin Area Association of Realtors, and by many other realtors' sites, for that matter.  The big difference is that here, for the first time, it is presented and organized by each listing's geocode so that you can see it on a map.  The #1 complaint I heard from consumers was that our MLS is hard to search.  This is an attempt to help that problem. A huge thanks to Flex MLS for putting out a great software system for us to use.
2.  Where is my (my neighbor's) waterfront home on the map? I know for a fact it's for sale, I can see the sign from my window, but it's not on your map.  What's up? Keep in mind that this data is a direct feed from the MLS.  If the listing agent has not gone into the system to correctly tell FlexMLS where the listing is, it may be wrong.  Much like if the listing agent enters the wrong number of bedrooms, it will be wrong until each listing agent fixes it.  Nothing I can do about that (unless it's my listing).  The system is imperfect as it is fed data by imperfect people.
3.  So what should I do if my home is for sale and it's wrong on your map? Well, a.) it's not my map, it's info taken from the MLS.  So that means it's wrong on the MLS.  I would say you should b.) call your listing agent and ask him / her to correct it.
4. I want to know of any homes that come up for sale in a certain area, yet I am too busy to check the MLS every day.  Is there some way I can set up a search to automatically notify me of that? Yes, just email me and let me know of the exact borders of your desired area (e.g. Kowaliga Bridge to Chimney Rock on the south) and I will plug it into a search.  It will email you when there is a change in that area.  It's totally free of charge and of guilt.  I only hope that you will call me to help you when the time comes.
5. Are these all your listings? Nope, I wish.  This data is pulling from the entire Lake Martin Multiple Listings Service.  My listings are included, but so are everyone else's.  But, I CAN help you with all of these.  If you are interested in anything you see, contact me, I can help you research or buy something, and it doesn't cost you a dime more.
6. Where is a summary of your listings? Two places – you can click here for a map version and here for a list of my listings.
7.  Would you like to know how to improve this? Yes I would! Please let me know how I can make it better!
Many Lake Martin Voice readers may be interested in the results of the auction of the home at 1355 Sturdivant Rd Jacksons Gap, AL 36861. It is a waterfront home.  According to the auctioneer's website, the home has 3 bedrooms, 2 bathrooms, and was built in 1982.
The waterfront home was auctioned off, along with a bunch of other homes (not necessarily in the Lake Martin area), on 9-08-08 in Birmingham.  I didn't go, but intrepid reporter on the scene, slownez, of Lake Martin forum fame, did.
Here is slow's report, I thought that it makes for an interesting read of how these multi home auctions go:
"AL State House & Land Foreclosure Auction. Birmingham, AL 9/8/2008.
Registration started at 5pm at the Sheraton downtown. There were about 100 people there right at 5pm to sign in. Some had pre-registered and they had lines to register as well as to identify yourself as someone who would be bidding on multiple purchases. They checked to make sure you had a cashiers check for $5k and a valid ID and then given a bidders card to hold up at the auction. We went to grab a bite to eat and came back a few minutes after 6pm to find ~500 people already seated for the auction and they were scrambling to bring in more chairs.
The bidding started at 6:30pm with a practice session for those that had never attended. There 90 properties to be sold and the Lake Martin house was #88. I took them 3 hours to reach #88. Most all of the properties had a listed starting bid of $1,000. The house value was listed at what ever the last person paid for it, note this is a lot different from what the house is actually appraised for or worth. The $1k houses took off at $5k bidding and went up. Most of those sold in the $30k to $100k price range. The auctioneer had several helpers in the aisles that you could call over to ask what the current price was and what the next bid price was, the auctioneer was hard to understand at times as he was going so fast. Once you won a bid and the property was declared sold, you were escorted to table to finish the paper work and provide or apply for financing.
You were supposed to be pre-qualified for the auction, however they had both Chase and Countrywide on hand. A lot of properties came back up for bid a 2nd time because the winning bidder failed to qualify for a loan and had no proof of cash reserves to pay for the house. This slowed the whole process down as they re-bid these properties before moving to new ones.

The lake martin house was listed for a starting bid of $159k and a value of $416k. Bidding started at $165k and quickly hit $225k among several bidders. Then it was down to two bidders who drove the price up to the winning bid of $285k in about 20 seconds. Add on the 5% for the auction company and the selling price was ~$300k.
—Slownez"
Thanks Mr. EZ!!
Readers – was anyone else at the auction, and do you have more to add? If so please leave a comment below.  Or maybe you weren't there, but have an opinion on the price or process.  Leave a comment below!
Or, do you have more Lake Martin newsworthy events?  Contact John Coley by phone or email at the top of this page.  We are always on the hunt for great story ideas.
Related Posts:
Guess What? Nothing Happened At Lake Martin Auctions
To continue the post I did yesterday on Lake Martin's  Deadening Alpine Trail, I wanted to include these photos of the Cherokee Ridge Trail.
The Cherokee Ridge Trail is also maintained by the (duh) Cherokee Ridge Alpine Trail Association.  Its trailhead is on the Scenic Overlook, on Overlook Drive off of Highway 50, just east of Martin Dam.  It's kind of near Ghost Hollow and Whiskey Ridge if you know where they are.
The Scenic Overlook offers stupendous views of Lake Martin, looking west, all the way to Kowaliga Bridge, with a little bit of a vision to the south (Martin Dam) and the northeast towards Chimney Rock. If you ever want to get a sense of the VASTness of Lake Martin, head here.  Take a picnic, there are lots of little tables and lots of paved parking.  From there you can drive down to Martin Dam (if the road is open) and check out the Dam close up.
The Cherokee Ridge Trail is actually a system of trails. There are 3 that can be accessed here, The Cherokee Ridge Alpine Loop, The Chimney Rock, and the Kowaliga Bay Trails.  Depending on how you hike it, you can take a 1 mile up to 7 mile hike.
The trailhead is similar to the one on Deadening Alpine Trail in that you have a little sign in box and can borrow a staff if desired. Be sure to sign in so that they have an accurate count of visitors.
As on all trails, please be careful and proceed at your own risk. This particular trail gives spectacular views, especially in the winter and fall when the leaves are changing colors or have no leaves so you can really see the water.
Related Post:
Yesterday I was showing homes for sale in a Lake Martin neighborhood called The Harbor.  It is a development that is about eight or nine years old.  It is located off of Overlook Drive, just east of the Martin Dam, off of Highway 50.
I was through around 6 PM, and the sun was starting to set.  The air was cool, not very humid, basically it was perfect weather.
As I was leaving, I decided to stop by the trailhead of the Deadening Alpine Trail.  It is a 3.6 mile loop trail and part of the Cherokee Ridge trail system of Lake Martin.  This system is maintained by the Cherokee Ridge Trail Association.  The trail runs over land owned by Alabama Power.  The trailhead itself is accessed by going into the neighborhood of The Harbor, then taking a left on Long Branch.  The drive to the parking lot is accessed off of Long Branch Drive:
There is a little parking lot just for this trail:
Here is the trailhead, they even have little bamboo staves with "Deadening Trail" written on them for you to borrow:
Anyway the trail is beautiful, a real gem for Lake Martin, a great activity if you have never done it.  I am embarrassed to say I have never tried it before yesterday, as many times as I have driven by it.  The next time my family is with me, I think we will do the whole thing.  I encourage everyone to become a member.
Have you ever hiked any of these trails? Any tips for the rest of us? If so please comment below.
Related Posts:

Cherokee Ridge Trail
Russell Lands is building Russell Crossroads – that will be, as they put it,  "a 'town center' in the heart of the Russell Lands family of developments on  44,000 acre Lake Martin."
It is being built on Highway 63, just north of Windermere Road.  The town center will serve as resource for the neighborhoods of The Ridge, Windermere, Windover, Trillium, Willow Point, and for that matter, anywhere else on Lake Martin.  Judging from their plans, and the players that they have committed, my candid take is that this will be very good for the Lake Martin community.  There will be a high end grocery called Catherine's Market, which will also have a deli.  The first phase will also include The Springhouse Restaurant – "fine dining in a casual atmosphere."  Future plans call for a Hot and Hot Restaurant.
If I understand their overall plan correctly, in the future all of their area developments mentioned above (except Trillium) will be connected by a trail system so that one could jog, bike, or ride a golf cart to Russell Crossroads, and also go back and forth in between each neighborhood.
I snapped some photos a couple of weeks ago.  They are already out of date.  I drove by a couple of days ago and saw that they had the roofs on Catherine's Market and the Springhouse Restaurant.  But I will post these here anyway.
The Real Estate Sales office and Discovery Center:
Sales Office
Here is the future Catherine's Market:
Catherine's Market
And here is one of the future Springhouse Restaurant:
Springhouse Restaurant
Lake Martin waterfront sales surged in July.The Lake Martin MLS* shows 15 closed sales in July, up from 7 in June, and 36% greater than July 2007 sales of 11.
Is this the rally point Lake Martin sellers have been praying for? Will this surge carry into August and the fall? Only time will tell.
Buyers of Lake Martin real estate don't need to worry, there are plenty of properties still for sale.  Even though the number of waterfront homes sold rose, so did the "active listings" aka homes that are "For Sale" rose also.  The active listings in July 2008 was 527 as compared to 510 in June 2008.
So as you see, we are still in a buyer's market, at about 35 Months' Inventory on the market (527 divided by 15 sold).  That's a lot. In order to get back to the sellers' market pace, we would need to be selling a lot more than this. 
Another interesting factoid is to look and see at what prices these 15 properties sold.  It looks like the majority was under $599,999, with a fairly large bulk at the $200,000 to $399,999 range.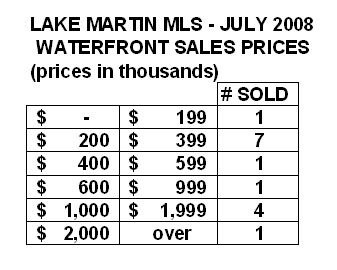 Are you thinking about buying on Lake Martin, and waiting for the right time? Contact me at the phone number at the top of this page, or email me.  I can help you run the numbers, and cut through all of the noise to help you find what's right for you.
What do you think, Reader?  Will this increase be sustained, or is it a flash in the pan? Please comment below in the "Leave a Reply" section.  If you can't see that, then click "Continue" and scroll to the bottom.
(*)Disclaimers: All of the above info was taken from the Lake Martin Area Association of Realtors Multiple Listing Service. Accuracy is not guaranteed but deemed reliable. The above does not include sales by FSBOs or developers that sell privately and not through the MLS. But, I do think that the above represents a very large majority of all sales on Lake Martin.

Related Posts: