To continue the post I did yesterday on Lake Martin's  Deadening Alpine Trail, I wanted to include these photos of the Cherokee Ridge Trail.
The Cherokee Ridge Trail is also maintained by the (duh) Cherokee Ridge Alpine Trail Association.  Its trailhead is on the Scenic Overlook, on Overlook Drive off of Highway 50, just east of Martin Dam.  It's kind of near Ghost Hollow and Whiskey Ridge if you know where they are.
The Scenic Overlook offers stupendous views of Lake Martin, looking west, all the way to Kowaliga Bridge, with a little bit of a vision to the south (Martin Dam) and the northeast towards Chimney Rock. If you ever want to get a sense of the VASTness of Lake Martin, head here.  Take a picnic, there are lots of little tables and lots of paved parking.  From there you can drive down to Martin Dam (if the road is open) and check out the Dam close up.
The Cherokee Ridge Trail is actually a system of trails. There are 3 that can be accessed here, The Cherokee Ridge Alpine Loop, The Chimney Rock, and the Kowaliga Bay Trails.  Depending on how you hike it, you can take a 1 mile up to 7 mile hike.
The trailhead is similar to the one on Deadening Alpine Trail in that you have a little sign in box and can borrow a staff if desired. Be sure to sign in so that they have an accurate count of visitors.
As on all trails, please be careful and proceed at your own risk. This particular trail gives spectacular views, especially in the winter and fall when the leaves are changing colors or have no leaves so you can really see the water.
Related Post:
Yesterday I was showing homes for sale in a Lake Martin neighborhood called The Harbor.  It is a development that is about eight or nine years old.  It is located off of Overlook Drive, just east of the Martin Dam, off of Highway 50.
I was through around 6 PM, and the sun was starting to set.  The air was cool, not very humid, basically it was perfect weather.
As I was leaving, I decided to stop by the trailhead of the Deadening Alpine Trail.  It is a 3.6 mile loop trail and part of the Cherokee Ridge trail system of Lake Martin.  This system is maintained by the Cherokee Ridge Trail Association.  The trail runs over land owned by Alabama Power.  The trailhead itself is accessed by going into the neighborhood of The Harbor, then taking a left on Long Branch.  The drive to the parking lot is accessed off of Long Branch Drive:
There is a little parking lot just for this trail:
Here is the trailhead, they even have little bamboo staves with "Deadening Trail" written on them for you to borrow:
Anyway the trail is beautiful, a real gem for Lake Martin, a great activity if you have never done it.  I am embarrassed to say I have never tried it before yesterday, as many times as I have driven by it.  The next time my family is with me, I think we will do the whole thing.  I encourage everyone to become a member.
Have you ever hiked any of these trails? Any tips for the rest of us? If so please comment below.
Related Posts:

Cherokee Ridge Trail
Russell Lands is building Russell Crossroads – that will be, as they put it,  "a 'town center' in the heart of the Russell Lands family of developments on  44,000 acre Lake Martin."
It is being built on Highway 63, just north of Windermere Road.  The town center will serve as resource for the neighborhoods of The Ridge, Windermere, Windover, Trillium, Willow Point, and for that matter, anywhere else on Lake Martin.  Judging from their plans, and the players that they have committed, my candid take is that this will be very good for the Lake Martin community.  There will be a high end grocery called Catherine's Market, which will also have a deli.  The first phase will also include The Springhouse Restaurant – "fine dining in a casual atmosphere."  Future plans call for a Hot and Hot Restaurant.
If I understand their overall plan correctly, in the future all of their area developments mentioned above (except Trillium) will be connected by a trail system so that one could jog, bike, or ride a golf cart to Russell Crossroads, and also go back and forth in between each neighborhood.
I snapped some photos a couple of weeks ago.  They are already out of date.  I drove by a couple of days ago and saw that they had the roofs on Catherine's Market and the Springhouse Restaurant.  But I will post these here anyway.
The Real Estate Sales office and Discovery Center:
Sales Office
Here is the future Catherine's Market:
Catherine's Market
And here is one of the future Springhouse Restaurant:
Springhouse Restaurant
Lake Martin waterfront sales surged in July.The Lake Martin MLS* shows 15 closed sales in July, up from 7 in June, and 36% greater than July 2007 sales of 11.
Is this the rally point Lake Martin sellers have been praying for? Will this surge carry into August and the fall? Only time will tell.
Buyers of Lake Martin real estate don't need to worry, there are plenty of properties still for sale.  Even though the number of waterfront homes sold rose, so did the "active listings" aka homes that are "For Sale" rose also.  The active listings in July 2008 was 527 as compared to 510 in June 2008.
So as you see, we are still in a buyer's market, at about 35 Months' Inventory on the market (527 divided by 15 sold).  That's a lot. In order to get back to the sellers' market pace, we would need to be selling a lot more than this. 
Another interesting factoid is to look and see at what prices these 15 properties sold.  It looks like the majority was under $599,999, with a fairly large bulk at the $200,000 to $399,999 range.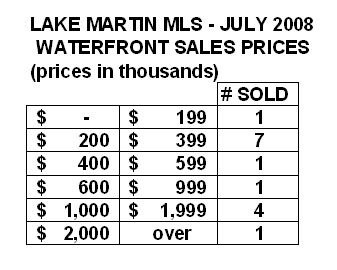 Are you thinking about buying on Lake Martin, and waiting for the right time? Contact me at the phone number at the top of this page, or email me.  I can help you run the numbers, and cut through all of the noise to help you find what's right for you.
What do you think, Reader?  Will this increase be sustained, or is it a flash in the pan? Please comment below in the "Leave a Reply" section.  If you can't see that, then click "Continue" and scroll to the bottom.
(*)Disclaimers: All of the above info was taken from the Lake Martin Area Association of Realtors Multiple Listing Service. Accuracy is not guaranteed but deemed reliable. The above does not include sales by FSBOs or developers that sell privately and not through the MLS. But, I do think that the above represents a very large majority of all sales on Lake Martin.

Related Posts:
Lake Martin Market Statistics Category
For all you high overheaders out there, with your glitz and glamour shots, here is why it is so cool that my office shares a wall with a c-store:
Bada bing!! This has been my view out of my office window for the past hour today. Nothing fires me up to sell some Lake Martin real estate more than a stare down from some sort of Norse God of Ice. He graces the side of the "Cheaha Ice Company" truck that occasionally delivers ice to Nail's Convenience Store here in lovely downtown Kowaliga, Lake Martin. See a zoomed out pic:
The cool thing is I am pretty sure he is only on one side of the truck. The other side is blank. Another cool thing is that his abs are totally discrete, not a parte of the maine of his belly. I also like how his head is disproportionately large compared to his femur. And why the sweatband? I would guess that he doesn't perspire much. Maybe he is trying to match the blue in his boots and make them really "pop."
It just goes to show you how much the Lake Martin real estate industry has changed. Over the last 4 years, I can count on one hand how many times I have met clients at my office. Mostly I meet them at their homes or on the way to homes they want to see. It's much more convenient for them, which is the whole point of a service industry, right?
One more bonus pic, a scary close up (brrrrrrrrrrr):
A Lake Martin Voice reader submitted these questions to me about the Lake Martin real estate market in general. They were so good that I thought we all would benefit from my attempts to answer. Do you disagree? Then reply below and let me hear about it. The RIQ (reader in question) purchased a Lake Martin waterfront home in 2006. Here are my OPINIONS, for what they are worth, I am neither an appraiser nor soothsayer:
1. We arent looking to sell, but gosh, in this environment, is seems like we just bought at the wrong time. What do you think?

I think that 2006 was the peak of the bull market in Lake Martin waterfront property.
2. Will Lake Martin property values ever come back?
I don't think they have gone anywhere to warrant a "come back." In other words, I don't see evidence that prices have dropped, only evidence that they have ended a scorching run of yearly gains. So if by "come back" you mean will prices someday start going up again? Of course. It's all about supply and demand. In my estimations property values in the period of 2000 – 2006 climbed 30% PER YEAR. No product, not even oil, or bottled water, can sustain that. Since then I think we have had 0% gain for 2 years. Yet, if you average that gain over 8 (2000 – 2008) instead of 6 (2000 – 2006) you still average 22.5% gain per year. I realize you bought in 06, but still you need to know that over the long term (40 years), history has shown us that Lake Martin averages 12 – 15 % per year gain.
3. Do you think our decision on this house will prove to be an œok decision for long term financial objectives?

Don't mean to sound like a smart Alec, but let me know of another investment that has averaged 12 – 15% per year for the last 40 years. I will start selling it instead of Lake Martin real estate. I am too conservative (and cash poor)
of an investor to hop in and out of real estate on the short term. But for the long term, it's hard to beat. Remember, unlike Tampa or Atlanta or whatever, Lake Martin is not growing geographically. Waterfront footage is fixed. Furthermore, practically every inch of undeveloped (450+ miles) shoreline is owned by either Russell Lands or Alabama Power. It's not like you have 100 different landowners or developers that potentially flood the market. I believe that Russell Lands is committed to measured growth. The last thing they want to do is flood the market with supply (which is why I think they have pulled back in the last 18 months). Alabama Power isn't even in the real estate business. About every 5 years they release 15 new lots to lease. On the grand scheme of things, that is not a material amount of supply injection.
4. Do you think we could move our Lake Martin house if we had to?
Absolutely. Even though market wide, the Lake Martin market is still lukewarm, I have been blessed to have sold more real estate so far in 08 than all of 07. That's not bragging because 07 was pretty pitiful. But an interesting point is that about half of the Lake Martin homes that I transacted this year had already been for sale before, some since 06. So did I sprinkle magic dust on their roofs? Did I go to the back yard and bury 6 statues instead of merely 1 statue of St. Whomever, patron saint of the desperate? No. I concentrated on the holy trinity of real estate: pricing, staging, and marketing. In a buyer's market, things are still selling, it just takes a longer time. In 2005, it might take 20 days. in 2008, it might take 100. But it will sell. Sure, there is a lot of stuff on the market that is sitting for over 200 days. But, I am highly confident your home can be sold if properly priced, staged, and marketed. Will you make money? Who knows. I don't know what you paid for it nor what you owe on it. But rest assured, if your goal is simply to "move" it, absolutely it can be done.
Does anyone else have an opinion? Help us all out and comment below. If you can't see the "Leave a Reply" box below, click the "Continue" button then scroll to the bottom.
Recently two auctions were held at waterfront property on Lake Martin. A quick check with each of the auction companies revealed that neither homes sold for the reserved prices. Both remain unsold at post time.
Here's the lowdown:
1. 284 Lakeview Drive – The "Waterfall House" at Willow Point – This auction was held on July 20, 2008. I wrote this post before the auction to spread the word. I haven't talked to anyone that attended, but I spoke to a representative at Albert Burney Auction Company. He said that neither the lot nor the home met the reserved price that day and therefore did not sell at auction. He did say that both properties were available for sale in case anyone was still interested. If you (or someone you know and love) are, let me know.
2. 211 Farm Loop Road – Wind Creek Farms– This auction was held on July 26, 2008, by Deanco Auction Company. It had a published reserve price or minimum bid of $300,000. Apparently that amount was not met because a representative of the company confirmed that it also failed to sell at auction date. Again, if you're still interested, let me know. I went through this home about a year ago (when owned by a previous family) and have tons of pictures.
These recent strikeouts remind me of last summer's Lake Martin auctions. You may remember when another auction company had a big deal where they tried to auction 3 different waterfront homes on the same day. None sold. Contrast that with 2007's auction at Harbor Pointe condos, where they sold about 20 units in one day.
So why are waterfront home auctions not catching on at Lake Martin? Is it:
A. The buyers are reluctant to pay the typical 10% auction commission on top of their bid price?
B. It is too much of a hassle to view the homes at the times appointed by the auctioneers?
C. Sellers are placing too high of reserve prices?
D. Local Realtors are digging defensive trenches around Lake Martin?
E. Buyers are unrepresented (by agents) and therefore uninformed of value?
F. Or a combination?
What do you think, dear reader? If anyone out there has some input, or would at least like to vote on my suggestions, please leave a comment below where it says "Leave A Reply." If you can't see that, hit the Continue button and then you should be able to see it.
I am really curious as to what others might think. As a "professional" (I know, eyes rolling) I might be missing something here, so let me hear some other opinions.
Related Posts:
Register Now For Auction At Willow Point
Results of Harbor Pointe Condo Auction
Is driving all about the steering? No.
Then why should Lake Martin real estate agents think that a transaction is all about him or her? It always puzzles me when real estate agents let their egos become part of the buying and selling process.
It happens all of the time at Lake Martin, as I am sure it happens everywhere. Now, I am not talking about good ole competitive spirit or clean hustle. I am talking about the instances where the agents seem to think that if wasn't for them, the whole transaction wouldn't happen at all.

Here are 4 ways Lake Martin realtors are like power steering:
1. Not essential – people have been selling each other land since the beginning of the deed. I am sure that the first horseless carriage was hard to steer, but possible.
2. But helpful– there's no denying that it's physically easier to drive with power steering, and a good real estate agent, focused on only your needs, should make buying or selling your Lake Martin home easier by doing things like previewing homes, meeting the inspector, finding the right subcontractor, or researching in the courthouse – whatever it takes to make it easier on you.
3. Safer – It's safer going around a curve when you don't have to muscle the wheel by yourself, and a good realtor will point out the possible pitfalls in dealing with Lake Martin real estate. There are plenty of oddities about Lake Martin real estate – valuing your lot, waterfront easements, leased lots vs. deeded lots, just to name a few. Are you prepared to know which questions to ask?
4. More efficient– power steering smooths out all of the minute under and over steering while you drive. The result is a smoother, straighter ride. In the same way, a good real estate agent will help Lake Martin buyers skip the properties they wouldn't like anyway and concentrate their time on the few real possibilities. Similarly, Lake Martin sellers can avoid all of the common mistakes that sellers make when marketing their lake property.
I am far from perfect; in fact I'm just an old chunk of coal. Sure, I can't help but get emotionally and personally involved in a lot of cases. But I constantly remind myself that it's not about me! It's about them! It's my job to help make my clients' experiences fun, safe, and more efficient.
If I can't prove to a Lake Martin buyer or seller that I can't save them time and money, then I can't look them in the eye and expect them to hire me!!

Related articles:
Lake Martin Sellers – Don't Pick This Realtor
5 Mistakes Lake Martin Buyers Make
Recently around Lake Martin (online and offline) I have heard a lot of talk about eating at the lake. Some were bemoaning a lack of restaurants, others were extolling the virtues of cooking at home.
Still others admitted wanting someone else to do the cooking, but when they get down to their Lake Martin home on Friday night, they're too tired to go out.
One solution is eating some of the great cooking from a local – The Dirt Road Gourmet. They pre-make casseroles and such, freeze them, and sell them through local retailers. Click here for their website and product list. Also you can click here for their list of retailers.
I pick ours up from Nail's because it's close to my real estate office and family's cabin. They are really good, and really easy. Before you leave for the weekend, buy one, keep it in the freezer. The next Friday, when you get back down to the lake home, pop it in the oven while you're unloading, it'll be ready to eat when you are.
I highly recommend the Dirt Road Gourmet as a balance between fixing it yourself and going out. Plus, you can feel good about supporting a local business.
The article that follows is fine, but it's just old.  The above link will take you to a history of The Ridge, a video tour by car and by boat, PLUS a list current homes for sale in The Ridge.  Much more timely.
From 2008 . . .
I am working with a couple of buyers in The Ridge, a Russell Lands development in Lake Martin. I always get asked lots of questions about the amenities at the Ridge, so I thought I would shoot a video to show some of them.
Basically, if you own a home, a lot, or a town-home in the Ridge, you have the right to access all of the amenities, like the pool, the Ridge Club, the tennis courts, walking trails, boat launch, and Beach Club. The Ridge Marina is public, but of course easily accessed by Ridge owners.
Here is the video:
I should have shot more footage of all the walking trails and sidewalks of the Ridge, a lot of people like to use them. Maybe it's material for a future video.
Properties for sale in The Ledges at The Ridge:
276 Ledges Trail (click here for property description)
here is a video tour of the townhome:
Related Posts:Lake Martin Real Estate Spotlight: The Ridge
Lake Martin Real Estate Spotlight: The Ridge Update