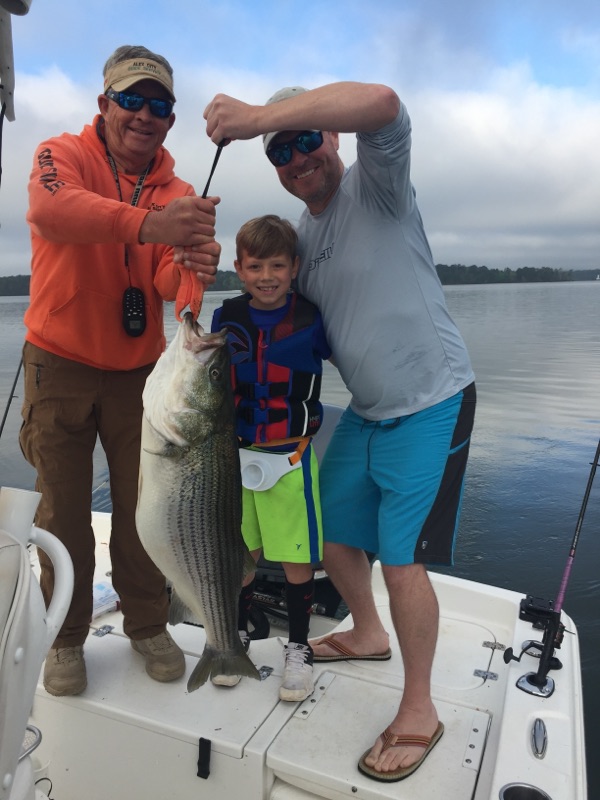 I first met G. C Lewis and his family when I was helping them find a waterfront lot on Lake Martin. Being an Auburn alum G.C. was interested in building a lake home close to Auburn. Since the Lewis family lived in Georgia they were weighing their options at Lake Martin vs lots at Lake Chatuge in Georgia. They realized Lake Martin had a lot more to offer in terms of amenities and restaurants.
We found a lot in Shady Bay that was perfect for them. They hired Bryan Jones of Jones Pierce to design their home. The Lewis family was so excited to move forward with their plans to build at Lake Martin.
It is so much fun for me to keep in touch with my clients over the years. The Lewises were new to Lake Martin but as you can see in the photo above, they quickly learned the fishing hot spots with help from David Hare.
David Hare, owner and head guide of Alex City Guide Services, is one of the best guides on the Lake and certainly one to talk to about learning to fish Lake Martin. Give him a call at 256-401-3089 or email him at [email protected]
If you are looking for a lot at Lake Martin and ready to start planning your lake getaway, call or text me, John Coley at 334-221-5862  or by clicking here or email me – [email protected]. I would love to help you navigate around the Lake and catch your great real estate deal.
June waterfront home sales on Lake Martin were up 44% from last year!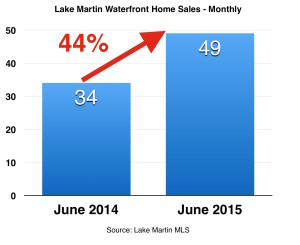 Yes, you read that right. The Lake Martin real estate market is doing well this summer. June of 2015 beat last year in sales by 44%. That's not the only good news! If you look at the year to date, we are selling well ahead of the prior year. 2015 is beating 2014 by 26%! That is impressive because 2014 was a record year of home sales on Lake Martin, even better than 2005.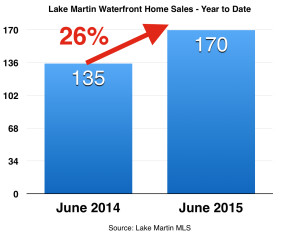 ACRE pointed out on AL.com that supply is down 6.8% and we are still having rising demand and sales even with a lesser supply.  You can read more from this article on AL.com by clicking HERE.
Another factor that is incredible is that lot sales are pacing far ahead this year as well. We have sold 46 lots through the Lake Martin MLS. That's all realtors and all brokerages in the Lake Martin area. Last year at this time we had sold 25 lots through the MLS, and last year was a great year for lot sales.
Just to recap, waterfront homes are pacing ahead by 46% and lot sales are pacing ahead by 84%. Overall, we are doing great in sales so far! Keep updated with Lake Martin market statistics HERE.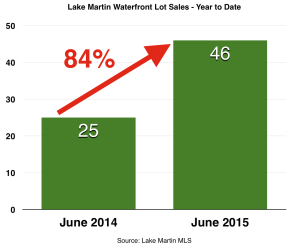 If you have any questions or need real estate help on Lake Martin, feel free to contact me, John Coley, with THIS FORM or at john (at) lakemartinvoice (dot) com or  334 221 5862.
Would you like to search the Lake Martin MLS from your smart phone? Then download the Lake Martin Voice free app!
Happy Friday and Congratulations!! You just saved $10,000 on Lot 61, Phase II of The Ridge!
We just dropped the price on Lot 61, Phase II of the Ridge. It's an awesome waterfront lot on Lake Martin. Just think of it, you didn't have to lift a finger and you saved $10,000. The price has been reduced to $229,000 from $239,000. CLICK HERE for more info on the lot.
Lot 61, Phase II is on Eagle Ridge in one of Lake Martin's most prestigious neighborhoods: The Ridge!
Waterfront lot and home sales are beating last year by 26% on Lake Martin, and 2014 was a record year. Now is the time to take advantage of a great new price on this  wonderful lot!
Call John Coley at 334 221 5862 or john (at ) lakemartinvoice (dot) com.
More Info: The Ridge in Lake Martin
A Lake Martin Leased Lot waterfront home is becoming an increasingly rare bird in our real estate market.
If you're new to searching the Lake Martin MLS, you might have noticed a field in the information sheet that looks like this: Deeded: Deeded or Deeded: Leased. This is shorthand. If we had more room, it would probably look like: Is This Lot Deeded or Leased? and then have the answer either Deeded or Leased.
What is a leased lot home on Lake Martin?
A fair question. It's a home where the seller is owns and is selling the improvements only, but they don't own the land underneath it. They lease the land, usually from Alabama Power. Historically leased lot homes are less than 10% of overall sales. For more information, see the Leased Lot category of my blog.
Why are leased lot homes becoming more rare on Lake Martin?
About two or three years ago, Alabama Power began selling some of the homeowners the lots which they lease. Mind you, this was not Alabama Power opening up new lots to lease or sell, this was them contacting homeowners on existing leased lots, and saying, in essence, "hey, do you want to buy this lot at $X?" Because of this (relatively) new phenomenon, we Lake Martin agents are seeing fewer waterfront leased lot homes for sale on the market. Those that are on the market usually have an option to buy the lot. Often, you'll see this noted in the (super secret) Agent Notes section of the Lake Martin MLS.
Recently, I had a buyer ask me about how one goes about purchasing a leased lot home with an option to buy the lot.
His Q: Is being able to secure purchase of the lot a reasonable contingency on a contract for the house? Would both transactions be handled together at one closing and with one mortgage or would they have to be separate?
My Answer:
"Excellent questions, I have closed a couple this way:
1.) That's an absolutely reasonable contingency. In fact, I as your agent would insist on such a contingency, broadly worded like "contingent upon buyer's obtaining an acceptable contract with Alabama Property company to purchase Lot X for $yyy,yyy and acceptable review of all lease documents." The idea here is that if you can't buy it for what you want, you're out of there.
2.) closing at one time is doable. I have had one where technically it was two closings but they happened at the same time, where you sat down at the table and signed a bunch of docs to buy the lot first and then a bunch of docs to buy them all together. But it felt like one closing. I can recommend lenders around Lake Martin that are used to this concept. I would not recommend getting lenders from out of town because they have a hard time wrapping their heads around the concept. No slight against them, it is admittedly a weird concept and if I hadn't seen it at Lake Martin I would know nothing of it myself. In fact, growing up here I didn't know anything about it, it wasn't until I started selling real estate that I learned about it.
FYI here's everything I have ever written about leased lots: Leased
It's a little outdated because of the above but it hopefully gives you a decent background.
Do you have any questions about Lake Martin real estate?  If so, please email me with this form or : info (at) lakemartinvoice (dot) com!
Have you ever thought, "Lake Martin is almost perfect, but what if it were a little more like the Smoky Mountains?"
If so, your dream may have come true. Black bears have been spotted around Lake Martin. See this article in the Alex City Outlook. I must admit that I often have wished Lake Martin could be more Smoky like, but it has to do mainly with wild trout. If some mad plan could be hatched so that the Tallapoosa below Martin Dam could sustain trout, maybe we could become the next South Holston.
Back to reality, this story reminds me that I have many waterfront lots for sale in Shady Bay. They range in price from $57,000 (Lot 23 Ph I) to $190,000 (lot 5 Ph II). If you would like to see the entire list, see Shady Bay Lots For Sale. Or, if you would like to learn about Shady Bay real estate in general, see the Shady Bay neighborhood page.
Since the black bear article first appeared, the sightings have decreased. Maybe the bears have moved on, or maybe they are getting camera shy.
But one thing's for certain – Shady Bay on Lake Martin is a great spot to build your waterfront home. There are homes underway on lots 9 – 14, and they are going to be some really nice ones!
If you have any questions about the lots in Shady Bay, or anywhere else, please don't hesitate to contact me. I can put you in contact with builders and architects to answer your design and construction questions, if you would like me to do so.
Great news! Prices have dropped on great waterfront lots in Lake Martin's Shady Bay neighborhood!
Shady Bay is a great waterfront neighborhood on the northern end of Lake Martin. I have several waterfront lots for sale in Shady Bay. We started out with fourteen lots and have sold six, so we are down to eight. We recently dropped the prices on these lots, so if you are looking for a site to build your Lake Martin dream home, now may be an excellent time to take advantage of the new prices.
For more information on these lots, please see:
For more information on Shady Bay in general, please watch the above video or click on this: Shady Bay Neighborhood Page.
Which lot looks right for you? Please call at 334 221 5862 or contact us here if we may help!
We've had our first closing of a Lake Martin waterfront lot in Phase II of Shady Bay!  Alabama Power recently dropped the prices on all of these lots, and we've seen a lot of action, plus the first closing.  There are twelve lots remaining in Phase II.
As an accountant an a realtor, I get geeked up about the numbers and the business side of a sale, so when I asked my Shady Bay buyers what their first step would be now that they owned the lot, I expected them to say, "Meet the builder at the lot," or "Go over house plans with the architect."  Something business-y.  But that was not their plan, and I love what they said!  Check it out:
Now that is the first thing to do when you buy on Lake Martin!  I am so happy for these lot owners and I look forward to watching them create their dream home on the water.  Thanks for letting me share your excitement with my readers!
Like I said, the price drops at Shady Bay have created a lot of interest from buyers.  Shady Bay is an established neighborhood on the northeast side of the Lake Martin.  That means you can relax on the water, but still be in Alex City in minutes – the grocery store, the hospital, the schools, Highway 280.  It's a great mix of city/vacation, and because it is close to Highway 280, a lot of things are close to Shady Bay.
For more info on Shady Bay, click here   If you like what you see, give me a call at 334 221  5862, and let's talk about what this neighborhood has to offer.  I'm the listing agent for Shady Bay, but as a member of the Lake Martin MLS, I can help you with any property in the MLS, regardless of who has it listed.  For a quick tour of the neighborhood, check out the video below:
I took my first official working boat trip a few weeks ago, right in the middle of the "greening" phase of spring at Lake Martin.  Everything is that vibrant, exciting green, and the sky is that clear bright blue – it's beautiful.
From the boat, I took the pictures below of a great lot I have listed for sale in the Smith Mountain area, Lot 4 Phase 2 Smith Mountain Drive.  I love this lot because of it's unique location.
The future owners of this lot will have a true year-round Lake Martin home.  In the summer, hop in the boat enjoy all the traditional fun and sun activities.  In the fall, winter and spring, get outside on the Smith Mountain trails.   This lot is within walking distance to some of the most awesome hiking trails in our area.  Outdoor activity during all seasons, just outside of the doorstep.  And the future owners can bring their own builder and design this doorstep, too!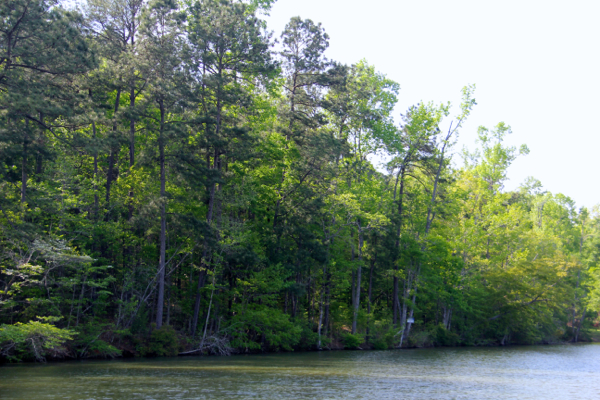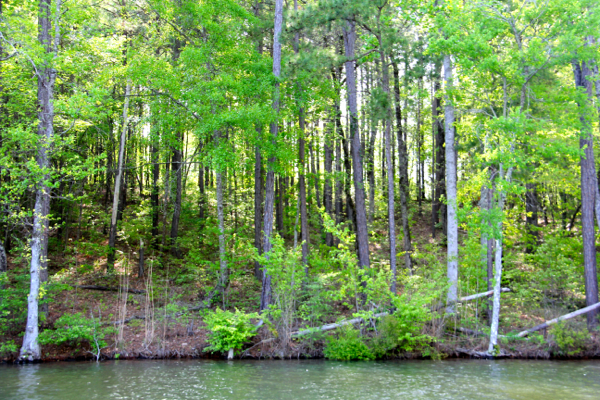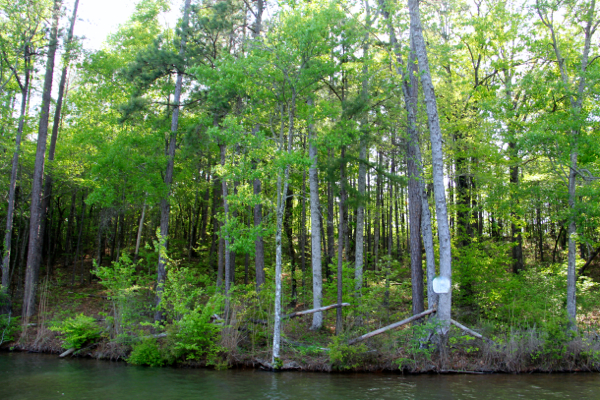 For all of the listing info on this lot, click here.  If you have any questions, or would like to know more about Lake Martin lots and real estate in general, give me a call at 334 221 5862, or email me at john at lakemartinvoice dot com.
How do we know the value of a Lake Martin waterfront lot?  Have you ever seen two that are exactly alike?  Do appraisers base their finding based on a feeling, or is there a formula?
Yes, there are several formulas, but only one that works at Lake Martin:  Comparable Sales.
Every now and then, out-of-town appraisers come to Lake Martin and are paid to make decisions about property value on our lake.  And they often bring their city-style pricing methods with them.  I've seen it enough, and have had to have this conversation with buyers often enough that I felt a real study of lot pricing methods was due.  I wanted to combine our MLS sales data with the anecdotal evidence I've been collecting for years.
I've been saying for a few weeks now (Part 1 and Part 2 of this series) that Lake Martin waterfront lots are best valued by the Comparable Sales method.  I've walked you through two other methods that don't cut it in our Lake Martin market:  Price Per Waterfront Foot and Price Per Square Foot/Acre.  The time has come address the most accurate valuation tool, the Comparable Sales Method aka the Sales Comparison Approach.
The Comparable Sales Method at Work on Lake Martin
"The Comparable Sales Method uses data from the sales of similar properties to estimate the market value of a piece of real estate.  This is a common method of assessing the value of real estate . . .  In most cases, several similar properties are used in the analysis." (About.com)  So what I do when helping a potential seller determine a list price for their lake property is look at other similar sales.  A perfect comparable sale would be one that is geographically close,  with a similar view, privacy, water depth, and waterfront footage, etc.  Properties that have already sold are called "comparables," and the lot you are trying to value is called the "subject."
When the Sales Comparison Approach is used, choosing the most comparable sales is a critical part of the equation. To make things simple, let's think about deed restricted developments on Lake Martin first.  The old real estate cliché of "location, location, location" does apply at Lake Martin.  Over the years, buyers have shown a preference to select lots that are inside deed restricted neighborhoods with covenants and homeowners associations.
One takeaway from this study is that the Comparable Sales method is labor intensive.  It requires a working knowledge of the area – otherwise how to know which sales are most comparable?  It also supposes an understanding of what buyers value in a Lake Martin lot.  Like most real estate pricing, it is not an exact science, but I think you can get pretty close.  There is no getting around it, no shortcuts, no magic formula. One simply has to buckle down and find the most comparable sales and then adjust to match the subject. For instance, if a comparable lot sells for $185,000, and I think that its view contributes 10% more value than the subject's, then I would subtract 10% or $18,500 from the sales price to arrive at an estimation of the subject of $166,500. I try to get two of three more comparables, and average their adjusted sales prices, and presto, I have my estimation of value.
Obviously it gets a little more tricky to find comparable sales for properties that are not in formal neighborhoods at the lake, and there are some that are not.  But it can be done, and done well with the proper research.  The same goes for properties with homes.
The Sales Comparison Approach is also the preferred method by residential appraisers, so we shouldn't be surprised that is the most accurate here at Lake Martin.
That is not to say that waterfront footage should be ignored – not at all. When using the sales comparison approach, if two lots are ceteris paribus except for waterfront footage, consideration should be given to the lot with more feet at lakeside. 

There is a place for adjustment for waterfront footage, but only as a secondary, fine tuning after first selecting good comparable sales. Much like a set of scales at the doctor's office has two weights  –  a large one to get you close, and a small to get you exact:
Hopefully this study dispels the impulse of using waterfront footage as a starting point, or as the primary driver of estimated sales price.  The numbers just don't work. I also hope that using a price per acreage or per square foot will not be used at all.
And now, having read all three parts of this math heavy series on lot pricing, I declare you to be a graduate of the Lake Martin Voice School of Graphs and Charts!  Congratulations!
Caveat:  If you call me to list your waterfront home or lot, and you tell me you have a "feeling" your Lake Martin lot should sell for X because Lake Martin lots generally sell for X per square foot, I'm going to make you go back to Part 1 and retake the course.
Links to Related Material:
Lake Martin Waterfront Lot Pricing: An In-Depth Study Part 1
Lake Martin Waterfront Lot Pricing: An In-Depth Study Part 2
What do you know about Lake Martin waterfront lot pricing?  In the city, it can be feasible to value a lot using multiple pricing methods, but at Lake Martin, it's a whole different ball game.  I've been telling buyers this for years based on anecdotal evidence, but now I have studied the Lake Martin MLS sales numbers and can back up my claim that the Comparable Sales method is the Lake Martin way to go.
Clichés are so… well ….. cliché. Part of the reason I started my real estate blog way back in 2007 was to examine, and publicize, what is really going on with Lake Martin real estate. I don't claim to be the only voice for Lake Martin real estate, but I do hope to be a clear voice of the truth, looking past clichés, assumptions, agent puffery, and hocus pocus. Pretty is as pretty does around here. One of the biggest clichés or assumptions I constantly address with my buyers and sellers is how to accurately value a Lake Martin lot. Hence the need for this in-depth study.
In the first post I introduced three possible methods for valuing a lot:  Comparable Sales, Price Per Waterfront Foot, and Price Per Foot/Acre.  Hopefully I've already persuaded you that the Price Per Waterfront Foot method does not work as a primary method in the Lake Martin market.  If not, click here to read Part I.  Now I move to the Price Per Foot or Acre method . . .
Method 2:  Price Per Square Foot / Acre
Most consumers do not start their price valuation method with the size of a lot, but I do hear it as a way to justify one lot over another. Curious, I used the same tests of the scatter plot and correlation coefficient to test the relationship of the size of lots to eventual sales price. The result was pretty telling:
Once again, the scatter plot reveals how unrelated the two variables are. If they were dependent, we would expect to see results tightly formulated in a line pattern.  Instead, it is loose.

 Similarly, the correlation coefficient is telling. For square footage or acreage to sales price, it is -0.02. That's right, it is almost zero. That tells us that the overall area of a lot is even less of a primary driver in sales price as is waterfront footage.  In fact, to return to another cliché, we can say that the size of a lot on Lake Martin has about as much to do with its sales price as the price of tea in China.
Price per acre or square foot is so unrelated, I can't even recommend it as a secondary adjustment.
In the third (and final) post in this series, I'm going to walk you through the more accurate Comparable Sales method of valuing a waterfront lot.  It, too, will be heavy on the nerd factor, but somebody's got to crunch the numbers in order to speak real estate truth.  Thanks for hanging in with me – I hope this is time well spent.
If you want to talk Lake Martin real estate – any topic, not just lot values – I'd love for you to give me a call 334 221 5862, or click here to contact me.
Links to Related Material:
Lake Martin Waterfront Lot Pricing: An In-Depth Study Part 1
Lake Martin Waterfront Lot Pricing: An In-Depth Study Part 3