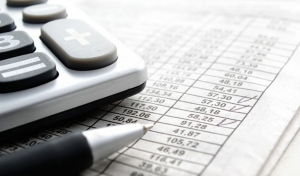 Accountants don't like surprises.
In a former life, I worked as an accountant for a couple of different businesses. I enjoyed both companies, and I learned a whole lot. One thing I learned is that rare is the joyful surprise in the world of accounting.
Even if you have a profit you didn't expect, you chide yourself for not accruing revenue properly or overestimating your expenses. 
Now that I have been selling real estate for more than a decade, I find that the debit-and-credit side of my brain has atrophied. 'Sales' is a totally different world, and I find myself surprised at least twice a day. In fact, I received two surprises this month when I cracked open the Lake Martin Area Multiple Listing Service (MLS) to see how Lake Martin's sales were going. 
The first surprise was that 2017 home sales are farther ahead than not only the prior year but also the banner year of 2015. Through the first five months of 2017, 150 waterfront homes have been sold. That counts every agent in the MLS, all over the lake, at all price ranges.
The big news here is that the total of 150 represents a bruising 26 percent increase over 2015. Wow! I regard 2015 as the best year ever for the Lake Martin real estate market. So for this year to be trouncing the best year ever is quite notable, especially considering that five months is a pretty healthy sample size. 
The second, and larger, surprise was that waterfront lot sales inventory is down a significant amount when we look at historical trends. 
It is always a little dangerous to look at one-month snapshots, especially of inventory. But I use a monthly inventory amount because it is one of the most commonly tracked statistics by the real estate industry. 
I must admit even I was shocked to see just how much waterfront lot inventory is down on Lake Martin. If we take a look at May 2015, we see that about 161 lots were for sale here. That number has steadily decreased over two years to about 114 lots for sale this year.
That is a decrease of almost 30 percent. Huge!
The lack of available waterfront lots for sale has definitely impacted the sales. Over the same five-month time period of May 2015 to May 2017, lot sales have decreased as well. The number of lots sold by all the agents in the Lake Martin MLS dropped from 34 to 26, or a decrease of about 24 percent. 
We can say that sales did not drop in lockstep with the reduction in inventory, which, again, should spell upward pressure on prices. 
What other results might we see if there is a continued decrease of waterfront lot sales?
One possible result I can think of would be a continued blossoming of fixer-uppers around Lake Martin. Sometimes when buyers can't find a vacant lot, they decide to buy an older home and either fix it up or tear it down and start from scratch. 
Either way, if you are involved in the construction industry, you have to like that news.
Note: I originally published this article in my monthly column in Lake Magazine. I am proud to write about Lake Martin Real Estate for Lake Magazine and ACRE – the Alabama Center for Real Estate.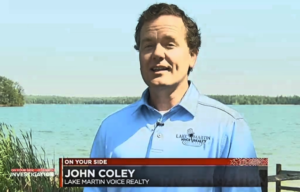 When my phone rings, I never know who or what is at the other end of the line. I am sure you are like me in that these days you get a lot of spam or robot calls on your cell phone. I must admit, a few weeks ago when I saw an out of state number call on my caller ID on a Saturday night, my first thought was to groan inwardly and think, "This is fake."
I was really surprised when I learned the truth.
A real person was calling – it was Lydia Hu, Reporter / Weekend Anchor with WBRC Fox 6 in Birmingham. WBRC was working on a story for their Fox News On Your Side Investigation segment about lot leases for waterfront real estate in Alabama. Lydia asked me to explain lot leases for the viewers. Click here for a link to the entire segment that aired in June. Read below for my explanation of lot leases.
"A lot lease is when a homeowner owns the home, the bricks and sticks and improvements on a house, but they don't own the dirt beneath it," I explained.
And the increase in the lease payments? "Most of the time it's being calculated on the value of the lot. And so if the value of the lot goes up, the lease payment will go up over those 20 years."
"Some people do prefer the lot lease because they are able to buy the house for a lot lower price and they have a smaller lease payment over those 20 or 30 years," I explained.  Anyone with a lot lease should work with a local real estate agent familiar with the market.  
My advice? "As you come to the end of your lease, you need to be aware how much the local real estate market has changed." 
Alabama Power is one of the two major land owners on Lake Martin. Many years ago, Alabama Power did not sell lake lots outright. They would lease them to folks for like twenty or so years. People would build homes on these leased lots – so it created a rather interesting condition whereas the person owns the home and dock and other improvements, but Alabama Power still owned the lot.
Around here at Lake Martin, we call these "leased Lot houses." Whenever you sell a leased Lot house, as a seller you have to disclose the lease terms. As a buyer, you should be ok with all of them.
Until about 2012 or so, approximately 10% of waterfront home sales on Lake Martin were leased Lot home sales. The last time I looked, which was early 2017, I counted that about 1% of home sales were on leased lots.
I think this is because many leased lot homeowners took advantage of a program that Alabama Power instituted around then. They sent offers to leased lot homeowners offering to sell them the lots associated with their homes. Many waterfront homeowners took Alabama Power up on the offer, and thus there are a lot fewer leased lot homes. Logically, that means fewer will make it to the market.
I don't really know if it reduced the amount of waterfront leased lot homes by 90%. Maybe it just meant that those who didn't buy their lots then intend to stay for the long term, and so they are unlikely to sell in the short term.
But, I do have the conclusion that with fewer leased lot homes on Lake Martin, if you plan to sell one, you'll have to do a better job at educating buyers on the whole situation. As with any part of real estate, if you're dealing with a unique piece of property, it is essential that you get out the right information.
Whether your home on Lake Martin is on leased lot or not, I would love to help you sell it!
The first step is usually figuring out the potential market value. I can come by and take a look, no strings attached. Please contact me at here or call me at the number at the top of this page.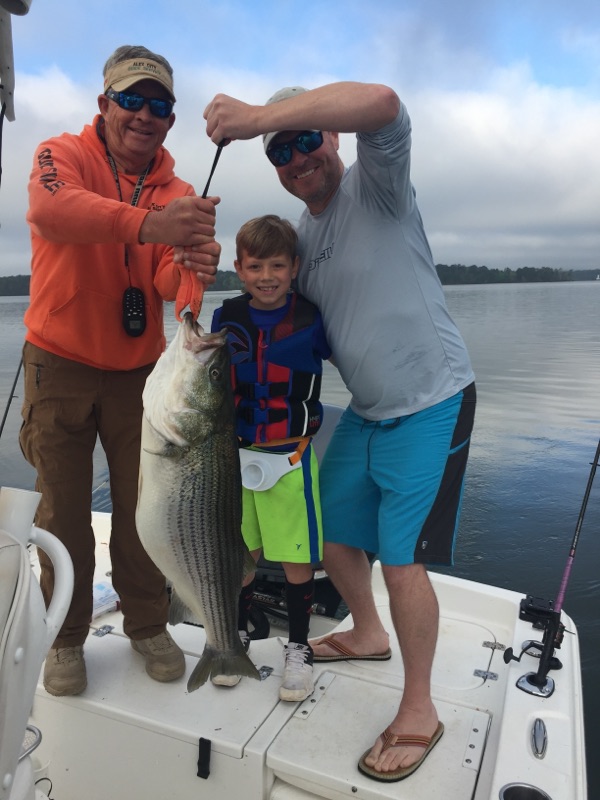 I first met G. C Lewis and his family when I was helping them find a waterfront lot on Lake Martin. Being an Auburn alum G.C. was interested in building a lake home close to Auburn. Since the Lewis family lived in Georgia they were weighing their options at Lake Martin vs lots at Lake Chatuge in Georgia. They realized Lake Martin had a lot more to offer in terms of amenities and restaurants.
We found a lot in Shady Bay that was perfect for them. They hired Bryan Jones of Jones Pierce to design their home. The Lewis family was so excited to move forward with their plans to build at Lake Martin.
It is so much fun for me to keep in touch with my clients over the years. The Lewises were new to Lake Martin but as you can see in the photo above, they quickly learned the fishing hot spots with help from David Hare.
David Hare, owner and head guide of Alex City Guide Services, is one of the best guides on the Lake and certainly one to talk to about learning to fish Lake Martin. Give him a call at 256-401-3089 or email him at [email protected]
If you are looking for a lot at Lake Martin and ready to start planning your lake getaway, call or text me, John Coley at 334-221-5862  or by clicking here or email me – [email protected]. I would love to help you navigate around the Lake and catch your great real estate deal.
June waterfront home sales on Lake Martin were up 44% from last year!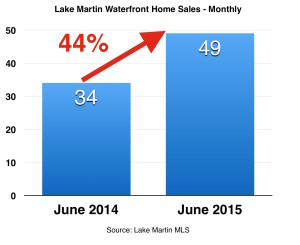 Yes, you read that right. The Lake Martin real estate market is doing well this summer. June of 2015 beat last year in sales by 44%. That's not the only good news! If you look at the year to date, we are selling well ahead of the prior year. 2015 is beating 2014 by 26%! That is impressive because 2014 was a record year of home sales on Lake Martin, even better than 2005.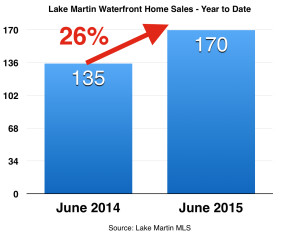 ACRE pointed out on AL.com that supply is down 6.8% and we are still having rising demand and sales even with a lesser supply.  You can read more from this article on AL.com by clicking HERE.
Another factor that is incredible is that lot sales are pacing far ahead this year as well. We have sold 46 lots through the Lake Martin MLS. That's all realtors and all brokerages in the Lake Martin area. Last year at this time we had sold 25 lots through the MLS, and last year was a great year for lot sales.
Just to recap, waterfront homes are pacing ahead by 46% and lot sales are pacing ahead by 84%. Overall, we are doing great in sales so far! Keep updated with Lake Martin market statistics HERE.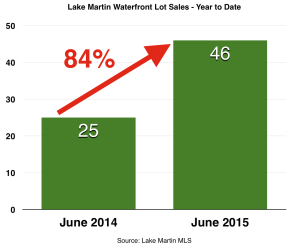 If you have any questions or need real estate help on Lake Martin, feel free to contact me, John Coley, with THIS FORM or at john (at) lakemartinvoice (dot) com or  334 221 5862.
Would you like to search the Lake Martin MLS from your smart phone? Then download the Lake Martin Voice free app!
Happy Friday and Congratulations!! You just saved $10,000 on Lot 61, Phase II of The Ridge!
We just dropped the price on Lot 61, Phase II of the Ridge. It's an awesome waterfront lot on Lake Martin. Just think of it, you didn't have to lift a finger and you saved $10,000. The price has been reduced to $229,000 from $239,000. CLICK HERE for more info on the lot.
Lot 61, Phase II is on Eagle Ridge in one of Lake Martin's most prestigious neighborhoods: The Ridge!
Waterfront lot and home sales are beating last year by 26% on Lake Martin, and 2014 was a record year. Now is the time to take advantage of a great new price on this  wonderful lot!
Call John Coley at 334 221 5862 or john (at ) lakemartinvoice (dot) com.
More Info: The Ridge in Lake Martin
A Lake Martin Leased Lot waterfront home is becoming an increasingly rare bird in our real estate market.
If you're new to searching the Lake Martin MLS, you might have noticed a field in the information sheet that looks like this: Deeded: Deeded or Deeded: Leased. This is shorthand. If we had more room, it would probably look like: Is This Lot Deeded or Leased? and then have the answer either Deeded or Leased.
What is a leased lot home on Lake Martin?
A fair question. It's a home where the seller is owns and is selling the improvements only, but they don't own the land underneath it. They lease the land, usually from Alabama Power. Historically leased lot homes are less than 10% of overall sales. For more information, see the Leased Lot category of my blog.
Why are leased lot homes becoming more rare on Lake Martin?
About two or three years ago, Alabama Power began selling some of the homeowners the lots which they lease. Mind you, this was not Alabama Power opening up new lots to lease or sell, this was them contacting homeowners on existing leased lots, and saying, in essence, "hey, do you want to buy this lot at $X?" Because of this (relatively) new phenomenon, we Lake Martin agents are seeing fewer waterfront leased lot homes for sale on the market. Those that are on the market usually have an option to buy the lot. Often, you'll see this noted in the (super secret) Agent Notes section of the Lake Martin MLS.
Recently, I had a buyer ask me about how one goes about purchasing a leased lot home with an option to buy the lot.
His Q: Is being able to secure purchase of the lot a reasonable contingency on a contract for the house? Would both transactions be handled together at one closing and with one mortgage or would they have to be separate?
My Answer:
"Excellent questions, I have closed a couple this way:
1.) That's an absolutely reasonable contingency. In fact, I as your agent would insist on such a contingency, broadly worded like "contingent upon buyer's obtaining an acceptable contract with Alabama Property company to purchase Lot X for $yyy,yyy and acceptable review of all lease documents." The idea here is that if you can't buy it for what you want, you're out of there.
2.) closing at one time is doable. I have had one where technically it was two closings but they happened at the same time, where you sat down at the table and signed a bunch of docs to buy the lot first and then a bunch of docs to buy them all together. But it felt like one closing. I can recommend lenders around Lake Martin that are used to this concept. I would not recommend getting lenders from out of town because they have a hard time wrapping their heads around the concept. No slight against them, it is admittedly a weird concept and if I hadn't seen it at Lake Martin I would know nothing of it myself. In fact, growing up here I didn't know anything about it, it wasn't until I started selling real estate that I learned about it.
FYI here's everything I have ever written about leased lots: Leased
It's a little outdated because of the above but it hopefully gives you a decent background.
Do you have any questions about Lake Martin real estate?  If so, please email me with this form or : info (at) lakemartinvoice (dot) com!
Have you ever thought, "Lake Martin is almost perfect, but what if it were a little more like the Smoky Mountains?"
If so, your dream may have come true. Black bears have been spotted around Lake Martin. See this article in the Alex City Outlook. I must admit that I often have wished Lake Martin could be more Smoky like, but it has to do mainly with wild trout. If some mad plan could be hatched so that the Tallapoosa below Martin Dam could sustain trout, maybe we could become the next South Holston.
Back to reality, this story reminds me that I have many waterfront lots for sale in Shady Bay. They range in price from $57,000 (Lot 23 Ph I) to $190,000 (lot 5 Ph II). If you would like to see the entire list, see Shady Bay Lots For Sale. Or, if you would like to learn about Shady Bay real estate in general, see the Shady Bay neighborhood page.
Since the black bear article first appeared, the sightings have decreased. Maybe the bears have moved on, or maybe they are getting camera shy.
But one thing's for certain – Shady Bay on Lake Martin is a great spot to build your waterfront home. There are homes underway on lots 9 – 14, and they are going to be some really nice ones!
If you have any questions about the lots in Shady Bay, or anywhere else, please don't hesitate to contact me. I can put you in contact with builders and architects to answer your design and construction questions, if you would like me to do so.
Great news! Prices have dropped on great waterfront lots in Lake Martin's Shady Bay neighborhood!
Shady Bay is a great waterfront neighborhood on the northern end of Lake Martin. I have several waterfront lots for sale in Shady Bay. We started out with fourteen lots and have sold six, so we are down to eight. We recently dropped the prices on these lots, so if you are looking for a site to build your Lake Martin dream home, now may be an excellent time to take advantage of the new prices.
For more information on these lots, please see:
For more information on Shady Bay in general, please watch the above video or click on this: Shady Bay Neighborhood Page.
Which lot looks right for you? Please call at 334 221 5862 or contact us here if we may help!
We've had our first closing of a Lake Martin waterfront lot in Phase II of Shady Bay!  Alabama Power recently dropped the prices on all of these lots, and we've seen a lot of action, plus the first closing.  There are twelve lots remaining in Phase II.
As an accountant an a realtor, I get geeked up about the numbers and the business side of a sale, so when I asked my Shady Bay buyers what their first step would be now that they owned the lot, I expected them to say, "Meet the builder at the lot," or "Go over house plans with the architect."  Something business-y.  But that was not their plan, and I love what they said!  Check it out:
Now that is the first thing to do when you buy on Lake Martin!  I am so happy for these lot owners and I look forward to watching them create their dream home on the water.  Thanks for letting me share your excitement with my readers!
Like I said, the price drops at Shady Bay have created a lot of interest from buyers.  Shady Bay is an established neighborhood on the northeast side of the Lake Martin.  That means you can relax on the water, but still be in Alex City in minutes – the grocery store, the hospital, the schools, Highway 280.  It's a great mix of city/vacation, and because it is close to Highway 280, a lot of things are close to Shady Bay.
For more info on Shady Bay, click here   If you like what you see, give me a call at 334 221  5862, and let's talk about what this neighborhood has to offer.  I'm the listing agent for Shady Bay, but as a member of the Lake Martin MLS, I can help you with any property in the MLS, regardless of who has it listed.  For a quick tour of the neighborhood, check out the video below:
I took my first official working boat trip a few weeks ago, right in the middle of the "greening" phase of spring at Lake Martin.  Everything is that vibrant, exciting green, and the sky is that clear bright blue – it's beautiful.
From the boat, I took the pictures below of a great lot I have listed for sale in the Smith Mountain area, Lot 4 Phase 2 Smith Mountain Drive.  I love this lot because of it's unique location.
The future owners of this lot will have a true year-round Lake Martin home.  In the summer, hop in the boat enjoy all the traditional fun and sun activities.  In the fall, winter and spring, get outside on the Smith Mountain trails.   This lot is within walking distance to some of the most awesome hiking trails in our area.  Outdoor activity during all seasons, just outside of the doorstep.  And the future owners can bring their own builder and design this doorstep, too!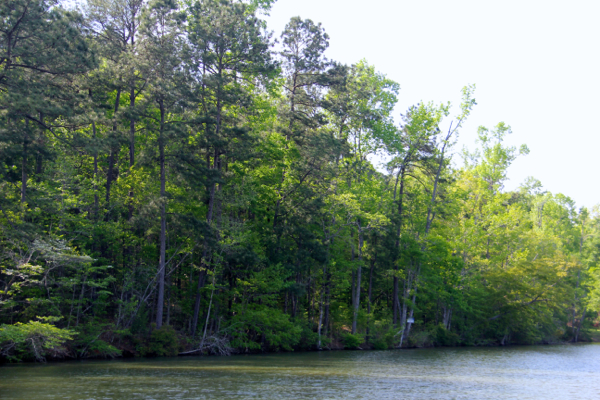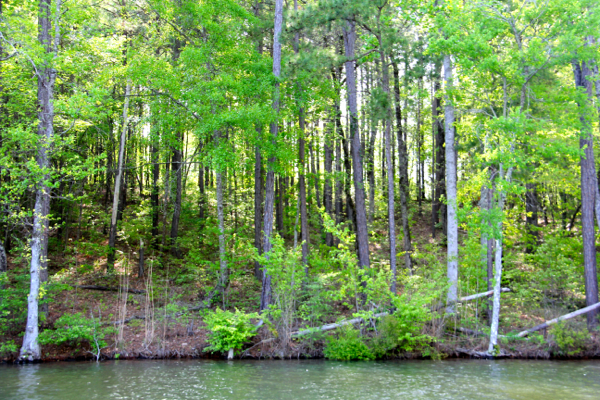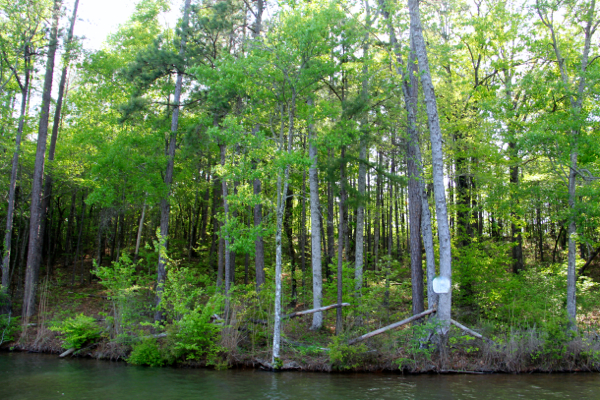 For all of the listing info on this lot, click here.  If you have any questions, or would like to know more about Lake Martin lots and real estate in general, give me a call at 334 221 5862, or email me at john at lakemartinvoice dot com.