Wildlife diversity, for sure!
Every time I head to StillWaters to show a home or condo for sale, my "web staff" knows I'm coming back with new wildlife photos.  To date, I've captured lots of deer, ducks, and herons.  In fact, I have a wildlife photo file on my computer just for StillWaters.
I was in StillWaters twice last week, and both times I saw turkeys on the golf course.  The first time, it was this crowd below:  two jakes (immature males), and one mature long beard.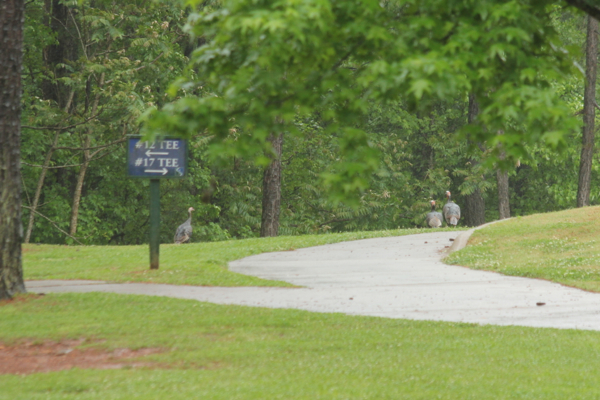 This guy was definitely the boss. He was standing by the road, and let his minions above walk ahead of him to clear the way and make sure there were no dangerous golfers around. For those of you unfamiliar with turkeys, I will let you know, the length of his beard (that straw looking hair poking out of his chest) is pretty impressive. I tried to get a little closer, but this was the best I could do from 100 yards with a 300 mm lens: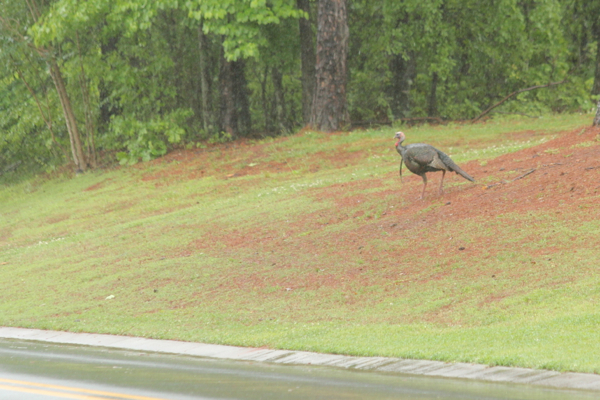 A week later I was leaving a listing appointment in StillWaters. I got to almost the same bend in the road and noticed another turkey was standing with one foot in the road, gobbling his head off. A car passed him, he took three steps back, then stepped back out and double gobbled. As an avid turkey hunter, I was amazed. This was a week into May, and turkey season was over on April 30. It just goes to show you that, even in the wilds of StillWaters, the primal procreative drive of nature does not hew to man's law. I eased my car up to him, and he walked back into the woods. This was the best shot I got of him, below. Maybe he was the same boss I saw a week earlier: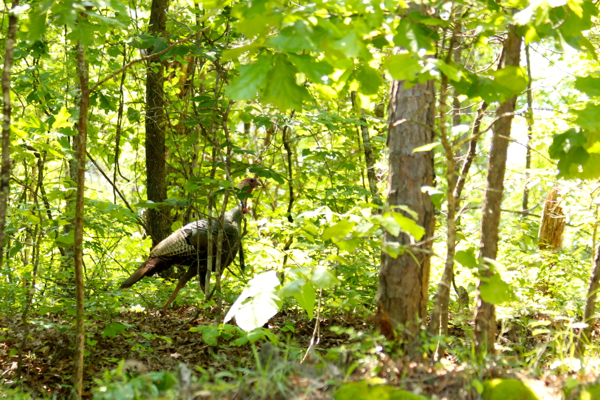 So many people come to Lake Martin because of its natural setting; wildlife sightings are just a normal part of the day.  It's different than some other popular getaways in the South – it's a place to slow down and enjoy people, the water, wildlife, and the peace and quiet.  You can bring your kids and they may actually hang out with you!
That reminds me of a favorite Lake Martin testimonial I shot while at a school function a few years ago that sort of goes along with this theme.  See if you don't agree . . .
If this is the kind of vacation spot you've been looking for, check us out at Lake Martin!  I'd love for you to use this website to explore the neighborhoods, the people, the events, and the waterfront properties.  Check out my Lake Martin Voice Realty YouTube Channel where I have over 300 Lake Martin videos divided into five playlists (Community Info, Neighborhoods, How to Use the MLS, Home Tours, and Client Testimonials).
And if you'd like to talk Lake Martin real estate, give me a call at (334) 221-5862 or click here to email me.  I'd love to be your realtor!