Kowaliga Restaurant – Lake Martin's oldest and certainly most famous waterfront restaurant – is back in a big way. As you may have read elsewhere, developer Russell Lands took back management of Kowaliga, reworked the menu, restyled the inside, and even commissioned a custom carved indian statue.
I stopped by last week and had a great experience. Here are the top three reasons I'm looking forward to going back to Kowaliga Restaurant:
1)  The View – Where else can you eat in the state of Alabama and enjoy a view like this?  Seriously?  This is not a rhetorical question.  I would really like to know of more a picturesque dining setting.  Comment below if you think of one because I'd like to try it out.
2) Fish Tacos – John Christenberry said they were awesome, and he is a culinary guru.  I had the Conecuh sausage appetizer and the cheeseburger.  Both were good, although it sounds rather overly carniverous to pair them together. I didn't really care, I was going locavore: Conecuh sausage is from Alabama, and the burger is topped with Lake Martin's own Wickles Pickles.
3) New layout – They've  removed the bar from that first dining room on the left, and now it's in the other dining room that looks toward Kowaliga Bridge.  Moving the bar has really opened up the view in both rooms.  Great idea!  I hope that the smokers stick to the bar side. I really shouldn't say that without asking what their official smoking policy is. But I will also say it will be nice not to have bar patrons leering at the diners from their dominant perch on bar stools. Having them in their own separate room is a natural fit.  Great for everyone.
Disclaimer:  I'm just a real estate agent at Lake Martin.  If you want more info on Kowaliga Restaurant, call them, not me.  Their number is (256) 215-7035, and their website is kowaligarestaurant.com . I am sure that this disclaimer will not matter to a select few of you who will call me anyway. No matter. If, when you call me, I tell you that everything is 1/2 off and all drinks are free, know that it is a lie.  Ha ha. Have fun. It's the lake.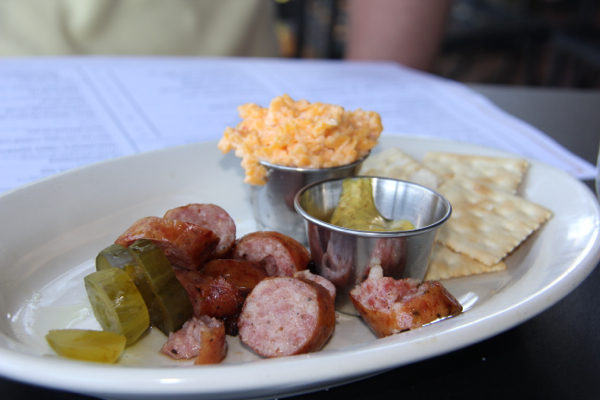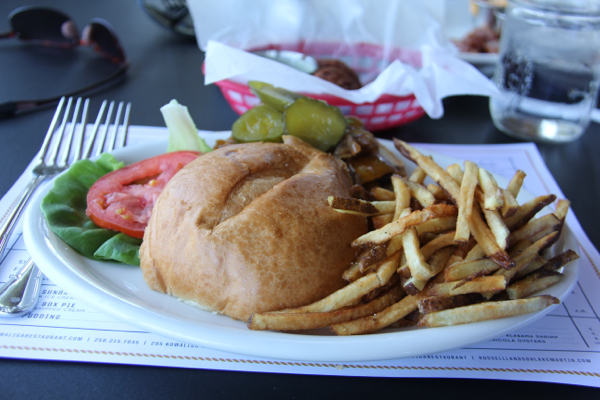 All the employees were friendly, and I noticed the manager, Stacey, making the rounds of all the tables to check on everyone's experience.  That's a good sign; she is very experienced and knows how to run a nice restaurant.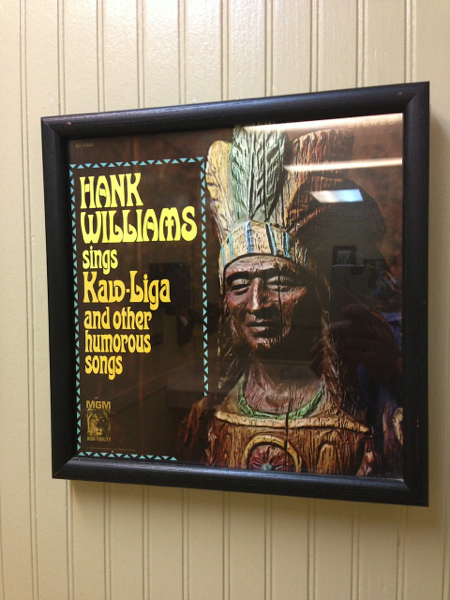 By the way, they have this hilarious Hank Williams album framed in the bathroom.  Local Hank Williams expert and fellow realtor David Mitchell contributed some of his personal Hank artifacts to the restaurant. I don't know if this is one of his or not, but it made me wonder: Did they put it there because it is funny, or just because it's memorabilia?  I don't know, but I could not waste this educational opportunity. . .
If you can't make out the title, it says "Hank Williams sings Kaw-Liga and other humorous songs." Clearly, this cover was created by some New York yankee promoter.  If you've actually listened to the lyrics of Kaw-Liga, you know it's a really sad song. And the Indian on this cover, while wooden, is grinning like a goofball. Did this cover artist read ANY of the words to this song?  If you've never paid attention before, here are unhumorous lyrics:
Kaw-liga by Hank Williams
Kaw-liga was a wooden Indian standing by the door.
He fell in love with an Indian maiden over in the antique store.
Kaw-liga just stood there and never let it show,
So she could never answer "yes" or "no."
CHORUS:
Poor ol' Kaw-liga, he never got a kiss.
Poor ol' Kaw-liga, he don't know what he missed.
Is it any wonder that his face is red?
Kaw-liga, that poor ol' wooden head.
He always wore his Sunday feathers and held a tomahawk.
The maiden wore her beads and braids and hoped some day he'd talk.
Kaw-liga, too stubborn to ever show a sign,
Because his heart was made of knotty pine.
Kaw-liga was a lonely Indian, never went nowhere.
His heart was set on the Indian maid with the coal black hair.
Kaw-liga just stood there and never let it show,
So she could never answer "yes" or "no."
And then one day a wealthy customer bought the Indian maid,
And took her, oh, so far away, but ol' Kaw-liga stayed.
Kaw-liga just stands there as lonely as can be,
And wishes he was still an old pine tree.
Here's the VIDEO TOUR I shot of the new improved Kowaliga restaurant while we were there:
If you'd like to know more about Lake Martin waterfront real estate, give me a call at (334) 221-5862 or click here to email me.  I can help you with any property in the Lake Martin MLS, regardless of who has it listed.