This post is directed to Lake Martin waterfront property buyers – don't waste your time with Zillow, Trulia, Homes.com, Realtor.com and their ilk (ZTR). They are terribly inaccurate.
This post is also to potential sellers of Lake Martin waterfront property. Don't insist on having your home "featured" there. They stink, it's a false hope, and they don't generate good leads. It's like wanting to be advertised on a billboard inside a smelly, run down indoor mall. Why would you bother?
If you want the most reliable, most accurate, most timely Lake Martin waterfront real estate information, search our local Lake Martin Area MLS.  Period.
3rd party syndicator sites like Zillow, Trulia, Homes.com and even Realtor.com rank high on some internet real estate searches for Lake Martin. But does that make them truly helpful for buyers and sellers?  If you're not familiar with how these websites work, they try to be the MLS for the entire nation by getting content (listings of homes for sale) for free from agents, and then turning around and charging the same agents to advertise on their site in a circular, almost extortive calculation.  I don't want to supply the rope and then pay the hangman, so I don't advertise on any of these syndicators.
Plus, at Lake Martin, these sites just don't work.  They merely cause confusion. They pull most of their info from County tax records, and since we are in a rural area, the info is not that pure, and our counties don't report sales data.
Let me show you a quick example.  I did a Google search for one of Lake Martin Voice Realty's new listings, 44 Fairwinds Circle in Windermere.   (This home is an awesome 6 bedroom, 4 bath, 4,457 sq foot home with custom hardwood floors and mill work throughout.  It was built in 2007 and is listed for $649k.) Google's search results had Trulia, Zillow, Realtor.com and Homes.com all making the coveted first page of search results.  They must have it going on, right?
But you tell me if any of this information is helpful . . .
Here's what I found on Trulia: According to Trulia, 44 Fairwinds Circle is a  ZERO BEDROOM – 2 bathroom, 1,665 sq ft home with wood siding. Hey home buyer  – can I interest you in this ZERO BEDROOM home? Awesome ! Yes! Sign me up!!!!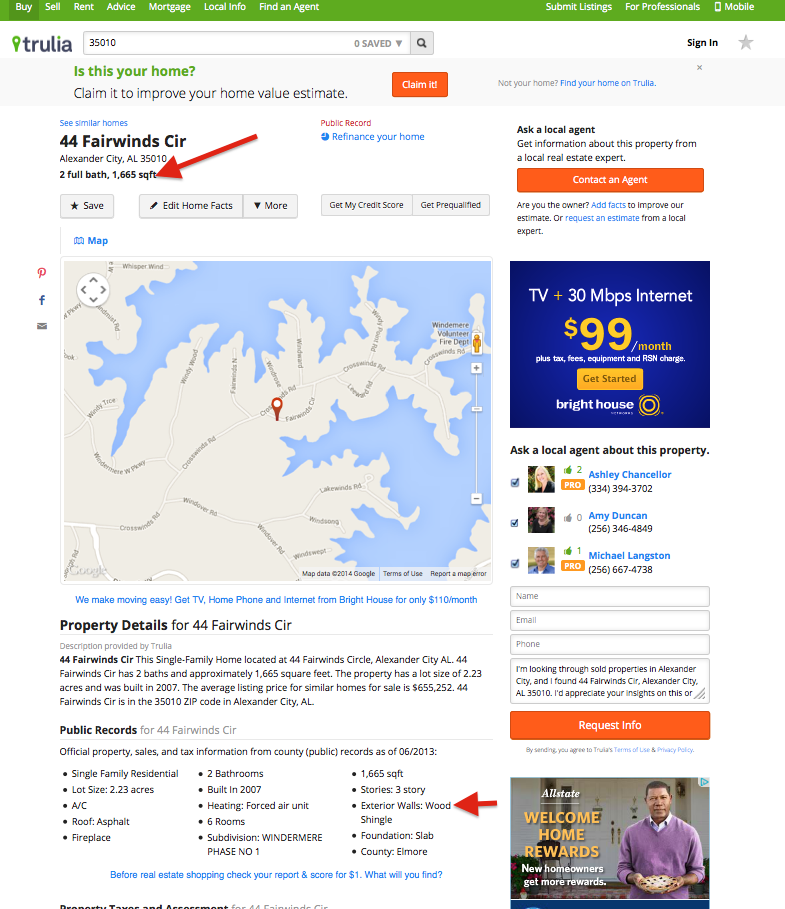 Here's Zillow:  if you trust Zillow, you would be led to believe that 44 Fairwinds Circle is a 1,665 sq ft home with unknown floor coverings, and a "Zestimate" of $595, 130. Here, Zillow carries along the ZERO BEDROOM concept that apparently is sweeping the nation. Wow! How cool! How Techy! How totally cutting edge that they are able to sit up in Oregon or wherever they are and tell us all how much a ZERO BEDROOM home costs in Windermere.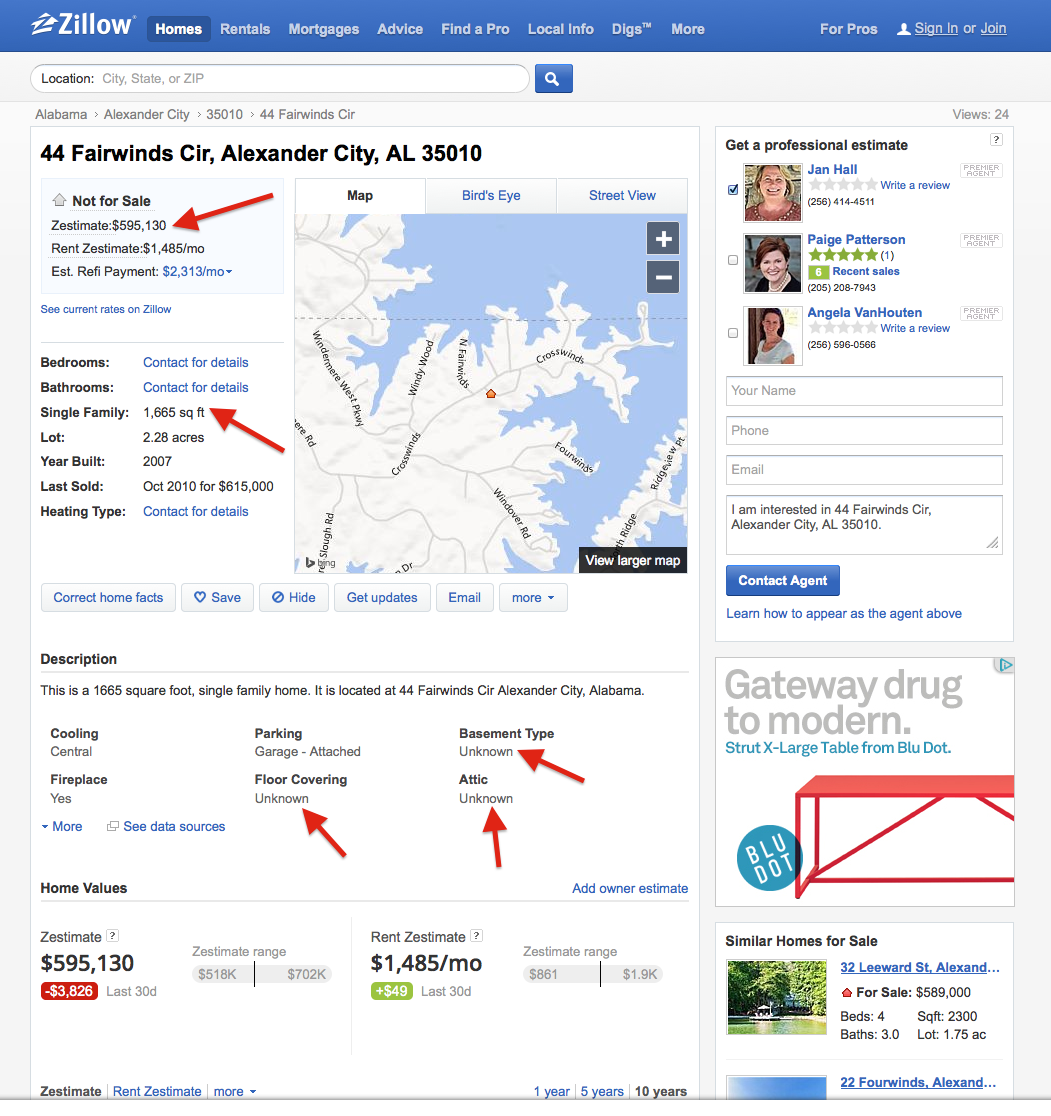 And here's Homes.com:  The same 2 bath, 1,665 sq ft home for around $711,500.  ZERO BEDROOMS, of course.  And why not pay $116,370 more? If you would like to pay $711k, I won't hold you back. A zero bedroom home is priceless. You should know that by now.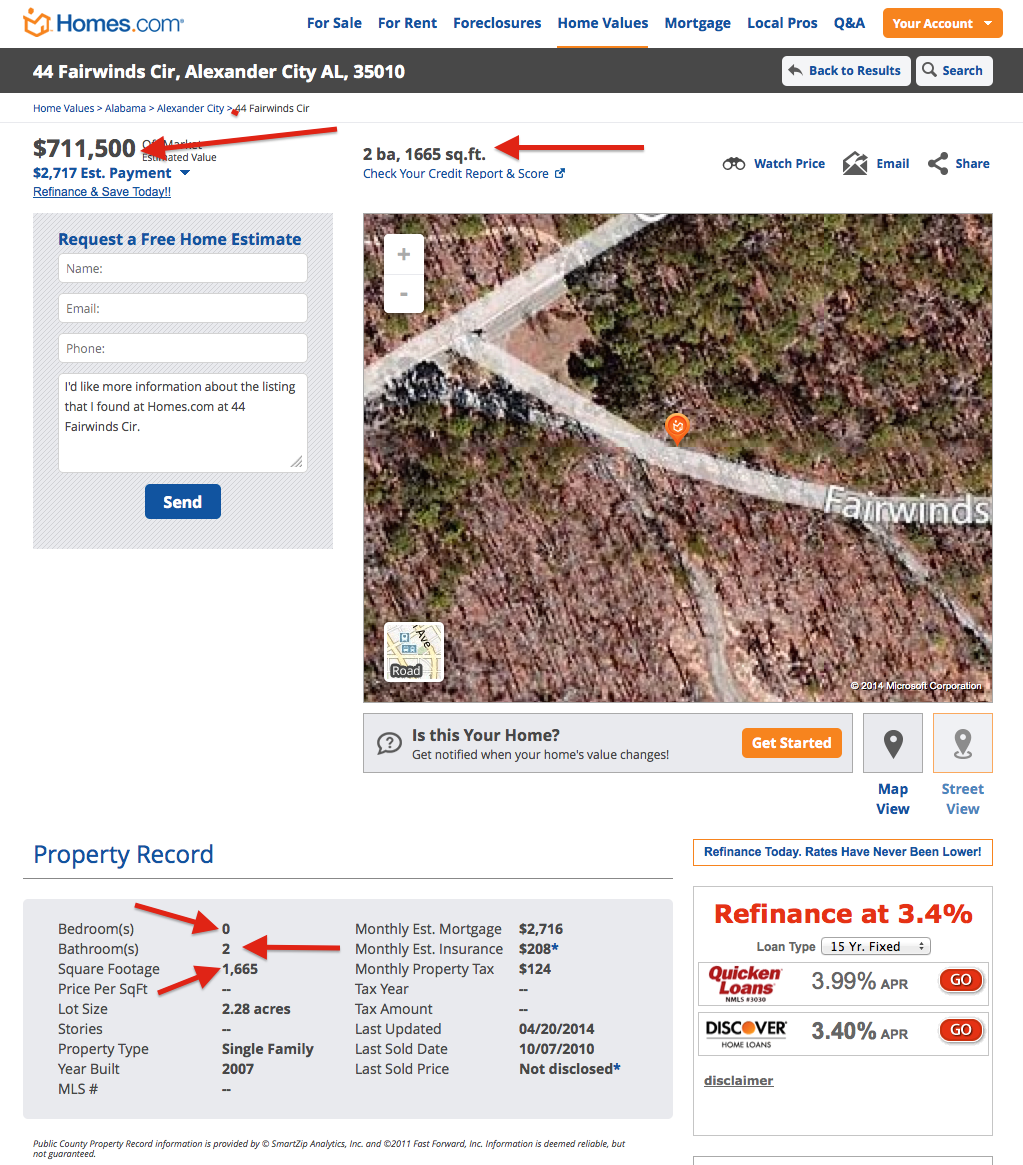 And even Realtor.com can't get it straight:  44 Fairwinds Circle is listed as 4A Fairwinds Circle (the lot number) with 4,728 sq ft built in 2008.  If you look at all of these pages, notice how little space is devoted to actual data on the home versus ads for internet service, moo.com (??) and Blu dot. The thing that especially galls me about Realtor.com is that it is owned by the National Association of Realtors. Yes. You would think that this site would try and do a good job to be accurate, and then not turn around and extort advertising dollars by playing one agent off of another in a cruel, Leone-esque Mexican Standoff, – > ("What, Agent A, don't you want to be listed as The Awesome Agent for this zip code? Well you 'd better pony your money up because Agent B is bidding against you. Agent B – you'd better pay us because Agents A and C are vying for your coveted spot. ") Does that add value to the process? Also, Realtor.com only allows a few precious photos to be displayed unless you pay them to advertise. Check it out: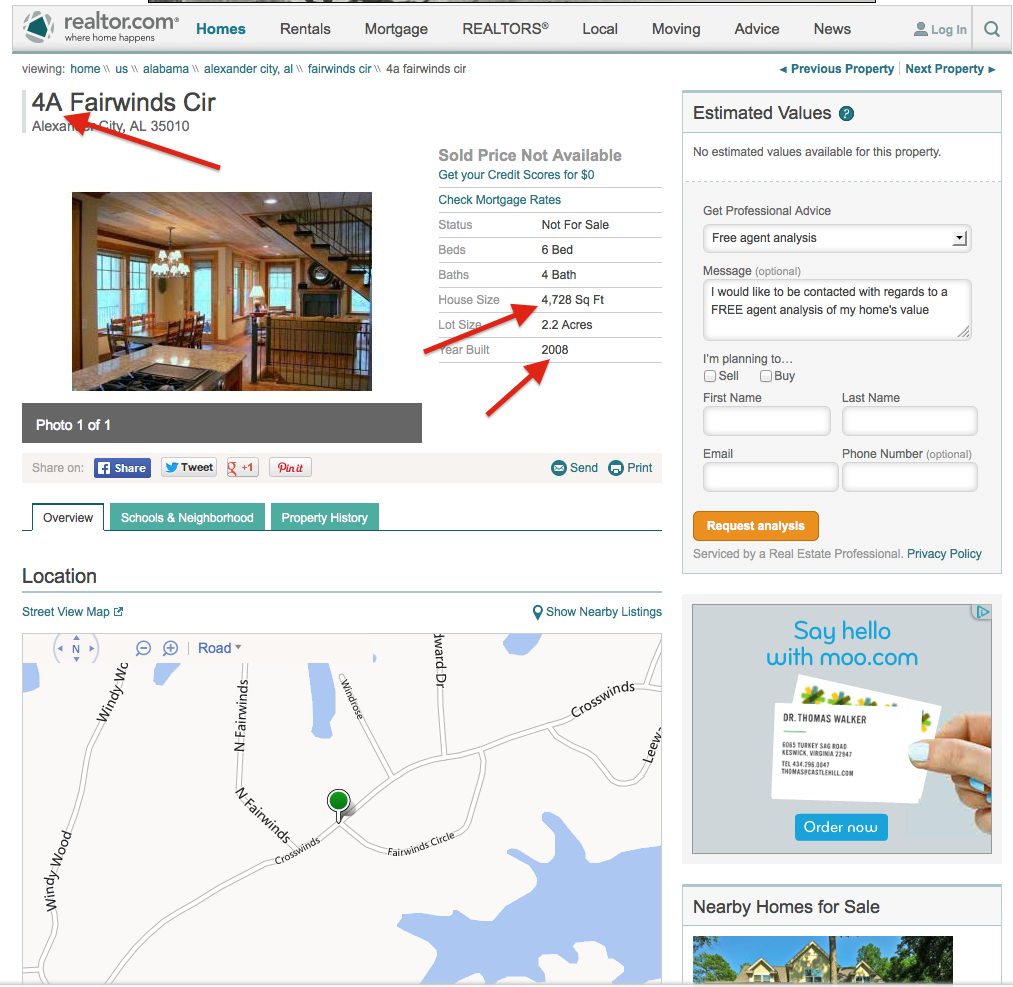 Are you finding these sites helpful, or are they adding confusion to the search?  I know the small detail on these screenshots may be hard to read, but what you'll find is virtually the same incorrect information about the home on all of these websites.  A home with zero bedrooms and two bathrooms for $711,500k?  Does that make any sense?
Contrast that with the information found inside the Lake Martin MLS. 
Most local Multiple Listing Services are closed services, meaning they are not searchable by Internet search engines.  Our Lake Martin MLS is no exception, and contains only firsthand data on properties entered by the listing agents themselves. (And if we want to continue working, we'd better get it right.)  Local agents know the homes and have spoken extensively with the owners.  There is no "noise" from 3rd party syndicators to sift through, and you know exactly whom to call if you want to know more.
Here's the screen shot for 44 Fairwinds as it appears in the MLS search.  The text is going to be hard to read here because there is so much information on the page, and it may look a little basic because it's missing the huge ads for mortgage providers and the ginormous google map. But, I agree with Forrest Gump's mama, pretty is as pretty does. If the so-called information that currently resides on ZTR sites is shiny and glitzy, does it matter that it's so inaccurate as to be useless? You bet. I will take basic and correct any day. Granted, the MLS info is only as correct as the agent that enters it. But at least in the Lake Martin MLS you are getting the info from the direct source, and with its full complement of ALL the pictures, video, and related media: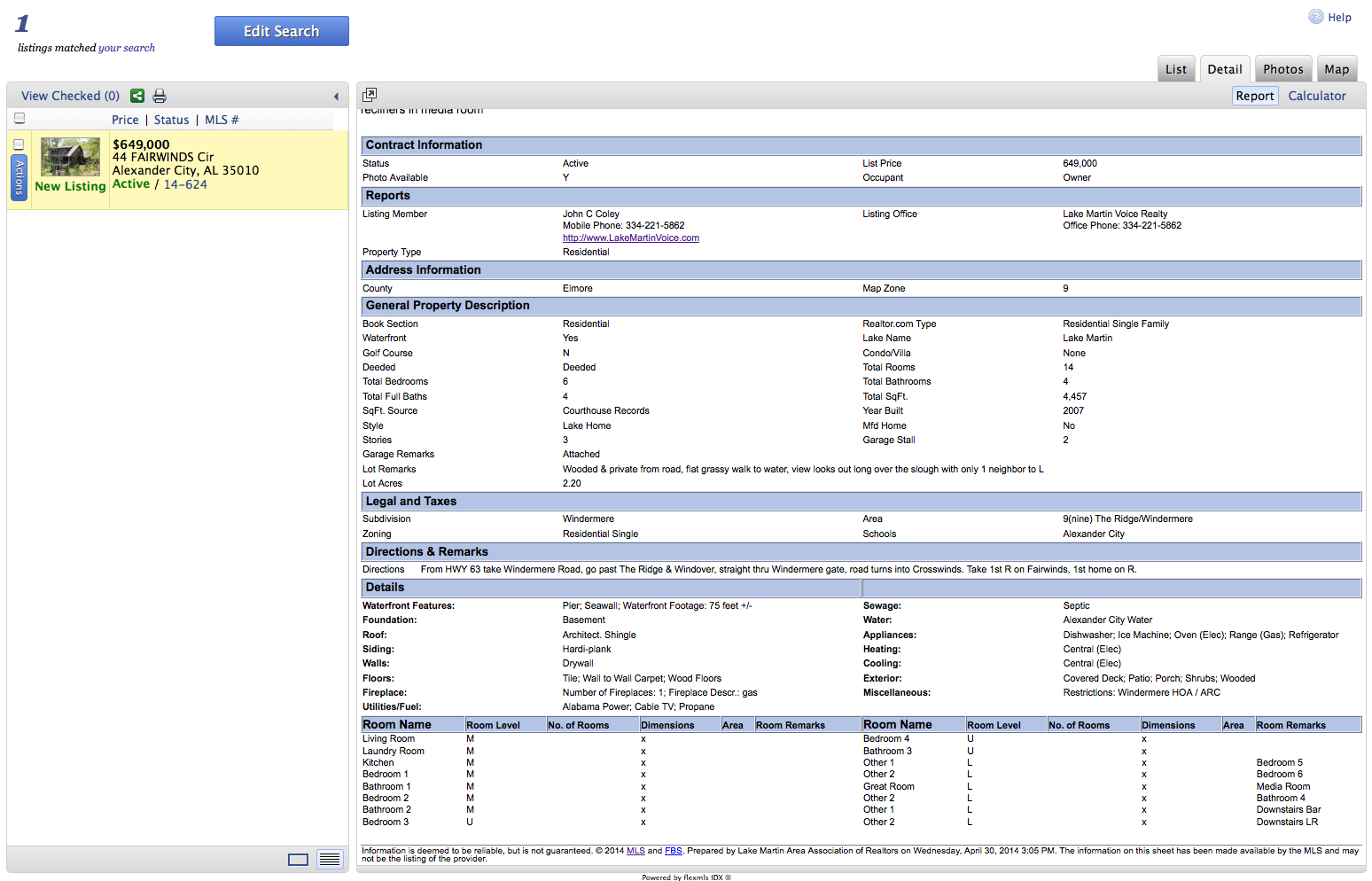 Our Lake Martin MLS entry for 44 Fairwinds Circle contains the data above, plus access to 93 photos of the property, our VIDEO TOUR of the property, and a map.  It's thorough, it's complete, and it is the most current information available.
So save yourself time and confusion:  search for Lake Martin real estate on the Lake Martin MLS.  Realtors have great incentive to display quality information for their listings.  And if you need more info, call a local realtor.  And if you're calling a local, realtor, I'd love for you to call me.  John Coley  334  221 5862  or john (at) lake martin voice (dot) com.
Will I Ever Eat My Words And Pay ZTR?
Quite possibly. I can envision I day where I will be forced to pay Zillow, Trulia, and / or Realtor.com for the privilege of participating in a Mexican Standoff with other agents at Lake Martin. I know plenty of agents that I respect highly that are in other markets around the nation that do. Sadly, they must pay the hangmen and supply the rope, and they grit their teeth when they pay them each month because they know it's not worth it and it benefits neither buyers nor sellers. So, I will never say never. But I can say, right now, while I am still beating or competing well with the third party syndicators, I will not.
Want more info on this subject, and proof that big brokerages in big markets are sick of ZTR as well? See this video: Abbott Realty  They are in San Diego, and figured this out in 2012. Since then, there have been more brokerages and MLSs to opt out of ZTR than opt in.