Are you spending the Independence Day holiday at Lake Martin?  July 4th is kind of a big deal around here.  In addition to all the regular Lake Martin water activities, here are a few other Lake Martin traditions to be a part of this year: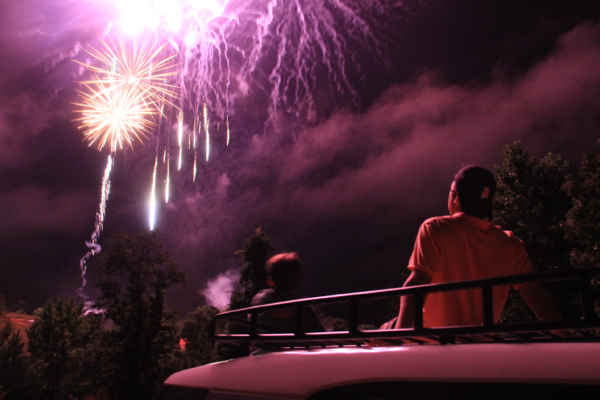 A huge Lake Martin tradition that takes place at The AMP (amphitheater).  Gates open on Friday at 5:30pm, the show starts at 6:30 pm, and the fireworks are at 9:00 pm.  This is a sho-nuff fireworks extravaganza – come prepared to be impressed.  Parking is free and watching the fireworks is free, but the concert is $15.  You can get tickets here.
I made a video of the setup several years ago, and I still think the whole process is really cool:
4th of July Boat Parade
10:00 am on the 4th.  It begins at Kowaliga Marina, crosses under Kowaliga Bridge, turns at Children's Harbor, and heads back to the marina.  To watch the parade, hop in your boat and check out the contestants.  They're being judged on all kinds of flag and patriotic-related categories: biggest flag, most flags, tallest flag, most patriotic, etc.  Sometimes they throw candy.  And by all means, enter the parade if that's your thing.  Registration is free at the Russell Lands marinas. Stop in by July 3rd or call (334) 857-2111.
Alas – this is a tradition that has sadly ended.  We used to go to Jim's on July 3rd and hear The King in the parking lot.  If anyone know where the Elvis impersonator is playing, please let me know.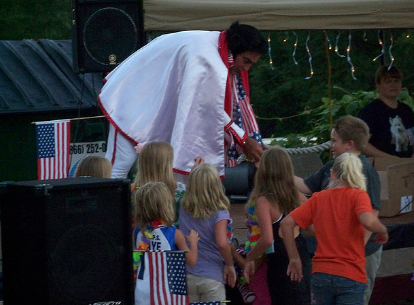 Floating Food
There's a new food boat out of Parker Creek marina.  I don't know much about it, but it's worth checking out.  If you find it and try it out, let us know!  The Nibbler's boat (totally separate boat) has some really good food and they're usually based out of The Ridge marina near the Chimney Rock area.
Crossroads Pancake Breakfast
Thursday, July 3rd.  8-10:30 am at the Arts Cabin at Russell Crossroads.  Last year my dad took us and tried to pay my kids $5 to kiss one of the horses on the mouth while he took a picture.  They declined, but another 10 year old boy at the next table said he'd do it.  And he did. 
Arti Gras
July 5th – Food, crafts and art vendors on the Town Green at Russell Crossroads.  Call (256) 212-1416 for more info.  I guess it's all day.
4th of July Parade at Blue Creek
The parade begins at 11:00am at the north end of Ponder Camp Road and ends at Niffers on Highway 49.  If you'd like to participate, bring your golf carts, bikes, motorcycles, trucks, etc.  Decorating begins at 10:00am at the top of the hill on Olona Drive.  Any questions contact Mickey Forbus at (334) 329-0905.
July 5th. If you're into farmer's market items like fresh produce, local honey, etc., the Farmer's Market in downtown Alexander City is every Saturday morning thru the end of October.  I paid them a visit a couple of summers ago:
Have a fun and safe 4th everyone!  If you're interested in real estate this week, feel free to give me at call at 334 221 5862.