They call it stormy Monday, but Tuesday's just as bad.
It was raining yesterday at Lake Martin and I don't care. We need the rain, and it was Monday after all, post Labor Day. Traffic will be light regardless of precipitation. Things change after Labor Day around here, regardless of weather.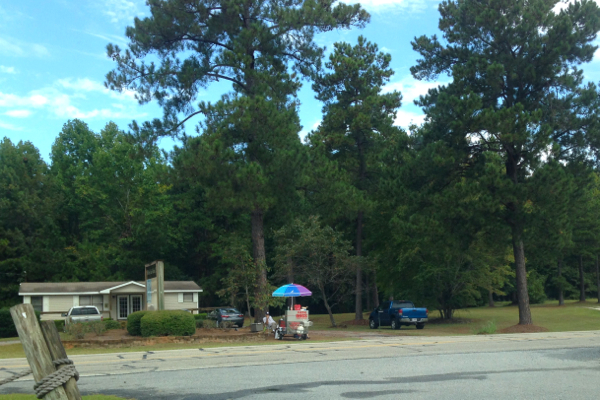 Hence my pic. This guy has been selling hot dogs since around July Fourth. He's set up in downtown Kowaliga, just across from my office at Nails conveneince store. I've never been tempted to buy a dog, despite some pretty good reviews I've heard. But when I see a guy selling hot dogs on the side of the road at 10:00 am on a rainy Monday in post Labor Day September, maybe I ought to buy one out of sheer principle.
About the time I took this picture, the clouds lifted and it turned into a beautiful almost-fall day.  In fact, the past two days have been so achingly perfect (clear, just warm enough, high water, no crowds) I have given serious consideration to pulling my kids out of school and living some sort of home school farm-to-fork existence at the lake.