Do you like to fish for stripers on Lake Martin? Then you definitely need to contact Captain David Hare of Alex City Guide Service. He sends out his Striper Reports every month or so and I think they are invaluable. David is a really nice guy, plus a great guide.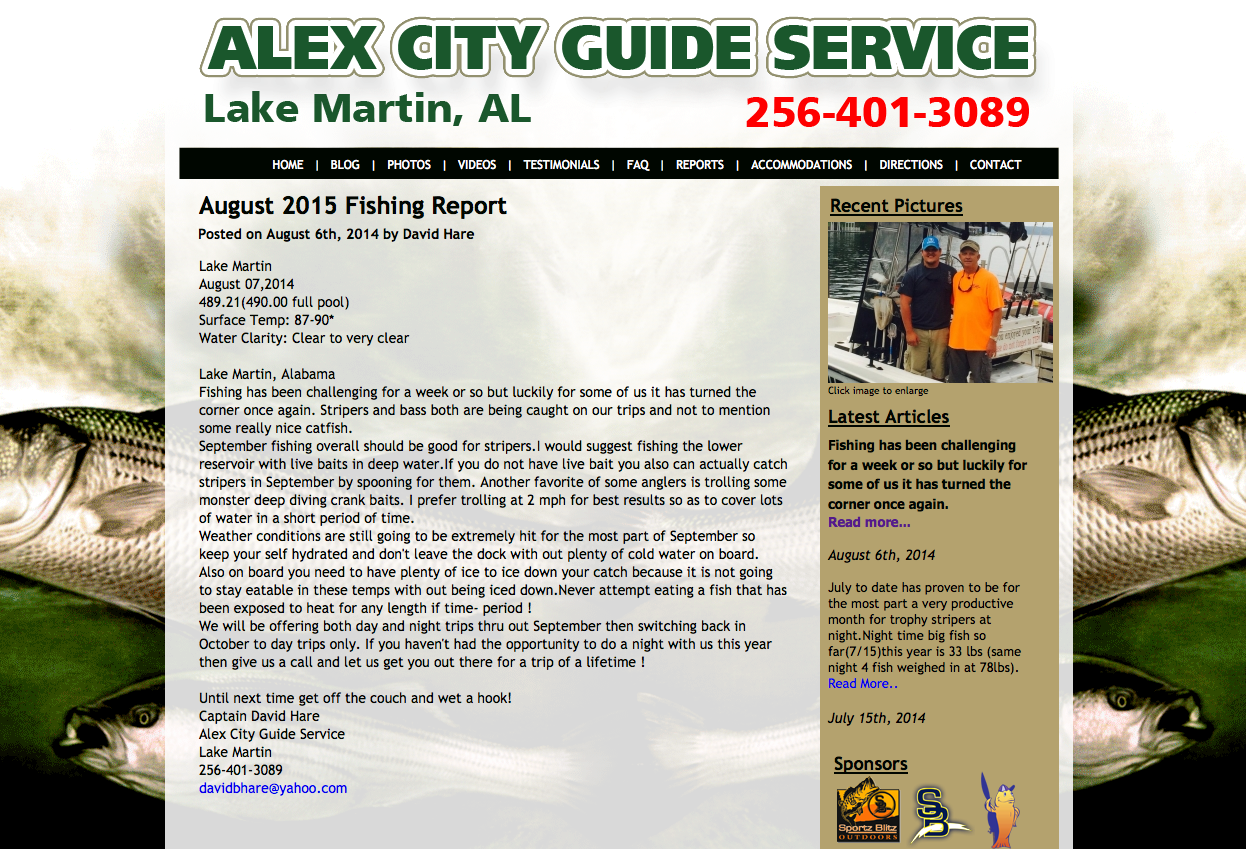 I always slightly mourn the passing of summer, but one of the many fun things to do on Lake Martin in the fall is to try and catch a striped bass. I am already looking at some dates to try and book David or one of his other guides. As I have written in previous years, my big goal is to figure out how to catch these monsters on my fly rod.
While David is not a fly fisherman, he can put you on the striped bass here at Lake Martin.
If you would like to buy some Lake Martin property, call me, I would love to help you out.
If you want to catch striped bass or other fish, call David at the number below, and let him know John Coley said hi!!
Here's a sample report from September 1o, 2014:
Lake Martin
September 10th,2014
488.76(490.00 full pool)
Surface Temp: 85-88
Water Clarity: Clear to very clear
October is really nice fishing weather for the most part and here on Lake Martin in Alabama is no exception. The fall temps should start cooling the water down some and in return should produce more bites overall !
This October I am predicting it to be one of the best yet for stripers on Lake Martin. One of the reasons I feel this way is because I'm already seeing some transition in the stripers both small and trophy size. I think you are going to have a little easier time finding them than in the past few Octobers and I think you are going to be pleased with the quality of the catch.
The days are getting shorter and will continue to do this for several more weeks which means you can stay until dark for that last minute bite and still make it home for supper with the family !
I will be checking all of the hot spots for October stripers but don't be surprised if you see me in the abnormal locations too. I am leaving nothing uncovered this fall because this summer I scouted a lot of areas that I have been overlooking and found some areas that I think will produce in October !
Here at Alex City Guide Service we want to thank everyone that did night trips this summer with us and looking forward to seeing everybody this fall for the day trips !
Until next time get off the couch and wet a hook!
Captain David Hare
Alex City Guide Service
Lake Martin
256-401-3089
[email protected]