March 2015 was another great month for Lake Martin waterfront home sales.
The graph below was provided by the Alabama Center for Real Estate (ACRE). On it you can see the number of homes sold monthly and the amount of inventory in the Lake Martin area during those months. ACRE's chart shows the months of March for 2007 through 2015.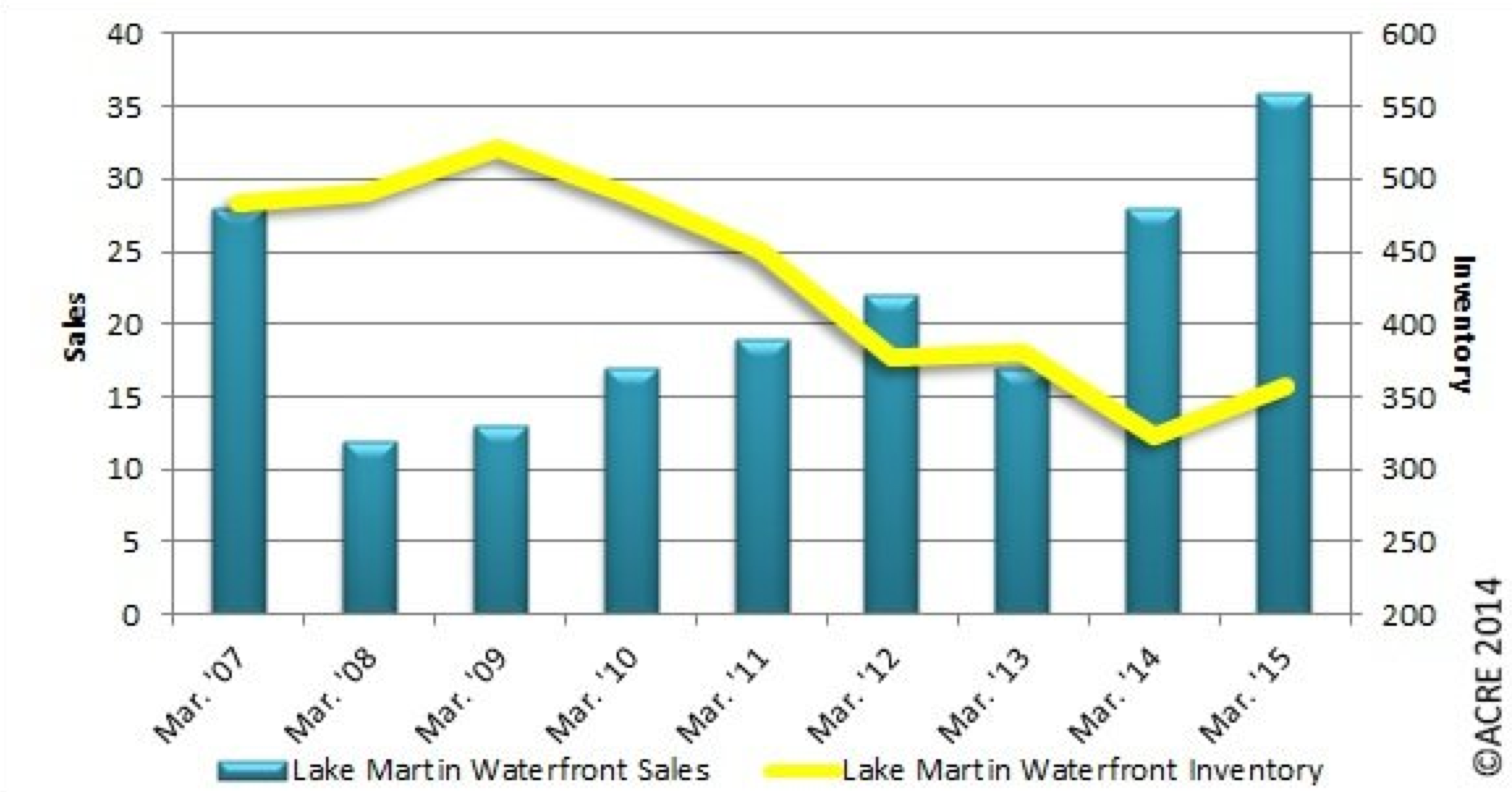 March has been consistently been a good month for Lake Martin waterfront home sales.(*) In 2015, 36 homes were sold in the month of March. This number includes sales from all brokerages and real estate agencies that participate in the Lake Martin MLS. In 2014, there were 28 homes sold in the month of March, so there was an 8 home increase in sales from 2014 to 2015. This is impressive, because 2014 was a record year for sales. The previous record year for sales was in 2005, when 30 waterfront homes were sold in March.
Lake Martin Home Price Changes?
A question I hear a lot is, "if Lake Martin home sales are up, what about prices?"
It's a great question. When I looked back at the entire year of 2014, I did not see evidence of a huge price increase for waterfront property. What I saw, maybe, was a slight increase. Perhaps a couple of percent, but it's hard to parse the numbers that tightly. Looking forward, I think you have to consider the amount of waterfront homes for sale right now on Lake Martin.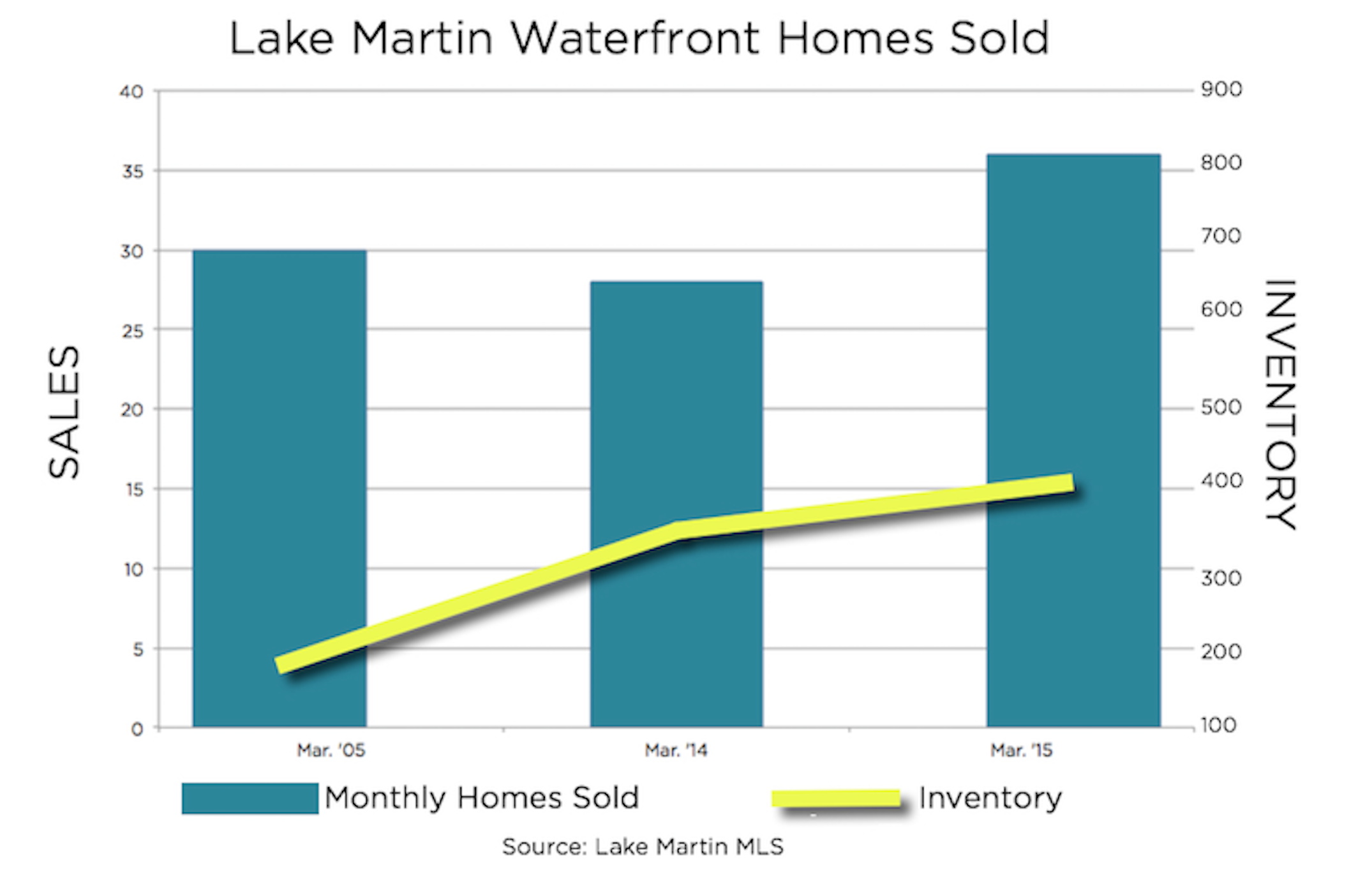 There are currently 358 homes for sale right now in the Lake Martin MLS. In comparison, there were 324 homes for sale at this time in 2014. Back in 2005, there were 180 homes for sale and prices went up from 2005 to 2006.  To emphasize this point, I cut the ACRE chart down to only the years of 2005, 2014, and the current year.  For example, in 2005, when we had 180 homes for sale and selling 30 homes a month, it was only 6 months of inventory being sold.

I think that 2015 will be the first year in a while that we will be able to go up in price. I don't think we will see huge (30%) price jumps like we saw in 2005 because of the ratio of sales to inventory. But I do think we have a pretty good chance for a home price increase here at Lake Martin.
Only time will tell, so check back for more market reports as the year goes on.
Do You Need Help At Lake Martin?
I'm a full time real estate agent here at Lake Martin. I write these market reports help my clients. Do you need help with buying or selling at Lake Martin, please contact me, John Coley, by using this contact form, calling me at 334 221 5862 or emailing directly at john (at) lakemartinvoice (dot) com.
Copyright notice – the above, and every other post on this blog, is the property of John Coley, Broker, Lake Martin Voice Realty. Appraisers may use my information in their appraisals without charge or asking, but please give me credit by citing me, my company name and title, and website address of https://lakemartinvoice.com.  If anyone else would like to use this information, please contact me here and ask. I probably will let you do it, just please ask!
(*)Disclaimers: All of the above info was taken from the Lake Martin Area Association of Realtors Multiple Listing Service. Accuracy is not guaranteed but deemed reliable. The above does not include sales by   FSBOs or developers that sell privately and not through the MLS. But, I do think that the above represents a very large majority of all waterfront sales on Lake Martin, Alabama.