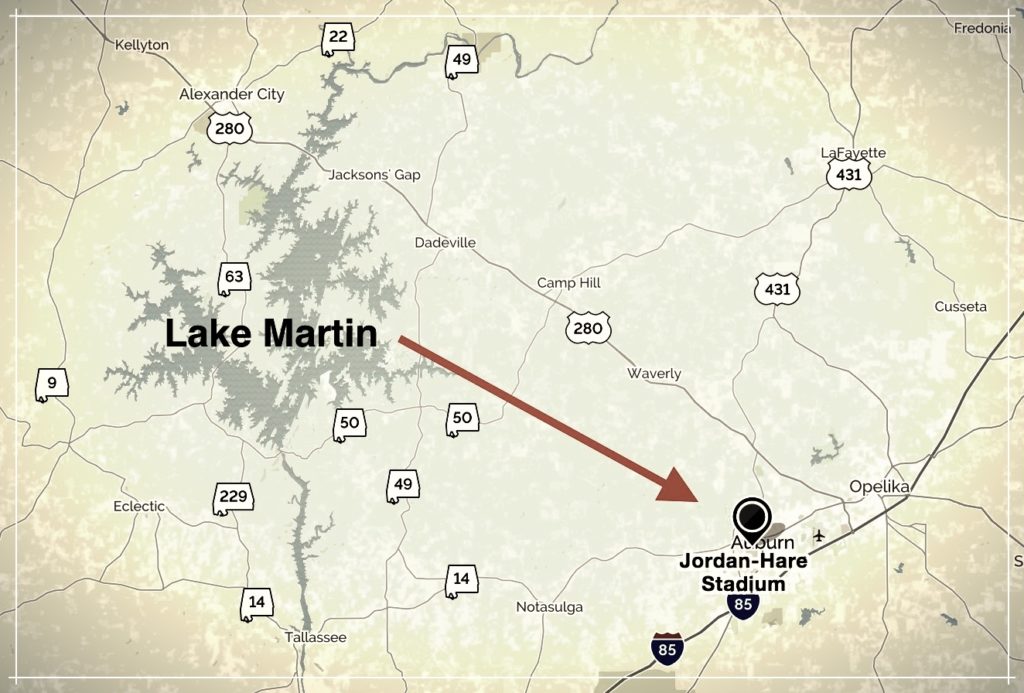 Do people stay at Lake Martin for Auburn games?  I believe the answer is YES. The Lake is a such a short drive to Jordan-Hare Stadium.
According to an article published earlier this month in Alex City Outlook (click here to read) Auburn home football games make a big impact on the economy around the Lake Martin area. Local merchants, businesses and restaurants report increased revenue for home game weekends.
And rentals at Lake Martin are popular for football weekends – enjoy the game in Auburn on Saturday and the Lake on Sunday!  What could be better?  (besides a winning season).
Even if you don't plan on going to the Auburn football game, if you are coming to look at waterfront real estate, it affects you, too.  As an example, I recently had a couple from Atlanta coming in to look at some homes and lots on Lake Martin.  They happened to be coming on a football weekend, and hadn't made any reservations.  Most of the local hotels around the Lake were booked up!  So it always pays to think ahead, even if you are not a football fan.
Since we are talking about Auburn and Lake Martin … were you one of the few that missed Auburn's kicker, Daniel Carlson's, Instagram video from this summer?  He and teammate Will Hastings were at Lake Martin "working hard in the offseason."  Click here to see the video and read the article from AL.com.
Whether or not you Roll with the Tide, yell Waaarrr Eagle, scream Go Vols, support the Bulldogs (Mississippi State or Georgia), geaux with the Tigers, get fired up about the Gators, Gamecocks, Razorbacks, Rebel Black Bears or any other team – enjoy the Fall with Faith, Family, Friends and Football!