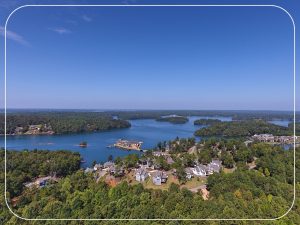 Home construction can be trendy. Sunken dens, intercoms and avocado green have dwindled to obscurity. Split levels, parquet floors and mini-blinds are becoming rare, and that is okay. Things come and go. Please don't get upset, but there may be a time in the future when Chip and Joanna's home might look dated.
An interesting trend that I have noticed around Lake Martin is the new attention to off-water lots and homes in neighborhoods that are clearly waterfront focused. No longer considered afterthoughts or throwaways, the off-water properties in some new communities around Lake Martin are playing central roles in their respective developments.
Sure, there have been off-water homes built around Lake Martin for many years. There are many off-water lots at StillWaters, but these homes have felt to me more like primary residences than vacation homes. Maybe it is because StillWaters is, by acreage and by number of homes, one of the largest formal neighborhoods on Lake Martin. Perhaps the sheer vastness of StillWaters makes me feel like some of its streets and homes are not trying to be lakey – they just want to be homes near a lake.
Similarly, there are many off-water lots in The Ridge. It is, without a doubt, a lake-focused community, but only a few off-water homes have been built there in the last 15 years.
One exception may be the neighborhood called The Village that is near Chimney Rock. The Village has many off-water homes. It is a spot that I think feels like a second home, lake-dedicated community. The way The Village lays out topographically, there are waterfront homes; homes that aren't on the water but have water views; and homes that don't have water views but have water access.
For a very big lake like Lake Martin, I would think that, historically, we would have seen more off-water homes in neighborhoods dedicated to the lake.
That is why it is interesting to me that 2019 very well may go down as the "Year of The Off-Water" (this is my made-up term). The reason I say that is I am seeing several new waterfront neighborhoods started that offer water view and water access homes as a prime, rather than secondary, strategy for their sales.
Talisi Cove is one such example. It is located on the Kowaliga side of the lake in Tallassee Slough. Each of the homes there is designed by Nequette Architecture and is being built and sold by Harris Doyle Homes. According to the plat, both on-water and off-water homes are offered. The entirety of Talisi Cove is focused on the waterfront, with the off-water homes sharing the amenities.
Near Talisi Cove, there is another new neighborhood called The Village at Kowaliga Bay. The streets have been finished there for years, but only recently have some homes popped up. I drove through there a few weeks ago to check out the progress. The Village at Kowaliga Bay is what I call a common waterfront setup. Looking at the plat, it appears to me that there are no waterfront homes in the traditional sense. It looks like all of the waterfront footage is owned in common by the neighborhood, along with the other amenities. Each off-water home in The Village at Kowaliga would own the off-water lot and home and would be a member of some sort of homeowners association, I assume.
The Hideaway is another new entrant to the Lake Martin market. The Hideaway is located inside the gates of StillWaters on the east side or Dadeville side of the lake. It includes about 34 lots, about eight of which are on the water. The rest of the homes are situated so that they look toward the water in a terraced setup. The new homes will have separate amenities inside The Hideaway but also will be close to the StillWaters amenities, like the golf course and the marina.
I think these new offerings will be welcomed at Lake Martin. When I show buyers around the lake, most of them have to strike a balance between getting a home they love and a lot they love. Sometimes, buyers find that, within their budgets, they must make a choice between the two. That is why I think these new neighborhoods offering water view and water access homes seem to be good solutions for buyers that prioritize wanting a new home with fresh design but don't insist on owning their own waterfront and dock.
Note: I originally published this article in my column in Lake Magazine. I am proud to write about Lake Martin Real Estate for Lake Magazine and ACRE – the Alabama Center for Real Estate.