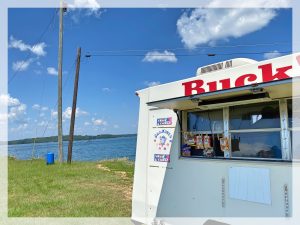 The summer of 2020 has certainly been one for the history books here at Lake Martin. The coronavirus has had ripple effects that no one could have foreseen.
One positive change is the appearance of more food trucks at Anchor Bay Marina. Last Sunday I was over that way and decided to check them out. The truck was from Buck's – an awesome local burger spot in Alex City.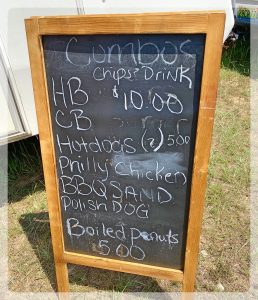 Buck's serves burgers and hotdogs and q out of their catering truck. I of course ordered a cheeseburger and it was excellent.
I've seen a falafel type truck there this summer and also the Drive by Taco truck from Auburn. I'm not really sure of their schedule but if you're wondering which truck is present, the best thing to do is call Anchor Bay Marina directly at 334.857.2654.
If you're wondering where Anchor Bay Marina is on Lake Martin, please download my free app! It has all marinas marked, along with restaurants, events, and landmarks. Just search "lake martin voice" in you App Store or click here. Enjoy!
If you're trying to sell or buy a waterfront home near Anchor Bay, I'd love to help. I'm a full time agent here at Lake Martin. Please contact me at the number at the top of the page.