Don't tell anyone, but a few weeks ago I played hooky from work.
I fished with Drew Morgan of East Alabama Fly Fishing. We floated the Tallapoosa River, just above Lake Martin.We put in at Horseshoe Bend and floated down to the boat ramp at Jaybird Landing. He took me down on his boat, which is perfect for fly fishing like this.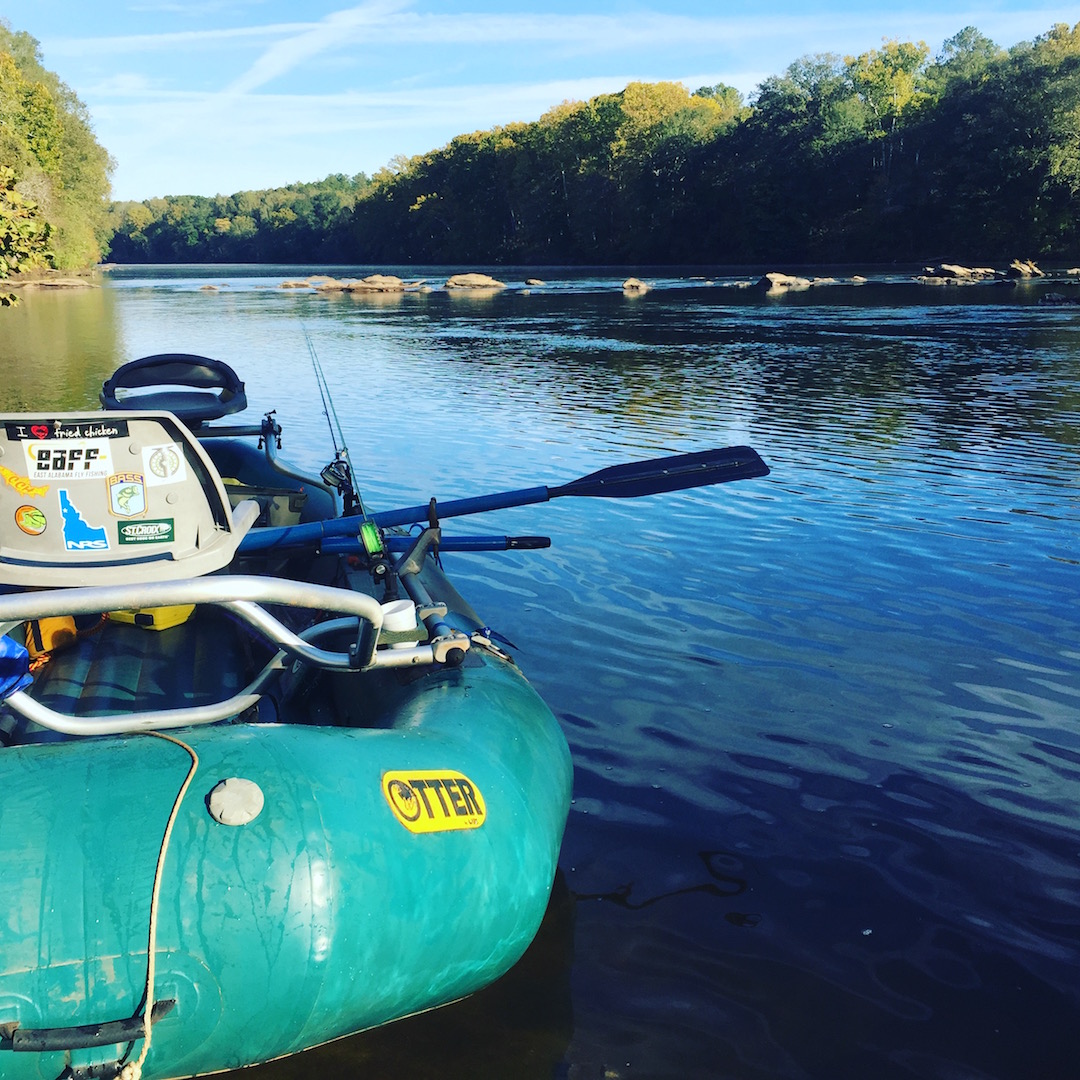 It was a beautiful day! The weather was clear and warm for October. The Lake Martin area is suffering a drought, so river levels were low. The flow was at about three feet when we started. Low, clear water makes fishing a little tougher, and we had to get out and drag the boat over a spot or two.  But other than that, it was picture perfect!
We caught a few spotted bass, a few redeye bass, and several bluegill. White poppers seemed to be the most popular fly of the day. I had to catch my breath when I saw a big (fifteen pounds or so) striped bass cruising the shallows by Jaybird. We were trolling a "Game changer" fly at the time, which I thought might incite a strike. No dice. In hindsight, I sort of wish I would have pulled in the line and cast in his general direction. At the time, however, the fly was trolling and tracking to go right by his line of travel, so I let it go. Seeing a big fish like that sometimes makes me freeze up!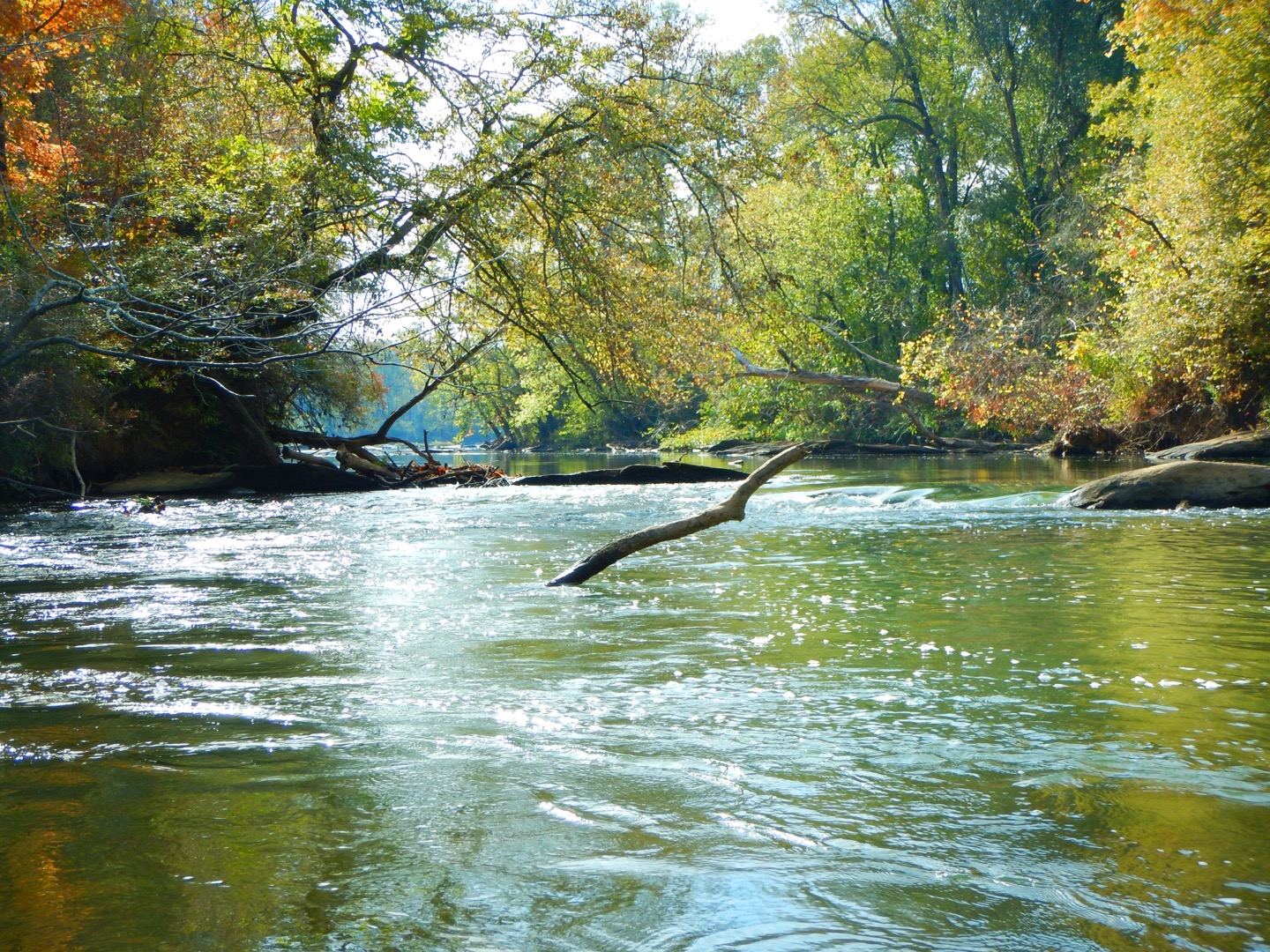 Very few people who visit Lake Martin realize what a beautiful treasure the Tallapoosa River is. The Tallapoosa is what is dammed to create Lake Martin, so if you follow the lake north, you'll hit the River. I can't really blame the lack of knowledge, because even though I grew up here, I didn't realize how cool this area is until I was old (>30).
If you'd like to learn more about fly fishing, spin fishing, or drifting the Tallapoosa River,
CLICK HERE
to contact Drew.
If you like to fish from your own canoe, kayak, inner tube, or rubber ducky,
SAVE THE DATE of

May 13

.
Drew and I are teaming up for a river bass fishing tournament to benefit a local charity. More details later.
For now, enjoy these pictures that Drew took on Monday. That bass with the bulging belly – it was full of crawdads. Plural. It was so stuffed you could feel their hard exoskeletons through the fish's skin. When we looked inside its mouth you could see crawdad antennae poking out of its gullet. It was freaky!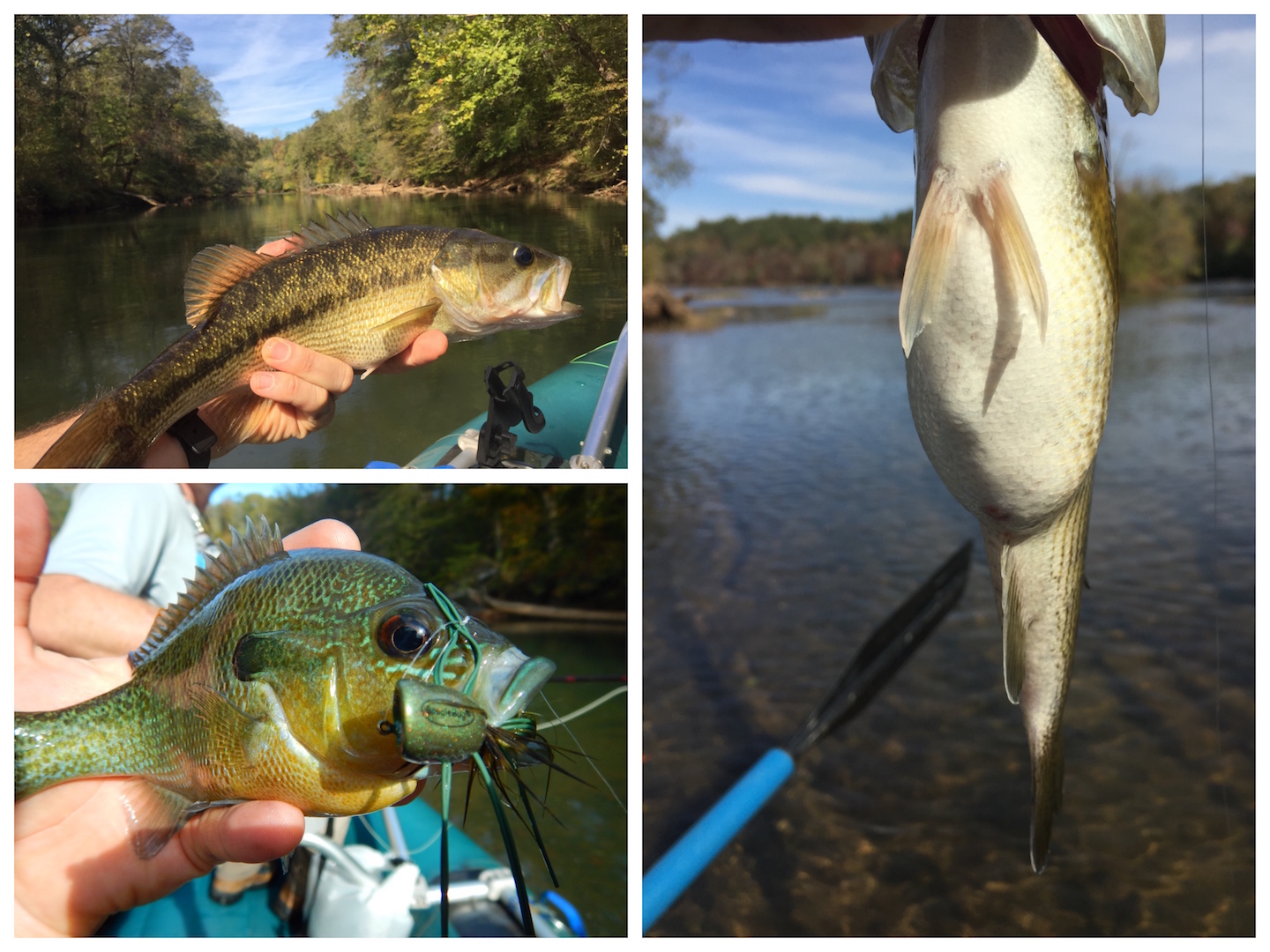 Would you like to fly fish around the Lake Martin area? This time of year (June) has hot weather that chases fish from shallow water. That's why local anglers point their rods toward the Tallapoosa River-the headwaters of Lake Martin.
The Tallapoosa River, especially the portion from Horseshoe Bend down to Irwin Shoals, is excellent water for fly fishing for many kinds of bass and sunfish. The problem in the past has been finding someone with the gear and the know how to teach you or take you. Enter my new friend Drew Morgan.  He has been killing it lately on the Tallapoosa. Check his IG for pics.
Stealth bomber, deceiver, game changer, popper, woolly bugger…what are these?
They are a few of the flies that Drew Morgan of East Alabama Fly Fishing  recommends.  Watch the video above and learn more about the gear he recommends for fly fishing on the Tallapoosa River. Drew covers it all- fly rod types, line types, flies themselves, etc.
Contact Drew and book your trip!
To directly contact Drew Morgan of East Alabama Fly Fishing, please go to his website here or his Facebook page!
Related Posts:
Fly Fishing the Tallapoosa and Best Times to Fish the Tallapoosa
As promised here is the next video from Drew Morgan of East Alabama Fly Fishing – an awesome fly fishing guide in the Lake Martin area.
In this video I shot last November, Drew talks about the different fishing seasons on the Tallapoosa River. If you are new to the area, the Tallapoosa River is dammed by Martin Dam, which creates Lake Martin. We locals refer to the area just upstream from Lake Martin as "the River," but it is more accurately called the Tallapoosa River  – from Irwin Shoals all the way up to the dam on Lake Wedowee.
The mid-spring season is soon to start.  I am already receiving reliable reports that the striped bass are in the rivers and creeks now, so I am looking to target them with my fly rod. With higher water needed to fish from now until July we should be finding our "own kind of paradise" soon.
And don't forget as Drew reminds us the mini season in the fall from mid October – mid November is still a great time to take your canoe, kayak, or his boat out.
While we all love to be out on the water catching fish, part of the lure (pun intended) of fly fishing is wading through in search of different species. When the water is lower on the river – July, August and September, the time is right for wading.
As you watch the video listen out for Drew's version of the "Tallapoosa Slam".  His long list of the different species biting year round is sure to get you "Wishin' I was knee deep in the water somewhere got the blue sky, breeze and it don't seem fair the only worry in the world…" How soon can I get my gear together and call Drew?
If you are interested in fishing, directly contact Drew Morgan of East Alabama Fly Fishing, please go to his website here or his Facebook page!
If you would like to see what waterfront homes for sale on Lake Martin are closest to the Tallapoosa River area, see THIS PAGE that takes you to the River Oaks Neighborhood Page on my blog. If I can help you with any homes or lots there, please call me at the number at the top of the screen!
Drew Morgan of East Alabama Fly Fishing is a fly fishing guide in the Lake Martin area and my new go-to authority when I want to fish around here with my fly rod.
I recently stumbled across Drew's Instagram account and couldn't believe my luck. For years I have been trying to improve my skill and effectiveness of fly fishing for the native species around the Lake Martin area. It just so happens that Drew does just that.
East Alabama Fly Fishing is mainly focused on guiding people along the many beautiful rivers and streams in the area. Drew frequents the Tallapooosa River, which flows into and creates Lake Martin. He also spends a lot of time in the Saugahatchee Creek watershed. 
Ever since I read in Lake Magazine about the discovery of new species of red eye bass, I've been itching to get better at targeting them with my fly rod. Obviously, I still love to fish for trout in The Smokies, but being able to have more options locally is a great thing.
My problem is, even though I grew up here, and dabble a tad at fly fishing, I never really learned the ins and outs on how to do it on the Tallapoosa. Casting a Rapala from a bass boat in fifty feet of clear water is not the same as dead drifting a hellgrammite pattern while wading knee deep in the flow.
I was really excited when Drew made some time for me last November. The result of that trip is I got a ton of (hopefully) helpful video footage where Drew really lays out the details. I'll be posting these over the next few weeks.
The day we went in November was not cooperative. After weeks of clear, warm weather, that day was soaking wet and the water was high and muddy. Not exactly the best for fly fishing or video.
Nevertheless, Drew delivered with great info and a wonderful guided float down the Tallapoosa. 
Please enjoy his intro video above, and be sure to stay tuned for future installments. I have two more videos that will cover the fly fishing gear he uses on the Tallapoosa River, and how the seasons affect the fishing here.
To directly contact Drew Morgan of East Alabama Fly Fishing, please go to his website here or his Facebook page!
Any reader of this real estate blog knows that I am way into the recent trend of paddle boarding that has hit Lake Martin. I am a proud fan of the Paddle Lake Martin fan page on Facebook and enjoyed putting on a paddle board race in June.
But I am blown away by, and supremely jealous of, Harold Banks of Dadeville.  Harold is the original Lake Martin paddler in my book. I have been reading his day by day account of paddling from Fort Toulouse (the confluence of the Tallapoosa and Coosa Rivers, aka The Alabama River) to Mobile Bay.  If you have not read this account, give yourself a treat and read these links on The Alexander City Outlook and his account in Lake Martin Living Magazine.
This amazing adventure reminded me that Mr. Banks became the first person to canoe the entire Tallapoosa River a few years ago.  The Tallapoosa is what feeds Lake Martin, and it has its origins as a humble creek in Georgia. Banks took a few weeks in 2009 and started at its Georgia headwaters, paddled through the state line into Alabama, through a few lakes including Lake Martin, all the way to Fort Toulouse near Wetumpka.  You can google "harold banks tallapoosa" for more info.  He is mentioned on the Alabama Scenic River Trail site, but if you want to read his amazing travel journal from the trip, click here.
He has really inspired me. I have been wanting for years to do that, but per his advice I will take it in chunks. I am shouting out to my fellow Paddle Lake Martin folks, let's take down the Lake Martin leg this fall! We could start at the shoals at Jaybird Landing, then end up at the dam.  If we do it over two days, we could even camp one night!
One of these days I promise we're going to go from Lake Wedowee to Jaybird to soak in the scenery and wildlife. But in the meantime, here's a good article in Lake Magazine with some shorter trips!
On November 4, 2011, Alabama Power requested to keep the water level three feet higher than normal this winter.
This is old news to locals, of course, but I realized I had not posted anything about it on my blog.  Sorry about that.
This has been an unusually  busy fall for Lake Martin Voice Realty. Both John Christenberry and I have been blessed to have a few deals in the works and lots of people here looking for a waterfront home or lot on Lake Martin.
Alabama Power made this request to the Federal Energy Regulatory Commission (FERC). FERC is also the acronym that will decide to approve or reject Alabama Power's application for a new rule curve for the next 30 years.
For all of the official information from Alabama Power as it relates to Lake Martin's water level, go to this page on their website, then select "Tallapoosa River" and then "Lake Martin" in the appropriate drop down boxes.  The normal winter water level for Lake Martin under the current rule curve or license is 480 feet, Martin Datum.  Alabama Power has requested to keep it at 483 this year because of, in their words, "to address forecast LaNina impacts during the upcoming winter and spring months. Once approved, the lake should remain up to 3 feet higher than normal winter pool. Lake elevations are always subject to change, depending on conditions."
If you would like to monitor the water level on Lake Martin, I think the best spot on the web is Bruce Pate's Lake Martin.com. From here you can see the current level, and also a cool chart that allows you to compare to prior years, and to the current rule curve.  Bruce also allows you to create a water level alert, customized to your needs.   For instance, you might know that when the lake gets below 484 you can work on your dock or install a water pump for your landscaping.  Go to Lake Martin.com and create an alert that will email you when it gets close to that amount.  Neat idea!
Other Great Resources About Lake Martin's Water Source
Lake Martin is fed by the mighty Tallapoosa River, which, I would argue (in extreme bias) is the most historically significant river that is east of the Mississippi and south of Clingman's Dome. Here are some links to see Tallapoosa River flow numbers:
Tallapoosa River near New Site / Horseshoe Bend
The Tallapoosa is part of the Alabama / Coosa / Tallapoosa River Basin, aka the ACT Basin.  If you would like to watch water level readings for the ACT Basin, see:
ACT Basin by Army Corps of Engineers
Alabama Dept of Environmental Management

I think that anyone who loves Lake Martin, for long enough, will begin to have concerns about where its water comes from and the quality thereof.  Lake Martin is fed by the Tallapoosa River.  I only recently learned this:  a river's watershed is the area of land where every single trickle, creek and stream flows into that river.  So you can imagine that the Tallpoosa River watershed is a huge area of land that covers much of east-central Alabama and then goes into Georgia.
If you would like to learn more about the Tallapoosa River Watershed, I think the best way to do so is to attend the Tallapoosa River Basin State of the Watershed Conference .  It's being held on June 22nd at Central Alabama Community College in Alexander City from 8:30 am to 5:00 pm.
This is a collection of scientists – many of whom come from Auburn – that includes biologists from the State of Alabama as well as ones from private industry.  They do a lot better job of describing the event, so I will post their website and comments below.  But, let me say that before attending this conference, even though I have grown up on Lake Martin, I had never heard of the Tallapoosa Darter.  That's just one nugget of information you may learn.

Here's a quote from Mona Scruggs, Conference Coordinator:
"We want to make sure that folks in the Tallapoosa Basin don't miss this opportunity to learn about recent accomplishments and opportunities in their area. It may be of particular interest to your readers that there will be a special panel discussion about the recent designation of Outstanding Alabama Water for the section of the Tallapoosa River and the Treasured Alabama Lake classification for Lake Martin which will include input from local Economic Development and Real Estate experts."
So, to learn more, check out the links below:
Tallapoosa River Basin State of the Watershed Conference Website
Tallapoosa River Basin State of the Watershed Conference Registration

I don't see many house boats like this on Lake Martin anymore.
When I was growing up, there were always a bunch of house boats that were moored at docks by the River Bridge. They were on the east side of the river, across from the old Lake Hill Restaurant, on the north side of the Tallapoosa River. I guess this was the late 1970s, early 1980s.
We would be driving eastward on highway 280, and as we'd cross the bridge, we could see them all parked over on a dock system. I never went down there, and don't know their owners.
When I saw this one parked across the street from my office, it made me think about how long it's been since I have seen a boat like this on Lake Martin.
I originally posted this on my media blog, at Posterous.
This year I had 2 "goals" to achieve at Lake Martin, recreation wise.
1. Take my boys fishing 10 times.
2. Take a long boat ride – Kowaliga Bridge to the River Bridge.
Results:
1. Horrible. We fished maybe 5 times at the lake, and that was off of the dock, at night, for carp, with all of the rest of the family.  Hardly the Mayberry-esque jaunts in the boat, where I would impress them with my fishing prowess versus the noble bass and scrappy bream, and somehow tie in  a lesson about life.  Don't get me wrong, we like fishing off of the dock, though.
2. Labor Day came and went at Lake Martin, and I considered myself defeated on this one, too.  What a crappy dad.
Then I started thinking, why admit defeat?
Why should I let summer skunk me?
Why not take my own advice and come to the lake to relax after Labor Day? Why not double down and do it during the week?
Besides, isn't one of the perks of real estate supposed to be "being your own boss?"  So yesterday I mustered the wife, our youngest child, and the poodle.  We decided, weather and calendar be darned, we are going for a boat ride.
Kowaliga Bridge to the River Bridge or Bust!
I know that lots of Lake Martin boaters make this trip at least once a weekend, but for us this is a big trek. It means launching the "speed boat" – our term for the ski boat that can go faster than pontoon's 10 mph. It also means risking a slow leak in the motor's foot and a dicey idle speed throttle control. No complaints, though. Mooching is better than buying your own, most of the time.
When I called my dad to get final instructions, Summer 2009 tried a couple of final tactics to defeat us. First it sent rain. And more rain. But we didn't blink. Secondly, I found out that the boat had been winterized already, so I would have to de-winterize it and re-winterize it in the same day. Sounds daunting.
Nice try, summer 09. We did it. We launched the boat at Kowaliga Bridge, cruised the main drag all the way to the River Bridge in the Alex City limits (aka the highway 280 bridge). We went past it, tied up to the railroad trestle just north of it, and ate our picnic lunch. Kicked our feet up. Returned calls on my cell phone. Glorious.
We saw 1 other boat at launch, 2 or 3 going north, 2 at the railroad trestle, and 2 coming back. That's it for boat traffic on a September Thursday after Labor Day.
We were back home by 3 PM and at a soccer game by 5.
In yer face, summer.
Am I nuts? Does anyone else out there think  a trip to Lake Martin between Labor Day and Memorial Day make you feel like you are getting away with something?
Like you're cheating summer?
If the word gets out how easy it is…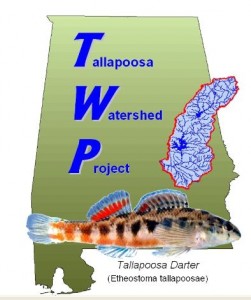 The 5th Annual State of Our Watershed Conference, The Tallapoosa River Basin –Moving Toward More Effective Water Policy will be at the Betty Carol Graham Technology Center at the Central Alabama Community College in Alexander City on Wednesday-Thursday, May 13th-14th, 2009. This year's conference will focus on moving toward sustainable water management policy for the Tallapoosa River Basin.
This year's organizers and sponsors include the Auburn University Water Resources Center, Alabama Water Watch, the Middle Tallapoosa Clean Water Partnership, Lake Watch of Lake Martin, the Montgomery Water Works and Sanitary Sewer Board, and Central Alabama Community College
Go to www.twp.auburn.edu and, under TWP Highlights click the 5th Annual State of Our Watershed Conference link to go to information on the conference, including the Tallapoosa River Basin Management Plan (8.2 megabite pdf file), conference announcement, and conference registration (required for lunch headcount), and additional information.