Unlike some crazy civil engineering projects I've seen, this tunnel under Highway 63 has major significance for the Lake Martin area.  Most of you know that there's been road construction near Russell Crossroads for about 3 years now now.  Part of this construction project is a nifty tunnel.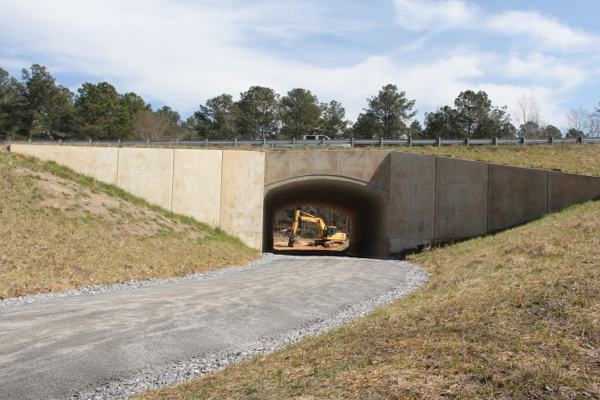 This tunnel is a really big deal for Russell Lands and therefore, Lake Martin real estate.  It's a huge part of Russell Lands' plan to link together their waterfront neighborhoods of Windermere, Windover, Windermere West and The Ridge to west side of Highway 63's Willow Point.  The central hub of all of this will be Russell Crossroads.
Right now the idea is to open the tunnel road to hikers, runners, bikers, golf cart and horse riders. I love the it.
I think this will be especially transformational for Windermere, Windover, and Windermere West which do not have neighborhood amenities.  After the trails and roadways are complete and christened for use, homeowners in Windermere, Windover, and Windermere West will  figure out that Saturday morning coffee at Catherine's Market is a five minute golf cart ride away. Big things will happen.
I can envision a lot of other things happening along this trail system.  The fact that you don't have to cross Highway 63 opens up a realm of possibilities.  Willow Point people can ride to The Ridge Marina on their golf carts.  People in The Ridge can mountain bike through the tunnel and explore Russell Forest trails.  Homeowners in Windermere and Windover neighborhoods can do all this, plus go to SpringHouse restaurant or Willow Point Country Club.  The ease and sense of community will be a great thing.
This really reminds me of Sandestin in the late 1970s.  If you are old enough, like me, to remember the original Sandestin, it used to only be a residential development on the bay side, and an unconnected beach on the gulf side.  You had to get in your car to cross Highway 98, and the whole thing was disjointed.  Then they put a tunnel under the highway, developed out some commercial space, and suddenly everything in between flourished.
I'm not saying the Russell Lands is about to have a mega development like Sandestin, but I am saying that all of these neighborhoods are going to truly be able to use Russell Crossroads.  I think it will increase property values in all of these developments.  Russell Lands has pumped millions into this project, but homeowners will reap the benefits over the next 5-10 years.
If you'd like to know more about homes in the above mentioned neighborhoods, check out my Neighborhoods page, give me a call at (334) 221-5862, or CLICK HERE to contact me via email. I can help you with any property for sale in the Lake Martin MLS, regardless of who has it listed.