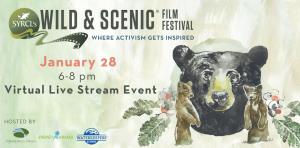 Did you know that Alabama has more than 130,000 miles of streams and rivers with more types of plants and animals living in them than any other state in the nation? Are you interested in learning how to support environmental groups across the state and help protect Alabama?
One way to get started is to watch the Wild & Scenic Film Festival on tour January 28th from 6PM to 8PM from the comfort of your own home.
The Alabama Rivers Alliance (ARA) website explains the festival like this:
At the festival, you'll LEARN new ideas from a selection of inspiring environmental films with hard hitting topics including bioengineering, water issues, wilderness preservation, citizen activism and more. You'll EXPERIENCE the adrenaline of kayaking the wildest rivers, climbing the highest peaks and trekking across the globe with adventure films from around the world. You'll EXPLORE the issues and movements with leading environmental activists and professionals, filmmakers, and celebrities. And you'll CELEBRATE the natural and wild world.
Doesn't that sound like fun?  Purchase your $10 ticket here and get your popcorn ready!
The film festival on tour in Alabama is hosted by the ARA, Waterkeepers Alabama and Energy Alabama.