Archive for the 'Lake Martin Area Info' Category
For almost 40 years I've enjoyed the pleasures of Lake Martin, but I've never given much thought to the reason for all the fun: Martin Dam.  These days, as the dam goes, so goes my livelihood, so it's now important to me on many levels.  Plus, I'm the Science Olympiad guy who likes tours and turbines and rooms with lights and switches. Throw in a little history it's a home run.  It was time to go.
Before 9/11, you could just show up and get a tour, but these days you have to schedule it in advance.  We had no luck finding a direct Martin Dam phone number, so we contacted Alabama Power through the "Contact Us" tab at the top of their website and typed out our message in the email contact box.  Two or so days later we got a response, and the next week we were at the east gate, ready to get started.  Lesson – plan your tour about a week in advance.  If you want to schedule a dam tour, contact Alabama Power by CLICKING HERE.
The guard who gave us our tour was very nice. He was extremely patient with our large crowd of kids and answered all of our questions expertly.
Like I say above, I'm just a Realtor, so I can't help you book a tour. 
I can help you BUY or SELL your Lake Martin home, though, so give me a call at (334) 221-5862 and let's talk.
[Edited: Sept. 11, 2012 – if you're looking for my video, sorry! I took it down. Apparently I was not supposed to be filming while we toured. My bad! I must have missed that in the pre-tour briefing. However, don't let my goof up keep you from your own tour! My kids still talk about it five months later, and it was a real treat for me as an Alex City native to finally check it out. It truly was a highlight of our Spring Break and I plan to do it again soon.]
I wrote the following article for the March 2012 edition of LAKE Magazine:
"Nearly all the wisdom we possess, that is to say, true and sound wisdom, consists of two parts: the knowledge of God and of ourselves." John Calvin, 1559.
"Buyers are liars." – Worn out real estate agents' cliché.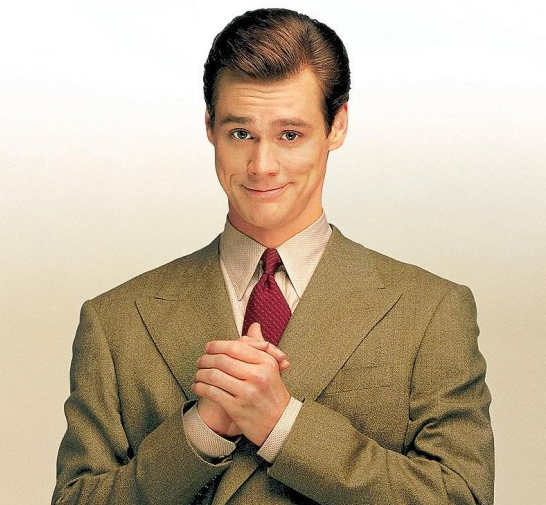 Is that true? Are buyers liars that tell you they want one thing and then choose another? Or are they simpletons, to be led around by the nose like a bullock, and told what they want by an all-knowing agent?
Obviously, neither is true. So why then, in most buying experiences on Lake Martin, do home buyers end up not buying the first home they visit? Why do they have to look around and weigh their options?
I think it's because each buyer must "know thyself." Buyers need to research the market as much as possible and, during that process, they need to look inside themselves to discover what they really want in a lake home. If you have an unlimited budget, you can totally disregard this article. Most people do have a budget; most people have limits. Limitations mean tradeoffs.
I guess the concept of tradeoffs exists in any real estate market. Maybe in some markets, for example, if you want a new home and you want to be in a certain school district, you have to accept a tradeoff. At Lake Martin, the decision I see many buyers struggle to make is the home versus the lot.
Many times buyers must decide: do I want a bigger or newer home on a smaller lot with less privacy or waterfront, or do I want an older or smaller home on a bigger or more private lot? The difficulty comes in defining the adjectives. One person's big is another person's small. Some buyers can find privacy in the most cramped condominiums and others need to feel like they are the only ones on the lake.
I call this the "Home / Lot Continuum." Imagine a line graph like we drew in high school. On one extreme is the person that loves the house and does not care one whit about the lot. The other extreme is a person who values the lot above all else and totally disregards what is built on it. Most people don't fit in the extremes, instead finding themselves somewhere along the line. What about you? If you are pretty fairly balanced, which way do you lean?
These are the sorts of questions you need to ask yourself in the home buying process. The more you know about yourself and your preference on the home versus lot issue, the more easily you will be able to decide between two homes with the same price yet varying degrees of home and lot quality.
So how should you go about increasing the knowledge of thyself? Here are three ways:
Research online
Most of us Lake Martin realtors have websites with access to the Lake Martin MLS. Go to one and search in your price range, paying careful attention to viewing all available pictures and videos of the properties. Also, our MLS has a mapping feature that allows you to go to a Google Map showing you the location of the home or lot. Click on the satellite view and zoom in as tight as possible to check it thoroughly. This will allow you to get past the sometimes-fuzzy agent descriptions of "cute house" that is "recently updated" on a "private lot." You can see for yourself how cute is cute, how private is private. Do they define "recent" as the disco decade? Judge for yourself.
Look In Person
I realize that most of the time this will involve talking to a realtor, which is the last thing most buyers want to do. I regret to break the news to you, at some point it is unavoidable. There is no substitute for being there yourself. I have walked down to the water on many lots that were described as "gently sloping" in the MLS, only to find myself huffing and puffing on the way back up. What did they mean by gently? What would they call steep? Sometimes the only way to know whether you want a short walk to the lake is to go and try it out.
Rent For The Weekend
If you are not ready to look with an agent, you should come spend some time at the lake. You can call it market research, but it is really just hanging out and having fun. Impose on one of your friends for a weekend vacation. If you don't have a friend with a lake house, get better friends. Seriously, you can rent a home here and that will give you an idea about how you plan to experience the lake. You might find that your favorite lake moments are the quiet hours in the morning with a cup of coffee. Or, you might realize that boating is your thing. Does each of your family members need their own bedroom, or can you pile them in like alligators? While you probably won't be able to test out a home that is for sale, your renting experience will give you a good idea of how you plan to use a lake house, and therefore shape your priorities.
Follow these suggestions and know thyself well to find your perfect lake home.
Or, maybe you will know it when you see it. I didn't know I wanted a white miniature poodle until a stray one ambled up in my yard.
Have you ever ridden on a paddle board, on Lake Martin or elsewhere?
I haven't, but I seem to be among a dwindling minority.
This blog post was inspired by a recent announcement by my friends at Lake Martin Dock Company.  They posted on their Facebook page that they are now a dealer for Bote Boards – a stand up paddle board company out of Destin.  Bote Boards look cool to me because several of their models are designed for fishing.  There are little holes or slots in the top of the board in which you insert a stand.  As a fly fisherman, this makes me want one to try out the paddle and fish thing.  Have fun while getting a workout!
Stand up paddling is supposed to be great exercise, especially for the core.  I first heard about stand up paddling (SUP) from the Paddle Board race that Yolo put on with Bay Pine Marina.  Ever since I read this article I have wanted to try it out.
How about it? Has anyone out there tried fishing from a paddle board on Lake Martin yet? 
What about the ultimate combination: on a paddle board, hooking into a big striper, while fly fishing, on the lake?  Anyone? Anyone?
The Piedmont Plateau Birding Trail officially opened on November 17 with a nice ceremony held at Horseshoe Bend National Military Park.
The Piedmont Plateau Birding Trail is the central Alabama version of the popular birding trails like the Alabama Coastal Birding Trail and the North Alabama Birding Trail.
What is a birding trail?
A birding trail is a collection of locations where bird lovers and other folks can go to observe some of Alabama's renowned diversity of bird species.  The Piedmont Plateau Birding Trail is organized into three "loops."
The Lake Martin Loop, obviously, is the part of the trail that will be closest to Lake Martin. Some of the observation points are directly on the water of the lake, such as the DARE Park and the Cherokee Ridge Alpine Trail head.  Others will take you off the water, but to nonetheless interesting spots like Horseshoe Bend National Military Park.
The new trail has already earned some attention.  Deborah Storey covered it in this Hunstville Times article.
For what it is worth, I think this is an outstanding idea and brilliant marketing on the part of the various Chambers of Commerce that worked together to get this done.  I congratulate the Alexander City Chamber for taking the lead on it.  Even if you are not a "birder" – you should realize that birding related tourism is a really big business, and Alabama is a mecca.
Furthermore, it offers yet another thing to do off of the water for people who love Lake Martin.  Fall is the time of year that I think gives you the best chance to hike, bike, and explore the area around the lake.
Speaking of things to do, how many of you have never been to Horseshoe Bend National Military Park?  Why not? It is only about 10 miles off of highway 280 between Dadeville and Alex City.  The dedication ceremony gave me a perfect excuse to tour through it again. When I was growing up, we had oodles of school trips out there.  As a child, I never appreciated the sheer beauty of that park, nor did I grasp the historical significance of a battle that shaped the destinies of millions of acres of land, entire nations of native Americans, and at least one President.  (Hint: check a $5 bill).
After my tour the other day, I was really getting my nature, my history, and my local pride groove on.  I went wild in the Park's gift shop, buying several (my wife rolled her eyes) books about The Battle, this area's history, and nature.  My fellow nerds will please note I added them to my Lake Martin Voice Library.  Check them out, they are excellent reads.
To see my other pictures of the opening of the Piedmont Plateau Birding Trail, and Horseshoe Bend Park in general, please see:
Flickr Photo Set by Lake Martin Voice

As a Lake Martin realtor, I am often guilty of a one track mind.  I constantly bend every experience, every encounter in my life back to Lake Martin real estate.  I admit it.  So forgive me if you think this is stretching, but..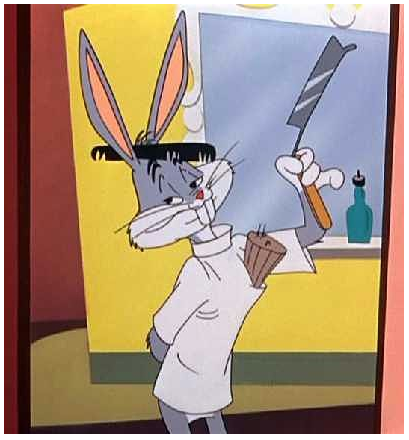 The other day I was early for my haircut appointment.  My barber had another gentleman in the chair, snipping away.  It's a one chair "salon," so I couldn't help but overhear their conversation.
It was about Google Earth.
What?  Yes.
El barbero, or master hair cutter (I think of him as the guy who has the misfortune of dealing with my 'fro once a month), was trading Google Earth tips with his patron.
He is in his mid 50s.  The customer is 70.
They were going back and forth with nuggets of wisdom about the online mapping service.  I was listening pretty hard as I am a Google Earth newbie.  They were talking about how easy it is to create custom maps, spots, and the like.
If they wouldn't have thought me creepy, I would have videoed it on my iPhone.
It just goes to show you that this whole "internet" thing isn't just for young people, unless you define young as under 80.  These results are typical.
A Thank You Note To YouTube
2011, in my mind, will be the year that I should write YouTube a thank you note.  I do a lot of online marketing on Twitter, Facebook, Posterous, Flickr, and the like.  But my videos on Youtube are a huge blessing and are, pound for pound, the best return on my efforts aside from this blog.
"That's great, John," you may say.  "But the only people watching videos on YouTube are kids."
Wrong.
We at Lake Martin Voice Realty have uploaded so many videos about Lake Martin real estate, area events, restaurants, marinas, etc., that we have had almost 86,000 views of them at this writing.  Phenomenal, and we have you to thank.  We have uploaded over 200 of them.  My average video length is about 3 minutes so that is 258,000 minutes that people have spent watching.  Amazing and humbling.
86,000 – that is more than a couple of national real estate brands have.  Check me out and see if I am wrong.  Go to the YouTube channels of any national brand and see how many views they have.  Then compare it to ours, and keep in mind that we (currently) have two agents doing all of this.
When you get that many views, YouTube starts courting you and asking you to put ads on your videos.  They also give you perks like being able to see your demographics.
Check out the age range of who is watching my videos:
Observe that over 60% of my video views come from people that are 45 and older. Amazingly, more views come from people 55 and older than do those who are younger than 35.
And that's a good thing.  This is proof positive that I am hitting the sweet spot, demographically.  Well, I take that back.  The ultimate proof is when I hear from buyers that call me and say, "hey, I saw one of your videos on…" or a seller that says "I love your video home tours."
Thank you, I still need your help
I thank the Lord, and also you, dear reader and viewer, for the eye popping numbers.  But I still need some help from you.
What do you like to watch or read about?
I have noticed that my highest read blog posts and most highly watched videos are on subjects that were originally suggested by readers.  So please, please, keep those suggestions coming.  Please contact me through this form or directly at [email protected] or [email protected]
Also – how can I increase my female viewership on YouTube?
Thanks!
The Tornado Recovery Action Council comes to the Lake Martin area with a meeting at Children's Harbor.  The meeting is on Monday, September 26, 2011, at 6:30 PM.
Their stated purpose is: "building a better Alabama and preparing for future disasters."
They want to hear feedback from people in the Lake Martin area who were affected by the April 2011 tornado.
For more information about this meeting, please contact the TRAC directly through their website: TRACalabama.org
Here is their flyer:
Uncle Nick's Smokehouse is the newest of Lake Martin's waterfront restaurants.  Its main gig is barbeque – offered lots of different ways, but it also has many non Q items on the menu.
They opened earlier this summer, so my "new" description might not be all that accurate.  Sorry, but it has been a (blessedly) busy buyer summer and I am just now getting time to upload all of these video and photos.
Nick's menu ranges all over the BBQ spectrum.  They offer brisket, chicken, and turkey dishes, though the focus seems to be more on pork.  At least when I have been there I have had mostly the pork dishes. I have had the BBQ turkey sandwich, the BBQ pork sandwich, and, while they were good, they weren't my favorite. My favorite thing I have eaten at Nick's so far are the BBQ potato skins.  I don't see them on the online menu I linked above, but trust me, they are awesome. I had the pork ones, and liberally applied their Carolina and Alabama sauces. Yum.
As of yet I haven't tried any of their non Q items like steak or burgers or shrimp, but I have heard good reports from other folks.
Ambiance
Waterfront.  Need I say more?  No, but I will. You can dine alfresco – in riva al lago. If you don't like that, I have concerns about your salvation. Inside is nice, too. They have plenty of room, nice tables, and a nice bar area. I would say that it's a little more upscale feeling than nearby Oskar's and Niffer's.
Location
One of the many cool things about Lake Martin is the fact that we have many waterfront restaurants like Sinclair's at Kowaliga, Chucks, and Harbor Docks Anchor Bay. Uncle Nick's Smokehouse now joins that group.  If you've never tried it, you should.  There is something about arriving by boat that makes the food better, the sweet tea sweeter.  If you are going to Nick's by boat, please note that they are located on the east side of the Blue Creek Bridge, aka the Highway 49 Bridge.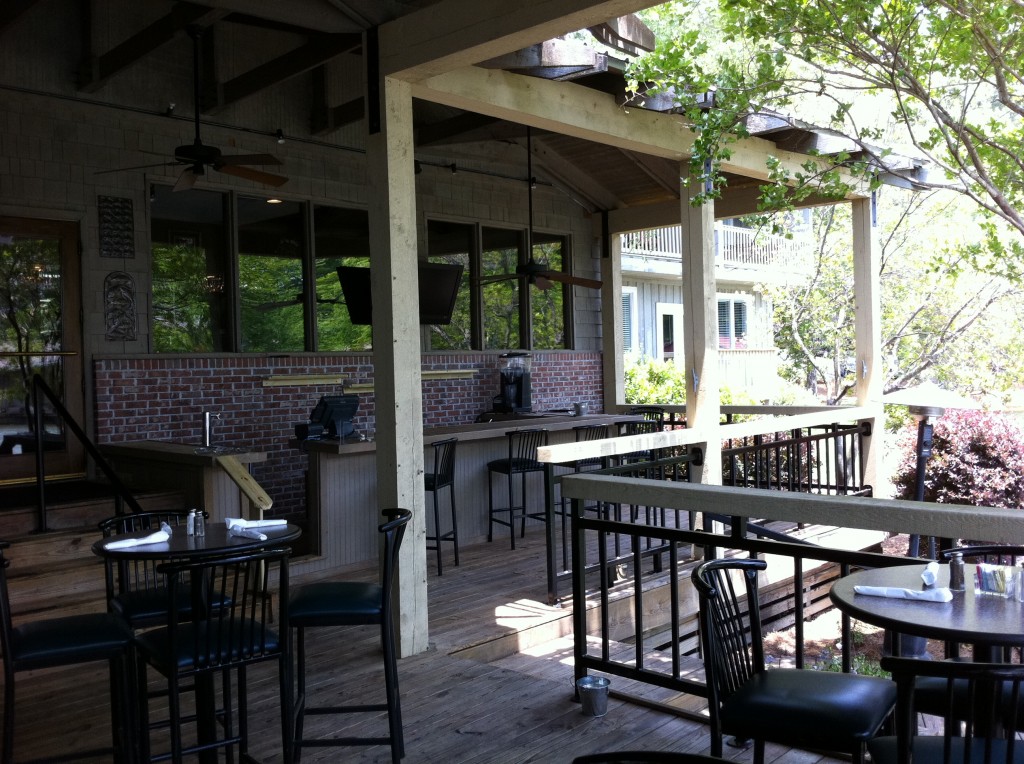 Blue Creek Bridge is kind of low, so take care to note if your boat will make it under.  At full summer pool of 490, you definitely will not make it under the bridge in boats like sport cruisers, fixed roof pontoon boats, T top fishing boats, or ski boats with fixed wakeboard towers.  If you have a smaller boat with a droppable bimini top, or if it's less than full pool, you might be OK.  Just check it out beforehand and be careful.
If you are coming by car, no worries. It is the latest proof that the Blue Creek area of Lake Martin is becoming known for its restaurants.
Uncle Nick's Strengths
Uncle Nick's Smokehouse has several strengths which I think will give it staying power. Forget good food and a great waterfront location, although it has both. Other restaurants in this same location have had both, and not lasted.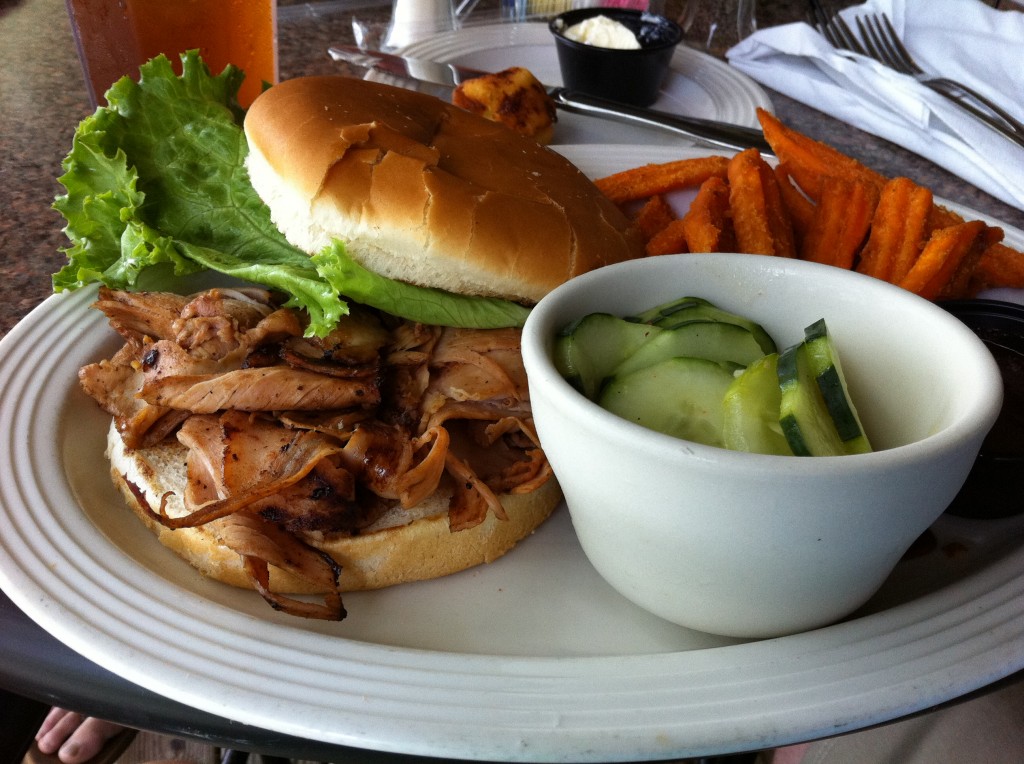 I have been impressed by Nick's management. They are professional. They are serious. They know what they are doing. Here are some examples:
Social Media – they have embraced social media marketing. For the last couple of years I have tried my best to help local businesses understand and take advantage of social media marketing. Nick's gets it.
I see Nick's reaching out and interacting with the Lake Martin community on Twitter and Facebook. I see they have started a blog. They are not waiting for you to walk in the door. They are reaching out to meet their potential customers on the web. I like it.
Synergy – This word is a tired MBA cliche. But Nick's is living it by working with their sister company, Creekside Lodge and Conference Center.  They share a parking lot, and cross promote each other very well.  Indeed, I had some buyers in town from Florida last month and I recommended Creekside to them. They stayed there and ended up eating a couple of meals at Nick's because it was such a short walk.  They enjoyed their entire Lake Martin experience and they recommend both.
We at Lake Martin Voice Realty welcome Uncle Nick's Smokehouse to Lake Martin and look forward to many more delicious meals there!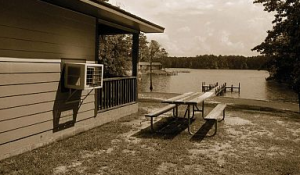 If you read LakeMartinVoice for its brainy real estate analysis, this post may leave you scratching your head.  But, by popular demand, I've been asked to re-submit a 2008 literary attempt I penned, "An Ode in Praise of the Window Unit." I don't typically recycle old material, but this one might strike a chord with a few of you. 

(I'm reposting my intro to the piece, too.)
*********************************************************
(2008) Lake Magazine has a section called "My Lake Martin" where (apparently) they allow just about anybody to submit an article about the lake. They were kind enough to print one I submitted.
I was inspired to write an ode about a window unit air conditioner that we used to have in our cabin. Judging by its girth and sound, it had to have been made in the 1940s. Its brand name was "Kelvinator." That's what we called it, as in "it's hot in here, turn on the Kelvinator." When things are around that long, they deserve individual respect.
It's kind of like how we refer to one of the couches as "The Herculon" as in q: "where is mainsail?" a: "stuffed behind The Herculon" or q: "why are you sweating so bad?" a:"it's The Herculon – laying on it makes me sweat."
Anyway,I digress.
Lake Martin cabins and window units are inseparable in my mind.
Here it is
An Ode In Praise of the Window Unit
My Lake Martin is a realm ruled by the window unit air conditioner.
Like polyester, it is a reminder of that which once was a point of pride, and is now no longer en vogue.
Oh, woe, and lastima to those who have nay slept below your frigid roar, o humble window unit!! While now your presence draws scorn from some and mockery from the rest, I weep in melancholy for the children of centralized systems who will never know your utility and hypnotic effects.
When the lake melted the zinc oxide from our noses and allowed sunrays to redden our skin, it was you, dear window unit that blew icicles to ease our suffering. You erased our memory such that we were burned the next day and the next.
When our parents were tired of hearing our noise, they declared it "nap time" – and shoved all us kids into one room. You alone watched over us with your rhythmic rumbling machinations. If we didn't fall asleep, like a favorite uncle you made more noise than we so that the parents never noticed.
We feared you, mighty window unit – where once you were asbestosly insulated, through service your wiring became loose, exposed, menacingly copper, always one mere spark from setting the cabin in irreversible deathly flames, yet we needed you to survive a scorching August.
Lest you take an undignified backwards fall out of your perch and into the yard, we propped you up with an old board wedged into the ground, yet you never complained. Simpering Whines were foreign to you whose hazardous lead innards percolated and spewed pre-war freon. To you, brave window unit, fretting over the ozone layer was for sissies, you had kids to keep cool.
Just as God and Alabama Power mysteriously raised the lake as azaleas are reborn, so too, you were a mystery, our beloved window unit. Each spring when we first plugged you into that Tesla coil of a socket , we wondered if you could breathe once again. Not as lovely as the dogwood, yet as reliable, you awakened decade after decade despite our lack of routine maintenance. You always shook off the leaves and dead lizards to toe the line one more time.
Window unit – Thy name was Kelvinator.
Forgive us for tossing thy corpse into the woods sans pomp or due praise.
You deserved better.
Lake Martin has a new Cajun / Creole restaurant!
Large Times is located at 35 Kowaliga Road (aka Highway 63) in downtown Eclectic.  For those of you who don't know where downtown Eclectic is, it's about 10 miles south of the Kowaliga Bridge (which is also highway 63).
A couple of weeks ago, I filmed this video of Owner / Chef Mark Moody at his new location.  We welcome him to the Lake Martin area, and are really excited that we now have a restaurant that is specializing in creole and cajun food.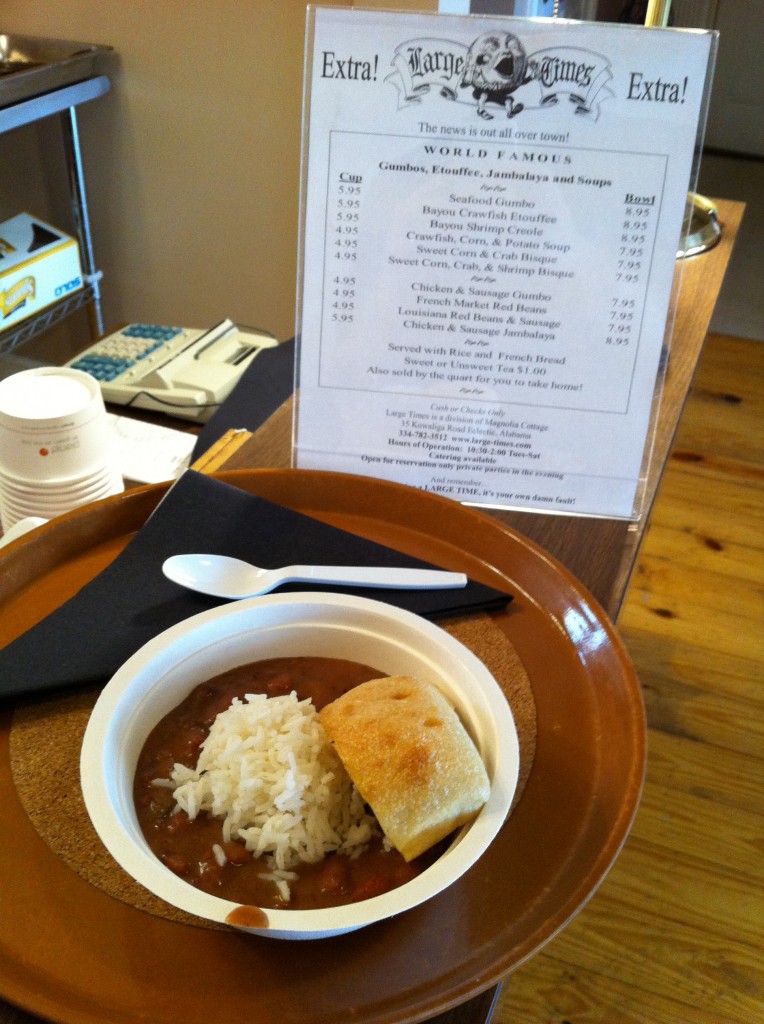 I went there with fellow Lake Martin Voice Realty agent John Christenberry, who is pretty able at the ladle himself.  We had the beans and rice, and John, has been known to stir his roux for hours, gave it a thumbs up.
Large Times is set up for lunch right now.  Mr. Moody will have a couple dishes like gumbo or shrimp etouffee made, plus red beans and rice, and you can choose which you want of the three.  It was really good and also fast since they serve you up as soon as you order.  Click here for Large Times' menu.
Mark told us that they also do a lot of take out business for people headed to Lake Martin. They can call ahead and order whatever they want by the quart.  Large Times fixes it up, with side items like bread, and people swing by there and grab it on the way to the lake. I think it's a great idea to serve on Friday night so you don't have to cook right out of the gate.  Or, you can keep it over and it would make a great Saturday lunch.  Either way, you're a winner.
We would like to welcome Large Times to the Lake Martin restaurant scene and wish them all the best. If you are visiting the lake and want to mix in some Cajun and Creole cuisine to your palette, we highly recommend them.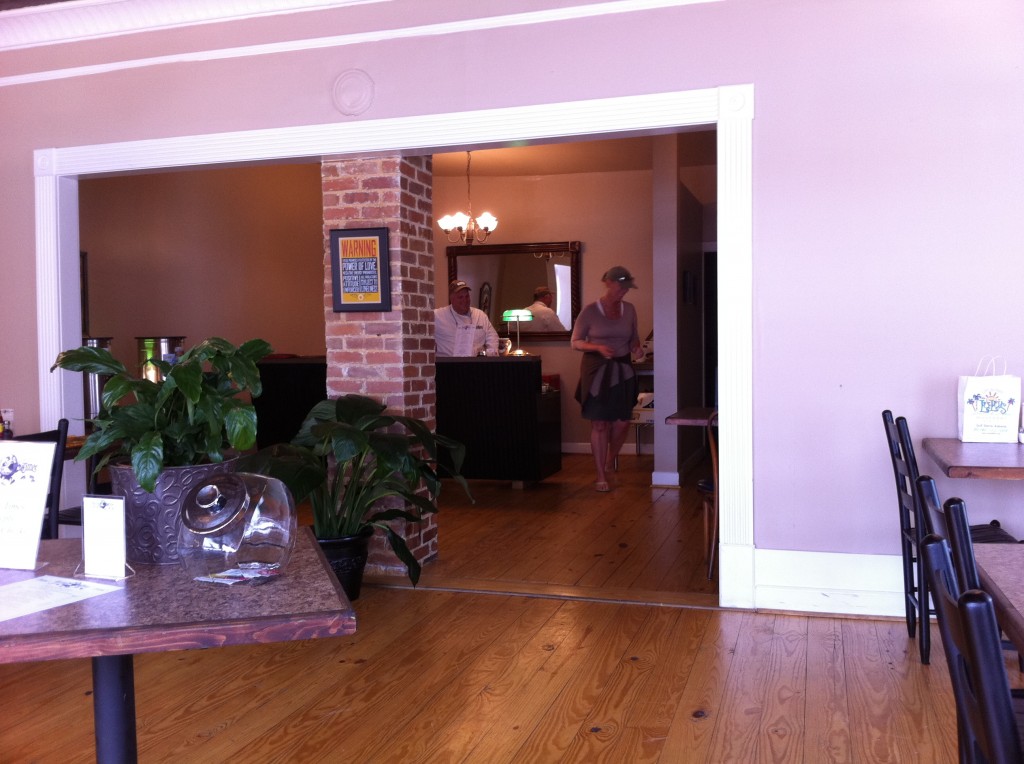 To contact Large Times, see:
Their phone: 334-782-3512
Social Media:
The Lake Martin area has a lot of great farms and farmers' markets.  Many times these hidden gems don't even have websites, much less a marketing machine to let the average visitor know they are there.
It's a shame, too, because so many of these places epitomize the recent trend back to healthy, locally sourced, "farm to fork" food in restaurants and on the table.  Before the last couple of years, there was no way for the casual fan to help educate everyone else and share local hot spots with friends.
For those who haven't heard about it, Yelp is a location based review service.  If you have a smart phone, you can access Yelp through an app as you are driving around.  If you are home or otherwise on a computer, access it via its website, Yelp.com.
Yelp lets you search for all kinds of local businesses – restaurants, hotels, coffee shops, retailers, even real estate brokerages like mine – they're all there.  You can get details of the business's location, hours, phone number, etc. But all of these are second to its most powerful feature – customer reviews.
You can also "check in" to places while you're there, which leads to friendly competition among your fellow consumers and maybe even freebies from the business.
Yelp also lets users create lists, and this is what I am using to pinpoint local farms, food sources, and farmers' markets around Lake Martin.
Click Here for my Local Farms / Farmers Market List on Yelp
As I drive around the lake, I will add these farms to my list, or take pictures and enter these farms if they're not already on Yelp.  See – that's another cool thing. If their business is not already on Yelp, you can take pictures, add tips, add them to Yelp, and draft a review, all on the fly.
So the next time you are hankering for some U Pick Blueberries, or organic eggs, or looking for wheat to grind, whip out your smart phone and check Yelp.  Check FourSquare, too. You don't have a smart phone? Don't worry.  Odds are, someone in your car does.
Have you found a farm or local produce grower in the Lake Martin area that's not on my list?
Let me know!  I would love to add them!