Archive for the 'Lake Martin Area Info' Category
The Tornado Recovery Action Council comes to the Lake Martin area with a meeting at Children's Harbor.  The meeting is on Monday, September 26, 2011, at 6:30 PM.
Their stated purpose is: "building a better Alabama and preparing for future disasters."
They want to hear feedback from people in the Lake Martin area who were affected by the April 2011 tornado.
For more information about this meeting, please contact the TRAC directly through their website: TRACalabama.org
Here is their flyer:
Uncle Nick's Smokehouse is the newest of Lake Martin's waterfront restaurants.  Its main gig is barbeque – offered lots of different ways, but it also has many non Q items on the menu.
They opened earlier this summer, so my "new" description might not be all that accurate.  Sorry, but it has been a (blessedly) busy buyer summer and I am just now getting time to upload all of these video and photos.
Nick's menu ranges all over the BBQ spectrum.  They offer brisket, chicken, and turkey dishes, though the focus seems to be more on pork.  At least when I have been there I have had mostly the pork dishes. I have had the BBQ turkey sandwich, the BBQ pork sandwich, and, while they were good, they weren't my favorite. My favorite thing I have eaten at Nick's so far are the BBQ potato skins.  I don't see them on the online menu I linked above, but trust me, they are awesome. I had the pork ones, and liberally applied their Carolina and Alabama sauces. Yum.
As of yet I haven't tried any of their non Q items like steak or burgers or shrimp, but I have heard good reports from other folks.
Ambiance
Waterfront.  Need I say more?  No, but I will. You can dine alfresco – in riva al lago. If you don't like that, I have concerns about your salvation. Inside is nice, too. They have plenty of room, nice tables, and a nice bar area. I would say that it's a little more upscale feeling than nearby Oskar's and Niffer's.
Location
One of the many cool things about Lake Martin is the fact that we have many waterfront restaurants like Sinclair's at Kowaliga, Chucks, and Harbor Docks Anchor Bay. Uncle Nick's Smokehouse now joins that group.  If you've never tried it, you should.  There is something about arriving by boat that makes the food better, the sweet tea sweeter.  If you are going to Nick's by boat, please note that they are located on the east side of the Blue Creek Bridge, aka the Highway 49 Bridge.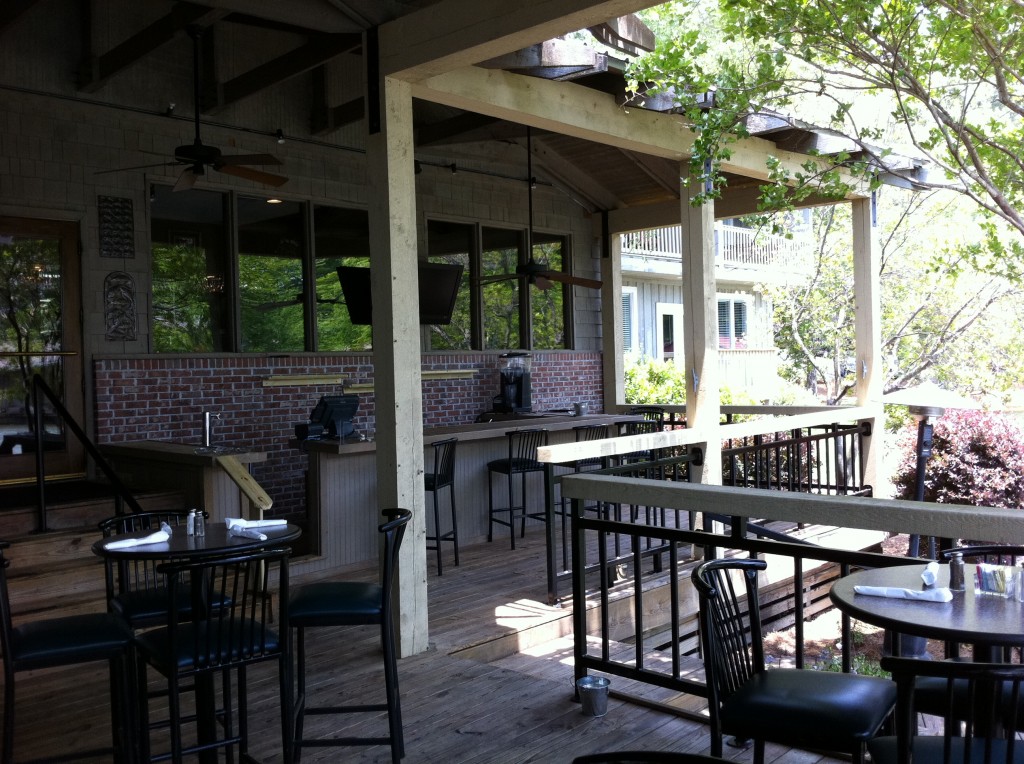 Blue Creek Bridge is kind of low, so take care to note if your boat will make it under.  At full summer pool of 490, you definitely will not make it under the bridge in boats like sport cruisers, fixed roof pontoon boats, T top fishing boats, or ski boats with fixed wakeboard towers.  If you have a smaller boat with a droppable bimini top, or if it's less than full pool, you might be OK.  Just check it out beforehand and be careful.
If you are coming by car, no worries. It is the latest proof that the Blue Creek area of Lake Martin is becoming known for its restaurants.
Uncle Nick's Strengths
Uncle Nick's Smokehouse has several strengths which I think will give it staying power. Forget good food and a great waterfront location, although it has both. Other restaurants in this same location have had both, and not lasted.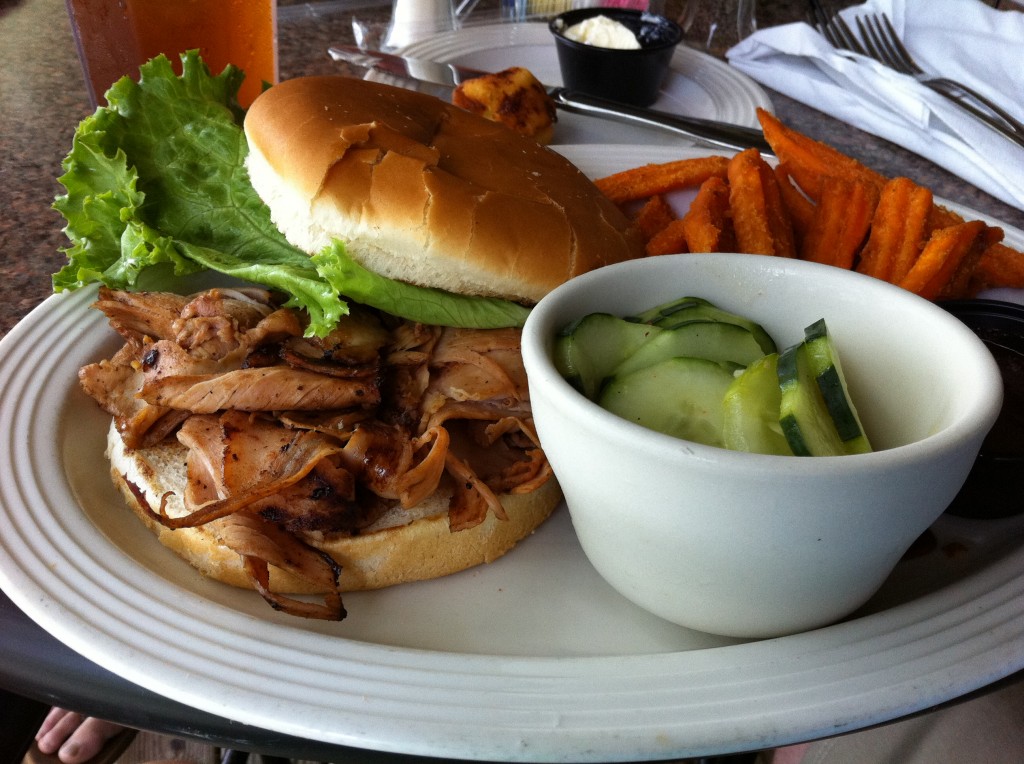 I have been impressed by Nick's management. They are professional. They are serious. They know what they are doing. Here are some examples:
Social Media – they have embraced social media marketing. For the last couple of years I have tried my best to help local businesses understand and take advantage of social media marketing. Nick's gets it.
I see Nick's reaching out and interacting with the Lake Martin community on Twitter and Facebook. I see they have started a blog. They are not waiting for you to walk in the door. They are reaching out to meet their potential customers on the web. I like it.
Synergy – This word is a tired MBA cliche. But Nick's is living it by working with their sister company, Creekside Lodge and Conference Center.  They share a parking lot, and cross promote each other very well.  Indeed, I had some buyers in town from Florida last month and I recommended Creekside to them. They stayed there and ended up eating a couple of meals at Nick's because it was such a short walk.  They enjoyed their entire Lake Martin experience and they recommend both.
We at Lake Martin Voice Realty welcome Uncle Nick's Smokehouse to Lake Martin and look forward to many more delicious meals there!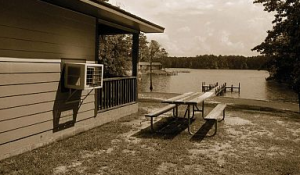 If you read LakeMartinVoice for its brainy real estate analysis, this post may leave you scratching your head.  But, by popular demand, I've been asked to re-submit a 2008 literary attempt I penned, "An Ode in Praise of the Window Unit." I don't typically recycle old material, but this one might strike a chord with a few of you. 

(I'm reposting my intro to the piece, too.)
*********************************************************
(2008) Lake Magazine has a section called "My Lake Martin" where (apparently) they allow just about anybody to submit an article about the lake. They were kind enough to print one I submitted.
I was inspired to write an ode about a window unit air conditioner that we used to have in our cabin. Judging by its girth and sound, it had to have been made in the 1940s. Its brand name was "Kelvinator." That's what we called it, as in "it's hot in here, turn on the Kelvinator." When things are around that long, they deserve individual respect.
It's kind of like how we refer to one of the couches as "The Herculon" as in q: "where is mainsail?" a: "stuffed behind The Herculon" or q: "why are you sweating so bad?" a:"it's The Herculon – laying on it makes me sweat."
Anyway,I digress.
Lake Martin cabins and window units are inseparable in my mind.
Here it is
An Ode In Praise of the Window Unit
My Lake Martin is a realm ruled by the window unit air conditioner.
Like polyester, it is a reminder of that which once was a point of pride, and is now no longer en vogue.
Oh, woe, and lastima to those who have nay slept below your frigid roar, o humble window unit!! While now your presence draws scorn from some and mockery from the rest, I weep in melancholy for the children of centralized systems who will never know your utility and hypnotic effects.
When the lake melted the zinc oxide from our noses and allowed sunrays to redden our skin, it was you, dear window unit that blew icicles to ease our suffering. You erased our memory such that we were burned the next day and the next.
When our parents were tired of hearing our noise, they declared it "nap time" – and shoved all us kids into one room. You alone watched over us with your rhythmic rumbling machinations. If we didn't fall asleep, like a favorite uncle you made more noise than we so that the parents never noticed.
We feared you, mighty window unit – where once you were asbestosly insulated, through service your wiring became loose, exposed, menacingly copper, always one mere spark from setting the cabin in irreversible deathly flames, yet we needed you to survive a scorching August.
Lest you take an undignified backwards fall out of your perch and into the yard, we propped you up with an old board wedged into the ground, yet you never complained. Simpering Whines were foreign to you whose hazardous lead innards percolated and spewed pre-war freon. To you, brave window unit, fretting over the ozone layer was for sissies, you had kids to keep cool.
Just as God and Alabama Power mysteriously raised the lake as azaleas are reborn, so too, you were a mystery, our beloved window unit. Each spring when we first plugged you into that Tesla coil of a socket , we wondered if you could breathe once again. Not as lovely as the dogwood, yet as reliable, you awakened decade after decade despite our lack of routine maintenance. You always shook off the leaves and dead lizards to toe the line one more time.
Window unit – Thy name was Kelvinator.
Forgive us for tossing thy corpse into the woods sans pomp or due praise.
You deserved better.
Lake Martin has a new Cajun / Creole restaurant!
Large Times is located at 35 Kowaliga Road (aka Highway 63) in downtown Eclectic.  For those of you who don't know where downtown Eclectic is, it's about 10 miles south of the Kowaliga Bridge (which is also highway 63).
A couple of weeks ago, I filmed this video of Owner / Chef Mark Moody at his new location.  We welcome him to the Lake Martin area, and are really excited that we now have a restaurant that is specializing in creole and cajun food.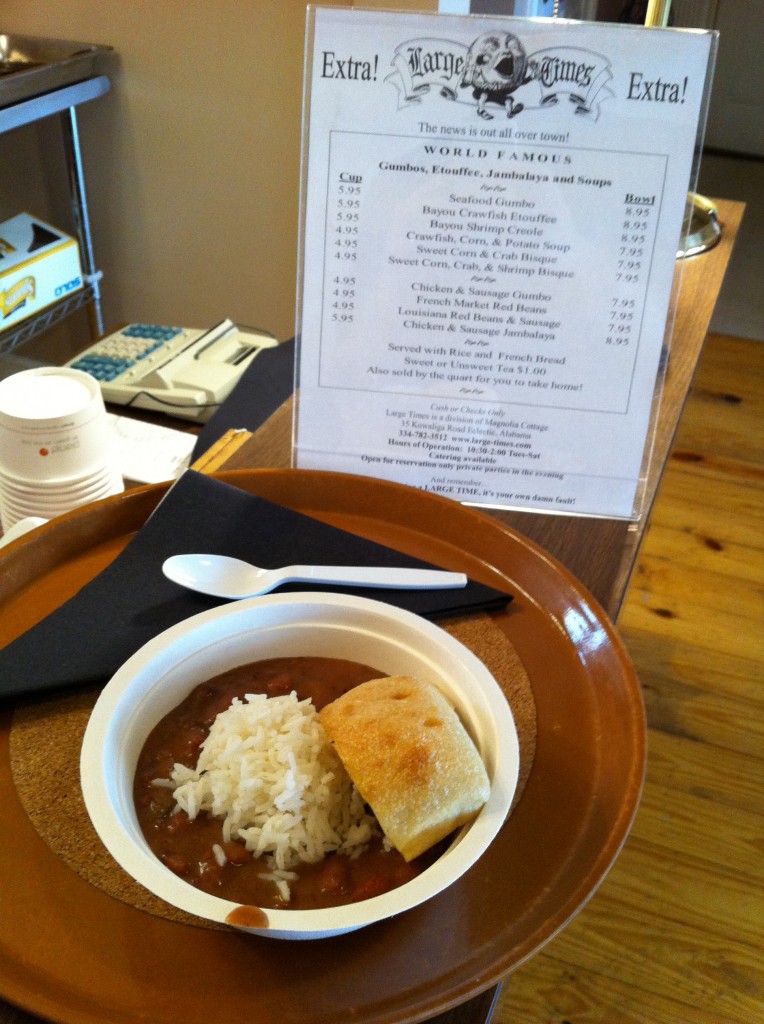 I went there with fellow Lake Martin Voice Realty agent John Christenberry, who is pretty able at the ladle himself.  We had the beans and rice, and John, has been known to stir his roux for hours, gave it a thumbs up.
Large Times is set up for lunch right now.  Mr. Moody will have a couple dishes like gumbo or shrimp etouffee made, plus red beans and rice, and you can choose which you want of the three.  It was really good and also fast since they serve you up as soon as you order.  Click here for Large Times' menu.
Mark told us that they also do a lot of take out business for people headed to Lake Martin. They can call ahead and order whatever they want by the quart.  Large Times fixes it up, with side items like bread, and people swing by there and grab it on the way to the lake. I think it's a great idea to serve on Friday night so you don't have to cook right out of the gate.  Or, you can keep it over and it would make a great Saturday lunch.  Either way, you're a winner.
We would like to welcome Large Times to the Lake Martin restaurant scene and wish them all the best. If you are visiting the lake and want to mix in some Cajun and Creole cuisine to your palette, we highly recommend them.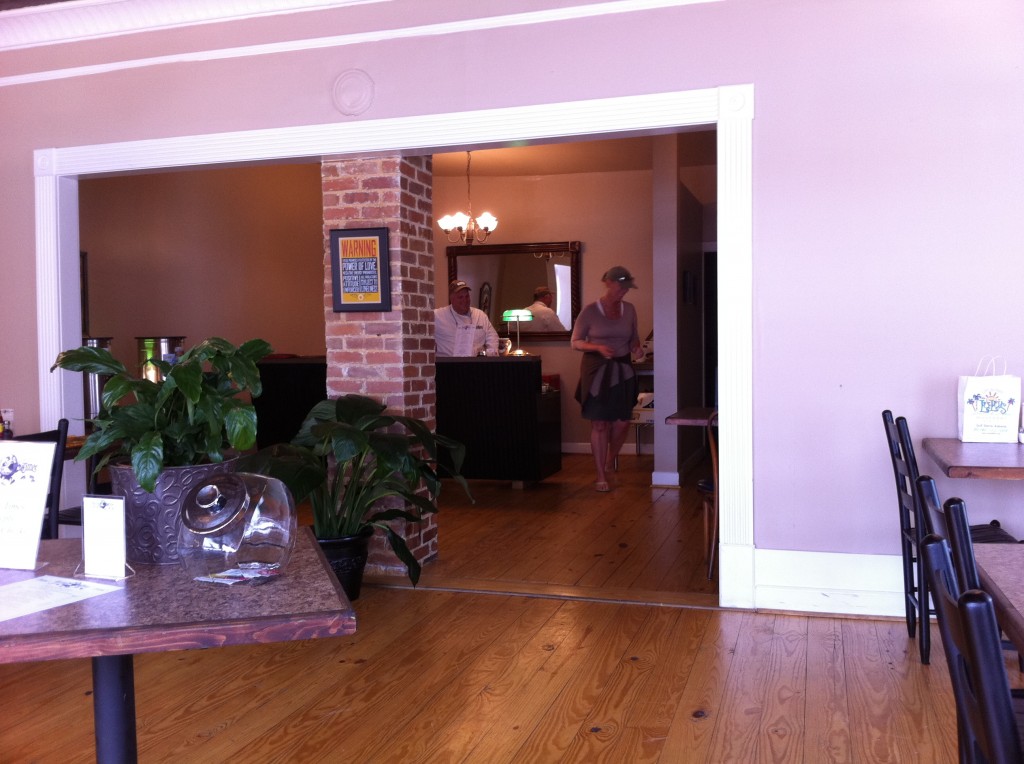 To contact Large Times, see:
Their phone: 334-782-3512
Social Media:
The Lake Martin area has a lot of great farms and farmers' markets.  Many times these hidden gems don't even have websites, much less a marketing machine to let the average visitor know they are there.
It's a shame, too, because so many of these places epitomize the recent trend back to healthy, locally sourced, "farm to fork" food in restaurants and on the table.  Before the last couple of years, there was no way for the casual fan to help educate everyone else and share local hot spots with friends.
For those who haven't heard about it, Yelp is a location based review service.  If you have a smart phone, you can access Yelp through an app as you are driving around.  If you are home or otherwise on a computer, access it via its website, Yelp.com.
Yelp lets you search for all kinds of local businesses – restaurants, hotels, coffee shops, retailers, even real estate brokerages like mine – they're all there.  You can get details of the business's location, hours, phone number, etc. But all of these are second to its most powerful feature – customer reviews.
You can also "check in" to places while you're there, which leads to friendly competition among your fellow consumers and maybe even freebies from the business.
Yelp also lets users create lists, and this is what I am using to pinpoint local farms, food sources, and farmers' markets around Lake Martin.
Click Here for my Local Farms / Farmers Market List on Yelp
As I drive around the lake, I will add these farms to my list, or take pictures and enter these farms if they're not already on Yelp.  See – that's another cool thing. If their business is not already on Yelp, you can take pictures, add tips, add them to Yelp, and draft a review, all on the fly.
So the next time you are hankering for some U Pick Blueberries, or organic eggs, or looking for wheat to grind, whip out your smart phone and check Yelp.  Check FourSquare, too. You don't have a smart phone? Don't worry.  Odds are, someone in your car does.
Have you found a farm or local produce grower in the Lake Martin area that's not on my list?
Let me know!  I would love to add them!

I think that anyone who loves Lake Martin, for long enough, will begin to have concerns about where its water comes from and the quality thereof.  Lake Martin is fed by the Tallapoosa River.  I only recently learned this:  a river's watershed is the area of land where every single trickle, creek and stream flows into that river.  So you can imagine that the Tallpoosa River watershed is a huge area of land that covers much of east-central Alabama and then goes into Georgia.
If you would like to learn more about the Tallapoosa River Watershed, I think the best way to do so is to attend the Tallapoosa River Basin State of the Watershed Conference .  It's being held on June 22nd at Central Alabama Community College in Alexander City from 8:30 am to 5:00 pm.
This is a collection of scientists – many of whom come from Auburn – that includes biologists from the State of Alabama as well as ones from private industry.  They do a lot better job of describing the event, so I will post their website and comments below.  But, let me say that before attending this conference, even though I have grown up on Lake Martin, I had never heard of the Tallapoosa Darter.  That's just one nugget of information you may learn.

Here's a quote from Mona Scruggs, Conference Coordinator:
"We want to make sure that folks in the Tallapoosa Basin don't miss this opportunity to learn about recent accomplishments and opportunities in their area. It may be of particular interest to your readers that there will be a special panel discussion about the recent designation of Outstanding Alabama Water for the section of the Tallapoosa River and the Treasured Alabama Lake classification for Lake Martin which will include input from local Economic Development and Real Estate experts."
So, to learn more, check out the links below:
Tallapoosa River Basin State of the Watershed Conference Website
Tallapoosa River Basin State of the Watershed Conference Registration
A Lake Martin Foreclosure Update
If a cliche gets repeated enough, it becomes empty and loses all meaning.  Every male whitetail that we see on the side of the road – especially during hunting season – is an 8 point buck.  I've never heard different – "Dude,  I was driving home last night and I saw this huge 8 point."  Never a 6.  Or "I'm not sure."
Almost every police briefing I've ever seen opens with "At this time" and repeats it several times. "At this time we are searching," or "At this time we are asking,"  or "At this time we have in custody."  Of course it is at this time.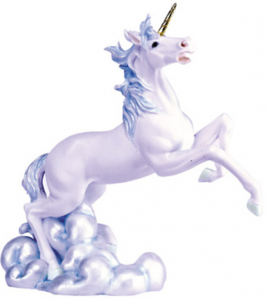 "(So and so is) here for the right reasons" – you hear this a lot during recruiting season. Coaches are always so happy because every single player that committed did so "for the right reasons."  All their coaching staff is there "for the right reasons." Consider the opposite – how helpful would it be to announce that you plan to NOT recruit kids who want to be there for the WRONG reasons. You also hear it a lot on these silly reality shows like the Bachelor.  I am sure that you, dear intellectual reader, do not stoop to watch such drivel, so I will let you know that I have heard that every single bachelor since Season One is in earnest search for ladies who are "here for the right reasons."
That's a long intro to get to Lake Martin foreclosures.
I bring in these cliches at this time for the right reasons.
Twice this week I have heard a Lake Martin foreclosure cliche.  Buyers often ask:
Aren't Lake Martin foreclosures selling for fifty cents on the dollar?"
(I could riff on the minutiae of this forever.  It's never expressed as fifty percent of anything. Or half of anything.  It's always fifty cents on the dollar.  And never 53 cents.  Never 47 cents.)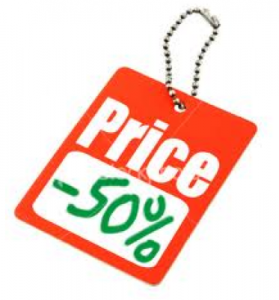 So can you buy a Lake Martin waterfront home for half price?  My answer is: "Yes and no." It depends on what you are calculating. Fifty percent of current listing price? Fifty percent of the original listing price? Or fifty percent of what the builder hoped it would sell for in 2007?"
I hear,  "Well,  I know for a fact my cousin bought a home in Tallahassee last year,  and he told me it sold for fifty cents on the dollar."
Pause the conversation – let me say here that I cannot blame a buyer one bit for wanting an extremely good deal. If my cousin told me this, or if I saw it on the Today show, I would get my hopes up too.
My job as a responsible Lake Martin real estate agent is to help buyers gather accurate information.  I don't ask these questions to cross examine or doubt them, but to examine the information from which they are making assumptions.  Once I start asking questions, if they are working with a real world example of their cousin (instead of just the Today show), the more questions I ask, the more realistic it gets. "Well, he bought his foreclosure in Mediumburg for 150,000 and I know that's different than Lake Martin.  Well, yes, the listing price from the bank was only $200,000.  But three years before that, the builder was asking $300,000."
OK – I see.  In a certain manner, I can see the fifty cents on the dollar with that example.  Furthermore, I can point to many examples like that with Lake Martin foreclosures on waterfront homes.  But, if a waterfront home has already been foreclosed upon, it is pretty rare to sell for fifty percent of the current listing price.
I suppose I could, if I wanted, advertise similar deals going on in the Lake Martin real estate: Lake homes for 50% off! I would have to put in real tiny print "As compared to the wishful thinking listing price of 2007."
(I can think of several bank stocks that I used to own that I wish still would sell for what they did in 2007.)
That's why, whether I am helping buyers or sellers, I try to help them concentrate on today's prices.  Today's situation.  Forget yesterday.  It doesn't matter if you are trying to buy a foreclosure, or competing to sell against one.  It's all the same.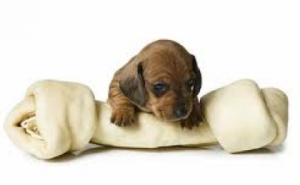 Buyers want a good deal.  Same as always.  Sellers want the best deal for their home.  Same as always.
The Lake Martin real estate market is still seeing some new foreclosures on waterfront homes, condos, and lots.  There hasn't been a flood, or a second wave, or anything like that.  Taken as a percent of market, we still don't have as many foreclosures as compared to the rest of the nation.
The foreclosures, short sales, and conventional sellers that we do have on Lake Martin are enough to effect the market, though.  Supply and demand.
Would You Like Our List Of Lake Martin Foreclosures?
Click here and fill out the form.
Do you own a waterfront home, lot, or condo on Lake Martin, and are wondering what it might be worth? Contact us here or at 334 221 5862 and we can work you up a free, no hassle, no obligation Comparable Market Analysis.
The tornado directly hit the Windermere subdivision on Lake Martin, making it one of the most affected waterfront areas on the entire lake.
The tornado, now rated as an EF-4, traveled northeast from Children's Harbor, crossed the Kowaliga Bay section of Lake Martin, and ripped through Bard's Lane and the entrance to the Ridge before hitting Windermere, especially the Windjammer point section.
I recently sold a home on Windjammer, so I had some "before" photos and video in inventory to contrast against the tornadic destruction. Here's a video that I made:
My friend and fellow Lake Martin realtor Mimi Rush was blessed to have survived the tornado in Windermere while crouching in the closet with her 5 year old and her husband.  Here's a link to a good video by the Montgomery Advertiser of her explaining the ordeal.
How to Help Victims of the Lake Martin Tornadoes
Not all of the victims of the Lake Martin tornadoes were those with comfortable second homes on the waterfront with plenty of insurance. In fact, the most affected areas are the blue collar communities surrounding Lake Martin.
Click here to help Lake Martin Tornado Help.com
More Lake Martin Tornado Photos, Video, and Other Coverage
Video Update On Lake Martin Tornado Damage
Tornado Damage & A Survival Story on County Road 34
Lake Martin Voice Photos on Flickr
Lake Martin Dock Company Photos
Montgomery Advertiser Photo Gallery

Many people, businesses and charities in the greater Lake Martin area are in need of help.  If you are wondering how to help them, please see the list below.  This is by no means a complete and exhaustive list.  I plan to edit this page and add as things develop.
Since many of my readers are from greater than two hours away from Lake Martin, I will try and provide web links or numbers to call so that you can call and donate money. My thinking is that you might not be able to physically come help, or drop of clothes, or donate toiletries, but maybe you can contribute $10 or $20.
I leave it up to each reader to decide whether to contribute hyper locally to the Lake Martin area or to contribute to causes that are more likely to help Alabama or the South as a whole.
Lake Martin Area Charities, Churches, or Service Organizations That Were Directly Affected By The Tornadoes:
Mt. Hebron East Baptist Church – this church is located on the corner of Elmore County Road 80 aka Mt. Hebron Road, and Middle Road.  Read this article. It was totally blown away by the tornado.  If you would like to contribute, you can donate to the Elmore Baptist Association.  They are in the process of getting a PayPal account.  Until then, contact Jim Jackson at Elmore Baptist.org – he says: "if anyone would like to donate through our office – we have established a Designated Fund: "Mt Hebron East Rebuilding Project." All funds received will be given to this church for this purpose. Persons may send a check to "Elmore Baptist Association," PO Box 367, Wetumpka AL 36092. Include a note or write on the check "Mt Hebron East."
Kamp Kiwanis Volunteer Fire Department – this VFD is located on County Road 80 aka Mt. Hebron Road, near Kamp Kiwanis Road.  I understand that is was totally destroyed by the tornado. I don't have any contact numbers, much less a way to donate online. I am working on this.  If any readers know how to donate directly to them, please contact me here or email me at info at lakemartinvoice dot com.
Children's Harbor – Children's Harbor Lake Martin campus at Kowaliga was not totally destroyed. Church in the Pines, their Chapel, and larger building were OK but they did receive some damage on their cabins.  See a video here and newspaper articles here and also here.  CLICK HERE to go to Children's Harbor website to donate.
Pace's Point VFD -It is located on Tallapoosa County side of Lake Martin – at County Road 34 West, Dadeville, AL 36853. Their building made it through OK, but they are the first responder to the County Road 34 area.  They have some of the most inspiring stories that I have heard in Lake Martin tornado saga. They literally cut people out of homes and saved lives.  Due to funding lags a lot of the firemen are paying for gas, supplies, and victim relief out of their own pockets right now. This is a travesty.  Fortunately, they had the foresight to set up this website.  Their Assistant Chief, Phil Adcock, let me know that they are a 501(c)(3) organization and accept donations through paypal. Please help!
I will be glad to edit this page and add info as necessary – if you want me to add your group, please CLICK HERE to use this contact form.
Other Ways To Help:
If you are more local, and would like to physically volunteer or donate items, here are some good lists:
WSFA Channel 12: Ways to Help Tornado Victims
Frazer United Methodist Church Tornado Help
A quick update on the Lake Martin area tornado damage:  I started out yesterday (April 28, 2011) by riding a 4 wheeler around the Lake Martin Amphitheater area and into Children's Harbor.  Several of the Russell cabins to the east of there are now totally gone.  Some had  been removed by Russell Lands before the storm, and they were planning on selling the lots there.  But now it's pretty much leveled on that side of the slough.
Then we got in the boat, took shots of the Cocktail Slough, then went around to Windermere.  Windjammer Road, etc. seemed to be hit the hardest.  Oddly enough, there were 2 water patrol guys in that slough, one of which pulled us over and said they were watching for looting, and asked our business in the slough.
Next we went over into Blue Creek.  I heard on WSFA that Stillwaters was hit,  but it looked almost unscathed from the water.  The tornado really went north of there, where Rush Road and Sims Road turn off of Impy Road off of 34.  Mind blowing.
For everyone who has called asking about our cabin, it's fine – thanks for asking.  Three of my fellow Lake Martin Realtors have lost their homes, but they are ok. There were fatalities in the greater Lake Martin area, and our prayers go out to those who have lost property, but even more importantly, lives.
For more images of the tornado's aftermath at Lake Martin:
Lake Martin Voice Photos on Flickr