Archive for the 'Events' Category
Aquapalooza 2009 at Lake Martin proved to be a huge success.
I will admit to some head scratching in the time leading up to the event.  How would all those people be shuttled to boats?  Would there be enough anchor room? Would there be enough police?
Russell Marine, Sea Ray, the Marine Police, and Alan Jackson all delivered on a great Lake Martin experience.  It truly lived up to the hype of the biggest party ever on the water at Lake Martin.
Sure, the lines were long for the shuttle boats. Sure, there were hundreds of swimmers in the way if you were boating up and down the lanes.  Towards the end of the afternoon you needed someone in the front of the boat to yell "Move!"  Sure, traffic was congested when everyone left after the Alan Jackson show.  But all in all, it was very well done, and very safe considering the huge numbers of people that showed up.
As I said above, Russell, Sea Ray, and Alan Jackson deserve a lot of credit.  But I will submit that Lake Martin Dock Company should be right in there deserving some praise, for three reasons:
1.  They worked (almost) round the clock for weeks setting up the intricate anchor system that literally kept the flotilla together.  They also supplied much of the barges, marine equipment, and infra structure.
2. The Love Shack! – see the above pic.  Larry Bain and Sharon Johnston had the most creative and festively decorated spot to watch the concert.  They had an old covered floating dock that they transformed into a fun, shady party structure.  The Love Shack was complete with plants, Smith & Hawken lounge furniture, a gas grill, and a port o potty (with shoji-esque modesty screening).  It was a watermark for everyone at Aquapalooza, as in "go to the Love Shack, hang a right, and we're the fourth boat on the right."
3. Hospitality – Larry and Sharon and family were kind enough to have my wife and I on board for the day.  It was so nice! We are in their debt.
The Music At Aquapalooza Lake Martin 2009
We had to leave before Alan Jackson played. We were sad to go but didn't want to burn our kid sitters out.
I must say that my favorite act was Jypsi.  They were a young band, were yankees, and looked like the B-52s mashed up with the White Stripes.  Looks deceived.  They played some mean, fast, crisp bluegrass. I was loving it. When they cut into Muleskinner's Blues, I got chill bumps in the ninety degree weather.  I think even my Kentucky buddies would have approved.
More Lake Martin Aquapalooza / Alan Jackson Pictures And Video
Professional:
At the risk of hurting Sea Ray's feelings, I submit that the best professional pics of Aquapalooza were taken by Kenneth Boone. Kenneth (known around town as "Mr. Perfect") is the newspaper baron in Alex City, and is one of the best photographers I have the pleasure of knowing.  He has outstanding aerial photos, band pics, and the best collection of crowd photos that I have seen. See below for the link, sorry I can't figure out how to embed the slide show:
Link to Kenneth Boone's Lake Martin Aquapalooza Photo Album
Amateur:
There are tons of amateur photos of Aquapalooza on the web.  More being added every day.  The best collection of them that are outside of social networks are posted on Bruce Pate's Lake Martin dot com.
Aquapalooza Lake Martin Video:
Here's a quick link to the search results for Aquapalooza Lake Martin on Youtube
Also below here is my video from the Love Shack:
and also one that Palmer (you can hear her laughing at me) shot of me getting interviewed by CMT. My (dwindling list of) friends are already sick of hearing about it, and I am sure that I will not make the final edit, but here it goes:
By the way, if you still have not totally lost respect for me from that goofy interview,
and you are interested in Lake Martin waterfront real estate– please contact me.  I would love to help you!
Here's what the Lake Martin Aquapalooza  / Alan Jackson stage, boat anchor lines, and swimming area looks like on Friday July 24, 2009.
The music schedule is:
11am – Nationwide Coverage
12:45pm – Jypsi
2pm – Caitlin and Will
3:15pm – Matt Stillwell
4:30pm – Carter Twins
6pm to 7:30pm – Alan Jackson
PLEASE NOTE – the entire area west of Kowaliga / Highway 63 Bridge is a IDLE SPEED only.  The police WILL pull you over and give you a ticket.
The stage:
More Pictures: Slideshow of Lake Martin Aquapalooza Pictures
Also: Pictures of I Love Lake Martin Flickr Group
Notes to the wise: PLEASE make sure that you have at least one sober assistant to help the designated driver (who also should be sober). Make sure that you comply with all Alabama boating laws and regulations.
The best way to get pulled over is to drive recklessly or above idle speed in the concert area. In the 10 minutes while I was taking the above video and pictures, I saw 3 boats / sea doos get pulled over for going too fast. I have also heard of several (deserved) arrests in the past couple of weeks, so be warned, the police will take no guff from wise cracking hoolligans. Have fun, but be safe and be respectful of the law. They are trying to save our lives.
Yep, you heard it right.  The organizers of Aquapalooza 2009 are building a stage on the edge of Lake Martin for Alan Jackson.
And the only way to see the concert is on the water, by boat.
It's an all day event on Saturday, July 25, with music starting at 11:30 AM and Jackson headlining at 6:00 PM.  Since safety is an issue with an event this size, the concert will be over before dark.
According to The Wetumpka Herald, the stage will be built at the water's edge, over on the western side Kowaliga Bridge near Sinclair's Restaurant. There will be a swimming area and dance platform directly in front of the stage.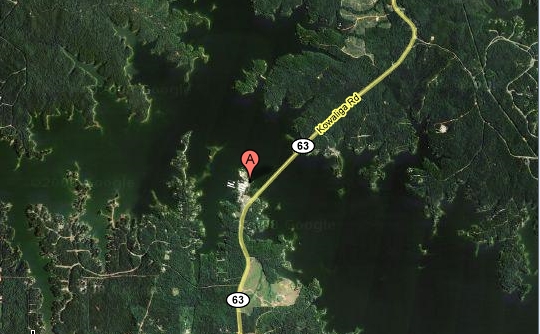 Click here for a Google map of the Aquapalooza 2009 Lake Martin location.
If you want an upclose view of Jackson, get there early (boats can begin "rafting up" on Friday at 2:00 PM Central).  And please, have at least one sober driver and one sober first mate per boat.  The driver will need to be alert to maneuver, and the mate will need to be the extra set of eyes and help fend off other bumping boats.
There will be mooring buoys with lines in Kowaliga Bay. Attendants on Sea-Doo® watercrafts will direct traffic and helping with boat mooring, and a shuttle service will help you to and from your boat.
Questions about this concert?  Here's a link to the offical Aquapalooza 2009 website FAQs.
Have fun and be safe.
Lake Martin Voice is proud to give the Reader of the Month award to Robert M for his timely, well captured pictures of Elvis' performance at Jim's Bait Shop on Highway 50 on July 3.
Knowing what a huge fan I am, Robert M acted fast on Friday when I sent out this post about The King's upcoming appearance.  When I realized I could not be there in person, I sent out an impassioned plea for anyone to take some pics or video.  Al Gore's "internet" did the job, spreading the word far and wide.  They say that Twitter has proved its chops with the Iranian voting scandal, but I say that Elvis at Jim's Bait Shop trumps that.
Elvis is patriotism in a white jump suit.
I bet he was singing Burnin Love right here.
The King.
On behalf of all Lake Martin Elvis fans, thanks to Jim's Bait Shop for making this happen.
If you would like to see a slideshow of these, click here.
Do you have any pictures of Lake Martin: wildlife, scenery, people? Add them to the I Love Lake Martin group on Flickr.  It's free to join, and fun to share photos.
Or do you have any ideas or submissions for stories? If you do, send them to me on my contact form, and you could be the lucky recipient of the next ROM Award.
As a Lake Martin blogger, and huge Elvis fan, I must say that the above was my favorite headline I have ever written.


For those of you that are hip to the Lake Martin Voice Twitter stream, you have already heard the news.
Tonight, July 3, 2009, the King of Rock n Roll, Elvis "The Pelvis" Presley, will be appearing at Jim's Bait Shop, on Highway 50 in Walnut Hill, Alabama, just south of Lake Martin.
I am going to try to be there to get some video – but if anyone else can get pics or video – PLEASE send it to me.  Or better yet upload it to the I Love Lake Martin group on Flickr. It's free.  Or you can use Twitpic or Flickr 2 Twitter to upload pics and video, just make sure to type in #lakemartin somewhere in the description so the rest of us can find it!
And yes, the above is a picture of the back of the self car wash & and vacuum area at Jim's.  The King will truly be amongst the people.
And, as E himself said in King Creole, "Crawfish!"
The Alex City Jazz Fest continues to provide the Lake Martin area with the best value in music and entertainment.  Since the Jazz Fest is free, it's hard to beat that value.
You can also make the case that, on the Lake Martin concert scale of things, the Jazz Fest offers some of the best music, regardless of price.
A look at prior years' Jazz Fests rosters shows you talent that you might pay heavily to hear: Joe Bonamassa, Derek Trucks, the Neville Brothers, Dr. John, just to name a few.
OPENING WITH A BANG
Don't be late to downtown Alex City on Friday night, June 12, 2009.  The first act is old style delta blues master Kent DuChaine.   He starts at 6:00 PM, so you better get there early.
Kent is a throwback to the blues pioneers of the pre-1950s era.  He plays an old steel Dobro, with a slide, of course.  He plays anywhere, anytime.  In fact he has been in the Netherlands or something playing the week before Jazz Fest.  Kent has headlined blues festivals in Europe and the US, but (for some reason) you can still see him at local bars (Marty's in Birmingham) and private parties.  He plays hard no matter if the crowd is 10 or 10,000.
I won't go on and on about his impeccable blues lineage, except to say that through his days with Alabama blues legend Johnny Shines, he has a direct tutorial line to Robert Johnson.  In fact I think he plays Johnson's tunes to perfection.  Most musicians I hear, even self b
illed blues players, do horrible justice to Robert Johnson songs. Most feel the need to try to have a modern interpretation that just falls flat.  Or, they attempt acoustic and just sound weak, tinny, and condescendingly corn pone hokey.  Kent plays Robert Johnson's blues not exactly how he sounds on the Library of Congress recordings, but how he would have played them in a beer joint outside of Clarksdale, MS on a sweltering summer night. Think Clapton's Unplugged "Rollin and Tumblin."  Rip-roaring. Brazen.  Pillaging the countryside. Unafraid of the Crossroads.  Mocking the hell hounds.
DuChaine also expertly covers the Chess era of the blues.  Muddy, the Wolf, Sonny Boy, and the like. He switches effortlessly between the boasts of "Red Rooster" to the solemn wail of "Death Don't Have No Mercy." Kent also mixes in his own material with the masters.'  Solid Gold.
I've heard Kent play probably 30 times in my life.  He only gets better. Do yourself a favor and get a taste of real authentic delta blues.  I almost hate to label him like that, for fear that some may judge too quickly.  But, as my wife –  who "does not like Western movies"  – sobbed uncontrollably through the last 2 hours of Lonesome Dove, I think that most people won't realize he played delta blues, they will just know they loved it.
CLOSING WITH A BLAST
Susan Tedeschi will be the last act for 2009 Jazz Fest, Saturday Night at the Lake Martin Amphitheater.
She is super talented.  I hear her a lot on the Sirius – XM Blues Channel.  From her recordings, I think we can expect more original stuff than covers, but that's OK by me, because she's really good.  It seems like every time I hear a strong, soulful female voice singing on the Channel, I check the artist's name and it's her. Tedeschi also just so happens to be married to former Jazz Fest headliner Derek Trucks.
Did I mention the Jazz Fest is free? Don't let my lack of ink on the other acts deter you.  I'm trying to say that it wil all be good.
Full 2009 Alex City Jazz Fest Schedule
Click Here for Jazz Fest on Facebook
Click Here for Jazz Fest on myspace
Will you be at Lake Martin this Saturday, May 16, 2009, and enjoy touring waterfront homes on Lake Martin?
Then you may be interested in the Third Annual Lake Martin Tour of Homes. Proceeds from the tour will benefit Children's Harbor. Children's Harbor serves seriously ill children and their families at the Family Center at Children's Hospital in Birmingham and at Lake Martin, which is just south of Kowaliga Bridge on Highway 63
Last year the tour was of homes in Trillium. This year the tour will visit four homes in The Ridge designed by architects Bill Ingram and Bobby McAlpine.
The tours will begin at The Ridge Club from 10 a.m. to 3 p.m.
Tickets are $25 in advance and can be purchased in Alexander City at MacDavid & Company, Cloud Nine, The Shoppes of Queens Attic, and Catherine's Market. Tickets will also be available the day of the tour at the Ridge Club.
To learn more about Children's Harbor, an extremely worthy cause, visit www.childrensharbor.com.
If you are looking for last minute things to do around Lake Martin this weekend, I remind you that the annual Renew Our Rivers Cleanup is happening tomorrow, May 9, 2009.
As always the event is sponsored by Alabama Power – details here.
Volunteers will meet at DARE Park in Dadeville at 8 a.m. The cleanup will end at noon.
Contact: Denise Walls at 256-215-4404, e-mail [email protected], or sign up through Facebook.com, search for Lake Martin.
Usually they have a sign in post at Kowaliga Bridge, but I haven't noticed that among the promotional items this year. It only mentions the DARE park as a sign in post.
For those of you who are unfamiliar with the DARE park, it is on the eastern side of Lake Martin, off of County Road 34. Here is a google map:
On Friday January 23, 2009 the Lake Martin waterfront home of 216 Harrison Road, Dadeville, Alabama (map here) will be auctioned off on the steps of the Tallapoosa County Courthouse, downtown Dadeville.
This is a rare type of auction in that, as far as I can tell, it is NOT a property tax auction.  It it NOT a home being auctioned by a private auctioneer, so therefore it has NOT been heavily promoted or advertised.  The only promotion I could find has been the customary notification in the legal section of the Dadeville Record.
Click here to download a copy of the official legal announcement that last ran in the Dadeville Record on January 1, 2009.
The auction will be performed by the Circuit Clerk Frank Lucas and is going to "the highest bidder for cash."
If you are a person that wants to buy a Lake Martin waterfront home on the cheap, this could be your chance.  Given that it's on a Friday and not advertised heavily, I don't think very many bidders will show up at all.
READ THESE DISCLAIMERS:  Please note I am NOT AFFILIATED IN ANY WAY WITH ANY PARTY to this auction.  I have no relationship whatsoever with anyone about it, am not getting paid a dime on the sale, to write this post, or for anything else related to the sale.  I am making NO STATEMENTS NOR OPINIONS about the property condition, lot lines, title, waterfront, or anything.  Buyer beware.  Please do your own research and due diligence.  If you have questions about this process, please contact Tallapoosa County Circuit Clerk Frank Lucas.
I do think this is a nice rustic waterfront cabin, and, at the right price, can be a good one.  I was out there about two years ago and looked around.
By the way, are you worried that you will miss breaking news like this in the future?  Why not sign up to be notified by email of my new posts? Just fill in your email address at the top of the page, left sidebar, in the box that says "Subscribe Email" and click Subscribe.  I don't spam. Or subscribe by RSS.  Or sign up to read my short (<160 character) text updates on Twitter.
Here is the Tallapoosa County Tax Map from the County Tax Assessor, when I met with one of the owners, she had a survey that she said showed more waterfront than the County is showing:
When I was down there a couple of years ago, it was nicely wooded with huge, shady trees.  Here is how it looked at the time:
Home:
This picture was made standing in the driveway, looking toward Lake Martin:
Here is one from the dock, looking toward the home:
Here is a shot of the waterfront:
For those of you who are unsure where Harrison Road is, please click on the Lake Martin Map link here. Generally, it is on the south end of Lake Martin, you take highway 50 to Centerport Road (same turn off to Chuck's) and follow Centerport almost to the end, left on Harrison.
A waterfront home and lot will be auctioned off at Willow Point on July 20, 2008.
No, it is not an auction by Russell Lands. Even though Willow Point is a Russell Lands development, this auction is by a private landowner.
The home's address is 284 Lakeview Drive, 35010. The lot is right next door. They both will be auctioned on July 20, 2008 by Albert Burney Auctioneers.
Here are some photos of the home and lot from the water:
And the home close up:
The auction ad lists these amenities:
œLuxury doesnt even begin to describe this incredible home in one of the finest areas of Alabamas favorite fresh-water playground! Locals on the lake refer to this home as the œWaterfall House because of its prime location and picturesque setting, which includes a 175 foot waterfall leading from the 1200 gallon Koi pond to the lake.
But thats just the beginning.
Your private elevator will carry you between three levels of the home and the wine cellar below. This amazing home even has a sports room with a pool table and a saloon-type bar.
The floor-to-ceiling windows throughout the home filter 95 percent of the suns low rays with Argon filling, providing unsurpassed energy efficiency.
When youre ready to head onto the water, you can simply go down to your private docks, which are equipped with lifts for a ski boat, three jet skis and a pontoon boat. Youll even have your own diving board.
* six bedrooms
* opulent master suite with fireplace
* elevator
* 4,000 bottle wine cellar
* four car garage
According to an article about the auction in Lake Magazine, the sellers, Mr. and Mrs. Kenneth Ingram, Jr., are selling in order to scale down to a smaller home.
If you think you might be interested in the home or the lot, and would like to register for the auction, please contact me. By allowing me to register you, I can provide you with comparable sales data and analysis on the home's and lot's value. The winning bidder will pay 10% to the auctioneers, regardless of whether I register you or not, so you might as well let me help you research. The auctioneers will pay me a referral fee for my efforts.
If you would like to read more about Lake Martin's Willow Point, please read this post and also this one that shows pics of Willow Point's pool and golf course.